Sale!
Italian Online Cooking Classes – Course 1
After our powerful online magazine, Italy Best, and our even more successful cooking classes in Rome, Eatalian Cooks, we decided to create an Italian online cooking course with the owner of Mira Digital, which owns this website too, Helga, and our partner Matteo.
This Italian online cooking course includes only traditional recipes, made in the traditional Italian way. In Italy, cooking traditionally is the heart of Italian food and Italian cuisine, and this course is reflecting that. Learn how to cook like a real Italian!
Description
Are you looking for Italian online cooking classes? We at Europe Dishes launched our online Italian cooking classes to teach you how to cook as Italians do, the Italian way. When someone's searching for the best online Italian cooking classes, they might end up taking classes that are not by Italians and are not at all about traditional Italian cooking.
We however can assure you, that what you learn from us is authentic, and 100% Italian, as we are from Italy! Our courses were registered at our company base, in Milan, introducing our collaborator, who helped put this course together, Matteo Sala.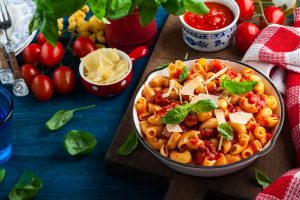 With our Italian cooking class online you're going to get 9 basic recipes that we make and eat in Italy very often. Each of the recipes includes an introduction where our founder, Helga will share with you some history, some traditions, and some important details to create the dish the traditional Italian way.
It's very important to know for a cooking course Italy's basic food traditions, so you understand why our dishes are so delicious, and you can create them at home, at least 99% as perfectly as we do them in Italy. Also, we are planning to publish another 2 online cooking classes with another 10-10 recipes, so if you'll sign up for all three courses, you will learn literally ALL the most famous Italian dishes that exist in our beautiful country!
How this Italian cooking course is created?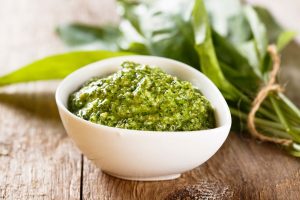 When you sign up, you will have access to the course for a lifetime. Each recipe is in separate videos and each of them comes with the introduction we mentioned, and then the registered steps of cooking the specific recipes. The videos have an audio guide too along the steps, so even if you are not watching, you know what's your next move.
We also made a separate introduction video where we explain all the basics of Italian cooking and the traditions of Italian cuisine.
Moreover, each of the courses has a downloadable recipe card, and we also share with you the written recipe articles. The recipe videos have been speeded up, so we won't waste your time while you're cooking, and you can return to the site and the course whenever you'd like.
Italian Cooking Class – Course 1 includes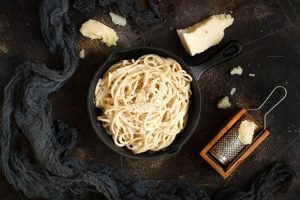 Our first Italian online cooking class includes the following recipes:
Amatriciana
Arrabbiata
Bolognese Ragu
Carbonara
Gnocchi ai Quattro Formaggi
Penne all Tonno in Salsa Rossa
Pizzette
Tiramisu
Tagliatelle Pasta
 Pesto
In our first course, we concentrated more on recipes originating from Rome, but there are a few from Naples, Bologna, and the region of Treviso. Each of our courses will have a mix of recipes with origins from different parts of Italy, so we can share with you the most popular, and the most famous dishes, and how to make them.