Are you looking for an easy Cordon Bleu recipe? What about the best Cordon Bleu recipe you've ever tried? Since the baked pork Cordon Bleu is also popular, you'll get tips for that separately in this post, however, we will concentrate first on our pork Cordon Bleu easy recipe that's spiced with some basil!
Some of you might not know that the rolled stuffed pork loin recipes oven is going to be the same way great, just since you're not frying it in oil, it will take some more time, but it's also healthier. If you've been searching for healthy stuffed boneless pork loin recipes, or cheese stuffed pork loin recipes then below you will find a great one!
Pork Cordon Bleu easy recipe with a hint of fresh Basil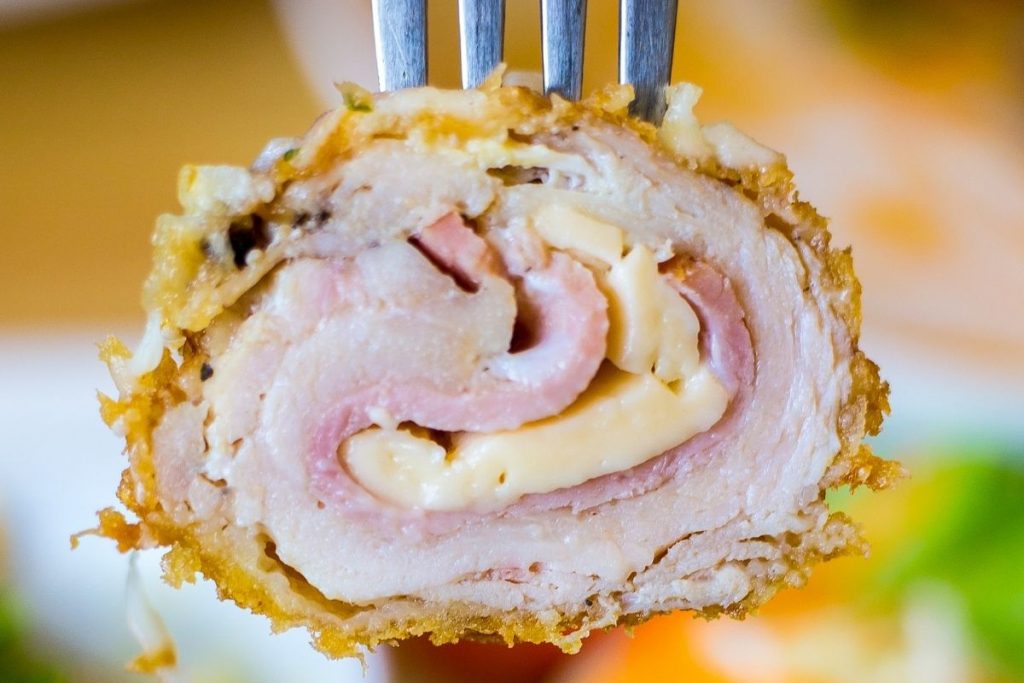 Now, if you've been searching for pork Cordon Bleu easy recipe, you might want to know first where its name is coming from! The Cordon Bleu, that's the French name of this dish means blue ribbon.
Now, the cordon bleu, according to Larousse Gastronomique was worn by the highest order of knighthood instituted by Henri III of France in 1578. They were called L'Orde des chevaliers du Saint Esprit. Before we get into our easy Cordon Bleu recipe, we should also discuss the history of Cordon Bleu, as well as some variations.
History of the dish
One of the best French dishes, the Cordon Bleu is loved by many around the world. Before sharing my easy Cordon Bleu recipe with basil, I definitely wanted to share what we know about this delicious French dish!
Cordon Bleu originates from Brig, Switzerland, and it's recognized as a type of schnitzel filled with cheese. We don't know the exact day when the Cordon Bleu was first made, but according to the data available, it was probably in the 1940s.
The first time it appeared in a cookbook was in 1949. There are chicken Cordon Bleu mentions in the 1967 New York Times, but also veal recipes are mentioned in the 1950s. The best Cordon Bleu recipe, therefore, isn't really, actually French, but it is known for its French name.
Variations of cheese stuffed pork loin recipes
Now that we're approaching the steps of our easy Cordon Bleu recipe with basil, let's see some variations first quickly! One of the main and most popular variations of Cordon Bleu is the chicken cordon bleu with Brussels sprouts. Also, there's a variation using veal.
There are different variations with different types of cheese, ham, and even mushrooms. Also, you can find variations with bacon instead of ham. There are many different ways and fillings you could use. My favorite is using fresh basil inside the meat since this gives it a fresh, Italian taste.
Baked pork cordon bleu recipe
Now, if you want to use less oil, and make a healthier variation of Cordon Bleu, you can always think about the baked pork Cordon Bleu recipe. All the below steps are the same to follow, but if you want to make rolled stuffed pork loin recipes oven-baked, you just have to modify the last steps.
While you prepare the rolls, you should just heat up the oven to 280C degrees, and place your rolls on baking paper, spray them with a bit of oil, and put them to bake. Usually, with 10 minutes on 280C and another 15 minutes on 240C, it should get ready. Don't forget to turn it around when you take off the heat so each side gets done the same way.
Best Cordon Bleu Recipe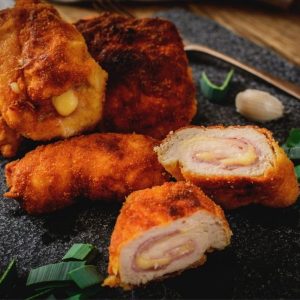 Cordon Bleu recipe with basil
Find the best easy cordon bleu recipe below! To make the best cordon bleu recipe is simple, just follow the steps! You may be searching for this recipe using different names than Cordon Bleu, such as the best ever stuffed pork loin recipe, which is the same thing. Here's how to make it!
Ingredients
4

Pork Escalope

4

slices

Gouda/Emmental

4

slices

cooked Ham

100

g

Breadcrumbs

50

g

Flour

2

Eggs

15

ml

Milk

6-8

leafs

fresh Basil
Instructions
Your very first step to make a pork Cordon Bleu recipe is to put Sunflower oil in a deep pan and heat it up.

Second step is to lay one by one the pork escalopes on a chopping board, season them with salt and pepper, then chop the basils into fine pieces and season the top of each meat with it.

Put one slice of cheese and one slice of ham on top of each pork escalope, and roll them up.

If you can't close it easily on both sides, you might want to use toothpicks to secure they are close and the melting cheese won't come out.

Beat up the eggs, adding salt and pepper and the milk to eat. On one bowl, prepare the flour, and the breadcrumps on the other.

Roll the Cordon Bleu rolls into the flour first, then dip them into the eggs, and at last, roll them into breadcrumbs.

Once you're ready, and each of your Cordon Bleu rolls are well covered into eggs and breadcrumbs, you can place them into the oil if that's already boiling.

Fry them in oil until the outside gets nice gold, and crispy. Usually, if the oil was hot enough from the beginning, they should be ready in about 5-6 minutes.
Pin it: Cordon Bleu Recipe with Basil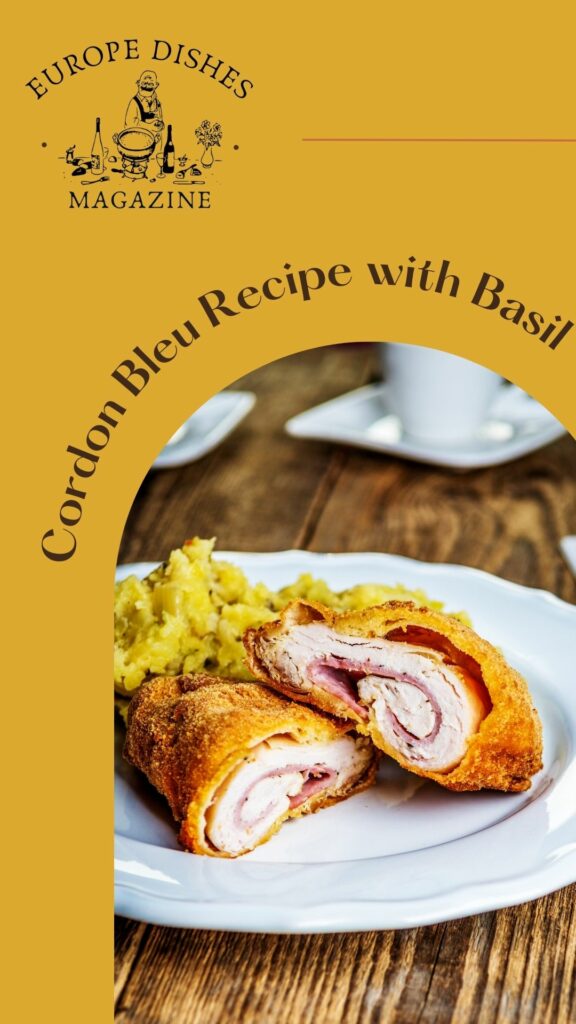 Cordon Bleu Recipe with Basil