Indian cuisine is famous worldwide thanks to its diversity in taste, flavors, and ingredients. Combining spices and natural, fresh ingredients brings a rich taste to Indian meals. This Indian-inspired coconut dal recipe will be your favorite comfort food for any season or occasion. Lentils and chickpeas are a healthy source of protein and mixed with coconut milk, Indian spices, and fresh vegetables results in the most delicious meal you have ever made at home.
Indian Coconut Chickpea Dal Recipe, History, Tips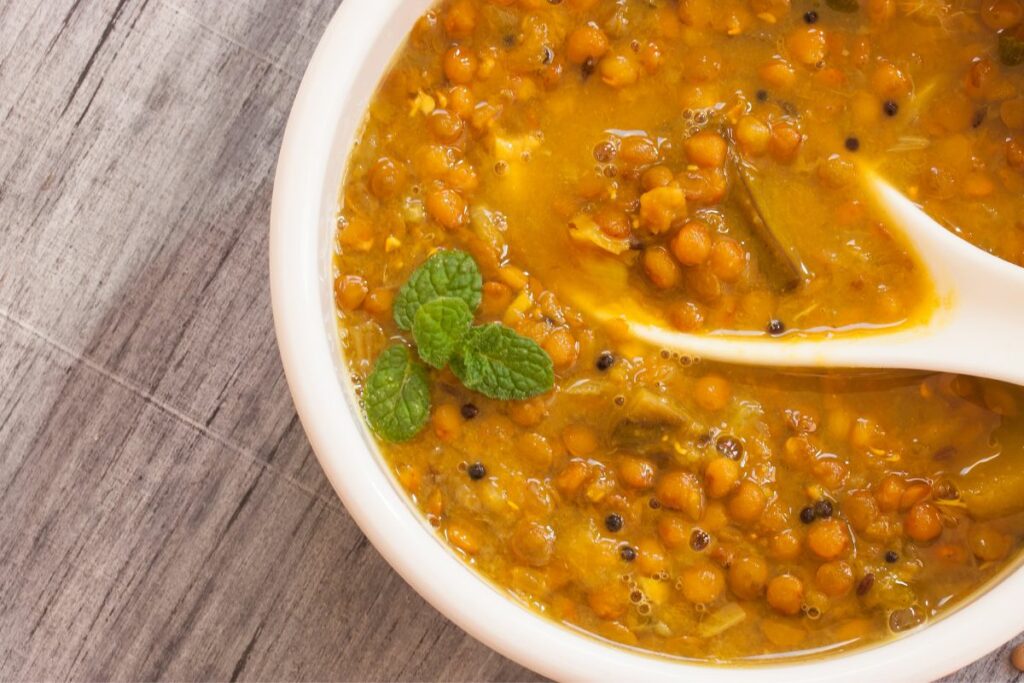 So where does this coconut dal recipe come from? Chickpea curry is famous mainly in North India, while Dal, aka lentils, in South India. I came across this recipe online that combined both and also mushrooms. Although my Indian friends found the added mushrooms interesting and tasty, they said the dish would've been better without it.
After further testing, I finally perfected this Indian-inspired coconut chickpea dal. I can gladly say that all of my Indian friends approve of this, and I love making it for them and myself.
It is very simple to make, you will only need one pan and less than an hour of your time. It can be served with some Naan, homemade chapatis, or even store brought Paratha.
What does the Coconut dal recipe contain?
As the title suggests, this delicious coconut chickpea dal consists of chickpeas and lentils. Chickpeas are a great source of fiber, B vitamins, iron, and magnesium, supporting heart health. Red lentils, which are the type of lentils used in this recipe, can improve skin health and help with weight loss.
Before you even start making this chickpea dal, it is essential to wash the red lentils. One of my Indian friends said his mom would always boil and rinse the lentils before adding them to the curry. This washes away any unwanted residue and makes the lentils super soft.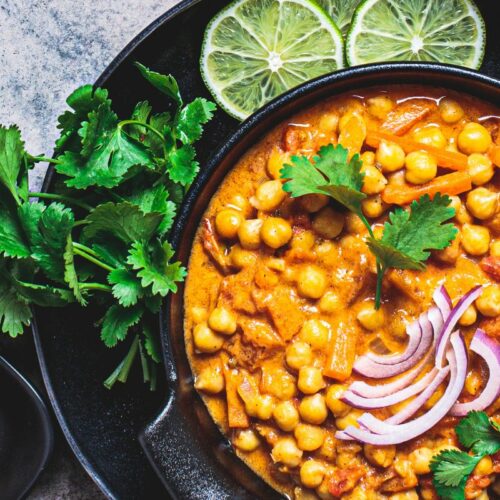 Indian Coconut Dal Recipe
This coconut chickpea dal recipe will impress all of your friends and family. It is simple, delicious, and like a warm hug in a bowl. Indian food recipes are the best for any occasion!
Ingredients
1

tbsp

olive oil

or vegetable oil

2

onions

3

medium tomatoes

or 1 can of tomatoes

2

cans

chickpea

400

ml

coconut milk

200

gr

red split lentils

1

tbsp

ginger garlic paste

1

tbsp

garam masala

1

teaspoon

red chili powder

optional

1

teaspoon

turmeric

1

teaspoon

coriander powder

1

teaspoon

Maggi magic masala

optional

salt to taste

1

bunch

coriander

sprinkle on top

serve with Naan, chapati or Paratha
Instructions
Add the oil to the pan to heat. Chop the onion in small pieces, blend the tomatoes in a mixer (or use the canned tomatoes).

Saute the onions until they turn medium brown, then add the tomatoes. Leave until the oil comes to the surface.

Optional step: add the red lentils to a separate pan to boil. After 5 minutes drain and rinse the lentils until they can be added to the curry.

Not optional: if you skip step 3, then make sure to rinse the red lentils well before boiling.

After the onion and tomato have a nice color, add the spices and the ginger garlic paste and let it simmer for another 5 minutes while stirring. Add a little water if needed.

Add the dal in the pan, coconut milk, and about 150 ml water (add more if the dal is uncooked). Let it simmer until it becomes a nice paste.

Add the chickpeas and some more water to simmer and soften. The flavors should take 5-10 minutes to come together. Add more water if needed.

Finally, sprinkle some coriander. Serve with Naan, homemade chapati or even Paratha.
Wrapping up: Coconut dal recipe
This is my favorite Indian-inspired coconut chickpea dal recipe. The mix of spices, fresh ingredients, and some warm chapatis fill your stomach with joy and comfort. You can make it more spicy by adding red chili powder, or if you're new to the Indian spices, use less of them. All of your friends and family will be impressed with this recipe!
Pin it: Indian recipes – Chickpea Dal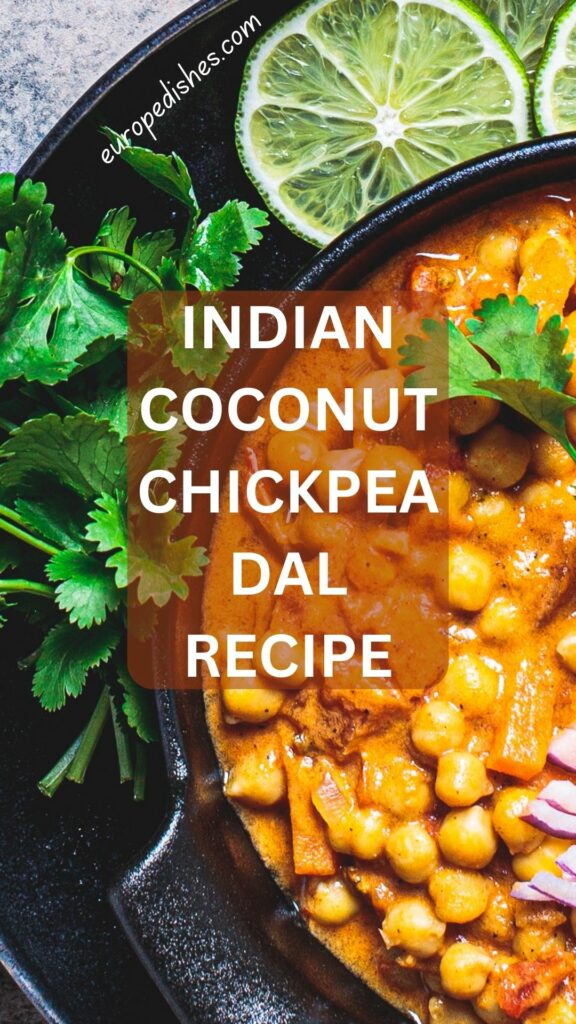 Indian Coconut Dal Recipe