There are just a few things better than cheese! And when it comes to cheese, and dishes stuffed with cheese, Italians are the ones to ask! One of the best gnocchi sauce quattro formaggi four cheeses sauce is definitely the one you'll see below! The Gnocchi ai quattro formaggi recipe is heavenly. The first time I've tried four cheese gnocchi in Rome, I fall in love with it, and until I moved to Italy, every time when I just came to visit, I always ordered that one night.
Now, since I live in Italy, whenever we have dinner with my friends at my house, the Gnocchi ai Quattro Formaggi recipe is my to-go recipe since everyone just loves it! If you've been looking for a four cheese pasta recipe, or four cheese spaghetti sauce recipe, note that the cheese sauce made for the gnocchi goes really well with any type of pasta. Though, since the gnocchi di patate ai quattro formaggi is a really soft dish, as the gnocchi as well is fluffy and soft, the sauce always goes better with gnocchi than with other types of pasta.
Gnocchi ai Quattro Formaggi recipe – Four cheese gnocchi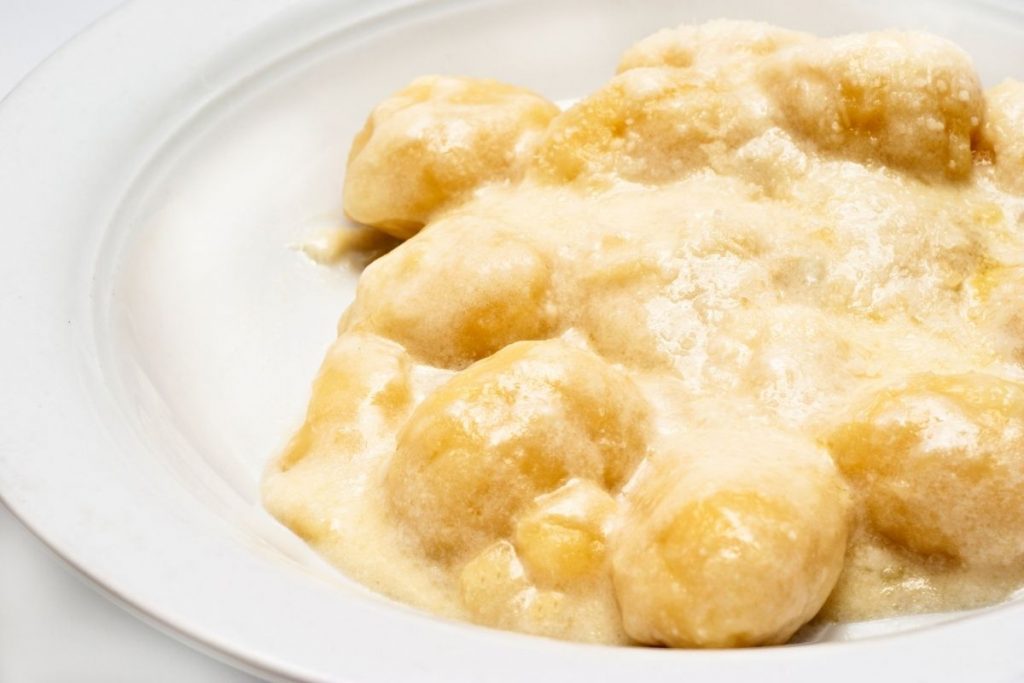 A four cheese gnocchi is really simple, and it doesn't take more than about 20 minutes to be ready to serve. You can see in the below recipe the essential steps to do a perfect Gnocchi ai Quattro formaggi recipe, but I'm also going to highlight a few important details that you must know to make the dish perfect. If you love Italian dishes, also check our Penne with Tuna in Red Sauce.
Ingredients for a four cheese gnocchi
The ingredients are really important when you want to make gnocchi ai quattro formaggi recipe. Choosing the right ones of the four cheese types you use for the four cheese gnocchi is what it will or won't make it taste delicious. It's also very important which type of cheese you use more. If you use a lot of Fontina (or Emmentaler/Gouda) it won't have a strong taste, and it will not taste as good.
The 4 types of cheese
The main taste comes from the Gorgonzola, which is a typical blue cheese in Italy. For those who don't like cheese with mold, it might be a bit difficult, but actually, you can just cut off the chunks that are really moldy, and the rest will melt.
The second cheese should be either Pecorino Romano or Grana Padano. Now, obviously, this also depends on where you live, but lately, both these kinds of cheese are exported to every country, so you should be able to find them. In each case, if you've got access to both, Pecorino Romano is a better option since it has a stronger taste, and it's also more delicious.
Now, the third one should be Fontina cheese, but this one I know that you can't find in every country. You can replace the Fontina with either Emmentaler, Gouda, soft Cheddar, or Trappist cheese. Important is to be a soft type of cheese since this will help to make the sauce creamy.
The last one is the Parmigiano Reggiano. If you can't find the original Parmigiano (Parmesan) cheese, try to find parmesan cheese that's high quality, and it will be perfect for your four cheese gnocchi. Once you've got all the types of cheese ready, you just need fresh cream and a pack of gnocchi. Alternatively, you can also do your own homemade gnocchi, that's obviously always better.
Four Cheese Gnocchi recipe
As I said, for those looking for a four cheese spaghetti sauce recipe, or simply a four cheese pasta recipe, the sauce made for the gnocchi goes perfectly with any other type! Yet still, I do recommend serving the sauce with gnocchi instead of pasta.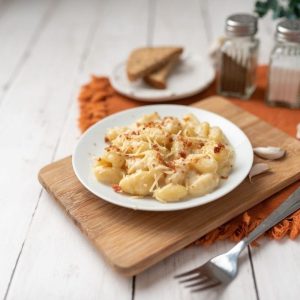 Gnocchi ai Quattro Formaggi
If you're looking for the best Gnocchi ai Quattro Formaggi recipe, you'll find below the best Italian four cheese gnocchi recipe you chould've ever wish for! The perfect four cheese sauce recipe that we all love!
Ingredients
600

g

Gnocchi

100

g

Emmentaler cheese

optional

150

g

Gorgonzola cheese

100

g

Fontina cheese

40

g

Grana Padano/Pecorino Romano

40

g

Parmigiano Reggiano

150

G

Fresh Cream

Black Pepper
Instructions
An amazing dish for all those who love cheese! First you should grate the Fontina (if you don't find Fontina cheese, you can use Emmentaler or Gouda) and the Grana Padano.

First, turn on the stove, and set on medium heat. What you'll have to do is to add 1 ladle of water into a deep pan together with the fresh cream. The Gorgonzola is better if you try and cut it in small pieces, since it's very soft.

Keep stirring it until you bring it to a boil. Then turn down the heat to the lowest, add the 4 kinds of cheese and on the lowest heat you'll need to continuously stir it, so it becomes creamy, and won't stick together in pieces.

This process takes about 10-15 minutes, so in the meantime put water to boil for the gnocchi. Add salt to the water and wait until it starts boiling. In the meantime, you have to continue stirring the sauce anyway.

When the water starts boiling, you have to add the Gnocchi, and let it cook for about 2 minutes. Usually, after 2 minutes the gnocchi comes to the top of the water, and when it does that, you can remove them.

Add the gnocchi straight away in your cheese sauce, and mix it together. Once all the gnocchi is in the sauce, turn off the heat and season it with pepper, mix them all together, and it's ready to serve.

You can sprinkle some extra Parmesan cheese on top as well. It is definitely the best Gnocchi ai Quattro Formaggi recipe you could make!
Get inspiration for other gnocchi recipes, like the Sorrentina, or the gnocchi carbonara even!
Gnocchi ai Quattro Formaggi