Today I brought you a simple, yet excellent tomato-based Italian dish, pasta all arrabiata. If you happen to have homemade tomato sauce, preferably the one made using my traditional Italian tomato sauce recipe, the success of your pasta all'Arrabiata is guaranteed. I still remember the first time I tried this dish and since then it is one of my favorites, especially when it comes to comfort food. The pasta all'arrabbiata recipe you can find below is meat-free, so in case you are vegetarian, do not hesitate to prepare this delicious pasta dish! Another advantage is that the prep time is only 10 minutes, while the cooking time is 15. This also includes boiling the pasta water. So in case, you are in need of a quick recipe you can prepare for lunch or dinner, look no further. Get those pots and pans out and let's learn how to prepare pasta all'Arrabiata!
Pasta all'arrabbiata recipe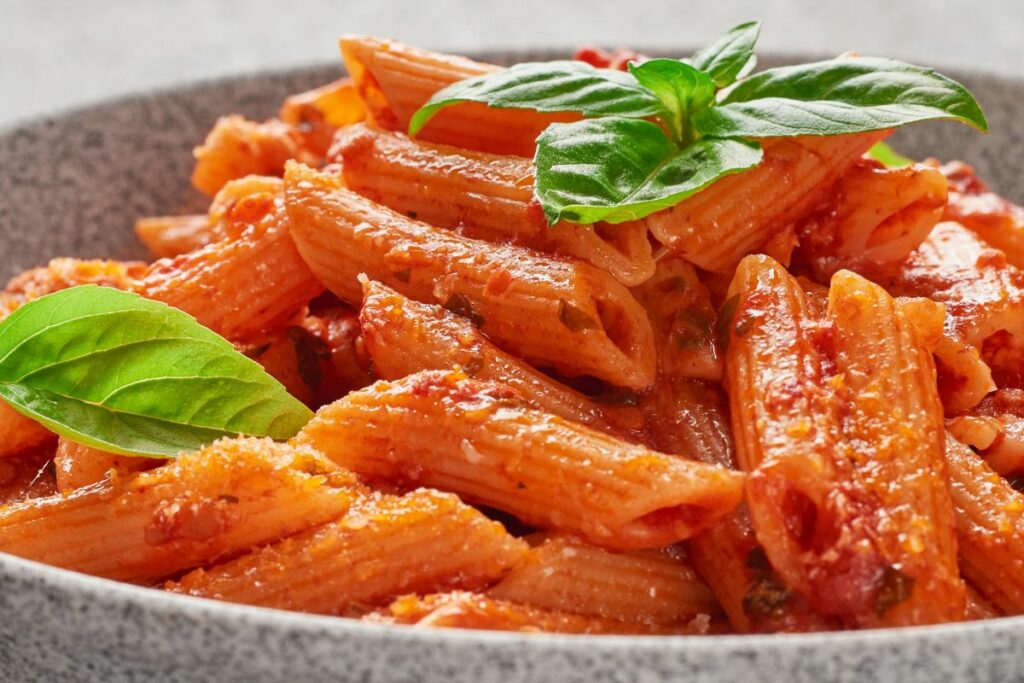 I'm sure you know that pasta all arrabbiata originates from Italy. However, thanks to its simplicity and rich flavor you can order this dish in almost every Italian ristorante around the globe. Also, this pasta dish is not only one of the most popular dishes in Italian cuisine but one of the fastest pasta recipes you can make, too. Another thing that makes pasta all'Arrabiata different from other pasta meals is that it is a spicy one. The Italian kitchen does not have many spicy pasta dishes, but this one is truly special. You might not know yet, but pasta all'Arrabiata is made with spicy pepper or chili. So if you like spicy food, this recipe is for you!
Origins of pasta all'arrabbiata and traditions
Even the name pasta arrabbiata refers to the spiciness of this meal. In Italian the word arrabbiata means angry, which refers to the spiciness of the red pepper you need to use to prepare this pasta. The arrabiata sauce itself originates from the Lazio region of Italy, particularly the Eternal City of Rome. The history of pasta all'Arrabiata dates back to the 1950s and 1960s when spicy food became more and more popular in Italy. Being a special dish, pasta all'Arrabiata quickly became a favorite to many.
What do you need for pasta all arrabbiata?
To prepare the authentic arrabbiata pasta sauce first you will need some delicious tomatoes. These are the soul of this dish. You can also use pasta sauce, in this case, homemade sauce is the best option. Needless to say, you will need some good spicy pepper and chili as well. When it comes to the pasta, you can boil some spaghetti or penne.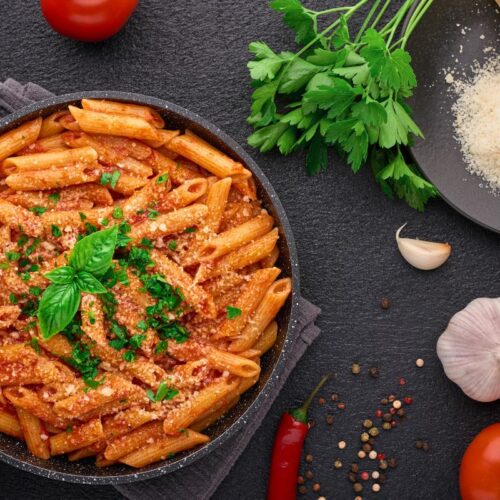 Pasta all'Arrabbiata
Meet Italy's favorite spicy pasta dish, pasta all'Arrabbiata! Prepare this delicious pasta for lunch and dinner in less than half an hour and enjoy one of the most special pastas of Italian cuisine!
Ingredients
200-250

g

spagetti

300

g

peeled tomatoes or tomato puree

1-2

cloves of

garlic

1/2

tsp

parsley

1/2

tsp

spicy pepper/chili

1

tbsp

extra virgin olive oil
Instructions
To prepare the arrabbiata pasta sauce, first, you need to peel the tomatoes, then mash them with a fork. In case you have tomato puree home, you can skip this step.

Put the oil and the garlic into a pot and start to heat it on low heat.

After 1-2 minutes, add the chili or spicy pepper (you can add both, if you prefer your food to be really spicy).

Add the tomatoes or the tomato sauce.

Mix it all together. Leave it to cook for about 12-15 minutes on low heat under a lid.

Put water to boil for the pasta. Add the pasta and cook it all dente. This will require about 7 to 8 minutes.

Once the sauce is ready, add the parsley and mix it well.

The last step of the pasta all arrabbiata recipe, drain the pasta and mix it into the arrabbiata sauce.
Wrapping up the pasta all'arrabbiata
If you are into spicy food, I'm sure this pasta all'Arrabbiata recipe has won your heart. As you could see, all this recipe requires is some tomatoes, chili powder or spicy pepper, and pasta of course. And in case you liked the traditional Italian tomato sauce recipe and you prepared it, this dish is a perfect opportunity to use some of that sauce! You can make pasta all'Arrabbiata in less than half an hour. But if you decide to use your homemade tomato puree instead of peeled tomatoes, you can prepare it even faster. If you are interested in more pasta recipes, do not hesitate to browse our website and save the ones you like!
Pin it: Pasta all arrabbiata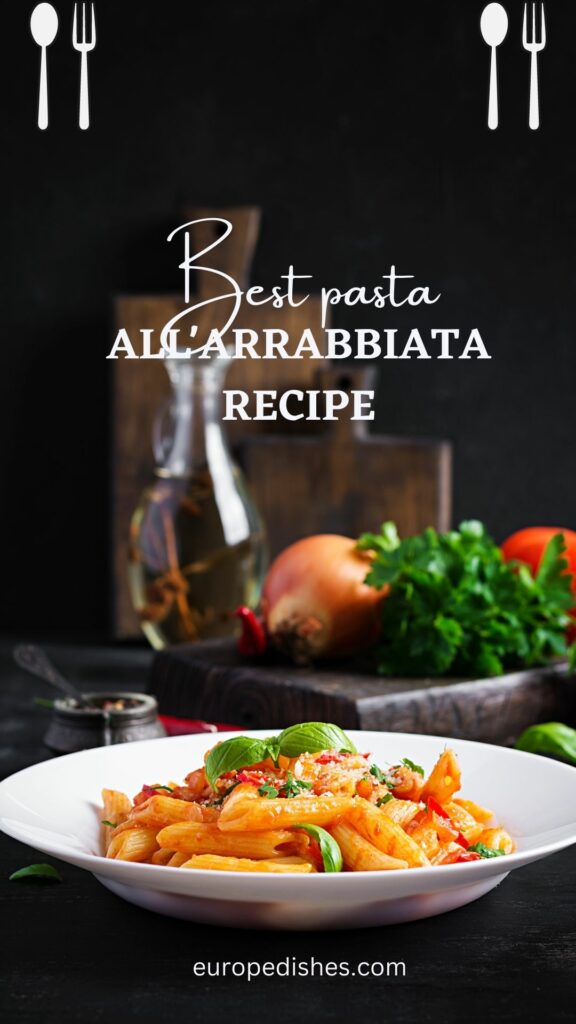 Pasta all'Arrabbiata Recipe