Let's talk about German dishes. German cuisine is already considered a national cuisine nowadays. German side dishes, German main dishes, German potato dishes are all a part of the popular German dishes, filled with flavor and they offer a great variety of choices. Popular German food such as the schnitzel german food, or the currywurst is loved throughout Germany and also by tourists visiting the beautiful country. Germany is one of my favorite countries and it's not just because of the food. The people are so welcoming and you will have a great time there, without any doubt.
10 most popular dishes in Germany
If you're looking for some authentic German food then you have come to the right place. We have gathered a list of the 10 most popular dishes in Germany. Just like with any cuisine, these dishes are also versatile and can be made in so many different ways.
I must say though, that some of them will only taste authentic if you try them in Germany. We encourage you to give them a go and let us know in the comments what you thought of these German dishes.
1. German fried potatoes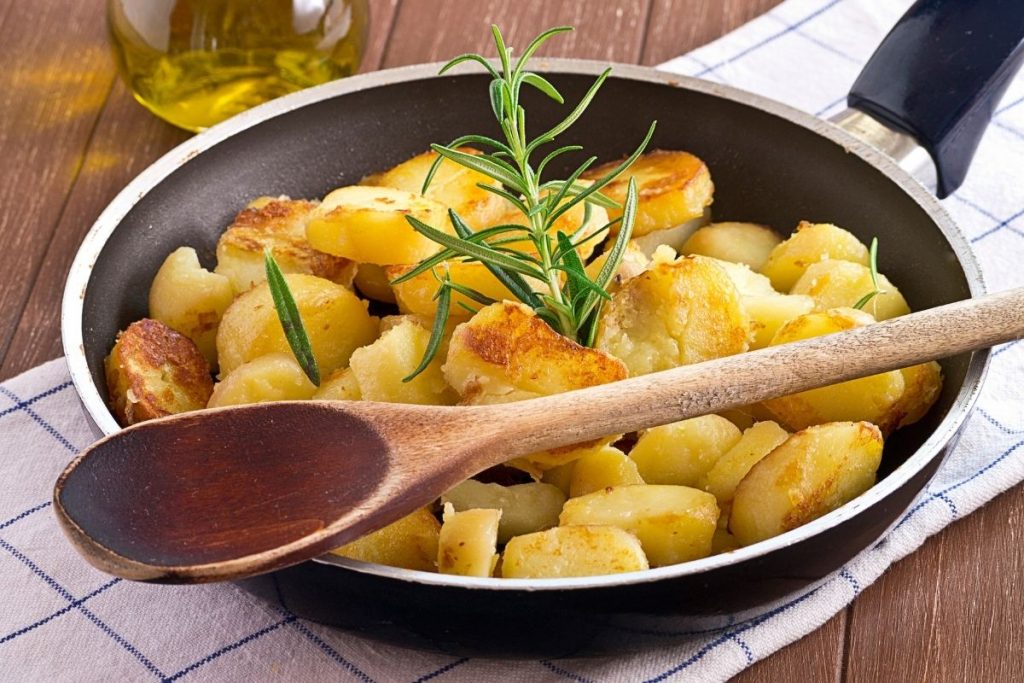 One of the most popular German vegetable dishes is the Bratkartoffeln, otherwise known as German fried potatoes. There are no records on where this dish came from exactly, these German potato dishes were listed in various cookbooks around the 1870s. We all know that potatoes are amazing, they can be made in so many different ways, yet each of them will be special.
It's really not rocket science to prepare these German fried potatoes. All you need is some good-quality potatoes, a pan made for deep frying, and some love. If you are preparing any dish with love, it will always turn out better. To make the Bratkartoffeln more enjoyable, you can add some green pepper, onion, or bacon. For some extra flavor, add some paprika. You can never go wrong with paprika.
German fried potatoes are one of the German side dishes that can be served with various meats, such as Schnitzel or sausages. For a vegetarian variation, you can have them alone with just some vegetables. This famous German food is very tasty and you'll be able to find it at most restaurants. So why not give it a go?
2. Zurich Ragout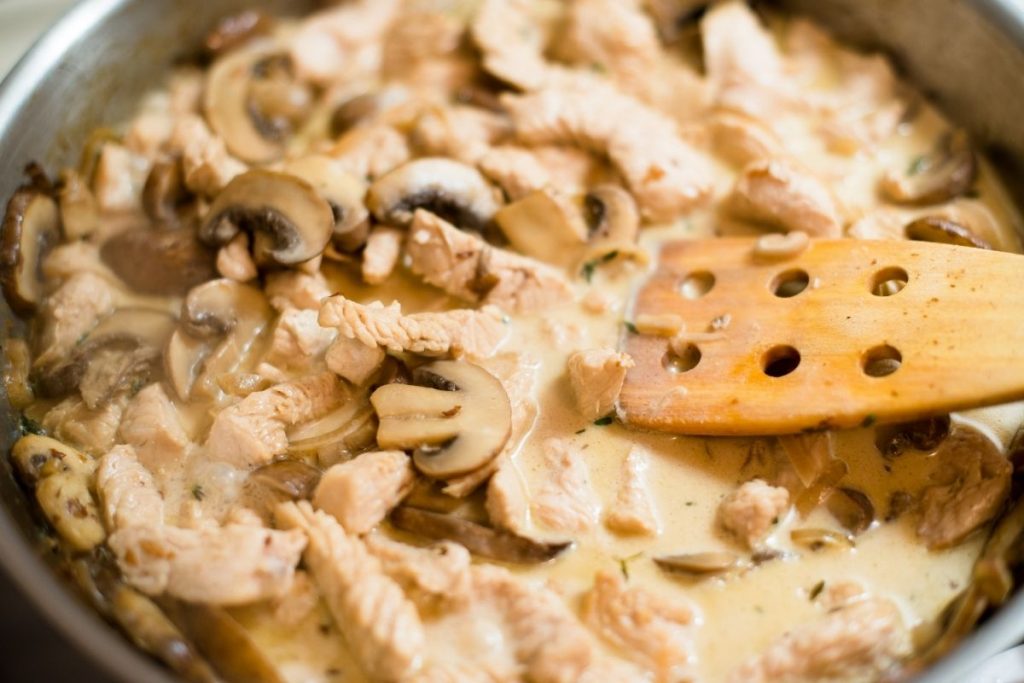 We love a good stew dish. The Zurich ragout is one of the German main dishes that are easy to prepare and you cannot go wrong with this, whether it's for a chilled night in or a housewarming party. Of course, if you want that traditional German food taste, it is best to try it in Germany.
The Zurich Ragout is a famous German food prepared originally with veal. Cooking instructions for sliced veal were especially famous in the Alpine region in the 19th century. The first mention of Züri-Gschnätzlets can be found in a cookbook from 1947. So how do you prepare one of the most popular German dishes?
As mentioned, you will need some veal, mushrooms, white vine, cream, and meat sauce. Zurich Ragout is very easy to make and it won't take you a lot of time. The secret lie within the spices you use. The typical Germa flavors include some parsley and lemon zest which will add the real flavor to this dish. You can serve this dish with some Swiss Hash Browns. Bon appétit!
3. German Potato Pancakes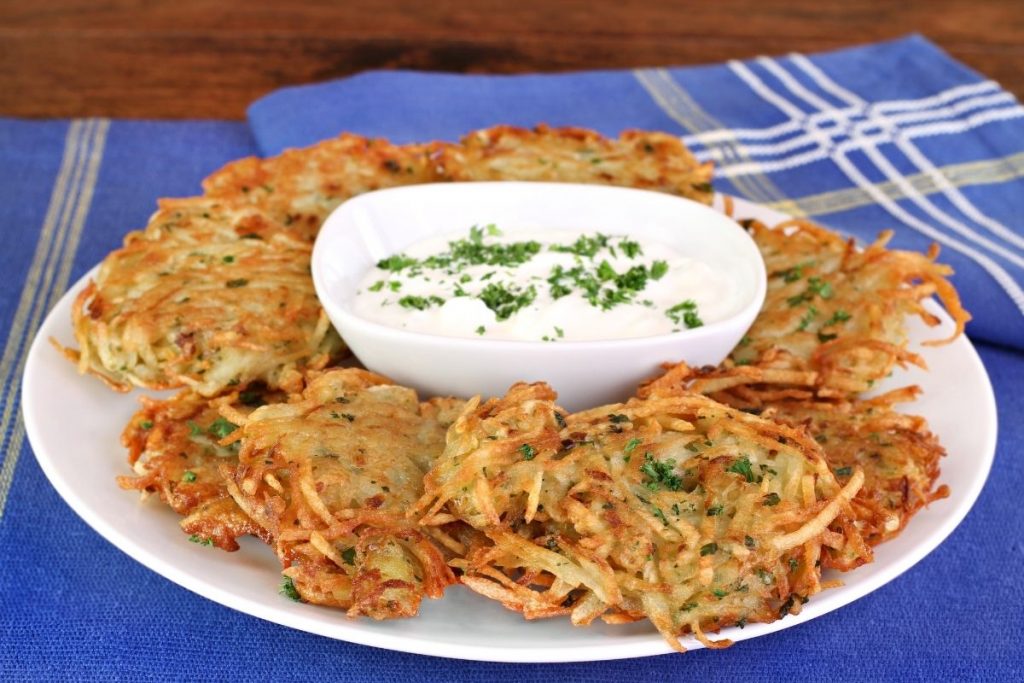 This is probably the most simple dish on our list of German dishes and German side dishes. The Kartoffelpuffer aka the German potato pancakes is one of the German vegetable dishes that can be served alone or with some sort of meat.
Everyone loves German potato pancakes. It's really another one of the German potato dishes that must be prepared in your household every now and then. This is also a popular street food throughout Germany. You can find them at local Volksfests and events like Fasching (Karnival) or Christmas markets. Preparing them is as simple as 1,2,3.
You need to grate the raw potatoes and wrap them in a clean dish towel and wrung the juice out. You'll then mix the potatoes with eggs, finely grated onion and flour. You can form a small oval of potato on your palm and add it to a frying pan. Leave it until it's golden. The good thing is that you can serve it with a variety of sauces. I suggest you make a big portion as it will disappear within seconds!
4. German Pancakes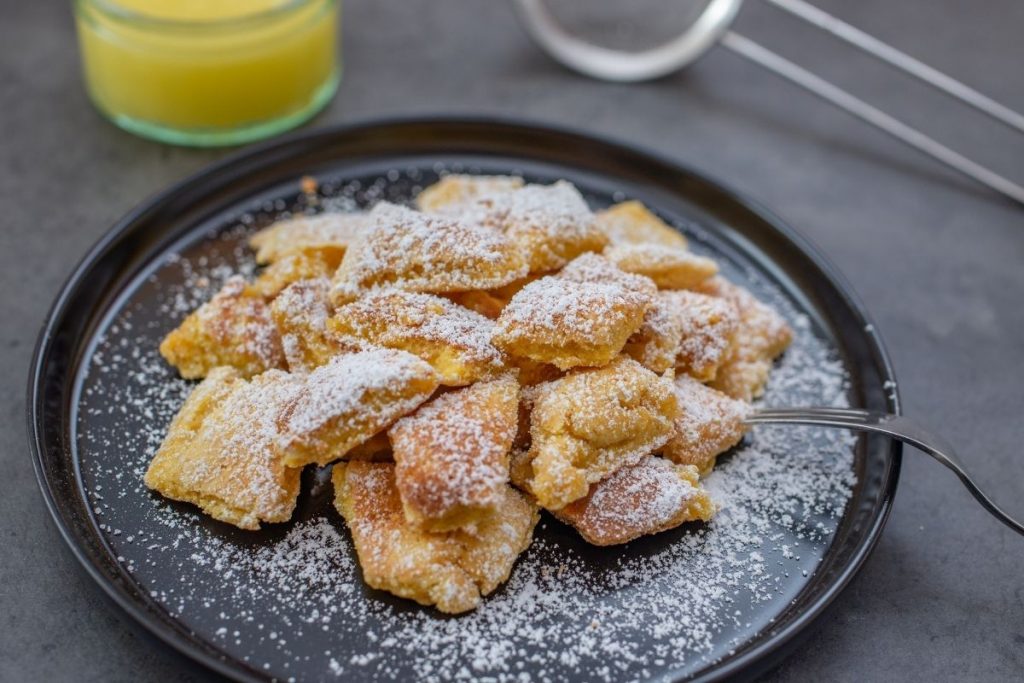 As you may know by now from previous articles, I love desserts. My favorite dessert is probably pancakes, in any form. This popular German food is just one of the many popular German dishes to be served after you've had one of the previous German main dishes. Where do German pancakes come from?
They are also called Dutch baby pancakes, however, they are known to have originally come from Germany as the Pfannkuchen which is made from the same ingredients, however, it's thinner. These German pancakes are fluffy, tasty, sweet and everything you need for an easy and quick dessert.
The ingredients list is simple, you just need eggs, milk, flour, and vanilla. That's it really. Instead of making them in a pan as you would normally do with pancakes or Crepes, you bake them in a metal or cast iron pan. This is how they will get so puffy. You can serve it with powdered sugar and some syrup on top. Yummy!
5. Sauerkraut Soup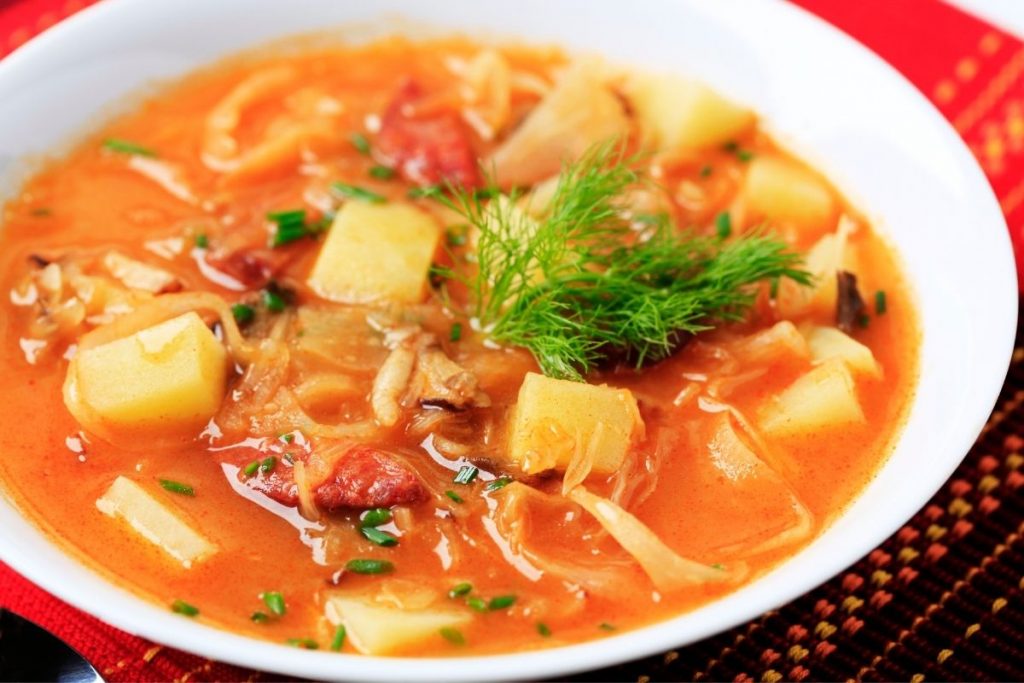 Soups are like a blanket for the soul. They will warm you up from the inside, and make you feel relaxed. One of the German vegetable dishes is German Saurkraut Soup. The Saurkraut means sour pickled cabbage. As you can imagine, this traditional German food is mainly made of pickled cabbage.
Most cultures have this tradition of harvesting cabbage during cold months. The cold weather allows you to ferment the cabbage and have it ready for winter. The foods prepared from pickled cabbage vary throughout the countries. These are German side dishes but if you make it as a soup they can also be German main dishes.
The secret to making a savory and sour soup is in the ingredients used. It's not just the Saurkraut that will make the soup, it's also the smoky paprika, caramelized onions, bacon, and sour cream. This traditional German food can be served alone or if you have some fluffy homemade bread then it's even better. Let us know if you have attempted to prepare this popular German dish at home.
6. German Schnitzel
You might be wondering what is the difference between Austrian and German Schnitzel. Truth be told, there's no difference. They are made the same way. The original recipe is known to be made with veal and "Wienerschnitzel" is a geographically protected term within Austria and Germany. If you want to learn which are the best dishes in Austria, make sure you check our post!
The only difference is that German Schnitzel is actually made from pork instead of veal. The schnitzel itself originally came from the Romans from around 1 BC. It's just a technique of breading and frying thin cuts of meat in a pan. This famous German food is one of the German main dishes that can be served with a variety of German side dishes.
How is this German meat dish prepared then? As you already know, you should use pork. The meat is cut into thin slices and you should also pound it to be very thin. After adding salt and pepper, you would have to dip the pork in flour, egg mixture and then the bread crumbs. The order is very important! You should immediately fry it and leave it until it turns to gold. Serve with mashed, fried or any type of potatoes and a side salad. What other popular German dishes would you like to try out?
7. Sauerbraten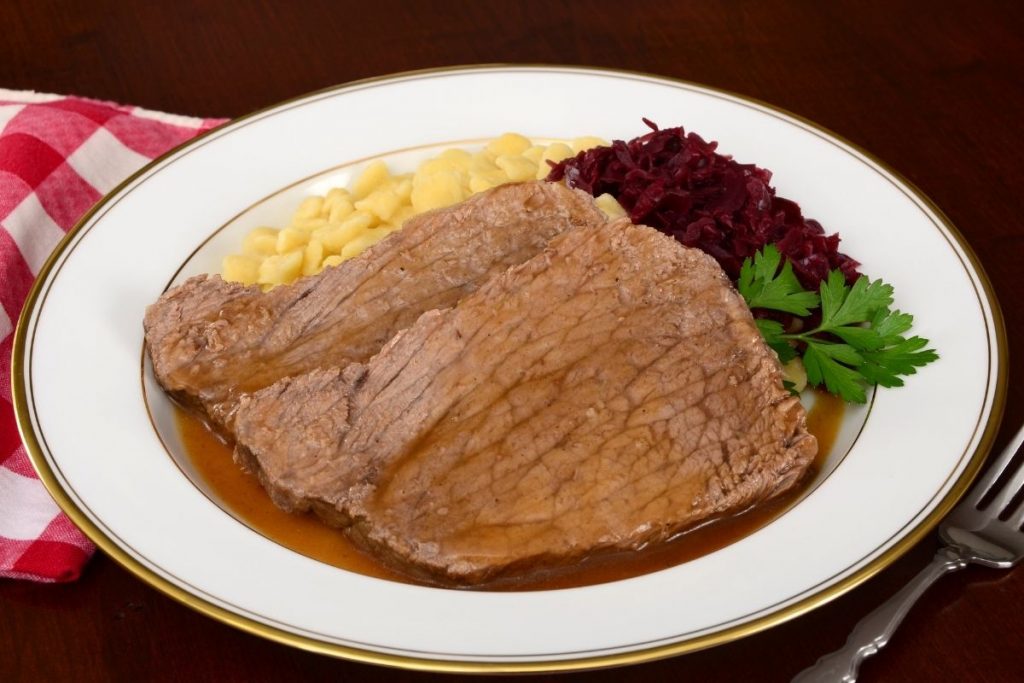 This Sauerbraten popular German food is one of the German main dishes that originated from Julius Caesar who sent beef marinated in wine from Rome to the new Roman colon of Cologne. Later it was Saint Albert the Great of Cologne who crafted the recipe in the 13th century. The original recipe is believed to be made with horse meat instead of beef.
The German meat dish Sauerbraten can be found in many restaurants in Germany. You are probably better off trying it in a restaurant rather than preparing it at home as it is a very lengthy process. Start with a mixture of vegetables and herbs. You will need to mix them in a stockpot and add red wine and red wine vinegar with water.
Once the vegetables are boiled and cooled down, you should marinate the meat in the mix for at least 4 days, however, 7 is better. Once it is marinated you should remove the roast and save the vegetables for later. Now you can cook the meat and prepare the gravy. It is best served hot and with German Bread Dumplings. Would you try out this traditional German food?
8. Currywurst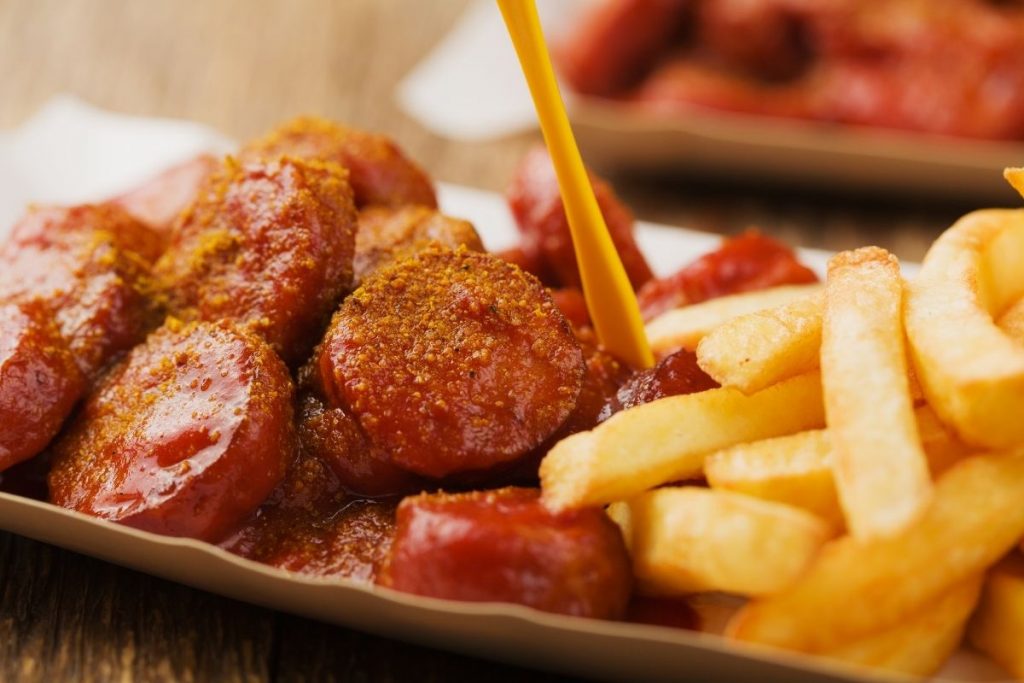 This is the most simple and one of the most popular German dishes you can have at any time. The Currywurst, a German sausage, was invented by Herta Heuwer in 1949. She was living in the British military sector of Berlin during World War II. Herta received some ketchup, curry powder and Worchestershire sauce bright from the UK. Heuwer experimented until she came up with this idea.
Thanks to her, the street workers were never hungry, she would sell 1500 currywurst per day! This popular German food can be found at any fast food stand. You will find it on the streets, in a pub or you can prepare it at home as long as you can buy the authentic German sausage.
If you are in Germany and you can buy Bratwurst and the German Curry Ketchup, then you are in luck. You will have yourself a delicious meal. You just have to grill or pan-fry the wursts and prepare some fries alongside, add the ketchup and it's done. There you have yourself a German meat dish that is tasty and simple!
9. Eintopf – Sauerkraut stew with sausages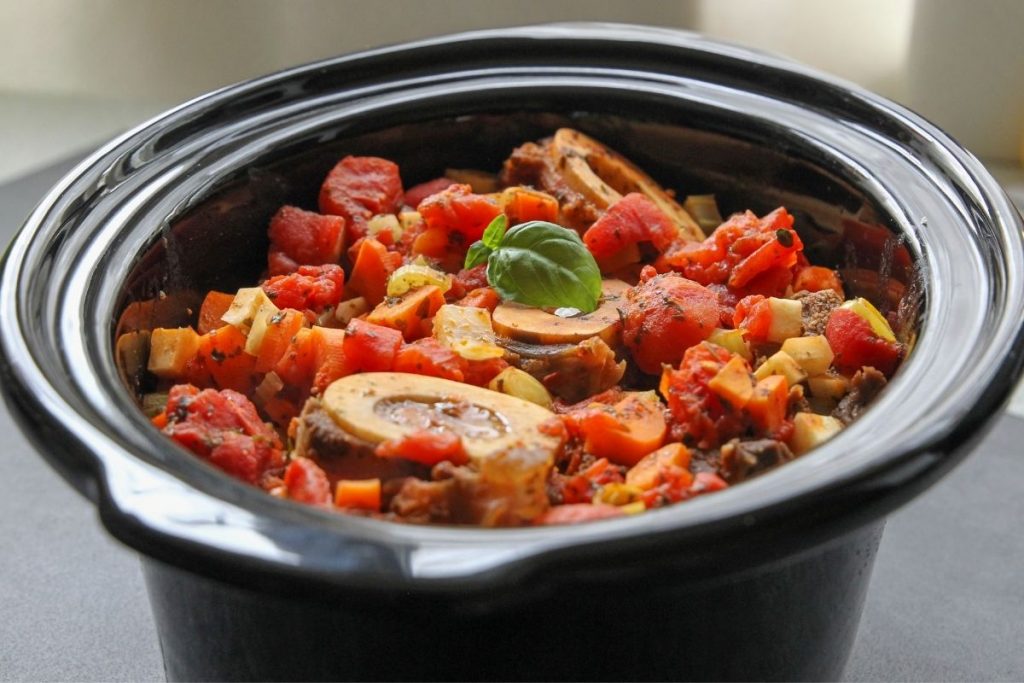 Here we have one of the Eintopf German vegetable dishes. Eintopf meaning "one-pot" is a German stew. You can prepare it with meat or without meat, so thankfully vegetarians will also be able to taste one of the savoury German dishes. For once a dish is not just about the ingredients, but about the way that is cooked.
When we are cooking we usually want to be done quickly. We do not have the time our ancestors used to have to spend hours in the kitchen. We want to make some quick lunches and dinners that are tasty and will last a while. This Eintopf is just about that. So what are the ingredients in this traditional german food?
You'll need some vegetables such as onions, carrots, potatoes and garlic. In case you wish to add some meat, then you would need Bockwurst for this one. All you have to do is at the ingredients in a pot and set the timer. You can do so many things while the hot pot is preparing your hearty German meat dish!
10. Schweinshaxe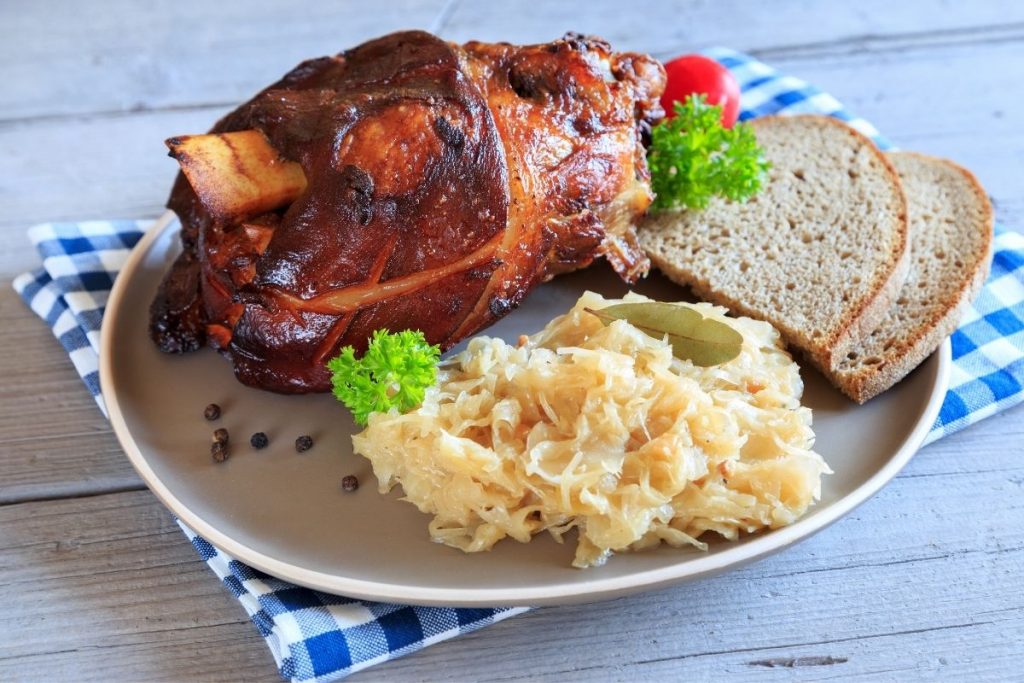 One of the popular German dishes called Schweinshaxe is very popular in Bavaria. This is one of the Oktoberfest staples. I can understand that some people might find this a very odd dish, however, it is a famous German food. That's why you would rather say Schweinshaxe than pork knuckle.
You can find pork knuckles in most of the grocery stores, or in case you have your own pigs then it's even more convenient. The reason why this is so tasty is due to the fact that there's a lot of meat on the knuckles and a lot of skin as well.
Cooking this is quite simple. You just have to season it well with garlic and salt, and place it in a baking dish with sliced onions and beer. The Schweinshaxe should be cooked in the oven for about 3 hours. You can serve this with cabbage, any type of potato. I would recommend trying it during Oktoberfest to get that authentic German experience!
Wrap up of popular German dishes
There you have your most popular German dishes, starting from German meat dish, and German potato dishes to German vegetable dishes and German side dishes. You have salty and sweet combinations and hearty foods that leave you happy and content while discovering the amazing land of Germany.
We do recommend trying traditional German food in restaurants and pubs in Germany. The most popular German food will satisfy your needs! So which authentic German food would you like to taste while visiting Germany? Comment down below!
10 Most Popular Dishes in Germany