Let's talk about Austrian dishes. Austria is the most beautiful country I have ever been to, everywhere you go it's green, the people are lovely and their food is hearty and delicious. We have gathered in this list Austrian main dishes, Austrian side dishes, Austrian potato and bacon dishes, and Austrian vegetable dishes. Austrians definitely love meat and it isn't really absent from any national dish of Austria.
10 best dishes in Austria
We've covered already Hungarian dishes, and British dishes, and now it's time for the best dishes in Austria! My time in Austria is always a blessing. I wish I had this article when visiting and knowing what to eat in Vienna Austria for example! If you've got one day in Vienna, you must check in advance the local cuisine, and arrive prepared to know what you must try!
The capital of Austria, famous for the royal families living there hundreds of years ago, is a city that is rich in architecture and as you will see rich in food and flavor. Austrian potato dish and Austrian vegetarian dishes are very popular. If I can recommend one country to visit for everyone in their lifetimes, it definitely would be Österreich. Let's see the things to eat in Austria!
1. Wiener Schnitzel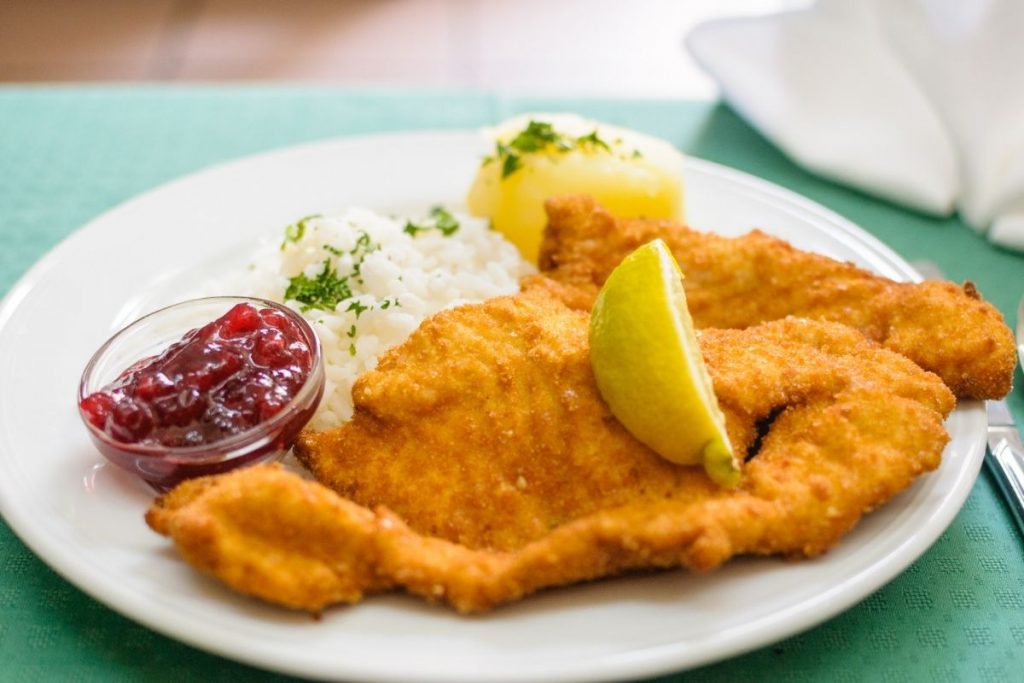 The wiener schnitzel is a national dish of Austria and a well known Austrian dish. If you are wondering what to eat in Vienna Austria, then I would definitely recommend trying out this wiener Austrian dish. It first made its appearance in the 19th century, however, it was mentioned before in a cookbook in 1831.
There is a lot of debate on where the dish originally came from. Some say that the first mentions were in an Italian gastronomy book, however, that was later proved to be wrong. One thing we know for sure is that it appeared in Katharina Prato's cookbook in 1831 as "breaded veal cutlets" and it has been one of the most famous Austrian side dishes ever since.
This wiener Austrian dish is prepared from veal slices. The idea is that they have to be very thin so the meat cooks through properly. The mixture in which you have to roll the meat consists of milk, flour, whipped eggs and bread crumbs. The bread crumbs shouldn't be pressed into the meat so they don't dry up. The schnitzel is fried in either lard or clarified butter, however, nowadays it's mostly fried in oil. It can be served with a number of side dishes but the best, in my opinion, is mashed potatoes. Onto the next Austrian dishes!
2. Tyrolean fried potatoes with meat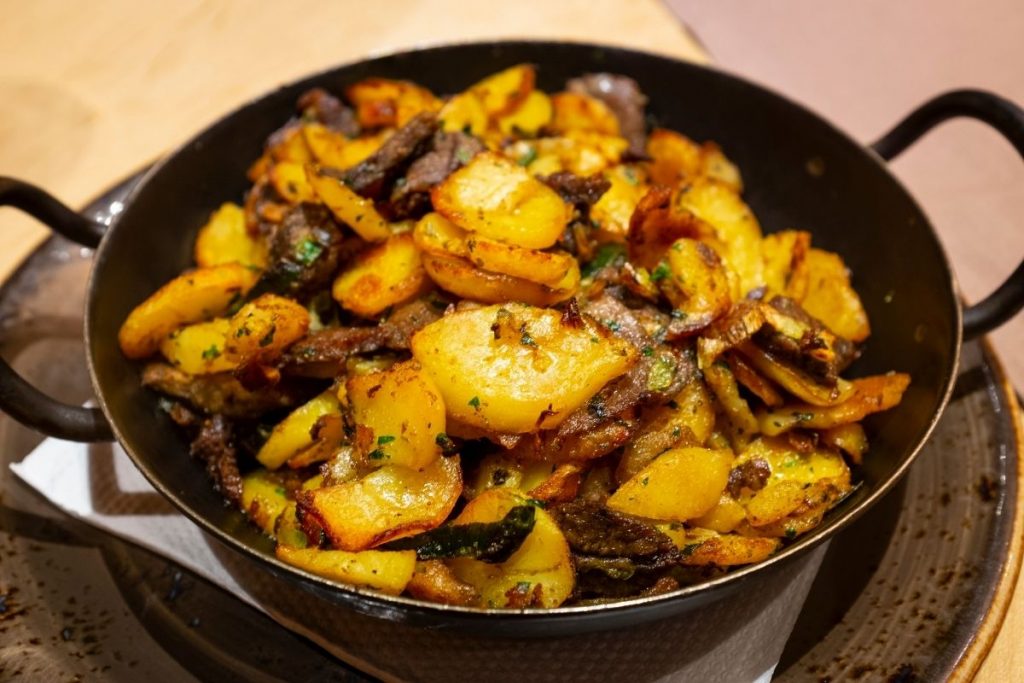 This famous Austrian potato and bacon dish comes from Tirol, a beautiful skiing and hiking resort in Austria. The reason why it's from Tirol is that in this area the Tyrolean farmers needed to eat something quick and simple, yet something that would fill their bellies for a long time and give them the energy to work.
Tiroler Gröstl is also very convenient to make as it used to be made from Sunday roast leftovers and that's how it became popular amongst the farmers. The ingredients list is very simple, all you need is potatoes, bacon, beef, chives, spices, and fried eggs for the topping. Then you fry them and mix them together in a pan.
Just as with any dish, the secret is really in the spices. That is what adds flavor to the whole dish. If you're ever wondering what to eat in Austria then this national dish of Austria should be on the top of your list. You can prepare it at home easily but also find it in local restaurants.
3. Austrian potato goulash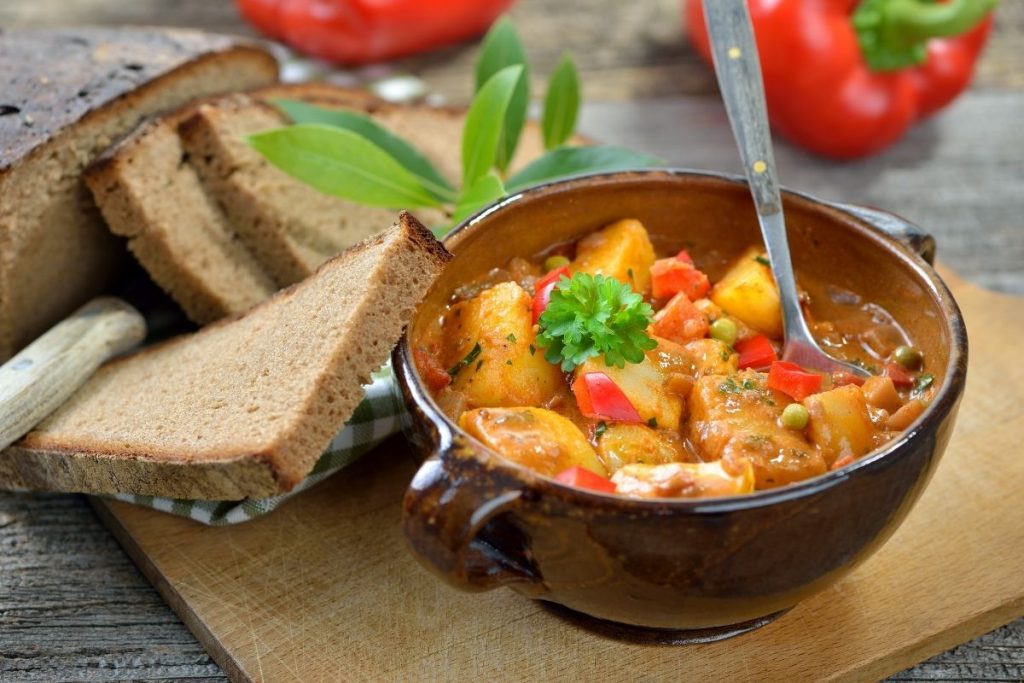 Austria loves to eat meat, however, let's see some Austrian vegetarian dishes as well where we can exclude the meat. One of them is the Austrian potato goulash (Kartoffelgulasch). Now you might think that the goulash itself doesn't originate from Austria, in which case you are correct. This version is similar to Hungarian Goulash, however, without the meat.
As we know goulash is a sort of stew made of vegetables and the main ingredient is potatoes. These were also consumed by shepherds as it's very simple to make and while you are out on the field, you can just make some fire and prepare the goulash in a cauldron. These Austrian dishes are very easy to make so far, right?
All you need is potatoes, onions, sour cream, stock, and spices like salt, pepper, garlic, paprika both hot and sweet. It is very simple to make which is why I think this version is one of the best Austrian vegetable dishes and a well known Austrian dish overall. Do you prefer it with meat or without?
4. Vienna Sausage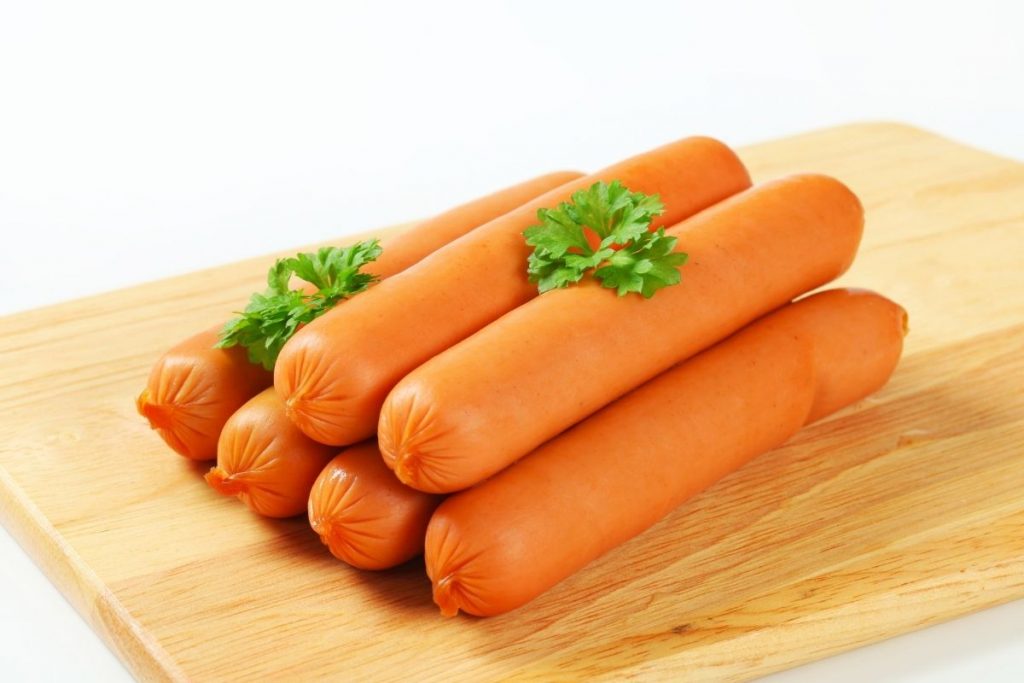 The national dish of Austria is definitely Vienna Sausage or Wiener Würstchen as they call it in Austria. This magnificent wiener Austrian dish is so simple yet so delicious. The sausage was invented by a butcher from Frankfurt, however, he moved to Vienna so sometimes you might see the name Frankfurter instead for the sausage.
This is just one of the things to eat in Austria in case you are looking for a quick meal. Not to be mistaken with the American version of hot dogs, although they are quite similar. The sausage originally was made of spiced ham, however, today you can make it out of chicken or turkey as well.
Vienna sausage is usually a bit longer than the hot dogs in North America and the casing is edible. There are different types of sausages made with casing which comes off once you boil it, nowadays it all comes down to branding. If you were wondering what to eat in Vienna Austria then this Wiener Austrian dish should be an easy choice to make.
5. Käsespätzle, German Cheese Spaetzle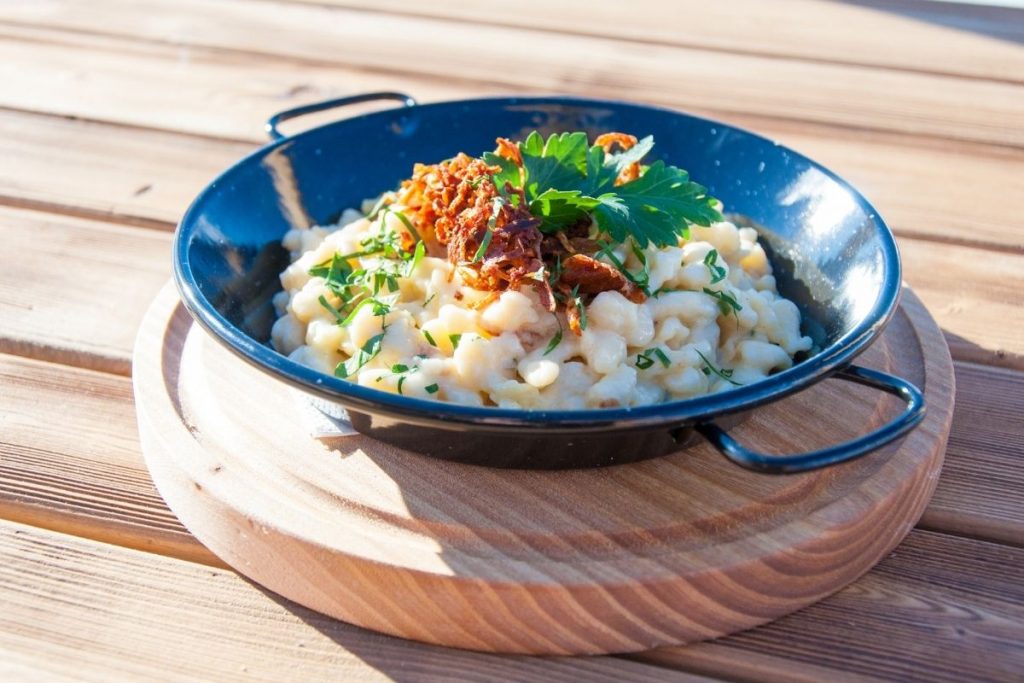 The German Cheese Spaetzle (Käsespätzle) is a well known Austrian dish that is kind of similar to the Italian Macaroni and cheese. This is one of the things to eat in Austria when you are in a rush. The pasta will make you feel satisfied for a long time and discover your surroundings.
Käsespätzle is popular in regions of Baden, Tyrol, Swabia and Allgäu. All you need is the spätzle which is really the noodles/pasta and cheese. The cheese can be cheddar, Emmentaler or granular cheese. It is very important to layer them alternatively. It can be decorated with fried onions before warming up in the oven.
In case someone wants a side dish, you can pair it with a green salad or potato salad. All these Austrian dishes are simple and will warm you up from the inside. So what other Austrian main dishes would you like to try out? We still have a few more on the list, let's see some deserts.
6. Viennese Apple Strudel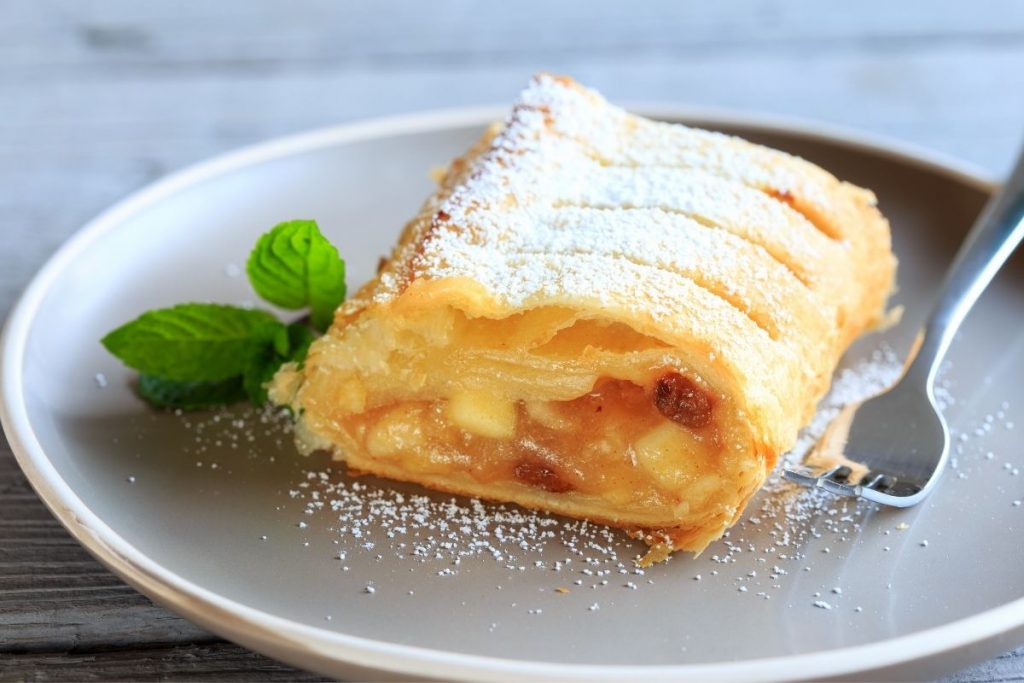 Finally, we get to a dessert. I love desserts and the Viennese Apple Strudel is just too good not to try. So if you have a sweet tooth and are unsure what to eat in Vienna Austria, then make sure to try the Viennese Apple Strudel (Wiener Apfelstrudel). The interesting story about the strudel is that it was invented after trying the Turkish Baklava pastry.
As the foundation of the Baklava is a pastry, in 1453 they realized in Austria you can create a variety of dishes. The oldest strudel recipe was from 1696 and it can still be found at the Vienne City Library. Other types of strudels are almond, semolina, rice, grape strudel and so on. The Apfelstrudel however remained a favorite winner Austrian dish.
The preparation is pretty lengthy, in case you want to do it yourself at home. You have to prepare the dough, peel the apples and prepare them with sugar and powdered cloves, then form the pastry and fill the dough with the apple mixture you just created. Of course, I simplified it, the process is much more complicated, so you are better off trying it at a local restaurant!
7. Sachertorte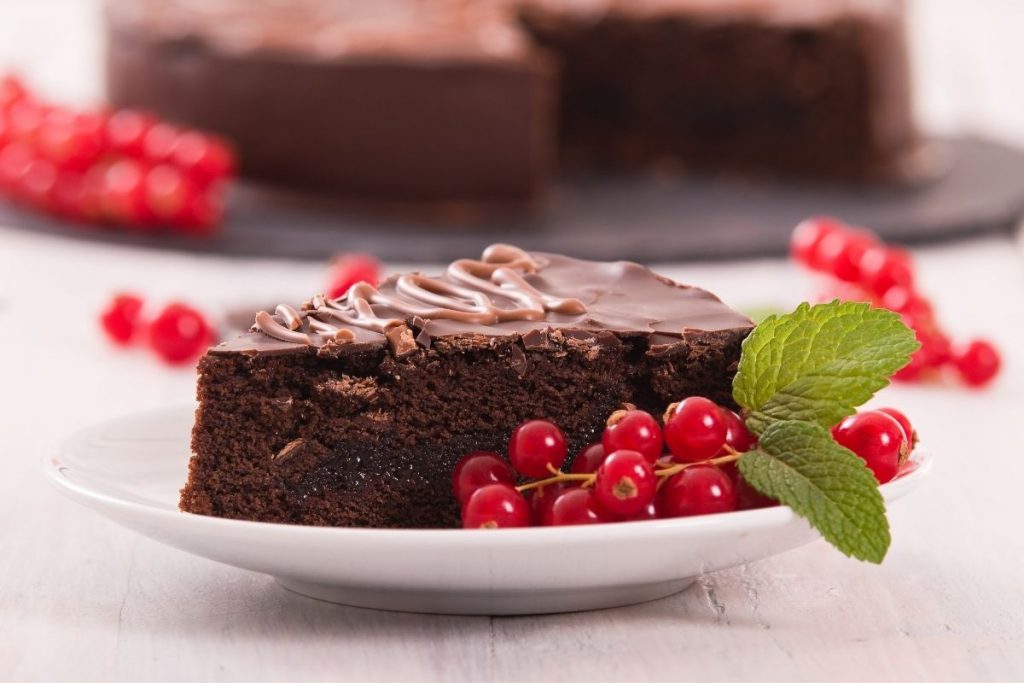 This is a personal favorite of mine. The perfect chocolate cake! A national dish of Austria is definitely this lovely dessert, Sachertorte. Franz Sacher is the one who invented the cake while being an apprentice under Chancellor Metternich. Franz had to create a novel cake when the chef was ill. We are not sure if the story is true as Franz's son, Eduard is the one who got to tell this story.
Regardless of the story, the cake is still an all-time favorite and if you're looking for things to eat in Austria that are sweet, this is the cake for you. The original Sachertorte is made of chocolate cake, a thin layer of apricot jam, and dark chocolate icing coated on the top and sides. Just looking at this picture makes me crave it!
In case you are wondering where to try it, the Original Sacher Torte can be found at Hotel Sacher in Vienna and Salzburg. The recipe at Hotel Sacher is a secret and it is believed that the icing is the secret ingredient, not the cake itself. The original cake will come in a specific box, a wooden box with four golden corners and Hotel Sacher Wien engraved in it as well as the "Das Original" phrase. Let us know in the comments if you've tried this one before!
8. Greaves Dumpling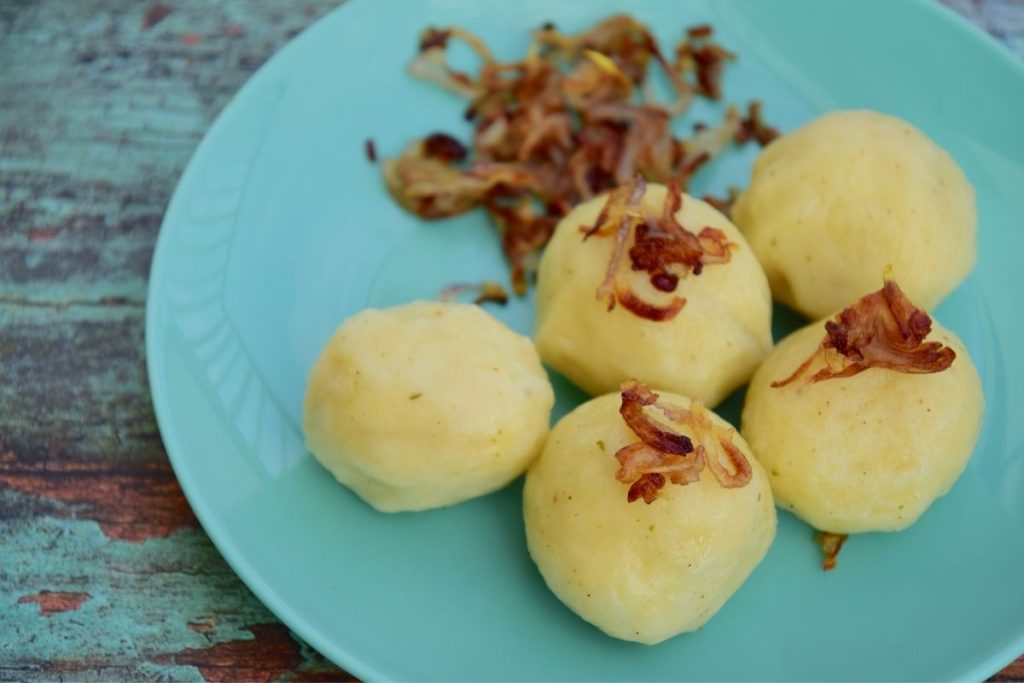 A well known Austrian dish is Greaves dumplings. Dumplings are famous all around the world. nearly every country has its own dumpling, whether it's sweet or savory, you will find it in most places. Europe, Asia, America, really you can't miss it. These Grammelknödel from Austria are one of the Austrian dishes for you to try out when traveling to Austria.
There's an old saying about dumplings: "Knödel warten nicht auf den Gast, sondern dieser auf die Knödel." ("Dumplings do not wait for the guest, the guest waits for the dumplings!". They say that Austria is the country of Knödel as there isn't another place that has so many different dumplings than Austria does.
The ingredients list is simple. For the dumpling dough, all you need is potatoes (floury), eggs, flour and for the filling you need greaves, onion, garlic, parsley salt, and pepper. You make the dough first of course and fill it with the greaves. Once you boil it you can simply take them out and serve them with some raw cabbage. I would probably even eat sour cream next to it. These are the Austrian food dishes that would make me travel there anytime!
9. Traditional cold meat snack platter Brettljause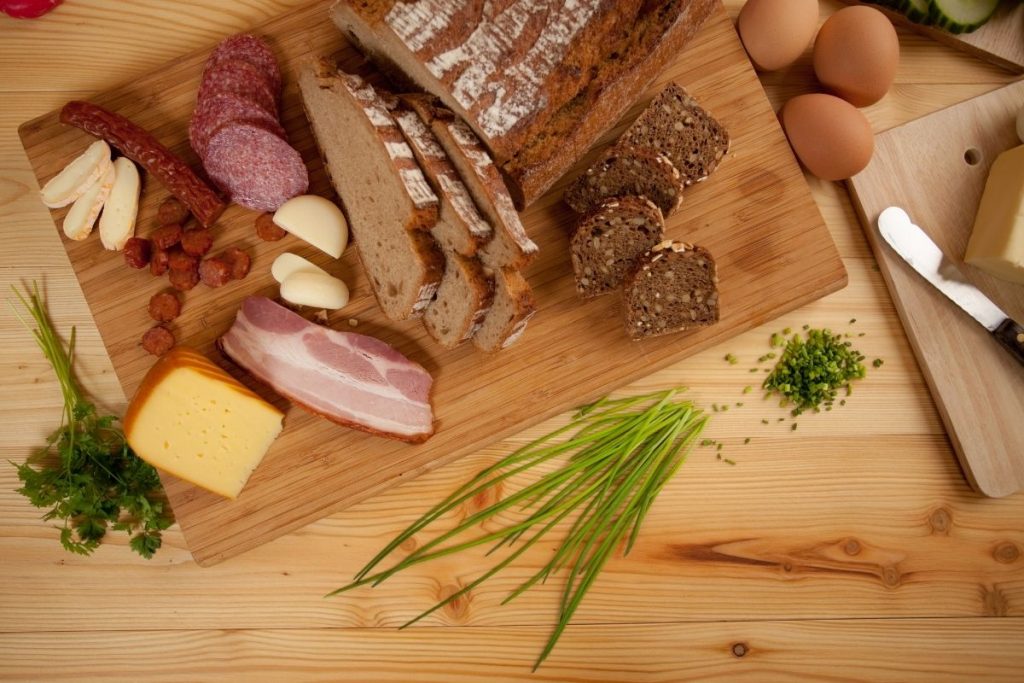 This image just makes me think of lovely mornings in Austria, my aunt preparing breakfast. The bread in Austria is very tasty and I haven't found anything like that elsewhere. So if you're wondering what to eat in Vienna Austria, then why not go to a restaurant to try Brettljause? The traditional cold meat snack platter is a well known Austrian dish and can even be served as breakfast.
The reason why it's called Brettljause is due to the fact that this dish is served on a wooden platter. It makes it feel rustic. These platters are normally served traditionally on Austrian farms and wine taverns. You can either serve it the way that is on this image or you can even add some egg spread next to it.
The ingredients can be different for everyone, however, Brettljause should definitely include sliced pork roast, black pudding, cured and smoked pork, Presswurst (similar to pork). Then the vegetables can also be added depending on taste. Peppers, gherkin, onion, cucumbers, and so on. You should boil some eggs and add some of your favorite cheese!
10. St. Martin's Day goose Martinigans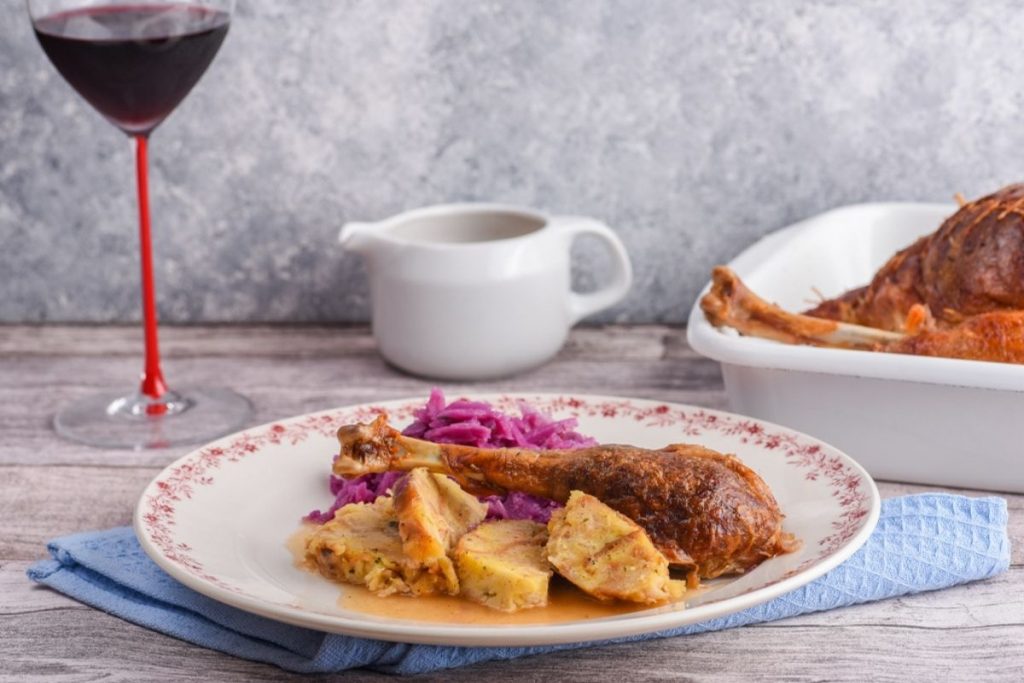 This national dish of Austria shouldn't be missing from Sunday dinner. Why Sunday specifically? Well, it just looks like something I would cook on a Sunday. The duck used to be considered a high-class dish and on St. Martin's day, the geese were delivered to wealthy people by the farmers. This tradition would always happen on 11.11 Martinigansl.
In case you are visiting the country in October or November and you are looking for Austrian food dishes, you will be able to find them in the restaurants. In case you would like to prepare it at home, then I have to warn you, it is quite a lengthy process, but definitely well worth it. You can surprise your husband/wife with this meal, or your family.
Either prepare the goose either with stuffing or without, however, without stuffing will definitely be quicker. Why not have it with one of the Austrian side dishes or regular side dishes. Either red cabbage or Austrian potato dumplings, or it also goes well with mashed potatoes. This Austrian main dish is worth the wait until October or November! What do you think?
What to eat in Austria
There we have all of our Austrian dishes which are recommended for you to try. The Wiener Austrian dish, the Austrian main dishes, and Austrian vegetable dishes are all good options when visiting this wonderful country. Austrian food dishes will leave you satisfied at your heart and belly.
Which national dish of Austria do you think is the best on the list? Do you prefer the Austrian potato and bacon dish or just the Austrian potato dish? In case you wish us to make a list of Austrian vegetarian dishes, please let us know and we'll be glad to deliver!
Pin it: 10 Best Austrian dishes – What to eat in Austria
10 Best Dishes in Austria