Are you looking for a great Wiener Schnitzel recipe? Maybe you're trying to find out what is Schnitzel? Well, you're in the right place then! We at Europe Dishes love this dish, and most of us basically grew up eating and making Pork Schnitzel recipe every few weeks. With this, you might be already guessing where we are from, right? We'll soon get to that as well as we'll share with you how to make Schnitzel, the best one!
About the Wiener Schnitzel recipe – what is Schnitzel?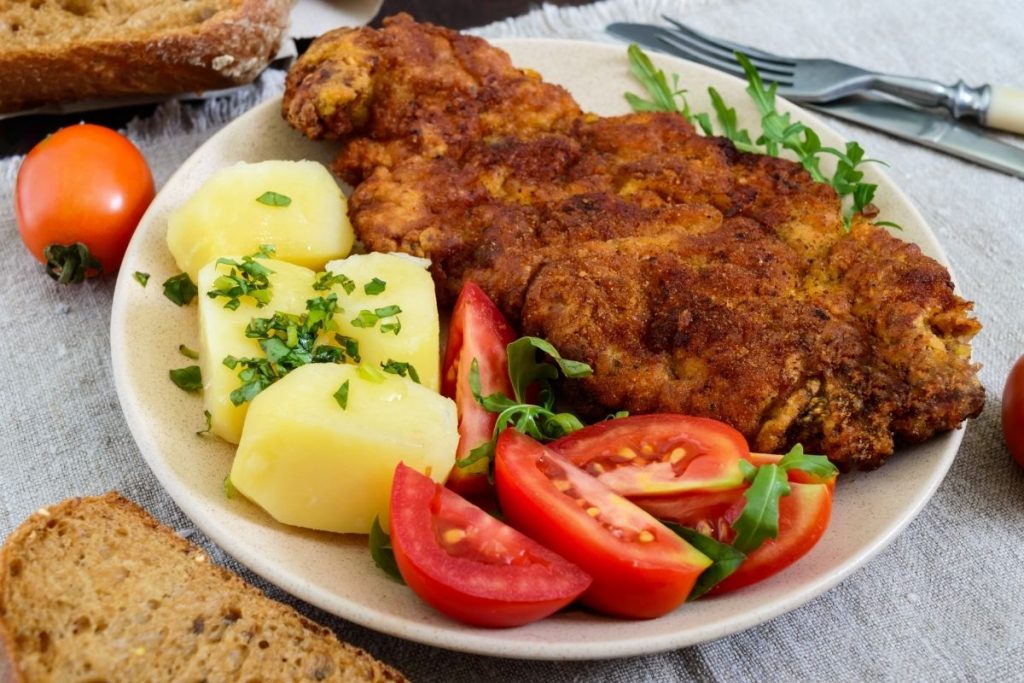 The wiener schnitzel is a national dish of Austria and a well-known Austrian dish. It first made its appearance in the 19th century, however, it was mentioned before in a cookbook in 1831. There is a lot of debate on where the dish originally came from. Some say that the first mentions were in an Italian gastronomy book, however, that was later proved to be wrong.
One thing we know for sure is that it appeared in Katharina Prato's cookbook in 1831 as "breaded veal cutlets" and it has been one of the most famous Austrian side dishes ever since. Since in our team we are 2 Hungarians and Schnitzel is one of the most popular dishes in our country, this is what we were making for Sunday lunches but also for weekly meal plans.
Austrian or German Schnitzel?
You might be wondering what is the difference between Austrian and German Schnitzel. Truth be told, there's no difference. They are made the same way. The original recipe is known to be made with veal and "Wiener schnitzel" is a geographically protected term within Austria and Germany.
If you want to learn which are the best dishes in Austria, make sure you check our post! The only difference is that German Schnitzel is actually made from pork instead of veal. The schnitzel itself originally came from the Romans from around 1 BC. It's just a technique of breading and frying thin cuts of meat in a pan.
What to serve Pork Schnitzel with?
The wiener schnitzel recipe is prepared from veal slices, but since we prefer pork loins, our pork schnitzel recipe should be rather categorized as German Schnitzel. The schnitzel is fried in either lard or clarified butter, however, nowadays it's mostly fried in oil. We will also be using sunflower oil to fry it, and we will also avoid the milk since we avoid as much as we can milk.
It can be served with a number of side dishes but the best, in my opinion, is mashed potatoes. However, you can also serve it with salad, fried potatoes, oven-baked potatoes, or even rice if you prefer that. If you want to go with rice, our favorite is rice with corn and mushrooms mixed into it.
Wiener Schnitzel recipe – Pork Schnitzel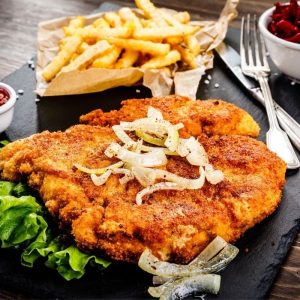 Wiener Schnitzel Recipe
Pork Schnitzel is a very popular dish in Germany, Austria, Hungary and Transylvania. How to make Schnitzel? Find below the best Wiener Schntizel recipe.
Ingredients
4

large

Pork Loins

2

Eggs

50

g

Flour

60

g

Breadcrumb

Salt, Pepper

Garlic Powder

optional
Instructions
To make the best wiener schnitzel recipe, take the 4 pork loins and place them on a chopping board. Use a meat tenderizer to soften up the slices. Then, seasons them with salt and pepper. You can add garlic powder too if you like that.

If you leave the loins for about 30 minutes covered in the fridge, they will soak up the seasoning and it will taste better, however you can skip this if you don't have the time.

Beat up two eggs adding salt and pepper to it too. Prepare a deeper plate with flour, and one with breadcrumbs. Heat up vegetal oil (preferably sunflower oil) in a skilet enough to almost cover the pork slices.

Dip your pork slices first in flour. Making sure that each bit is covered in flour. Then, dip them one by one into the eggs, and lastly into breadcrumbs. If the oil is hot enough, place them right away in the skillet.

Keep the heat on medium and leave one side to fry for about 4-5 minutes. Make sure you control it and as soon as they get a golden color turn them around for the other side to fry too.

You must stay near the stove and control the pork loins as you're frying them, since they can also burn if you leave them even 1 minute longer than you should.