Cauliflower was one of my favorite veggies ever. Well, it's not actually a vegetable, but an actual flower, but we tend to list it into the vegetable category anyway. During the years, I've been experimenting with different cauliflower recipes, from creams that you can put on a toast, or dips, casseroles, breaded cauliflower recipe, and different soups as well. So far, my top favorite of these is the breaded fried cauliflower. The breaded cauliflower bites in Hungary are served with Soured Cream (creme fraiche) which makes it absolutely spectacular. Let's see how to make breaded cauliflower and how to serve it?
Breaded cauliflower recipe – Breaded cauliflower bites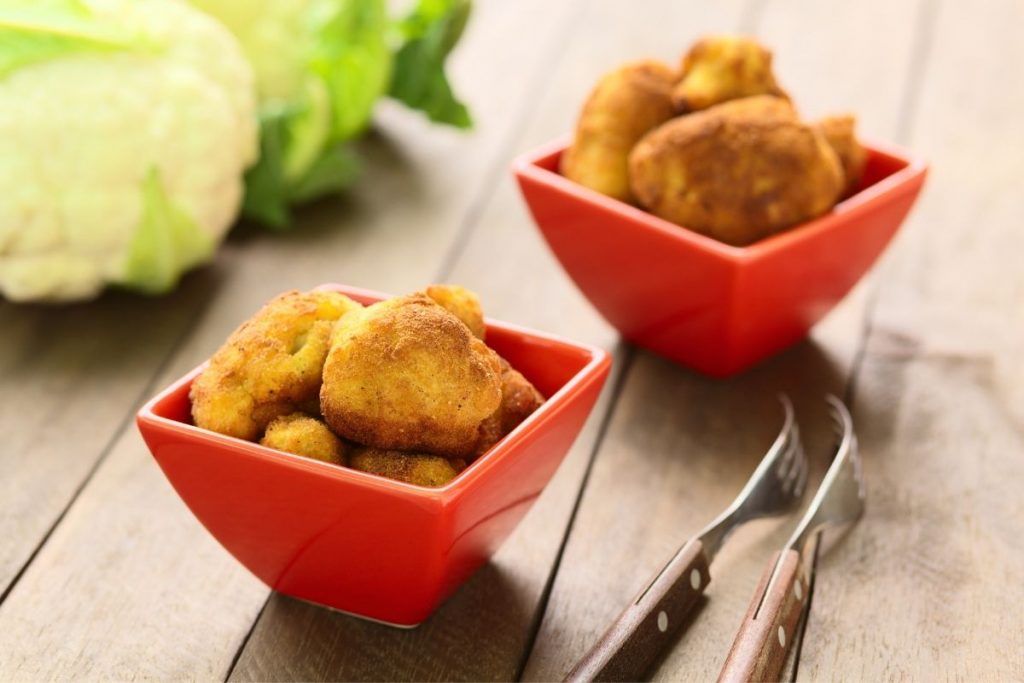 For those asking how to make breaded cauliflower I have good news! It is one of the easiest recipes I have ever encountered, and it is one of those recipes I've first learned when I started to learn cooking at the age of 15. Making breaded cauliflower bites is simple. You just need really few ingredients, and to follow a few easy steps that you can also use for fried cheese as well as for Austrian dishes like the Schnitzel, Cordon Bleu, or anything that can be breaded really.
The only issue with these types of recipes is that you can create a real mess in the kitchen however following my advice, this should be reduced to a minimum. To keep clean your kitchen when you make breaded fried cauliflower is to choose 3 bowls that are large enough, but not too low either, so the flour or the breadcrumbs won't fall out, and you don't have to touch the cauliflower bites to mix them into these ingredients.
Then, if you're adding with one hand (let's say the left hand) the cauliflower into the flour, make sure to use the same hand when you put them into the eggs. Then, use your right hand if needed to make sure that every side is covered in eggs, and with this hand place it into the breadcrumbs, but do not touch the breadcrumbs with your right hand!
Use again your left hand if needed to help get breadcrumbs on all sides of the bites, but the best is if you're using a taller bowl so you can grab it and shake it without having to touch the cauliflower.
This way, you won't end up with all the ingredients sticking to your fingers, with what you'd have to touch everything in the kitchen and make a mess. The reason it's harder to keep everything clean when you do breaded cauliflower bites is, that you have to be gentle with the bites since they are cooked and soft, and they shouldn't break, so you can't bread 5 at once. You must do it one by one, and be fast enough to not get the oil burned in the meantime.
How to serve crispy breaded cauliflower bites?
Now that we've learned a few insights on how to make breaded cauliflower, it's time to see how to serve it! You will find all the details on the steps of making crispy breaded cauliflower bites below in the recipe, but until then, here are a few more tips!
The great thing about breaded cauliflower bites is, that you can serve them as appetizers, as the main course, or as a side dish too. Also, you can serve it hot, and cold too. I personally like it as an appetizer, or as a main course (since I don't eat much) and both ways I prefer it hot. If it's hot, with the cold soured cream it becomes something incredibly delicious and amazing!
This breaded cauliflower recipe is also great to be served as a side dish, near the meat, grilled meat filet, like turkey, chicken, or pork, but also on side of a steak can be great! The calories are really low, even though since they are fried in sunflower oil, that will increase it somewhat, but not as much as if you'd be having fries on the side or bread.
If you're listening to me, and you decide to serve the breaded cauliflower bites with soured cream, you just have to put into little dispensers (bowls) some soured cream, so anyone can just dip their cauliflowers in it and eat.
Crispy breaded cauliflower recipe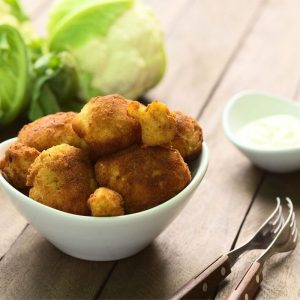 Crispy Breaded Cauliflower Bites with Soured Cream
How to make breaded cauliflower recipe? Here's my favorite recipe for breaded fried cauliflower, to serve for appetizer or as main course, or even side dish crispy breaded cauliflower bites with soured cream.
Ingredients
1

Cauliflower

2

Eggs

50

g

Flour

100

g

Breadcrumbs

Salt, Pepper

Garlic Powder

optional
Instructions
First step in this crispy breaded cauliflower recipe is to clean it from leaves and cut it in smaller flowers. Make sure to not separate the heads and do it really gentle, so it won't fall apart.

Boil water, add salt, put the cauliflowers inside and cook them until they get soft. If you add them into boiling water, it should't take more than 15 minutes. Take them out drain them, and prepare a pan with oil.

When it comes to cauliflower, you need more oil, otherwise, it's getting pretty hard to fry each side of the pieces, especially if you have bigger chunks.

Then beat up two eggs, prepare on a plate flour, and on another one the breadcrumbs. To the eggs, you should add salt and pepper after taste, and some garlic powder optionally for extra taste!

In the meantime while the oil is heating up, start dipping your cauliflowers one by one first into the flour. Make sure to roll them into the flour well, so it sticks everywhere.

Once you've got one ready, dip it into the eggs, following my tips to not get dirty the whole kitchen, and make sure that the eggs stick on each side. Take it out, and put it into the bowl with breadcrumbs, and roll it into the breadcrumbs well, so they stick everywhere.

You should right away add them one by one as they are ready into the oil. If you've used enough oil to just cover it until half, don't forget to turn it around while you're dealing with the other cauliflowers.

It doesn't take more than 3-4 minutes in hot oil for them to get crispy on the outside, so once one is ready, you can remove them from the oil right away and add them into a bowl with a kitchen towel under, so that can soak up the oil.

Also, make sure to turn off the gas after the first round from medium to low, otherwise while you're busy dipping the cauliflower chunks into the ingredients, they will get burned.