This chicken empanada recipe requires a bit more work, but believe me when I say that it is worth the effort! This meal is not something you prepare every day, especially when you are in a hurry. It is a great choice for special occasions, picnics, or when some friends come over and you want to surprise them with something truly special and delicious. There are many types of chicken empanadas recipes, but I did my research and I am confident that the chicken empanadas recipe that I am going to share with you below will win your heart. Not to mention that I prepared this recipe many times and it was always a huge success!
Chicken Empanadas Recipe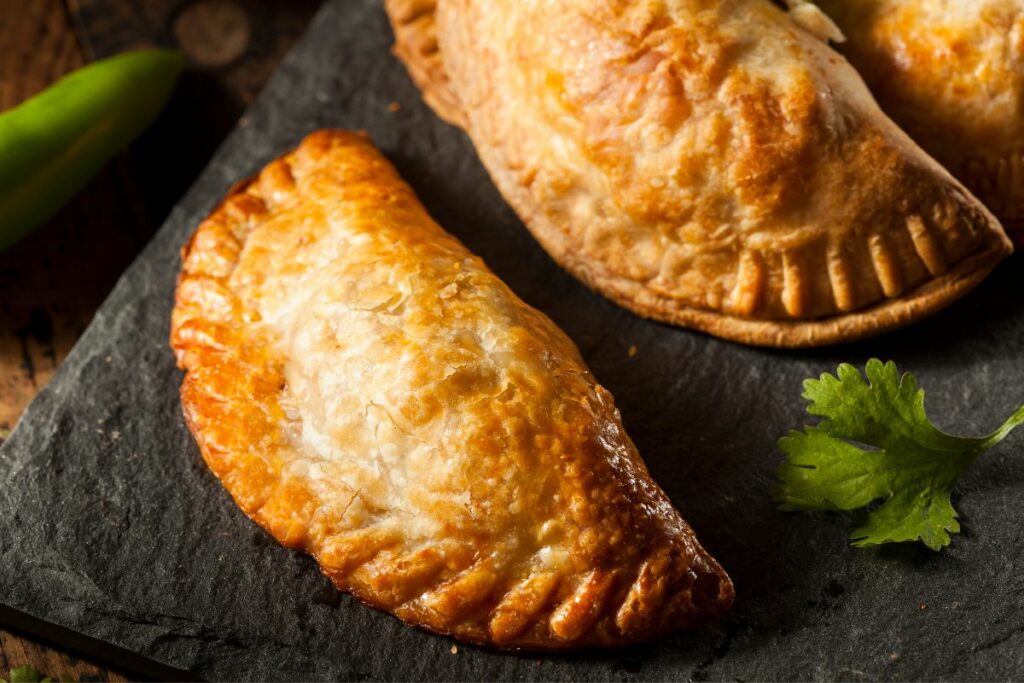 But before we dive deeper into this chicken empanada recipe, let's see where this amazing food comes from. If you have been to Spain or any Latin country, you most likely came across empanadas. You can find many types, from veggie varieties to empanadas stuffed with all kinds of meat. From Spain to Ecuador empanadas are a big hit and there is nothing surprising about it, as empanadas are delicious things that you can enjoy any time of the day! The most popular is undoubtedly chicken empanadas, but there are also empanadas with beef, pork, ham, fish, shrimp, avocado, beans, spinach, or mushrooms. And the list is not complete.
Story of the chicken empanadas recipe
Many think that the first and original chicken empanada recipes come from South America, more exactly Argentina. Undoubtedly, you can find empanadas everywhere on the South American continents, but the very first appearance of empanadas originates from Medieval Iberia, which included Portugal and Galicia (Spain). However, my chicken empanada recipe is inspired by Argentinian recipes. I really like how people think of empanadas in Argentina. Nowadays you can find these hand-sized pockets filled with meat on all corners.
Earlier empanadas were known as the working men's meal. Made of dough and filled with meat, empanadas were easy to carry to work and eat during the day. If you think about it, not much has changed about them. Also, in case you're wondering, you can also find empanadas made of maize or corn flour, but for this recipe, we will use all-purpose white flour.
What do you need for a chicken empanada recipe
Now let's see what you need to prepare this chicken empanadas recipe. While the bad news is that it will take some time to prepare the dough and the filling, the good news is that this food has very simple ingredients. The basic ingredients are flour, eggs, and chicken, the rest are things you most likely have at home. What you will 100% need is a big tray to bake your empanadas in the oven. So before you do anything else, cover a tray with baking paper. Then get ready to get your hands dirty!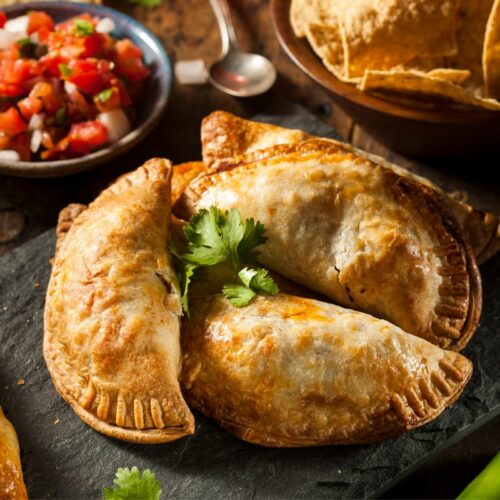 Chicken Empanada Recipe
If you are looking for chicken empanada recipes, stop here right now! Get ready to get your hands dirty, as you are going to learn how to create your own empanada dough and filling for the best chicken empanadas ever!
Ingredients
400

g

chicken

300

g

flour

80

g

butter

2

tbsp

olive oil

1

bell pepper

1

onion

3

cloves

garlic

3

eggs

1/2

tsp

cumin

2

bay leaves

salt, pepper

chilli
Instructions
As with all chicken empanadas recipes, this one also starts with making the dough. Mix 350 g flour with 60 g melted butter, two drops of olive oil, and salt. Once done, put the dough in the freezer for about 40 minutes.

In the meantime, chop all the veggies into small pieces, and cook them together in a pan. At this point, you can add the chili as well if you would like to.

In a separate bowl, cook the chicken in broth until tender. Add the bay leaf to the chicken.

Once the chicken is done, use two forks to tear the meat apart into small pieces.

Cook the 3 eggs, clean them, and cut them into small cubes.

Mix the chicken with the eggs and chopped vegetables.

Take the dough out of the freezer and start to stretch it. Once you stretch the dough, try to cut circles of the size of a smoothie bowl. You can actually use one to do so.

Put one tbsp of filling in each circle.

Fold the dough in two. Use egg white to make the sides stick together. You can also press it together as hard as you can, so it won't open while in the oven.

To make your empanadas look even more nice, you can start and fold the sides piece by piece. Do not forget to cover the top of empanadas with egg yolk.

Place them side by side on a tray that is covered with baking paper. In a preheated oven bake them at 200 degrees for about 15-20 minutes.
Wrapping up the chicken empanadas recipe
When you need a quick snack while you are running errands or completing task after task at work, empanadas are the best thing that can happen to you. So why not prepare your own homemade empanadas? If you have spare time during the weekend, do not hesitate to try out this recipe! You surely won't regret it! Chicken empanada is a simple, yet special dish that can be prepared in any variety you like. If you are vegetarian or just want to avoid meat, prepare it with spinach and cheese, mushrooms, or avocado. Believe me, once you know how to make the dough, you cannot go wrong with the filling! Don't miss our Chicken Quesadilla recipe either!
Pin: Chicken Empanadas recipe