I already shared with you so many Italian pasta dishes recipes, and not only. Many dishes in Italian cuisine have one common ingredient that most people buy in supermarkets. What is it? Yes, you have guessed it right, I am talking about tomato sauce. What if I say that I have an amazing Italian tomato sauce recipe that I am happy to share with you? After reading this recipe, you will have all the knowledge you need to prepare your own Italian tomato sauce from fresh tomatoes. How does it sound? Let's not wait any longer, here comes the easiest traditional Italian tomato sauce directly from Italy!
Italian tomato sauce from fresh tomatoes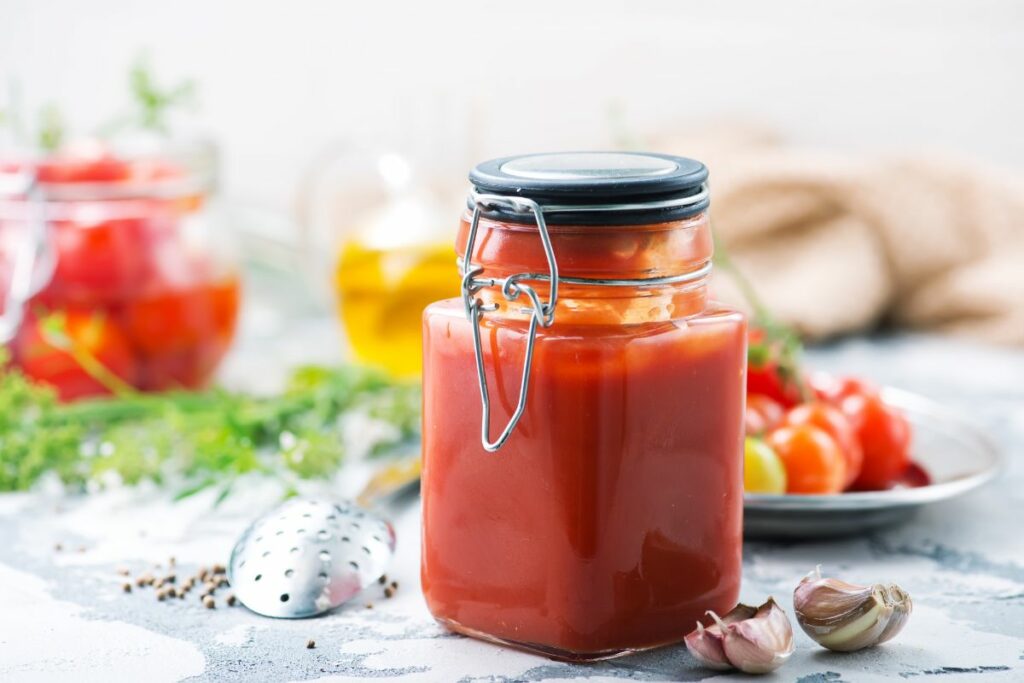 If you traveled to Italy and tasted authentic Italian pasta or pizza, I'm sure you agree that you couldn't compare the flavors to the ones you were familiar with before. Most people say that in Italy tomatoes have a richer, sweeter flavor, they simply taste better. Well, I am not going to argue with that as I agree that the most important factor that makes Italian dishes so good is the quality of the ingredients.
But, here's a trick. What do you think tastes better? The tomato sauce you buy in supermarkets or the tomato sauce you make at home? In Italy, not only nonnas but everyone makes their own tomato sauce that they can store in the pantry and use whenever they prepare a dish that requires tomato sauce. So why shouldn't you do the same? In case you were waiting all this time for a traditional Italian tomato sauce, here it is!
Italian tomato sauce recipe – Equipment
Tomato sauce in Italy is usually made with a food mill. Now, this equipment cannot be found in every household across Europe, but there are good chances that your grandmother or parents have one. It is definitely worth asking them! But in case you cannot get your hands on a food mill, you should not give up either! A blender will do the trick too! When making tomato sauce the goal is to achieve a thick puree-like sauce that you can bottle up and use for pasta sauces or let's say tomato soup during the winter.
The secrets of an authentic Italian tomato sauce recipe
Also, you might think that preparing Italian tomato sauce from fresh tomatoes is a complicated thing to do. On the contrary! This is the simplest thing you can do. It requires only one and a half hours, which you could also spend at the supermarket shopping for tomato sauce, but why should you, when you can make a more healthy, homemade variety instead? The secret of authentic Italian tomato sauce is simplicity and quality. To make a flavorful sauce you will need delicious tomatoes. My personal favorite is San Marzano or Roma tomatoes. I also use fresh basil which is also a key ingredient in Italian kitchens.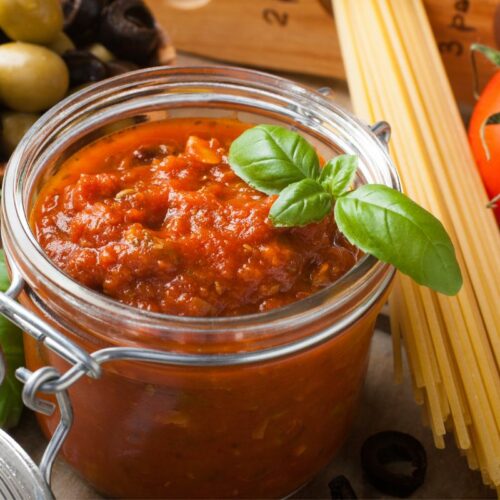 Italian Tomato Sauce From Fresh Tomatoes – Recipe
Try this Italian tomato sauce recipe and take your Italian dishes to the next level! Made from a few simple ingredients, this tomato sauce will boost the taste of every pasta dish!
Ingredients
2

kg

San Marzano or Roma Tomatoes

Fresh Basil
Instructions
Preparing the authentic Italian tomato sauce starts with washing the tomatoes and removing the stalks. You will also need to cut them in half and remove the seeds.

Place the tomatoes into a large pot, cover them with a lid, and leave it to cook on low heat until they have softened and pulped.

Use a food mill or blender to blend the cooked tomatoes.

If it looks thick enough, it is time to bottle it. In case you notice that it still has too much water, leave it on low heat without the lid until the extra water evaporates.

Once the tomato sauce is done, put a few basil leaves into each jar, then pour the tomato sauce into the jars.

Do not forget to leave at least 2-3 cm space empty at the top.

Put some more basil leaves on top and close the jars well using a lid.

Pour some water into a large pot and bring to a boil.

Place the jars into the water and leave them inside the boiling water for about 45 minutes.

Remove with caution, then when they cooled down, check the lids if they formed a tight seal. If by pressing the lid you don't hear a click, the seal is formed correctly. You can store your tomato sauce for about a year.
Wrapping up the Italian tomato sauce from fresh tomatoes
So, what do you think? Are you ready to take your cooking knowledge to the next level and prepare your own homemade tomato sauce? As you could see, there is really nothing complicated about it. All you need is good quality, tasty tomatoes, and some basil leaves. Simple as that! Tomato sauce made this way can be stored in cool places for about a year, and that is a lot of time to prepare your favorite pasta dishes using your healthy and delicious tomato sauce! Are you already looking for some inspiration? Well, lucky for you, you are just at the right place for that!
Pin it: Italian tomato sauce from fresh tomatoes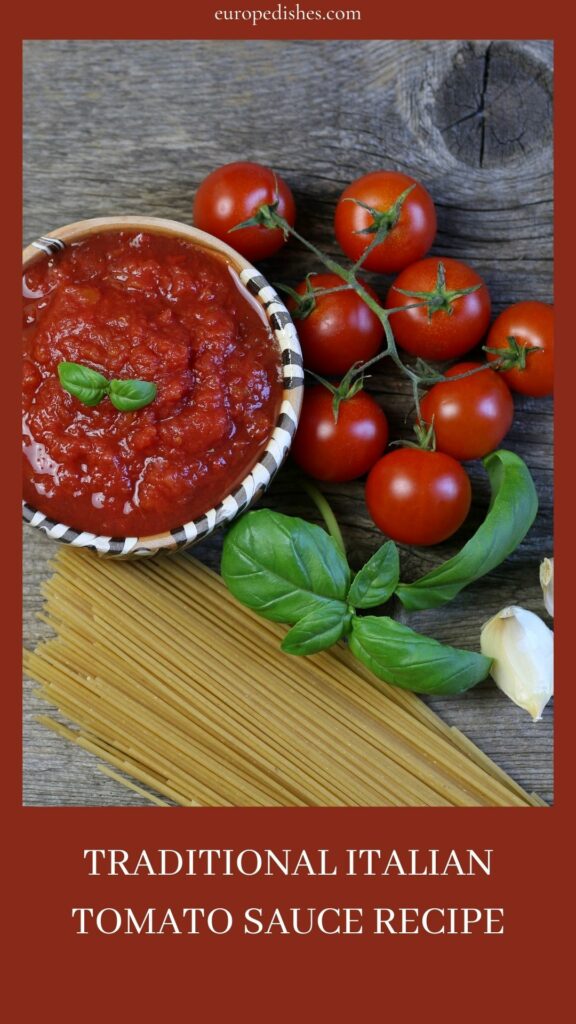 Traditional Italian Tomato Sauce Recipe