If you have only a few minutes to put something together for lunch or dinner, this chicken quesadilla recipe will come in handy! The secret of this amazing food is in the quality of the ingredients and the seasoning, so make sure to choose a tasty cheese for your quesadilla and season the chicken well! Below, I will show you how to prepare chicken quesadillas and what ingredients you should use. At the end of the recipe for chicken quesadilla, I'm sure you will be on your way to the store to buy the ingredients and make this delicious meal! And you definitely should! The prep time is only 10 minutes, the rest of the time you will be cooking the filling, then heating up your quesadilla so the cheese can melt. Hmm, can it sound any better?
Chicken Quesadilla Recipe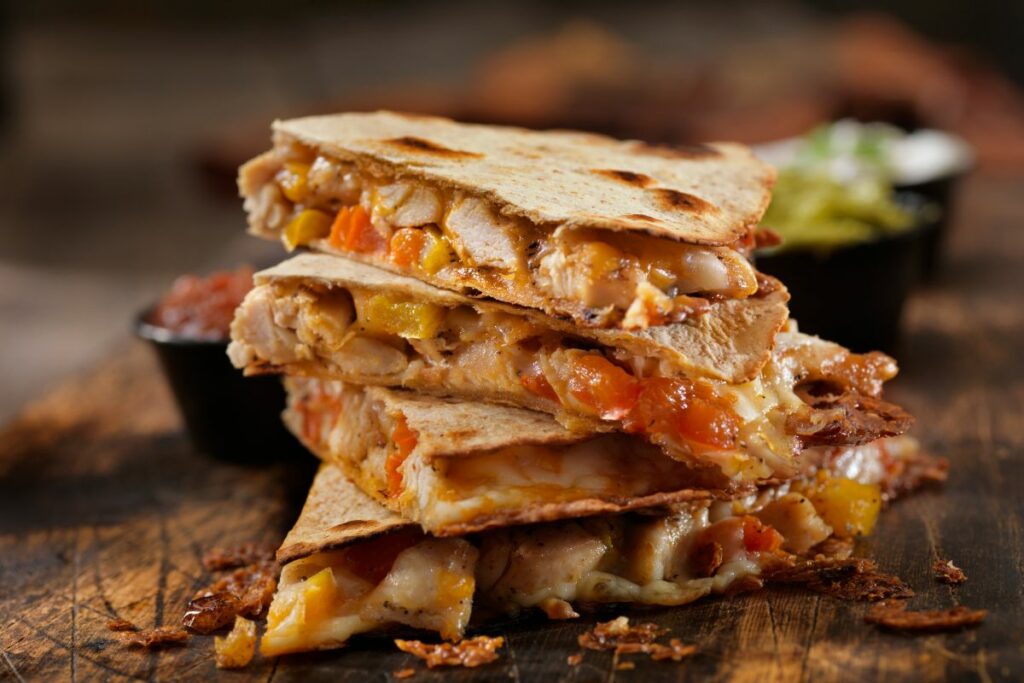 Well, if you ask me, the more you know, the better this recipe sounds. But before we take a closer look at how to prepare this food, let's see where this chicken quesadilla recipe comes from. Well, true to be told, I've done lots of research, and yes, that includes eating quesadillas in many different parts of the world. Quesadilla is a widely known food, and during the past decades, it became very popular all across the globe.
Just think about it, you can find it on almost any restaurant menu and you can find all the necessary ingredients on the shelves of supermarkets. So why not prepare it yourself? There are lots of varieties, so if you prepare it at home, you can put whatever you want in your tortilla. Today I'm going to share with you how I make my chicken quesadilla. But before that, let's see where this meal comes from and what is the story behind its huge popularity around the world.
Chicken quesadillas recipe origins and story
As you might already know, a quesadilla is a Mexican dish, it originates from the central and northern part of the country. But do you know what quesadilla means? In Spanish queso means cheese, and quesadilla means "little cheesy thing". Although quesadilla has its roots in Mexico, just like many other Mexican dishes, this one also has been quickly adopted by lots of countries around the world. Today quesadilla is one of the most popular Mexican foods. At first sight, it might seem complicated to make this food. But you will soon realize that the recipe for chicken quesadilla is much more simple than you expect it to be. This is especially true for this easy chicken quesadilla recipe that I am going to share with you below!
What do you need to make a recipe for chicken quesadilla?
The best about this chicken quesadilla recipe is that you can prepare it for lunch, dinner, or as a snack. You can even take it with you at work, then heat it up and enjoy it during your lunch break. What you will need for it is a wide pan that is large enough so the tortilla can fit in. In case you cannot get your hands on tortillas, you can also use piadina, it will do the trick. When it comes to cheese, make sure to go with high-quality cheese. I personally prefer emmentaler or smoked cheese, as the flavor of these is intensive and they also melt well. But you can also you mozzarella or any other type of cheese you like.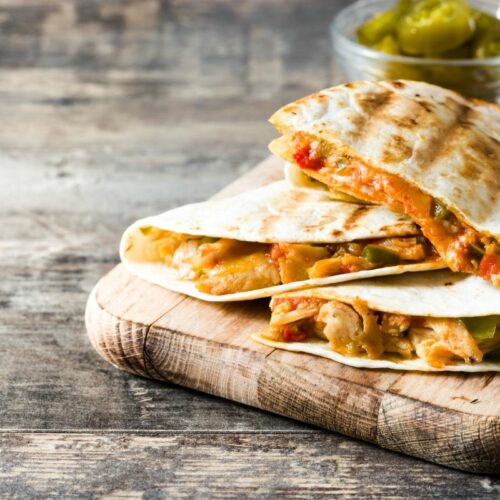 Chicken quesadilla recipe
Read this simple recipe for chicken quesadilla and prepare it in your kitchen! Chicken quesadilla is a regular item on many restaurant's menu and for a good reason! It will blow your mind, too!
Ingredients
400

g

chicken breast

1

red bell pepper

1

mid-sized onion

1

big tomato

4

cloves of

garlic

200

g

champignon mushroom

50

g

cheese

(your choice which kind)

1/2

tbsp

chilli flakes/jalapeno

2

tbsp

olive oil

salt, pepper

3-4

tortillas
Instructions
The first step of this easy chicken quesadilla recipe is to chop all the veggies and the chicken into small pieces or slices. I prefer to slice the mushrooms.

Put oil in a pan, then add the chicken first, followed by the onion. Season them with salt and pepper.

When the chicken is white on both sides, add the bell pepper and the tomato.

If you want to spice things up, at this point, you can add the jalapeno, too.

Add 50 ml chicken broth or water to the pan, so the ingredients don't burn until the pepper gets cooked.

Add the mushrooms, then will up the pan with hot water or chicken broth just until the ingredients are covered.

Now you can add the garlic, and if you want to use chilli powder, you can add that too.

Cook it on medium heat for about 20 minutes, but check the chicken if it's ready before all the water is gone. Leave it to cook just until there's a little bit of sauce left on the bottom of the pan!

In a large and wide pan, heat up a tortilla, and put some grated cheese on top of it.

When you see that the cheese is melting, add the veggies and chicken on one side and fold the tortilla in half. Leave it like that for 2-3 minutes on the lowest heat. That's it, your chicken quesadilla is ready to serve!
Wrapping up the chicken quesadilla recipe
This was my favorite chicken quesadilla recipe! I truly hope you will have fun preparing it and you will be just as satisfied with the result as I am every time I make this dish! If you are a vegetarian or you just want to avoid meat whenever you can, simply leave out the chicken. Use only mushrooms and other veggies. A meat-free quesadilla is just as perfect as the ones stuffed with chicken or other types of meat! Serve is with a side of fries or salad.
Pin it: Chicken Quesadilla Recipe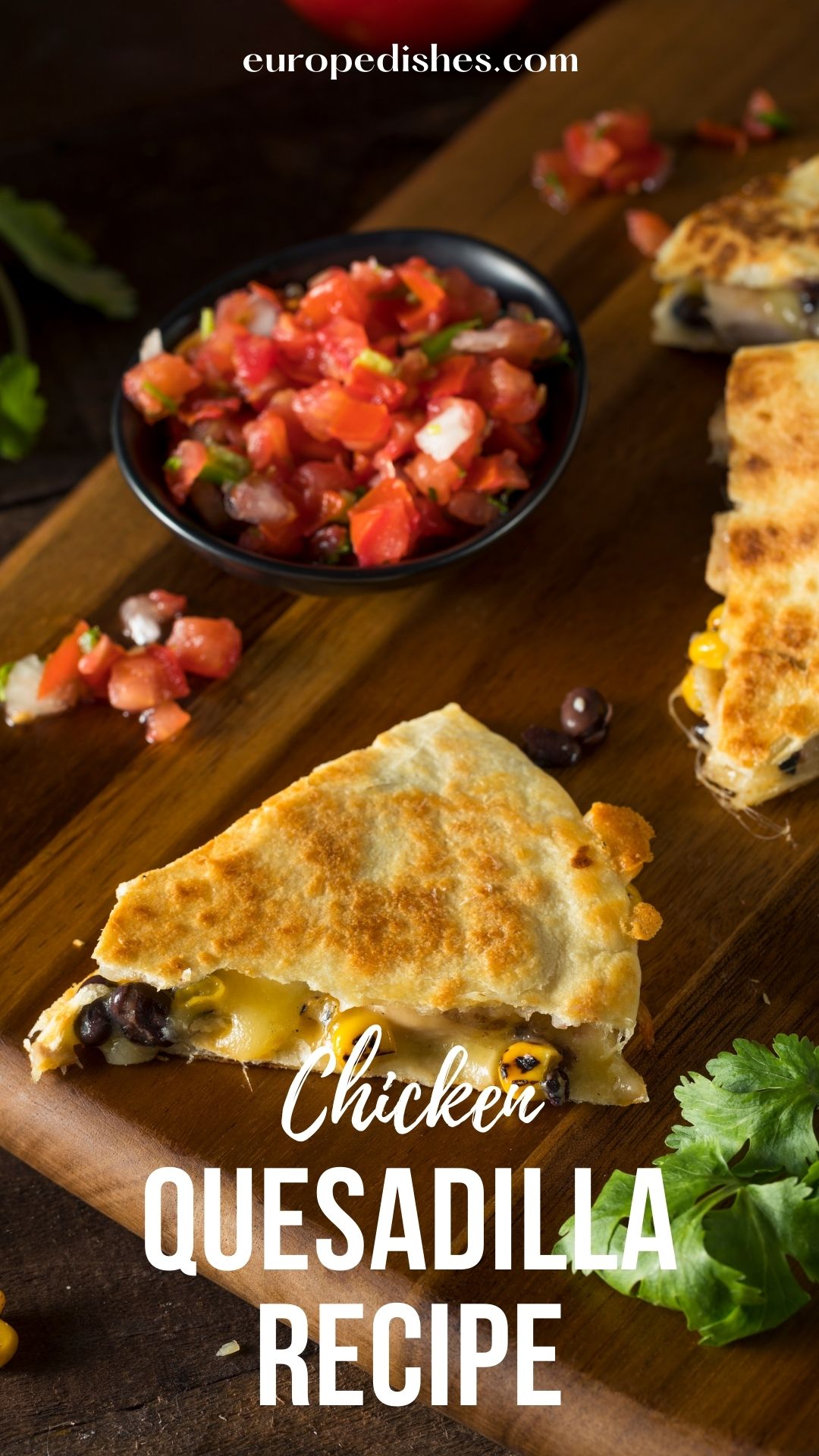 Chicken Quesadilla Recipe