As a kid, there was nothing I loved more than crispy fried meatballs. One of our favorite finger food in Hungary and Transylvania is the deep fried meatballs. It's delicious, tasty, and we just can't stop eating them one after another. Now, if you're looking for tips on how to fry meatballs, and how to make the best deep fried meatballs recipe you have ever tried, I'm here to help! You can find below the recipe along with the description of how to cook fried meatballs!
How to fry meatballs?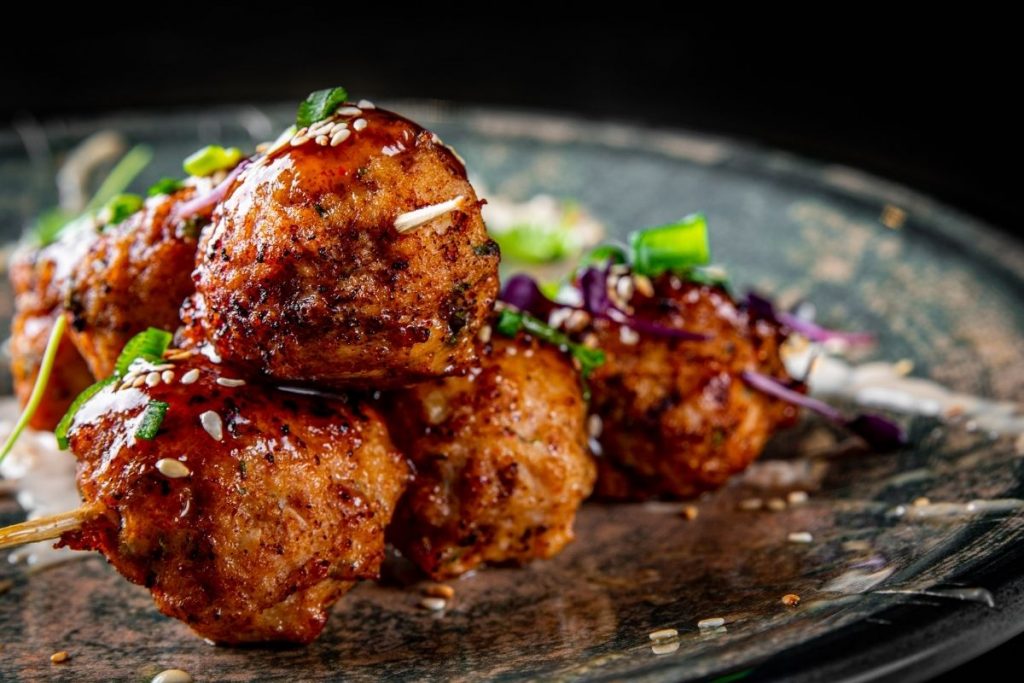 Fried meatballs are popular when it comes to Hungarian dishes! The key to making deep fried meatballs recipe is the oil you use! I've done some experiments with Olive oil and grapeseed oil, and both ended badly. Using olive oil to try meatballs, well basically they fall apart and it all became an oily ragu kind of thing. With grapeseed oil, they did fry but the taste wasn't even close to what it should be.
So, what I recommend is to use sunflower oil if you're looking for the best way on how to fry meatballs. You can't go wrong with sunflower oil. Also, it's really important that the oil is properly heated up before you place the meatballs in.
Another important detail to make the best crispy fried meatballs is to pay attention to how long you're frying them. So how long to fry meatballs? As soon as they get a golden color on each side, take them out or they will become very dry, and that's not tasting good at all. The golden way is the best way! On medium heat, it shouldn't take more than 3-4 minutes, but obviously, make sure you're checking the color before removing them!
Deep fried meatballs recipe
When it comes to the perfect finger food, and make deep fried meatballs recipe, you want to make sure you're using the right amount of spices! In the below recipe you'll see the spices listed, but I do really recommend putting a little bit less from everything, tasting it, and putting more of what is needed afterward.
The below recipe has a really strong seasoning, and that's not something everyone likes, so for those asking how to fry meatballs, I really recommend paying attention to the spices before you get to the frying stage.
You can serve crispy fried meatballs as the main dish, putting more pieces on a stick, and serving it with some type of salad. You can use it as finger food on its own or put on a stick a meatball, a mini mozzarella, and a cherry tomato. This last option is really popular and adored by guests, so it's worth a try!
Deep Fried Meatballs
Are you looking for a great deep fried meatballs recipe? Do you want to know how to fry meatballs? Here's our favorite cripsy fried meatballs recipe that you must try! Within the article, you will also find a few tips to make it!
Ingredients
400

g

Pork & Beef minced meat mix

1

Egg

1

Potato

large

2

glove Garlic

1/2

tsp

Black Pepper

1

tsp

Dijon Mustard

1/4

tsp

dry Coriander

1/2

tsp

Paprika

1/4

tsp

dry Marjoram

1/4

tsp

Parsley

Salt
Instructions
Your first step to make crispy fried meatballs is to put water to boil and cook the potato in its skin. While that's cooking, season the meat, mix it well, then edd the egg to it, and mix it again.

Once the potato is cooked, peel it, and shred it. Once you're ready, add the potato to the meat and mix it all together well.

Your next step for deep fried meatballs recipe is to start forming small balls. The smaller they are, the faster they are cooked. However, if they are too small, they will get dry inside.

Put enough oil in a skillet that your meatballs will be completely covered. Heat it up and once it's hot enough, place the meatballs in. Turn the heat down to medium at this part.

Wait for about 3-5 minutes to check if they've got a nice golden color, and as soon as they do, take them off and put them on a paper towel, so that can soak up the oil.

If the skillet isn't big enough to place all the meatballs in (do not put one on top of another!), take the skillet off the stove for the time you place a new round in, then put it right away on the fire on medium heat! If you're leaving it on the heat while you're placing the meatballs in, the oil might start squirting, or it becomes too hot and the meatballs can burn.
Crispy Fried Meatballs Recipe