Is French onion soup healthy, you ask? Well, it definitely is, and you will soon find out why! If you're looking for a healthy french onion soup, you are in the right place! Moreover, we've added to this authentic french onion soup recipe a section for those who are looking for a vegetarian French onion soup recipe! Since I've tried French cuisine for the first time, this dish has become my favorite French dish ever! Now, years later I'm still making it every few months, and I still say that it is the best French onion soup recipe you could find!
The best French Onion Soup recipe – authentic french onion soup recipe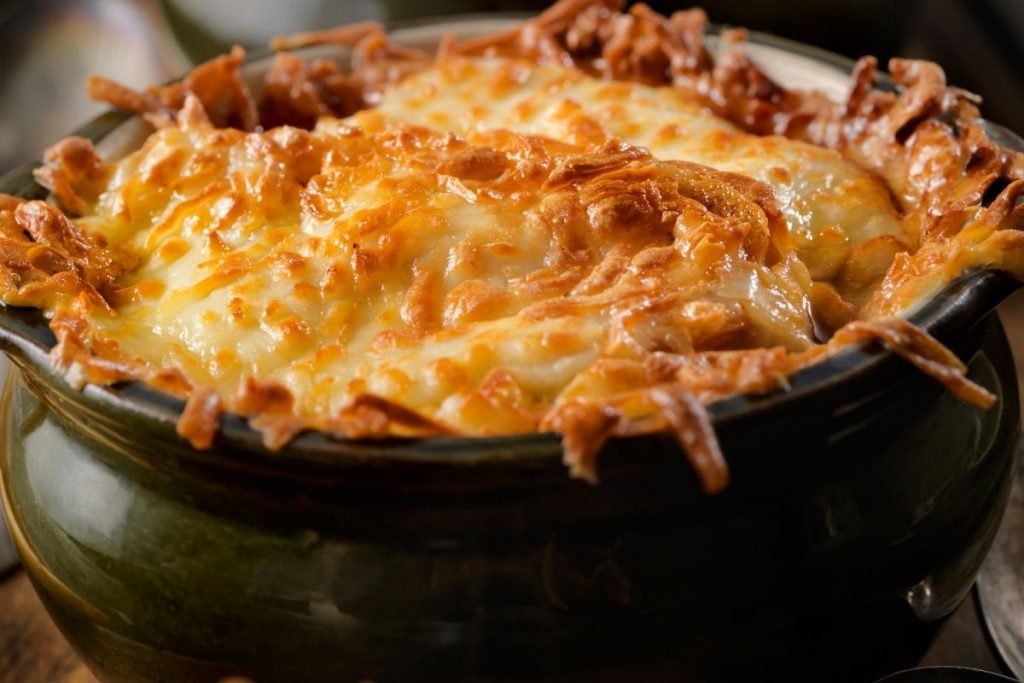 Back in the day when I found the best French onion soup recipe, it was one that I wasn't actually an authentic French onion soup. Since I'm really much into cooking traditional food traditionally, I decided to find a real french recipe, even if I don't speak french.
Thankfully my mother spoke French, and I made her help me look for recipes. That's why we found some traditional recipes for the french onion soup, then, to know how one dish is traditional, we looked up the ingredients to cut off the ones that had something extra in it. After matching 6 recipes together, we found that 3 of them were made authentically, and with the same ingredients.
This is how I found my perfect recipe to make this delicious soup! Now let's see some more details, such as is french onion soup is healthy, and how to make vegetarian French onion soup!
For those who want to travel to France, or just love tasty, warm soups, this one can't be a bummer. The onion doesn't have a strong taste once it's cooked, and it is actually really delicious with the different types of alcohol that you must add to it. Also, toasted bread is always tasty, and let's not forget the two types of cheese that you must be using!
Speaking about the cheese, I did not add in the recipe any amount to them, since I know that when it comes to cheese, we all use a different amount. I personally however use about 200g of cheese for 4 servings of onion soup.
The best French Onion Soup recipe – authentic french onion soup recipe
So is French onion soup healthy? Well, first of all, if you're using just the natural ingredients that are listed in the recipe, there's nothing that wouldn't be healthy in it! At maximum, those having gluten allergies make sure that you're using gluten-free bread! Otherwise, The dish you can find described below is an absolutely healthy French onion soup.
Just consider that the onion itself has a lot of C and B vitamins in it. Though with cooking and baking it's losing most of the vitamins, there's still something, instead of thing! Also, a portion of this soup rounds about 300kcal.
Vegetarian french onion soup
If you're looking for vegetarian French onion soup, all you need to do is to change one ingredient that you will find below! Since the authentic French onion soup is made with beef stock, you should replace the beef stock with mushroom or other vegetable stock. That's literally all that you need to do differently!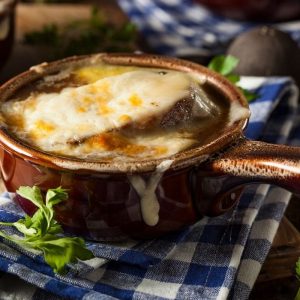 The best French Onion Soup Recipe
Make the best french onion soup recipe ever! An authentic french onion soup recipe that if you check the article, you'll find what ingredients to change if you plan to make vegetarian french onion soup!
Equipment
Suggested ceramic ovenproof soup bowls
Ingredients
250

g

Red Onion

250

g

White Onion

50

ml

dry red wine

2

tbsp

extra virgin Olive Oil

40

g

Butter

200

ml

Beef Broth (stock)

4

slices

toasted Bread

Gruyere Cheese

or Parmesan

Swiss Cheese

20

ml

Brandy

fresh Parsley

2

tbsp

Flour
Instructions
You'll need about half kg of onion, which can be either white (yellow) or half that and half red onions.

Slice them all up, and put them into a pot with pre-heated olive oil and melted

butter. Stir it from time to time so it gets well cooked and soft.

After about 10 minutes, pour the white wine as well as 1/4 tsp of salt. It takes about 30 mutes for all the onions to get cooked.

When that's done, pour veggie or beef broth on it (at least 500ml is needed) and 20ml of brandy, and cook it for another 10-15 minutes on low heat.

When it's ready, pour your soup in an ovenproof pot (smaller pots, or bowls, put the toasted bread on top. You'll need shredded Swiss cheese, Gruyere cheese (or Parmesan) and put in the oven at 180°C for about 10-15 minutes.

You know it's ready when the cheese starts to get toasted.
Hungarian article: Francia hagymaleves