Eastern European food is known to be hearty, filling, using simple and accessible ingredients. Slovakian food is a part of Eastern European cuisine, offering you the best dishes to have on any day. Although some of the traditional Slovakian food comes from Hungary, the Slovaks have added their own twist to acquire these dishes. We will also share some facts about Slovakia food and the traditional Slovakian food Bratislava. We can guarantee that these dishes will not disappoint you, although some are not for everyone's taste.
10 best dishes in Slovakia
So what does Slovakia national dish consist of? Well, traditional Slovakian food is all about implementing different types of meat, dairy, pastry or dough, and vegetables. You really get the best of all the worlds, however, they are not the most diet-friendly dishes on the earth if you ask us. They can be really high in fats and carbs, making it a pain for your cholesterol. On the other hand, you get to taste a rich and flavourful world of dishes. Some of these dishes can be easily sold as Slovakia street food dishes, not so much Slovakia fast food.
1. Kapustnica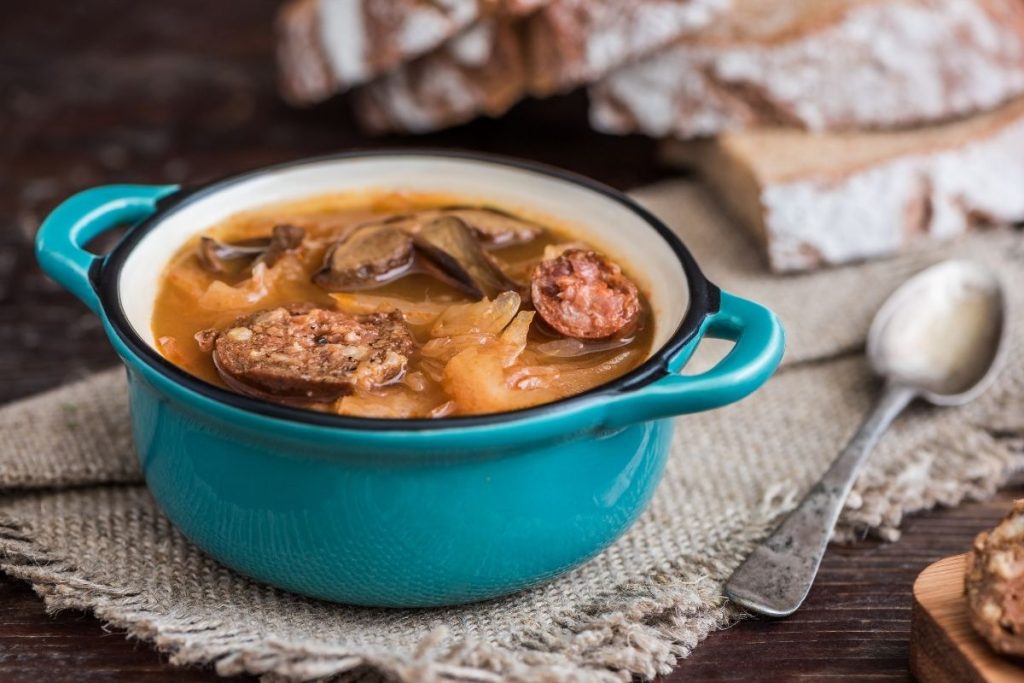 I feel like Eastern Europe in general is very big on soups. Slovakia is no different, bringing you this first dish of Slovakian food, Kapustnica. This is basically a cabbage soup that is found under different names and in different countries. The traditional Slovakian food is usually made with two main ingredients that make the whole soup which is smoked pork/ham and the cabbage, sauerkraut. Other ingredients are spices, mushrooms, sour cream, and even Hungarian or Polish sausages.
So what are the facts about Slovakia food? Well, Kapustnica is usually devoured during Christmas time. In Slovakia the weather can be very cold during the winter months, so eating a warm cabbage soup with sausages and vegetables can really warm you up. The amazing thing about all of these dishes is that you can change them based on your desires, however, we do recommend trying the authentic Kapustnica first.
2. Fazuľová Polievka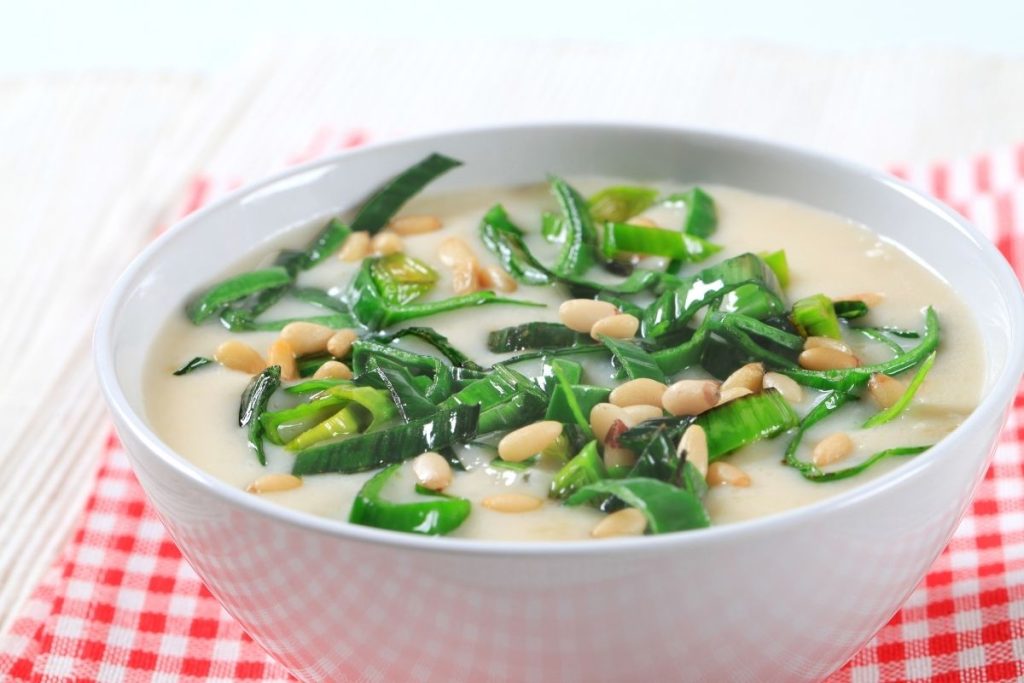 Who doesn't love delicious bean soup? Beans are filled with proteins and high nutritional values, they will always be a great option whether you are making soup out of it or anything else. The Slovakia national dish, fazuľová polievka, is Slovakia's very famous bean soup that you must try out. Best to be served with some crusty homemade bread and butter. This one is probably many people's childhood favorite and staple.
What does this traditional Slovakian food Bratislava consist of? The main ingredient is of course beans, however, it would not be the best without the smoked meat. The original recipe requires you to add smoked pork knee, mottled beans, lots of vegetables, and spices. The reason why this was so popular in Slovakia even 50 years ago is due to the simple ingredients used. People could grow their own potatoes, carrots, onion, and garlic and create delicious meals, just like the fazuľová polievka.
3. Prívarok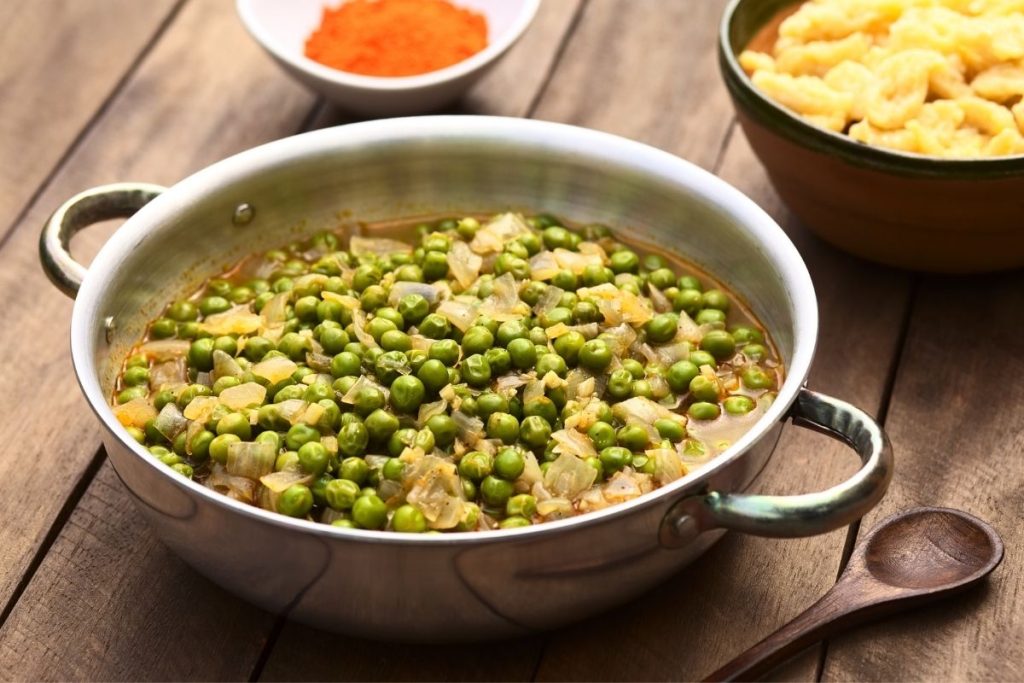 Do you know what else is low-cost and can be delicious besides beans? Peas. Although this recipe can vary from household to household, one is certain, lots of veggies are used. This soup is usually considered to be a sort of stew, mixed with sour cream, corn starch, or tomato paste. The most important part is adding all of the vegetables in the traditional Slovakian food Privarok. These vegetables can be cabbage, cauliflower, lentils, peas, potatoes, and so on.
We cannot miss the meat in this dish. You will notice that many of these dishes all consist of some sort of meat. We don't recommend it for vegetarians, however, considering they are vegetable dishes, you can easily take out the meat and be left with a delicious stew. Slovaks will confirm this dish would also be one their parents and grandparents used to cook for dinner when they came home from school. It can also be a Slovakia street food, especially during Christmas markets.
4. Segedin Goulash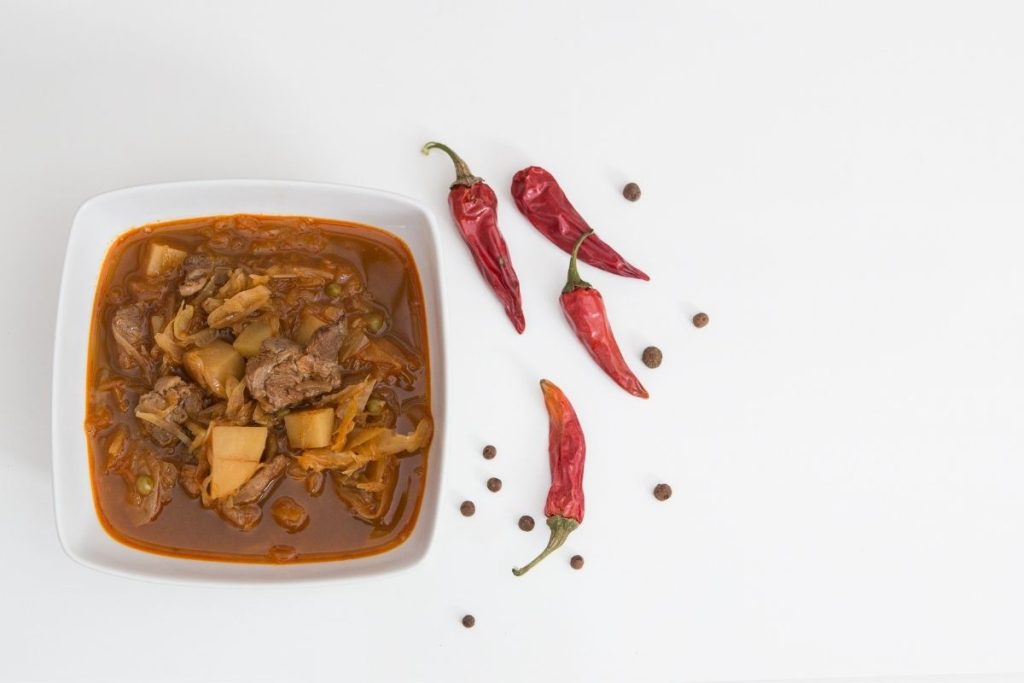 Oh, the famous Goulash. You have probably seen this in the Hungarian version on this blog. So what is the difference between the traditional Hungarian recipe and this traditional Slovakian food? There isn't much of a difference considering the goulash originally came from Hungary. Although Slovaks tend to add cabbage in the dish as well which is absent from the Hungarian one. This Slovakia national dish is a real delicacy.
All you need for this delicious stew/soup is some beef, potatoes, onion, pepper, tomato, and the famous ground paprika used in many of these dishes. The goulash usually tastes better when it is made in a cauldron over an open fire. Which would make it perfect for Slovakia street food as well. The fun facts about Slovakia food is the cookoffs held throughout the country to test the best goulash. How would yours taste like?
5. Plnená Paprika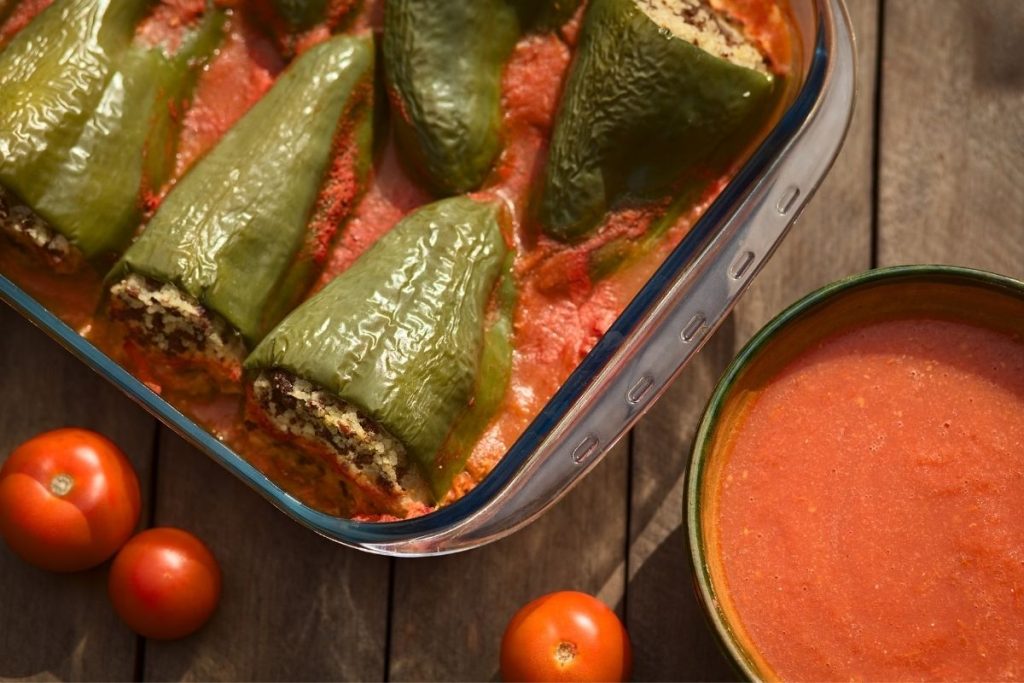 The Plnená Paprika also known as stuffed pepper is another famous dish originating from Hungary but also is a traditional Slovakian food Bratislava. This dish really reminds me of my childhood as I am sure many children remember it from their childhood eating Slovakian food. Why is it so good? the stuffed peppers have quite a sweet taste and it blends perfectly with the ground beef.
The ingredients are very simple, however, stuffing the peppers might take you a bit. You'll need a dozen peppers at least, big ones to have enough filling in them. The peppers are filled with ground beef mixed with rice and spices. They are then cooked in tomato sauce and can be served with dumplings or potato or you can even eat on its own. The peppers just melt in your mouth after they have been cooked!
6. Laskonky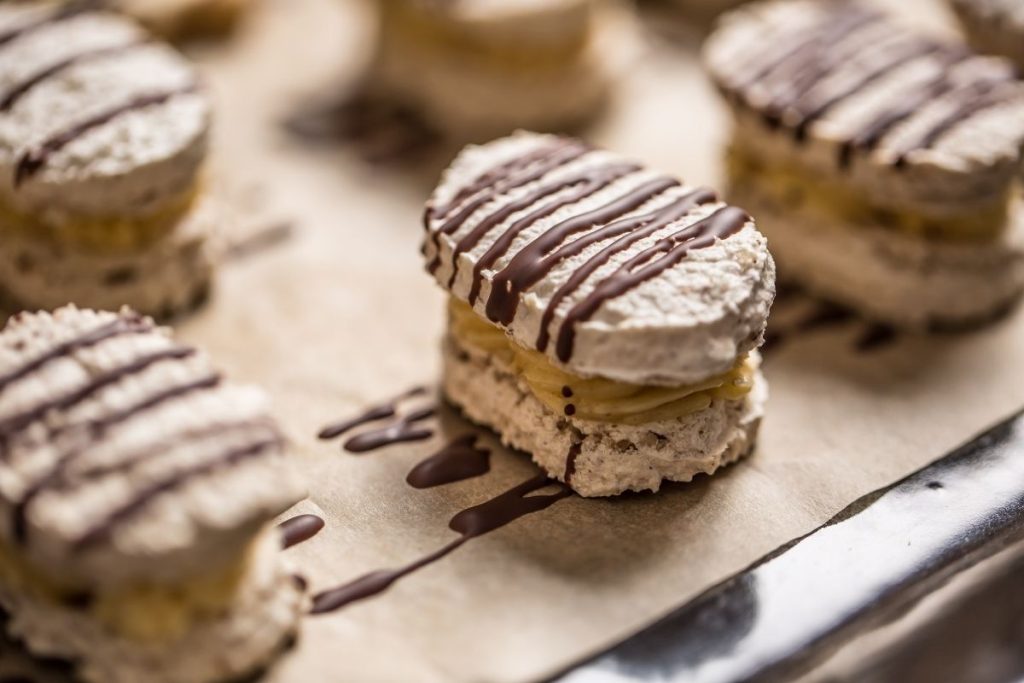 How can I not bring you a dessert from this list of traditional Slovakian food Bratislava? The Laskonky or otherwise known as Slovak Meringue Cookies are popular cookies in Slovakia and the Czech republic. They are quite similar to macaroons as between two biscuits various buttercream fillings can be found. The cream usually used is caramel buttercream, however, nowadays you can switch it up with anything.
This is another dish that can be found at Slovakia street food. This is really a perfect little dessert for any occasion. You can even make it as a gift for someone's birthday. The ingredients are very simple, the cookies only need egg whites, sugar, groundnuts, and flour. Yes, that's it! The cream will depend on everyone's taste. The preparation will require at least 3 hours. Let's see the rest of Slovakia national dish.
7. Cigánska Pečienka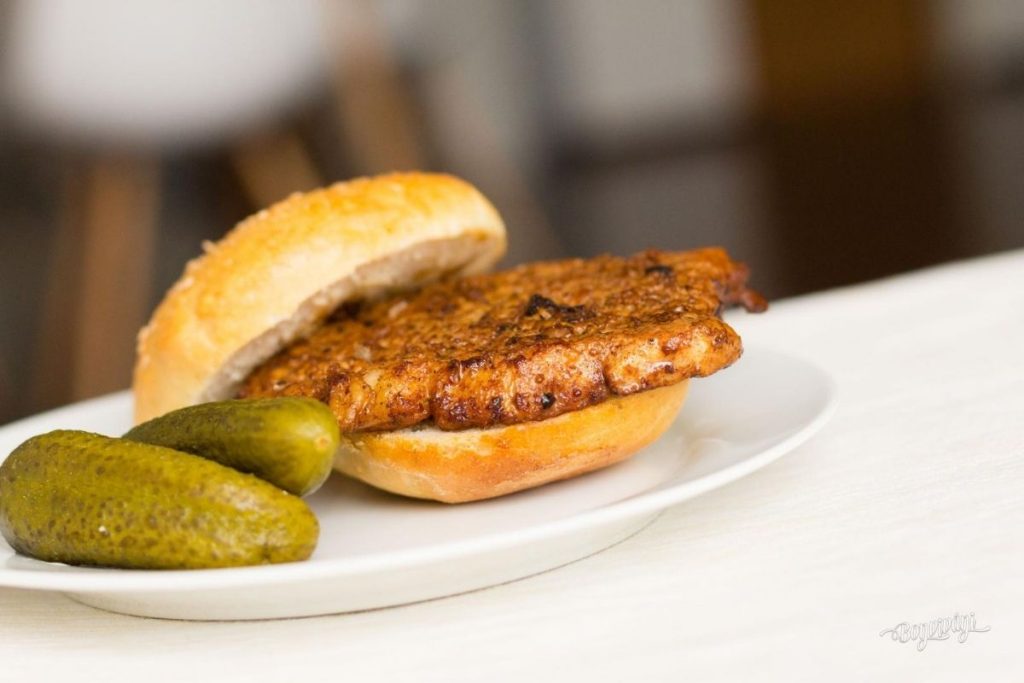 Just looking at this Slovakian food makes you want to have it in your hand. The Cigánska pečienka or gypsy roast is a traditional Slovakian food Bratislava that is dearly loved by Slovaks and they even call it the Slovak burger. This dish is very popular around May Day and Christmas. Why is this dish so special then?
If you want Slovakia fast food then this gypsy roast would be considered one. All you need is a slice of lean pork, which is marinated beforehand in milk and garlic. Once you fried it and you also made some french fries, you can serve it between two crispy buns and pickles. I guarantee this will taste amazing. You can even add caramelized onion for some extra flavor.
8. Demikát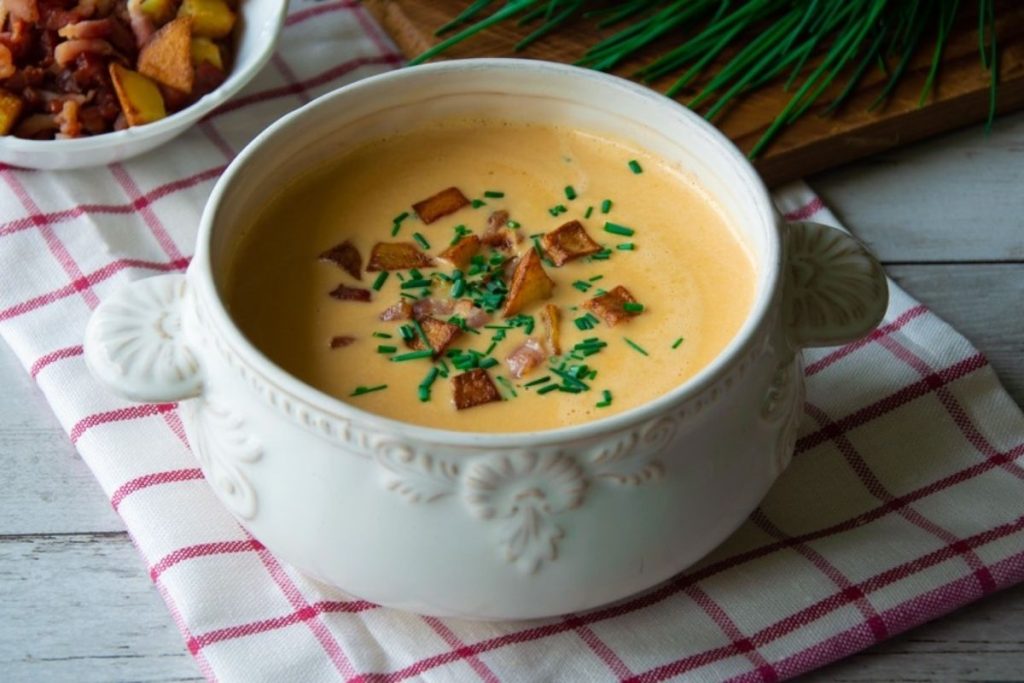 The next soup on the list of Slovakia National dish is the Demikat. This is a traditional Slovakian soup made with onions, garlic, potatoes, sour cream, and bryndza sheep cheese. I can imagine this with some croutons or as the Slovaks do, you can serve it with gnocchi. The facts about Slovakia food and especially this one is that you will either love it or hate it.
The cheese used in the soup has an unusual flavor and is not to everyone's taste. It is very easy to prepare it at home, it just takes 15 minutes to prep all of the ingredients and then another 30 to cook the soup. You'll have to blend the ingredients once they are cooked, that is how you create the creamy texture. We hope you'll find this delicious!
9. Cesnaková Polievka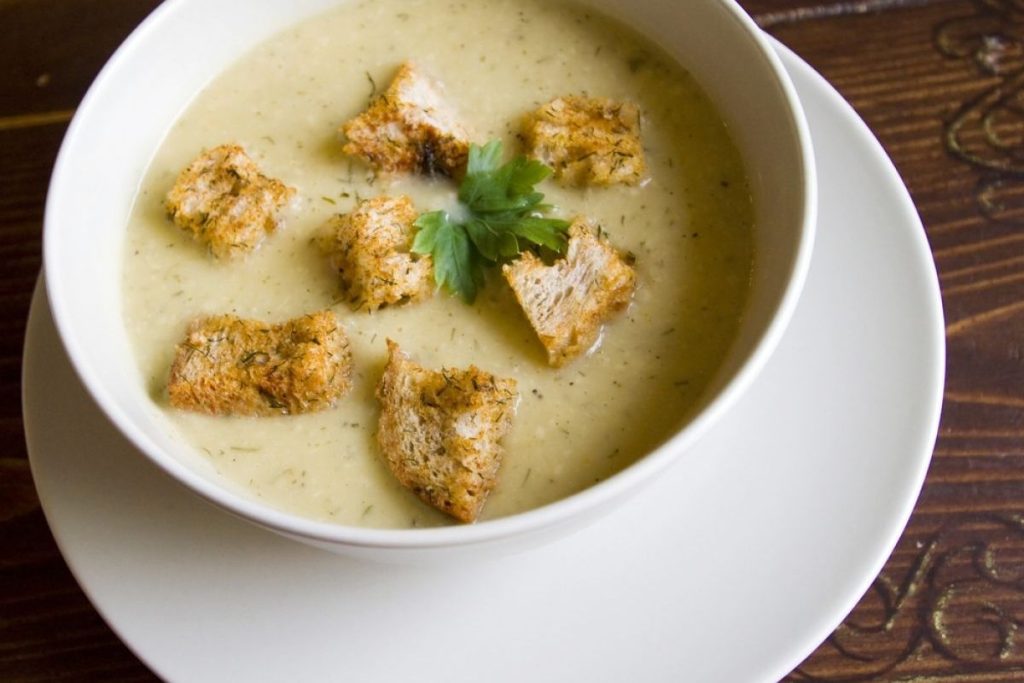 Many countries in Europe do not have the custom to eat soup or do not even have any soup dishes in their cuisine. Slovakia is definitely not one of them. The facts about Slovakia food is that they do love their soups. The Cesnaková Polievka otherwise known as garlic soup is very similar to the French onion soup. It is easy to prepare and you can also find it in many restaurants across Slovakia. Although a little heads up, some of them might overuse the garlic!
Why is this Slovakian food so popular then? Just like the rest of the traditional Slovakian food on this list, garlic soup is another childhood favorite to many. If you wanted to taste an authentic Cesnaková Polievka then make sure to find a small Slovakian restaurant. The ingredients list is as simple as it can get. You'll only need garlic, butter, potatoes, paprika, cheese, and other spices. This can be served with homemade bread or on its own. Absolutely delicious!
10. Knedlíky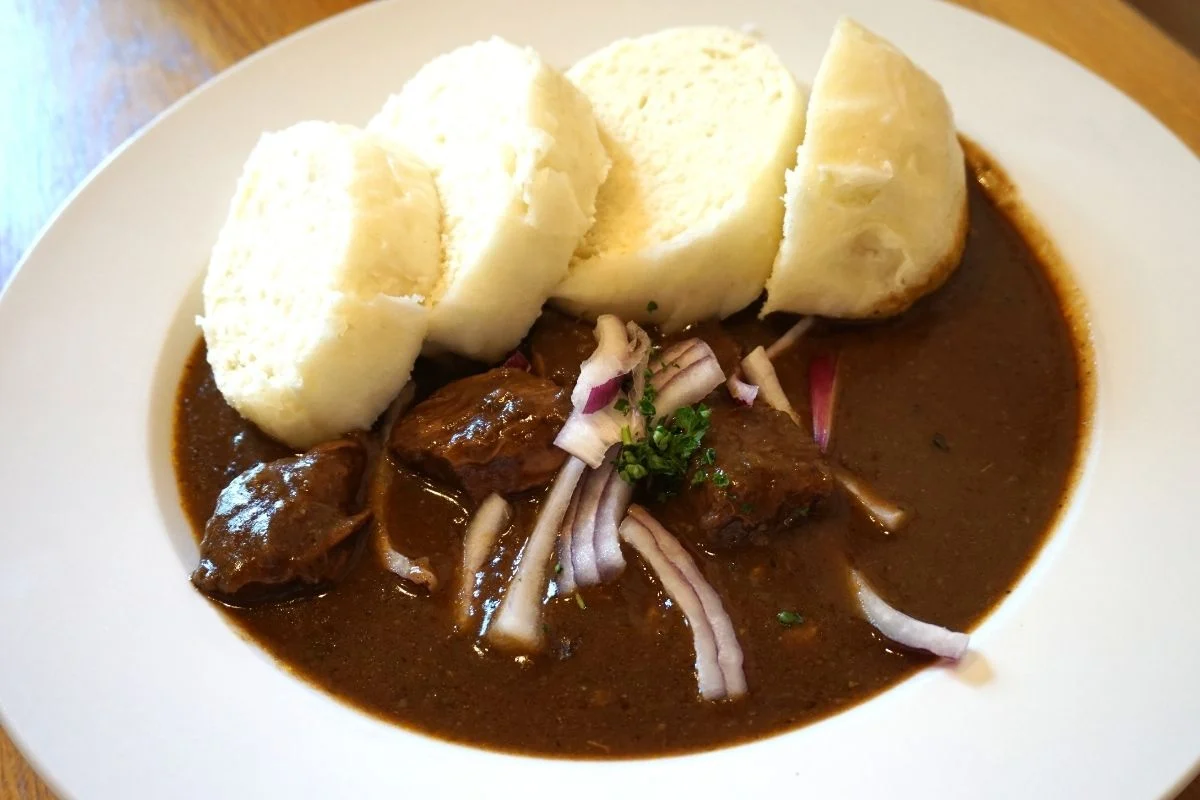 Surprisingly, this article is not about the brown stew you see in the photo, but about the white cheese-looking food. This interesting-looking dish is called Knedlíky or otherwise known as boiled dumplings. They are available throughout Central Europe, in countries like the Czech Republic, Poland, Austria, and well, Slovakia. Although originally it is from the Czech Republic, this dish has become a Slovakia national dish.
Wherever they might come from, it is safe to say that they are delicious and you can serve them with many different main dishes. These dumplings are also vegetarian! All you need for this Slovakian food is flour, milk, eggs, yeast, sugar, and salt. Can you believe it? It will only take you about 40 minutes to prepare and cook. Why not give it a go and serve it with some goulash or beef stew.
Traditional Slovakian food – Conclusion
We have finally reached the end of our traditional Slovakian food list. All the delicious Slovakian food on this list can be found in restaurants throughout Slovakia. Bratislava is a beautiful city and worth visiting, so why not go on a hunt for the Slovakia national dish? We have enjoyed researching about these traditional Slovakian food Bratislava and have come to the conclusion that each of them is quite easy to prepare at home.
Let us know which one have you tried before and if you have cooked any of these at home! In case you are curious about other famous European dishes, visit our articles about French dishes, Hungarian dishes, Austrian dishes and many more here on Europe Dishes.
PIN IT – 10 best dishes in Slovakia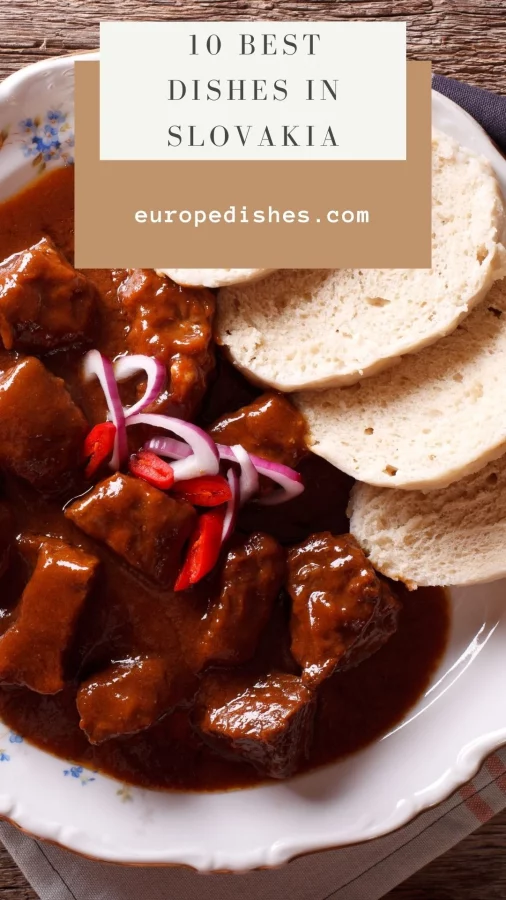 10 best dishes in Slovakia