One-pot dishes in Hungary are really popular. Especially because they are easy to make, they don't take much time, hassle, and there are definitely fewer dishes to wash afterward. Also, one-pot dishes can be made for 3-4-5 days which for those who don't have time to cook every day, can save a lot of time. Also, these aren't dishes that couldn't be stored without losing their taste. As the goulash with potatoes, this Hungarian bean goulash recipe is qualifying the one-pot dishes that you can do if you're expecting many guests, as well as if you want to just cook a one-pot meal for the family or just yourself. The bean goulash is just as delicious as the potato goulash, and it's just as tasty, but it didn't yet grab the attention of international foodies as the potato version.
About the tasty Bean Goulash recipe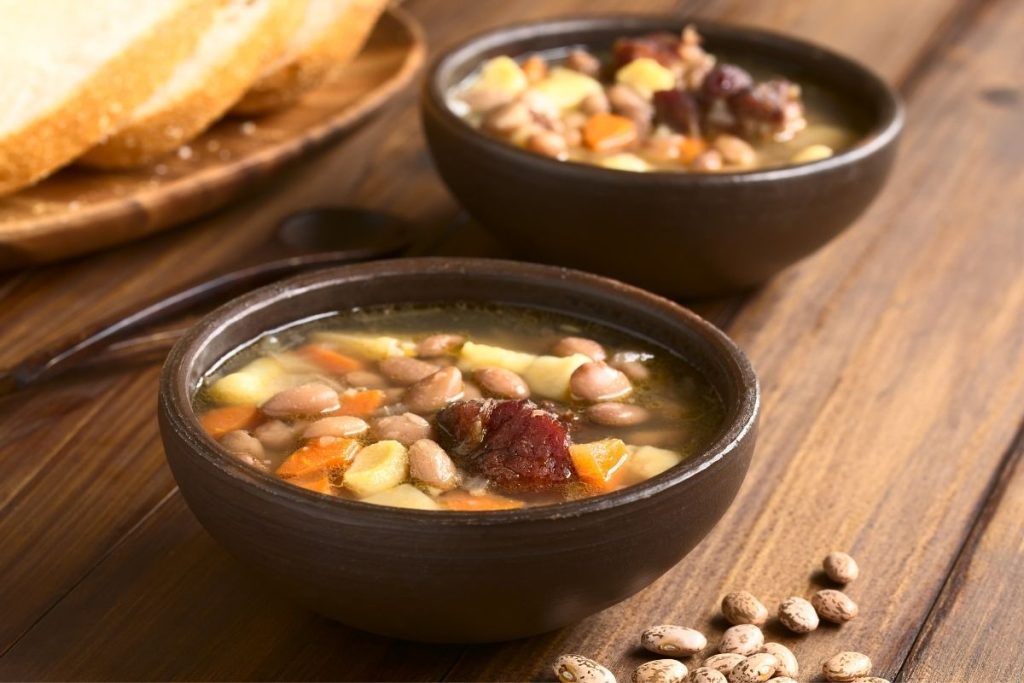 Why Hungarians prefer one-pot meals?
What kind of beans go in goulash? What is a goulash? And why do we love in Hungary the one-pot dishes? We'll cover all that before moving forward to our bean goulash recipe. The Hungarian goulash with kidney beans is one of the most popular Hungarian dishes. As I have mentioned, we prefer really saucy, and liquid one-pot dishes as the main course, even if we have soup beforehand.
One-pot dishes are easy to make, you basically just throw everything in, and you let it cook. You don't have to use 6 pans and 5 pots to make Hungarian recipes, you need one large, deep pot, and 1 chopping board. That's it. As you finish chopping one ingredient, you throw it in the pot. The easiest and cleanest dishes are full of vegetables and the great broth that does well to our stomach.
Hungarian Goulash traditions
If we're already speaking about Hungarian bean goulash, the same traditions apply to this one as to the more popular version as for the potato version. Before we get into the recipe for goulash with kidney beans, let's see some history and traditions!
The goulash back in the centuries was the shepherds' food. Since eating soup is a tradition in Hungary, this one-pot Hungarian dish was easy to make, quick, and it served as the first course (soup) and the second course as well. The word Gulyas means cattle shepherd, the herdsman. That's where the name of the Hungarian Goulash comes from, which correctly is Gulyas.
How to pronounce the goulash correctly? So, to pronounce Gulyas, the correct name of the dish: gu-y-ash. The Y should be pronounced as if you'd be saying yet.
From the 18th century in Hungary, the Gulyas (goulash) became a popular dish of the household in the Hungarian countrysides, then slowly it won its way into the towns and cities. Within the 19th century, it started to become part of the Hungarian hospitality services, and then it started to appear in the Hungarian cookbooks as well.
The Hungarian bean goulash or has different varieties in different parts of original Hungary. In Transylvania for example it already has four variations, but in today's Hungary, as well as other regions that are now part of other countries like Slovakia or Serbia, they make the goulash in either traditional way, or they have their own variety for it.
Hungarian Bean Goulash Recipe
Now you know all about the goulash with kidney beans, let's jump into the recipe for goulash with kidney beans. Don't forget, there's no such a thing as too much paprika or too much meat! If you overpack the goulash with something, you can always balance it out. Also, don't forget to leave enough liquid on it before you'd want to serve your Hungarian goulash with beans!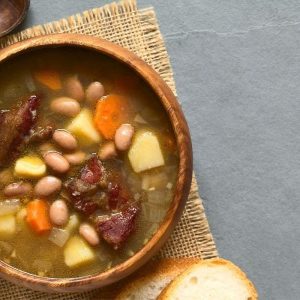 Hungarian Bean Goulash Recipe
Here's a traditional Hungarian bean goulash recipe for you that's made by locals. On side of the famous Hungarian goulash with potatoes, we also have the version with beans that we really love. Try this easy one-pot recipe from Hungary!
Ingredients
1

large

Onion

4

cloves

Garlic

250

g

Beans

1

medium

Carrot

100

g

Spiced smoked Sausage

200

g

Beef Cattle/tight

1

Rd Bell Pepper

1

Tomato

1

tbs

Paprika spice

4

Bay leaves

Salt, Pepper
Instructions
The Houngarian bean goulash recipe (Bean Gulyas) is just as famous in our little country as the potato goulash. You have to change basically 2 ingredients only.

Chop 1 large onion finely, mince 4 cloves garlic and then dice in tiny pieces the bell pepper. As you finish chopping the onions, in a pre-heated large, deep pot you can add oil and the onions right away.

Chop the meat into small pieces, as well as the sausage should be sliced. If you've got smoked sausage with paprika, that's always the best!

After you added the onions and you were sauteeing it for at least 2-3 minutes, you can add the meat too and turn the heat to medium. Cook it until each side gets white.

As you finish chopping the 2nd, 3rd, and so on ingredient, you can add them one after the other and sautee them on low-to-medium heat.

After the onion, garlic and bell pepper, you'll have to chop the tomato and two medium carrots, then put them all in the pot and sautee them.

One the vegetables start getting ready, add 1 tsp of salt and pepper, 3-4 bay leaves, a tbsp of paprika, and mix them all together. At this point, if you used dried smoked sausage, you can add that too.

Pour water or broth and water on it as much to completely cover the ingredients and have above at least 5 cm of liquid. Bring to boil.

Right after, turn down the heat to low and cook another 30-40 minutes. You can also put a lad on it if you want to speed up the process.

After 30-40 minutes, if the beef is cooked properly, you can add more water/broth to make sure that it's actually like a soup, and add the beans too.

Cook it for about 10-15 minutes more with the beans, then taste and season it more if needed. Ready to serve!
Hungarian Bean Goulash Recipe