Mexican cuisine is based on corn, beans, chile peppers, tortillas, and meat. If you ask me, I am crazy about Mexican food and I'm sure you share this same feeling, especially if you like hearty, spicy food. You might have already heard of or tasted tacos, burritos, and quesadillas, as these are some of the most popular Mexican dishes you can find anywhere in the world. But what is chili con carne? Well, some people compare it to the Italian ragu with a Mexican twist, but the truth is that you need to try it to understand this dish. The good news is that in today's chili con carne recipe, I will walk you through all the steps of making this amazing Mexican dish. If you are ready to learn some more tips and tricks about making the best chili con carne, follow the instructions below!
Chili con carne recipe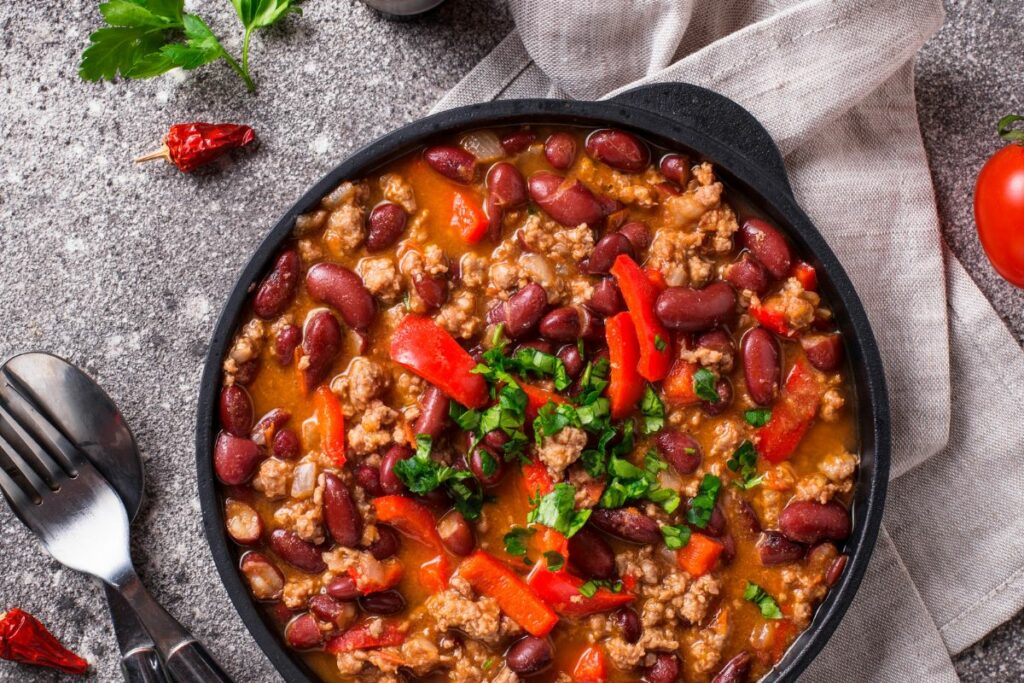 Before creating this recipe, I looked at many chili con carne recipes. I really wanted to find the best one. One that has all the ingredients and all the steps needed to ensure a delicious result. Now I am happy to say that based on all the research (tasting chili con carne included), I created one of my simplest, easiest, yet most successful recipes. But before we dive any deeper, let's take a step back to the history of chili con carne.
Chili con Carne origins and variations
While chili con carne with beans today is considered a Mexican meal. However, the truth is that this dish originates from San Antonio, Texas. The story behind Chili con Carne goes like this. At the beginning of the 19th century's San Antonio, women, also called chili queens, used to make huge pots of chili pepper stew. They sold this food in small portions at the market. Now you know that the very first recipe for chili con carne originates from the world of American Tex-Mex.
What is chili con carne made of?
But what is chili con carne made of? Well, if you look at the recipe chili con carne includes minced meat. This is the base ingredient of chili con carne. To prepare this meal, you will also need beans, sweet corn, tomato puree, tomato concentrate, and a lot of chili powder. If you happened to make your own traditional Italian tomato sauce using my recipe, now is a great time to open a jar. But now, without further ado, let's see what are the steps of the easiest chili con carne recipe!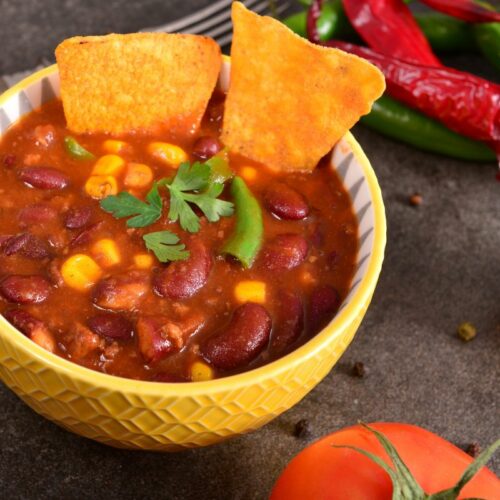 Chili con Carne Recipe
The internet is overloaded with chili con carne recipes, but here is the easiest one that you cannot mess up! Follow the steps and make the best chili con carne you have ever tasted!
Ingredients
500

g

minced pork and beef meat mix

285

g

canned sweet corn

280

g

beans

(preferably in tomato sauce )

1/2

tsp

chili powder

4

tsp

tomato concentrate

200

ml

tomato puree

1

onion

salt, pepper
Instructions
Chop the onion in small pieces, then add it to a pan with heated oil.

Cook the onion for a few minutes, then add the meat.

Season it with salt and pepper.

Keep stirring it every 1-2 minutes on medium heat.

After 10 minutes you can add some water. Also, at this point, add the tomato sauce.

Add the chili powder and leave it to cook for about 20 minutes.
Wrapping up: chili con carne recipe
This was my recipe for chili con carne. People usually eat this dish with rice. You can obviously do that. Just cook some white rice, and eat it as a side. You can also mix the rice with the chili con carne. To be honest, I prefer it without rice. If you feel the same, you can buy some nachos or tortilla chips as a side. You can also get creative and make a burrito with the leftover chili con carne. There are really no rules with this dish. Also, if you like your food really spicy, feel free to go crazy with the chili powder, just make sure to leave room for other flavors too!
Pin it: Chili Con Carne Recipe