The Hungarian mushroom paprikash recipe is very similar to the world-famous chicken paprikash recipe that you might have already heard about. It is one of the most loved dishes in Hungarian cuisine. So I have no doubt that wherever in the world you are reading this from, you will fall in love with it too. Think of it as a comfort food that requires simple and cheap ingredients and you can prepare it in half an hour. Honestly, it is one of my favorite dishes! So I'm super excited to share this recipe with you and I hope you will like it as much as I do!
Hungarian mushroom paprikash recipe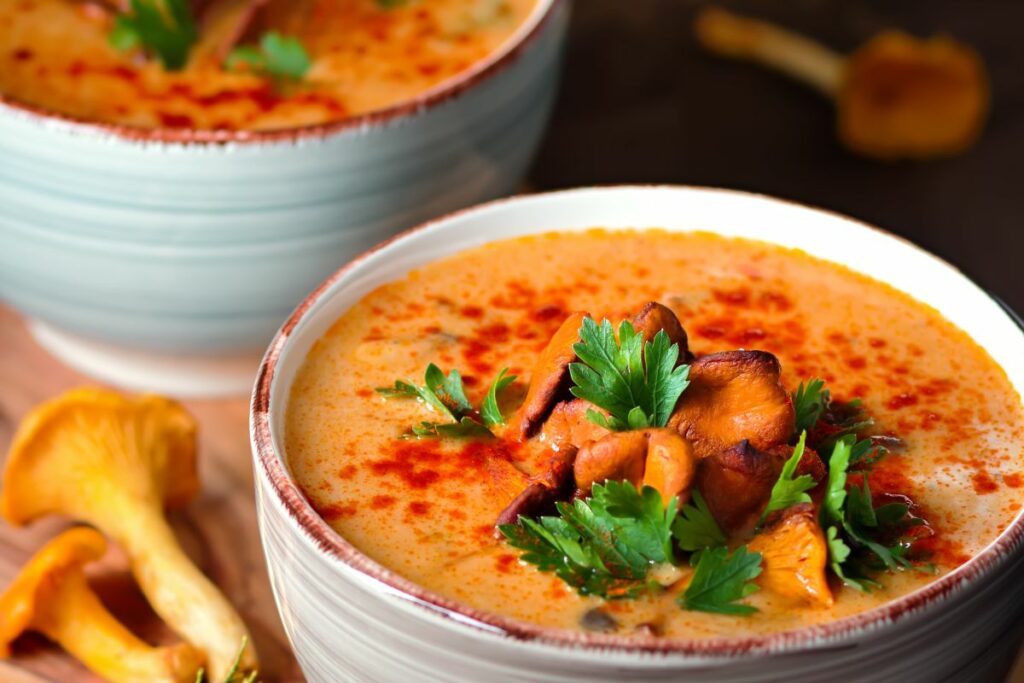 If you happen to travel to Hungary, you will come across mushroom paprikash all the time. Most restaurants serve this meal, as it is a traditional dish that Hungarians are really proud of. Needless to say, to prepare paprikash mushroom is the number one ingredient. You can use any type of mushroom of course. But the original Hungarian mushroom paprikash recipe is prepared with champignon mushrooms. These are easy to find in any supermarket and they are relatively cheap.
Origins of the paprikash mushroom
Paprika has always dominated Hungarian cuisine, so it is no surprise that to this day we, Hungarians use lots of paprika in our foods. As the Hungarian mushroom paprikash recipe is a simple, one-pot dish that is made of cheap ingredients. That is one reason why during the last decades this dish was always been a popular choice by both the poor and rich. A delicious side you can serve with chicken or mushroom paprikash is dropped dumplings (nokedli), but you can also eat it with mashed potatoes or even pasta. In Romania, especially in the Transylvania region, people prefer to eat mushroom paprikash with polenta.
What do you need to make a mushroom paprikash?
Now let's look at the ingredients. As I have already mentioned, for paprikash mushroom the most important ingredient is champignon mushrooms. Do not forget about soured cream of course, nor about really good quality Paprika. Try to find some paprika of Hungarian origin, as that will boost the flavors of your paprikash for sure! Each other ingredient that you will see in my recipe is most likely already in your kitchen, so once you have mushroom and paprika, you are good to go!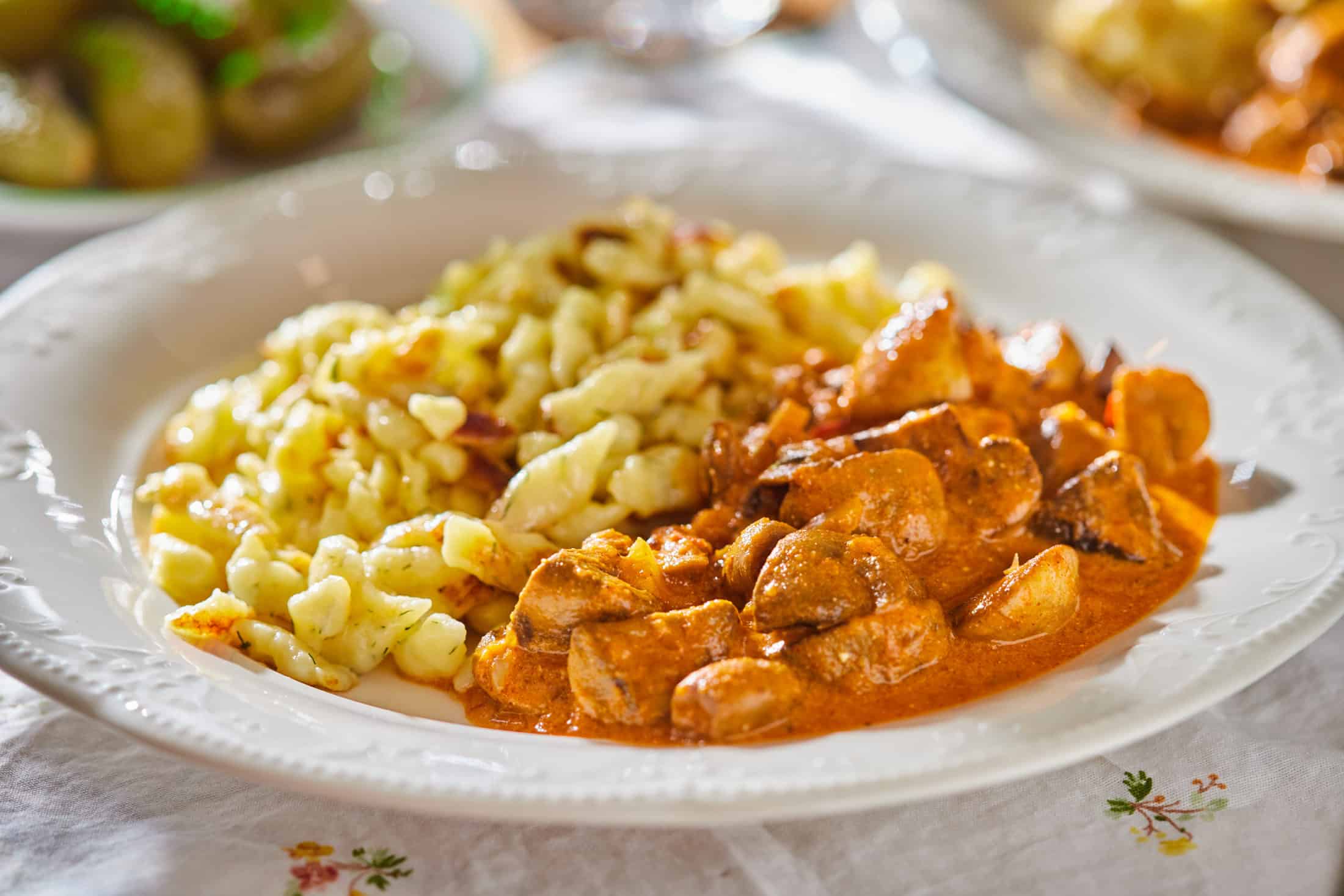 Hungarian mushroom paprikash recipe
Get a taste of Hungarian cuisine by trying this heavenly mushroom paprikash recipe! This meat-free vegetarian paprikash is a dish that is easy to prepare and the result will definitely amaze you!
Ingredients
350

g

mushrooms

50

g

soured cream

1

small bell pepper

1

onion

3-4

cloves of

garlic

paprika

salt, pepper

2

tbsp

olive oil

200

ml

veggie broth
Instructions
Start preparing the mushroom paprikash recipe by slicing up the mushroom, cutting the onion into small bits, mincing the garlic, and dicing the bell pepper into tiny cubes.

Once you are done with this, heat up a tall pan and put 1 tbsp of olive oil in it.

Add the onion and cook until translucent.

Add the garlic and bell pepper. Cook them for a few minutes on low heat, until the pepper becomes softer.

After a few minutes add the mushrooms, mix them well, and cook it for about 8 minutes. Stir them in every minute, so the mushrooms become softer and cooked.

Add the seasoning: salt, pepper, and 1 tbsp of paprika.

Fill up the pan with the veggie broth just to have all ingredients in the pan covered. Bring it up to a boil on medium heat.

Turn off the heat and add the soured cream. Stir it well.

You can sprinkle some freshly chopped parsley on top and serve it with a side of your choice.
Wrapping up the Hungarian mushroom paprikash recipe
As you could see above, the Hungarian mushroom paprikash recipe is very close to the famous chicken paprikash. It really depends on your taste which one you choose to prepare. But here's a trick! Why not combine them? Yes, you heard me right: chicken paprikash with mushrooms! Can you imagine a dish more perfect than that? If you want to boost your chicken paprikash, just add some mushrooms, and voilá, you can prepare a hearty comfort food that has everything you can ask for!
Pin it: Hungarian mushroom paprikash recipe