As we call it, the Hungarian Chicken Paprikash is something amazing, and you won't really find a Hungarian person who wouldn't just love it! Abroad, people look for this traditional Hungarian dish as creamy paprika chicken with sour cream sauce, or easy paprika chicken, chicken in paprika sauce, or even chicken paprika creme fraiche. It's simply just Chicken Paprikas (pronounce with SH at the end). Today I'm sharing my traditional, tasty paprika chicken recipe with you!
Creamy paprika chicken with sour cream sauce – easy paprika chicken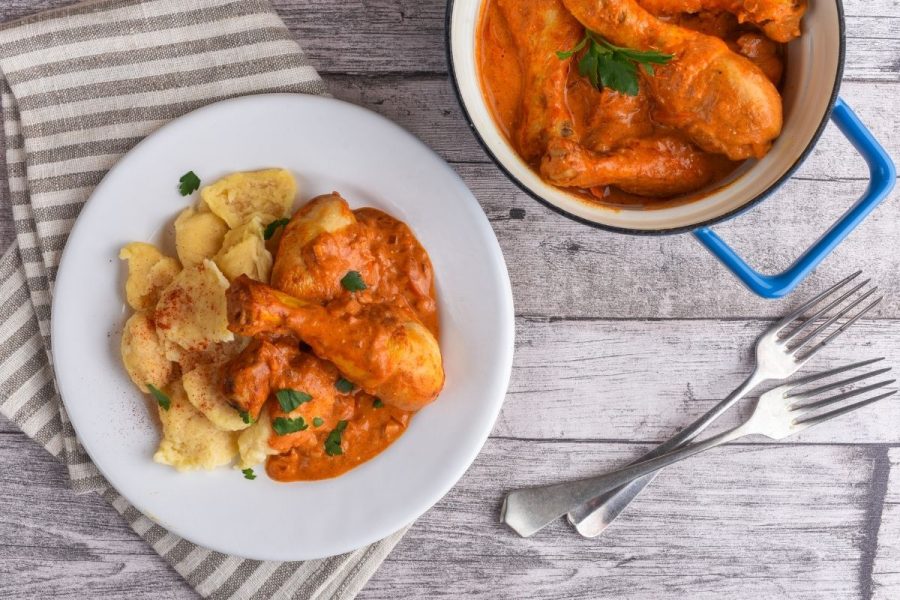 So when I say easy Paprika chicken recipe, I mean it. It's been the very first dish I have ever cooked all by myself. I do admit, that the first one wasn't that good, but with practice, it did become perfect. You must know about me that I never cook after recipes. Toss, I'm writing recipes myself.
But I always said that cooking is about taste. Yes, you can re-create a dish following each and every gram written there, and yes, you can do that with this tasty paprika chicken too. But I suggest you experiment before you put in the exact amount of spices.
The best way to experiment with a recipe, as well as with this creamy paprika chicken recipe is to add first just 1/4 of the number of spices you see in the recipe. Taste it, then add some more. With this, you will learn what's the perfect amount of spices for your taste. Just go little by little and try and taste it at every step! Okay, let's get to our Hungarian Chicken Paprikash recipe!
Creamy Paprika Chicken recipe – Tradition and origin of the chicken in paprika sauce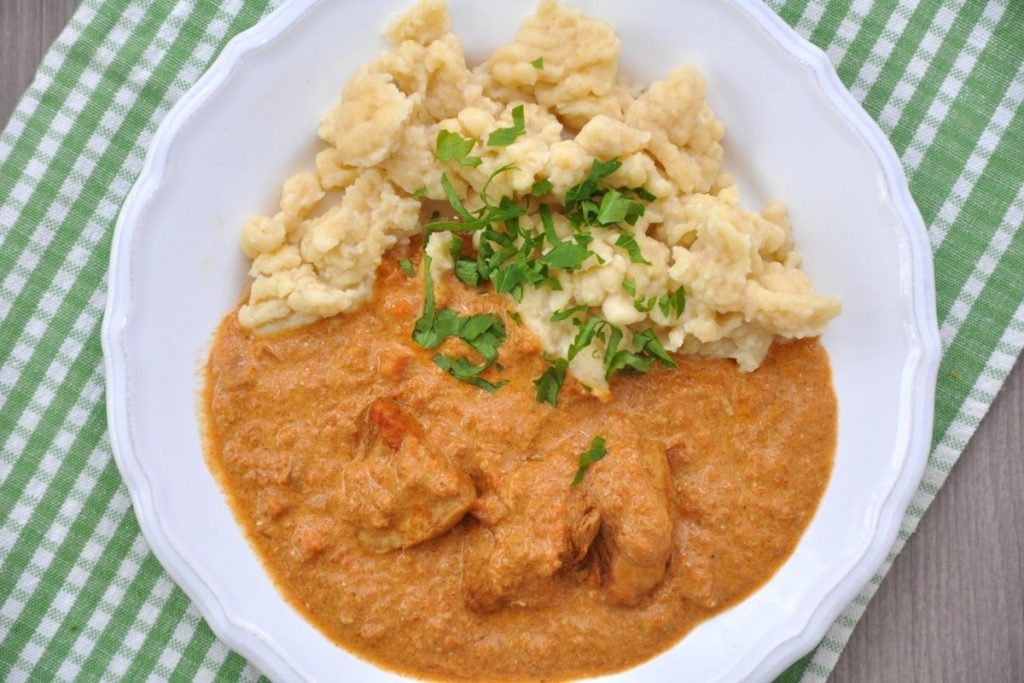 So to understand the creamy paprika chicken with sour cream sauce dish, let's start at the beginning. I've been highlighting already, that the tasty paprika chicken (Hungarian Chicken Paprikash) is a traditional Hungarian recipe, and it's one of the most popular dishes in Hungary. But what's the history of this easy paprika chicken recipe?
Just like the Hungarian Goulash, the Hungarian Chicken Paprikas recipe became popular in the 19th century. It's been the food of the peasants, as every dish around Europe that now we call national dishes. In the 18th and 19th centuries besides pork and beef, chicken started to become more and more popular in Hungarian kitchens.
It's very important to not mix Hungarian Chicken Paprikash with goulash. Goulash is never made with chicken! That's an existing thing too, just that one is not made with sour cream. Instead, this is a creamy paprika chicken with sour cream sauce.
The first time, Hungarian chicken paprikash recipe was written in the Hungarian National Cookbook in 1830. Since the 19th century covered a long line of events that we're risking the Hungarian integrity and the rule of the Hungarian nobles, tradition, and nationalism started to become important, to keep the country together. The first Hungarian cookbook was written thanks to this movement. Now let's move to our creamy paprika chicken recipe finally!
Chicken Paprikash recipe
To make a creamy paprika chicken with a sour cream sauce you just need a few things, and it won't take long to make it. If you've got chicken, sour cream, high-quality paprika, onions, tomato, and garlic, you're ready to go and make a tasty paprika chicken! Chicken paprikash is usually served with either puliszka (polenta in Italian) that's made of cornflour or dropped dumplings, or you can serve it with pasta as well.
Enough now of the speaking, let's see this easy paprika chicken recipe, or chicken in paprika sauce, or how else you might be searching for it? Chicken paprika creme fraiche? Let's see the chicken paprikash recipe! Enjoy Hungarian cuisine!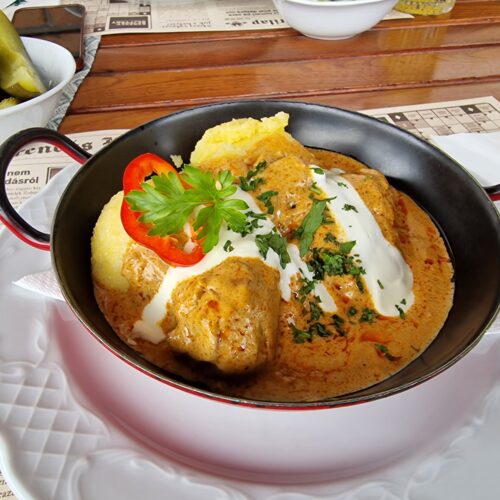 Hungarian Chicken Paprikash Recipe
An easy paprika chicken recipe that everyone will love! How to make Hungarian chicken paprikash? Learn from a native! The story of chicken paprikash along with the best authentic paprika chicken recipe!
Ingredients
300

g

Chicken breast/thigh

50

g

Soured Cream

1

small

Red Bell Pepper

1

red

Onion

1

Tomato

Salt, Pepper, Parsley

1/2

tbsp

Paprika

High Quality Paprika Spice

2

tbsp

Olive Oil

200

ml

Chicken Broth

3-4

clove Garlic

1-2

tbsp

Flour
Instructions
If you're using chicken breast, chop them into smaller pieces. Thighs can stay in one piece. Chop the onions finely, dice the bell pepper, and mince 3-4 cloves of garlic.

In a deep pan, or a wok add 2 tbs of olive oil, heat it up, add the onion and cook until it's translucent.

Then, add the chicken and saute them on medium heat. When they are almost ready, season with salt, pepper, minced garlic.

Turn down the heat, add 1 tablespoon of paprika, mix it together well, then add 400g of chicken broth, and cook it for about 25 minutes on low heat.

Check if the kitchen is cooked well, then add some of the liquid from the chicken to soured cream (if in your country there's no soured cream, you can use fresh cream too, though the taste won't be the same), and 2 tablespoons of flour.

Stir them together until creamy, and slowly add it to the chicken, while stirring continuously.

This will make a nice sauce around the chicken. If needed, add some more broth as well. Season with salt and pepper after taste.
Hungarian Chicken Paprikash Recipe