One of the many traditional Hungarian dishes includes Goulash Stew (Gulyás leves). Goulash can be both a soup and a stew, depending on how thin you make the soup. Gulyás tastes the best when prepared on a cauldron (bogrács). The ingredients are also very simple and can be mixed depending on what one likes. The main ones are of course potatoes, meat (pork, beef, veal or lamb), vegetables and paprika. You can also use the famous sour cream and some proper bread, although the potatoes are filling enough. So let's see the traditional beef and potato goulash recipe, the authentic Hungarian goulash recipe from a Hungarian girl!
Authentic Hungarian Goulash recipe – Potato Goulash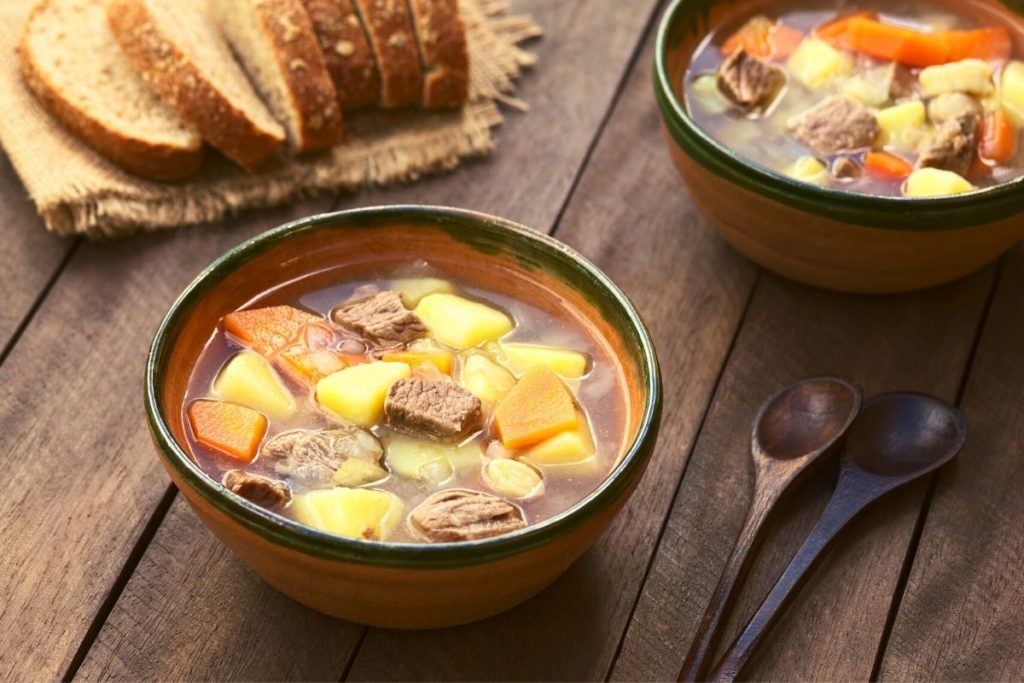 When we've been in high school, as my partner mentioned at the most famous Hungarian dishes post, there was a tradition we've been keeping each year. Since hunting is a hobby for many in that area, one of our classmate's fathers who was a hunted, always sent us fresh meat to prepare a great Hungarian gulyas (authentic Hungarian goulash recipe) with beef, pork, but also deer, horse, or boar. I personally don't eat deer or horses because I don't eat any animal that I love alive. In each case, all around Hungary and Transylvania, the Hungarian potato Goulash has a long tradition, and we all love it. If you're in Hungary, or if you're visiting Budapest, make sure to eat a traditional Goulash (Gulyas) there! Also, we also have the bean goulash recipe too if you like beans more than potatoes!
History and Tradition of the Hungarian Goulash (Gulyas) – Meaning of the Gulyas word
Let's see the history of goulash, the tradition of goulash in Hungary, the meaning of Gulyas, and how to pronounce Gulyas correctly!
The goulash back in the centuries was the shepherds' food. Since eating soup is a tradition in Hungary, this one-pot Hungarian dish was easy to make, quick, and it served as the first course (soup) and the second course as well. The word Gulyas means cattle shepherd, the herdsman. That's where the name of the Hungarian Goulash comes from, which correctly is Gulyas.
How to pronounce the goulash correctly? So, to pronounce Gulyas, the correct name of the dish: gu-y-ash. The Y should be pronounced as if you'd be saying yet.
From the 18th century in Hungary, the Gulyas (goulash) became a popular dish of the household in the Hungarian countrysides, then slowly it won its way into the towns and cities. Within the 19th century, it started to become part of the Hungarian hospitality services, and then it started to appear in the Hungarian cookbooks as well.
The Hungarian goulash or Gulyas has different varieties in different parts of original Hungary. In Transylvania for example it already has four variations, but in today's Hungary, as well as other regions that are now part of other countries like Slovakia or Serbia, they make the goulash in either traditional way, or they have their own variety for it.
Beef and potato goulash recipe – Hungarian Goulash recipe
In each case, our favorite, which is also officially one of the traditional Hungarian national dishes is the potato goulash. This can be found as a beef and potato goulash recipe, or with pork meat, with deer, and other types of meat as well.
What is the difference between American and Hungarian goulash? Well, the same way as many Italian dishes are not made traditionally in America, the same goes for the authentic Hungarian goulash recipe. In many American goulash recipes, it's not made as a soup-type dish, but it's made more like a stew with a thick sauce.
I've also seen that in the American goulash recipes, instead of potatoes they've been using pasta for the goulash. In my opinion, that should've been given another name, because we in Hungary would never make goulash with pasta!
I mean, it's like a mix of an Italian and Hungarian dish, but it's still non of the above, and it has definitely nothing to do with an authentic Hungarian goulash recipe! Let's see how is the real, beef and potato goulash recipe looking like, and how you can do your Hungarian Goulash recipe at home!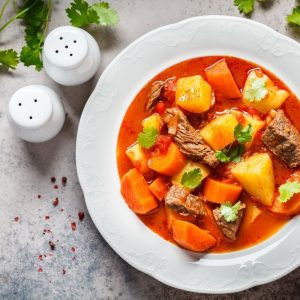 Hungarian Potato Goulash Recipe – Hungarian Gulyas
You can make an authentic Hungarian goulash recipe at home on the stove, but also in the garden in a couldron. – The second option tastes always better!
Ingredients
1

large

Onion

4

cloves

Garlic

4-5

large

Potatoes

150

g

Smoked Sausage

150

g

Pork lion/thigh

or just Beef, or you can also mix the two

1

red

Bell Pepper

1

large

Tomato

1

medium

Carrot

1

tbsp

Paprika

high quality spice

3-4

dry

Bay Leaves

Salt, Pepper
Instructions
Potato gulyas is the most famous Hungarian dish, and you'll be surprised how

easy is to make it!

Chop finely 1 large onion, minced 4 cloves of garlic, diced into cubes 4 large potatoes, then dice in tiny pieces 1 bell pepper, 1 tomato, and one carrot.

Dice in the same size of cubes as the potato the pork lion or thigh, and slice up the sausage.

On a wok type larger tall pot or pan heat up 2-3 spoons of oil, cook first the onion until translucent, then add the meat and saute.

After adding all the other veggies, 1/2 salt, pepper, 3-4 bay leaves, a tablespoon of paprika, mix them all together and cook until the veggies soften.

Pour water on it, as much to completely cover the ingredients, and have at least 5cm of water above. – It should look like a soup.

Cook it for 30-40 minutes on lower heat. Put a lad on it if you want to make sure everything is cooked properly. Taste it and season with salt, and pepper if needed.

The liquid you add to it, and the amount of potatoes is really depending if you want it to more like a stew or more like a soup. Also, if you are using beef instead of pork, the cooking time might escalate to 2 hours! Keep that in mind!