When we say healthy chicken soup recipes, we right away think about lovely Sunday lunches with family, and days when we just want to wrap ourselves into a cozy blanket and eat something warm and easy. For Hungarians, chicken soup is something that can never miss family lunches, and we can't wait for it! Since eating soup is part of the main courses in Hungarian cuisine when it comes to lunch, there's always some type of soup on the table before the second course. No need to say that chicken soup is always everyone's favorite, and I'm going to share with you my favorite, authentic Hungarian chicken soup recipe that I and my family have been making for many years! Let's have a look at one of the most popular Hungarian dishes.
Hungarian chicken and dumplings soup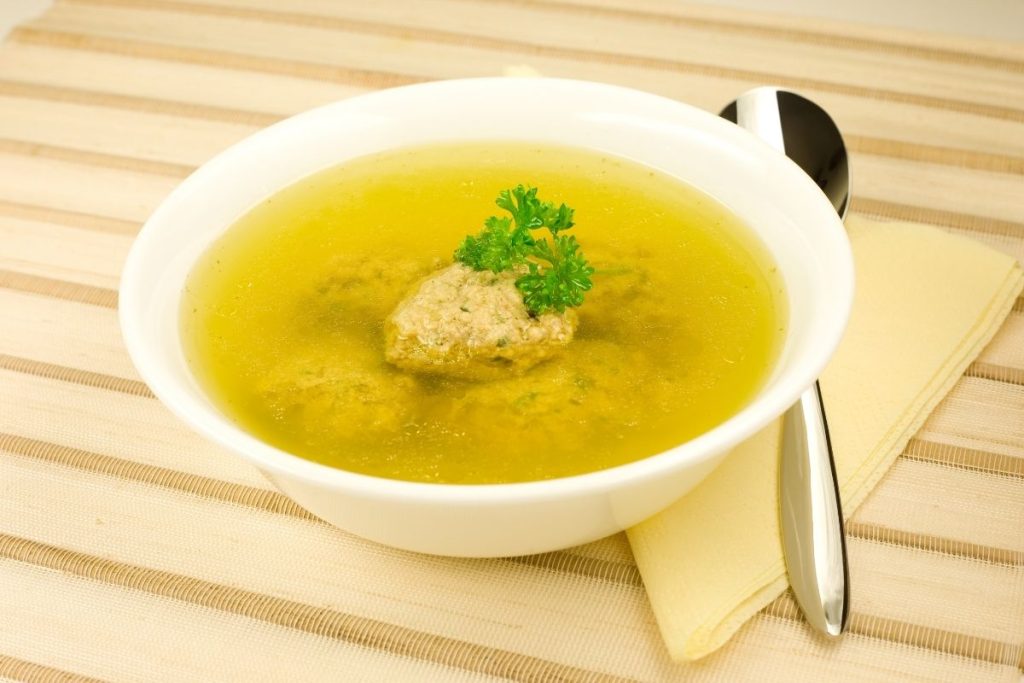 You must know that there are multiple ways to make healthy chicken soup recipes. One of the most popular ways is with simple skinny pasta, and the other version is made with dumplings made of semolina. Obviously, we all love the dumpling version more, since semolina dumplings just taste amazing in a chicken soup, but it always takes more time and it's more complicated. Therefore, if someone doesn't have the time, or they're expecting many guests, they won't get themselves making dumplings for sure.
However, if you're looking for Hungarian chicken and dumpling soup recipe, you just have to follow the below recipe, then make the dumplings separately. The ingredients for dumplings are 1-2eggs and 3-6 tbs of semolina. The amount really depends on how many you need. If you're making a small amount, use 1 egg and 3 tablespoons of semolina.
To make the dumplings for the chicken soup, you should first beat the egg whites into foam, add the yolks, and beat it up even more. Mix and add the semolina, and make sure the mix is soft. Do make sure to add the semolina slowly and see if it remains soft. Then, take a spoon full out of it and drop it into the boiling soup. If it falls apart, the dumpling was too soft, and you should add some more semolina before adding the second dumpling.
About the authentic Hungarian chicken soup recipe
Believe it or not, making an authentic Hungarian chicken soup recipe is pretty easy to make. You basically just have to chop some vegetables, the chicken, and you drop all of that into a big bowl, which you'll fill with water. Easy, right?
Jokes aside, there are a few things you have to pay good attention to, such as spices and the big question: how to get the color of the soup golden? This is always the hardest part that I didn't know how to achieve for many years until once I finally got my grandfather to tell me since my mother didn't do it the right way either.
Anyhow, you don't have to worry, this detail is also in the below recipe, and even though I just made it sound complicated, it is actually one of the easiest recipes you've ever made! So let's stop here and let's get into our healthy chicken soup recipe!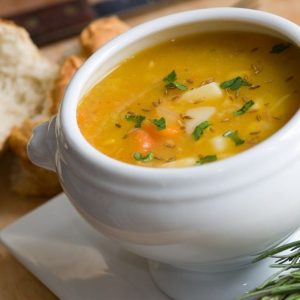 Authentic Hungarian Chicken Soup Recipe
Are you looking for an authentic Hungarian chicken soup recipe? What about a healthy chicken soup recipe from a local? One of the most delicious recipes for sunday lunch and cozy days.
Ingredients
2

medium

Carrots

1

large

Onion

4

cloves

Garlic

1

medium

Celery

200

g

Chicken tights

200

g

Chicken/Vegetable Broth

Salt, Pepper

fresh Parsley
Instructions
First step on making an authentic Hungarian chicken soup recipe is peeling the vegetables. You should peel the carrots first, the onion, the garlic, and the celery. These would be the first things you'll have to place in a deep bowl.

Chop everything in bigger pieces so you can remove them easier once the soup is ready. So the carrots in 2-4 pieces, the onion in two, and the celery as well, depending on how big it is, just chop it in 2-4 chunks.

Put then 2 tbs of olive oil (or it's even more authentic with sunflower oil) into the deep pot, heat it up and place the carrots and the celery in first.

You'll basically have to toast them in the oil on the lowest heat so they won't burn. Make sure to turn around the carrots time to time. By cooking them in oil like this, the beta carrotine will ge released from the carrots and this will give you that golden color we spoke about. Usually about 5-6 minutes are enough.

Once you're ready with the previous step, add the chicken and the onion in the pot and stir them all time to time until the chicken gets white. Keep the heat low at this point still. Once you see the chicken is white on all sides, add the garlic, 1/2 tsp of salt and 1/4 tsp of black pepper.

If you're not using enough vegetables, the taste of the soup won't be strong enough, and this goes also for the chicken. Then best Hungarian chicken soup recipe is always made with old hen, since their meat has a stronger taste. To fix any issues with the taste, you can use vegetable or chicken broth and cook it half-half with broth and water.

Once you added the water, or the broth and the water, turn up the heat to medium, and bring it to boil. Once it's boiling, turn off the heat again, put a lid on the pot and leave it to cook for about an hour.

Add more water if you feel that the liquid is not enough, taste and season it more with salt and pepper if needed. If you've got dried vegetable mix spice, you can use that too. Nothing spicy though!

At this point, you can do two things with the chicken soup. You should remove the chicken and the vegetables too. If you want to serve a soup with vegetables, you should chop all the vegetables and the chicken into tiny pieces, and put them back into the soup.

If you want to do a Hungarian chicken and dumpling recipe, you shouldn't add back the vegetables at all, and that goes the same if you want to make the authentic chicken soup with just the skinny pasta (vermicelli or noodles).

If you add the vegetables back in the soup, you can also add other things like peas, that will be ready after cooking them a few minutes in the soup. Also, if you go for the "no vegetable" chicken soup, you can use the vegetables to make a salad de boeuf for example. That's what we always do, since we prefer the no vegetable version for this soup.

Once you if it's going to be a veggie or no-veggie chicken soup, if you want to do it with dumplings, you have to follow the dumplings instructions in this article. If you prefer pasta, you just have to add the pasta in the soup and cook it until it gets soft. Chop and add some fresh parsley to it before serving!