Who doesn't become obsessed with a Hungarian potato casserole recipe? One of the most delicious cheesy potato casserole options you'll ever try! This cheese potato casserole is light, made only with natural, fresh ingredients, and it's great for those who don't have much time to cook and try to avoid meat. Let's see my favorite egg and potato casserole recipe now! I guarantee you will love it!
Hungarian Potato Casserole Recipe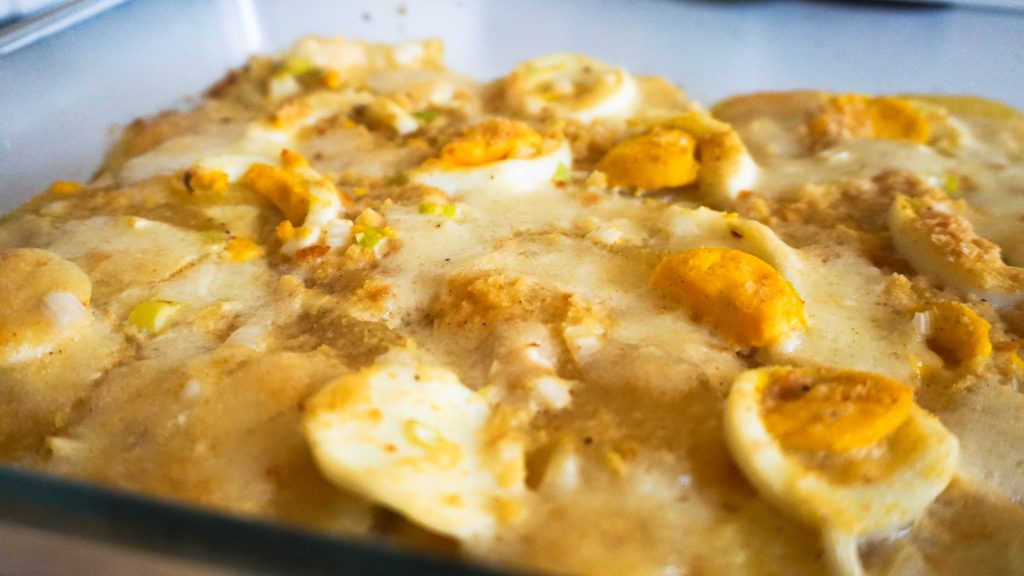 I grew up with my mother making Hungarian potato casserole recipe every 2 weeks. Which, honestly as much as I love it now, I wouldn't mind at all. However my mother (sorry mom) is not really the best cook, even though there are plenty of things she makes great, the potato casserole recipes weren't her thing.
A potato egg casserole shouldn't be made by shredding the eggs or the potatoes. And especially you shouldn't make a cheesy potato casserole why trying to save the amount of the ingredients. She always made her Hungarian potato and egg casserole by using just a little sour cream, and just a little cheese.
I guess you can imagine how "tasty" that was… So I started experimenting, eating this dish with other Hungarian families, and trying to find my way of doing it to make it actually tasty. First of all, I learned to never try to save on the amount of cheese, sour cream, or eggs I use. Then, I learned a few tricks different Hungarian women were making, and by mixing these, I created a really delicious Hungarian potato and egg casserole recipe!
Hungarian Egg and Potato Casserole traditions
Hungarian potato casserole recipe is known in every Hungarian family. This baked potato casserole is a favorite of many kids and many grown-ups. Now, I was talking about some important things you shouldn't do when making a cheesy potato casserole, but let me share a few more tips before the recipe.
The whole point of making this dish great is if you're doing a really loaded baked potato casserole. So use as much as you want of the ingredients that can make it delicious! And another important thought here: to make that egg and potato casserole perfect, you make sure you slice both the eggs and the potatoes. No shredding!
Hungarian potato casserole recipe ingredients
One of the most important things we must keep an eye on if we actually want a delicious Hungarian potato casserole recipe is to choose the cheese wisely. We in Hungary have access to this soft, fresh goat cheese which is salty and has a strong taste. That's what makes this cheese potato casserole perfect!
So if you can't find that type of cheese, it's still fine, but you should find a type of cheese that has a similar strong taste. Preferably goat cheese, but it's up to you. I'm just warning you, that if you don't choose the right cheese, your Hungarian potato and egg casserole won't come as delicious as it could be.
Another important fact is that the egg and sour cream mix you'll find how to make in the recipe, you should add 10% water to it, and spice it to your taste. I experimented with different seasonings, but I prefer still the simple version only with salt and pepper. For me that makes this baked potato casserole also traditional.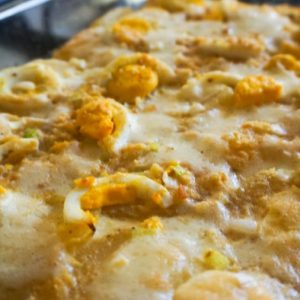 Hungarian Potato Casserole Recipe
See the most delicious Hungarian potato casserole recipe that hungarian households, and tourists love the same way. A cheese potato casserole you can do from anywhere around the world with a few simple ingredients.
Ingredients
400

g

Potatoes

6

Eggs

50-100g

Goat Cheese

150

g

Sour Cream

2

Green Onions

optional

50

g

Bredcrumbs

Salt, Pepper, Paprika, Garlic Powder
Instructions
For your Hungarian potato casserole recipe you will need first to boil water separately for the eggs, and for the potatoes. You don't need to peel the potatoes!

Once you bring the water to boil, put the eggs and potatoes in your two bowls, and cook the eggs for 10 minutes, the potatoes take about 20 minutes to properly cook, but make sure you check with a fork if the inside is properly cookes.

To make your cheesy potato casserole recipe perfect, you will need to beat up 2 eggs with the sour cream. Season this with salt, pepper, and a bit of paprika, and optionally you can use dried garlic powder too.

Chop the green onion as small as possible, and use only a part of the green side. Add this to your egg and soured cream mix.

Since this is a cheese potato casserole, depending what type of cheese you have, you should grate or shredd it, and don't hold back on how much cheese you'll add.

Once the eggs and potatoes are cooked, put cold water on them so they cool down quickly. Maybe you will have to change the water a few times on them too. Peel them both, and slice both the potatoes as the eggs.

Heat up the oven to 180°C so by the time you put your casserole together it will be ready.

Your last steps in this egg and potato casserole recipe are to take your oven dish and put spread a little oil in it so it won't stick. Then, you have to put one line of potatoes, and some sliced eggs on it, pour some breadcrumbs, cheese, and a few spoons of your sour cream and egg mix.

Continue this line until you fill your oven dish, and leave on top a few slices of eggs, as much of the sour cream mix as you can, and a decent amount of cheese to cover the eggs and potatoes. Cover it for the first 15 minutes while it's baking in the oven, then for the last 5 to 10 minutes you can uncover it.
Wrapping up our baked potato recipe
Wrapping up our Hungarian Potato Casserole Recipe, I can only tell you, that this recipe is my favorite for Sunday lunch with family when we decide to do something lite, but it's also a great casserole option for those who don't have a lot of time to cook. You can make a potato casserole in a large oven dish and have something to eat for 2-3 days. Something cheesy, and delicious! At this point, I'd like to mention our other Hungarian recipes too, such as the bean goulash, the traditional potato goulash, and the Hungarian chicken soup among many others. Make sure to look around our site!
Hungarian article: Rakott krumpli recept
Pin it: Cheesy potato one-pot recipe with eggs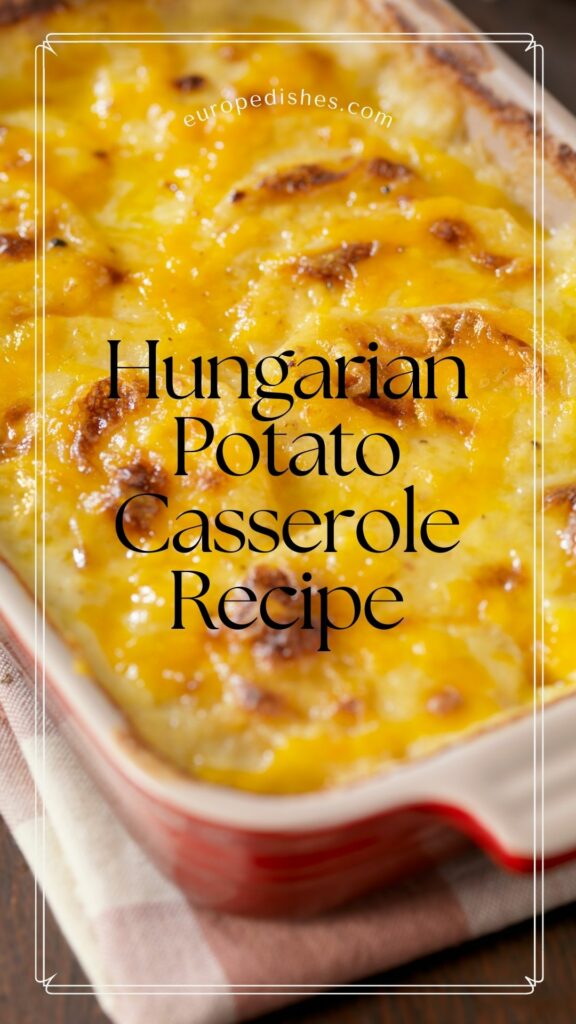 Hungarian Potato Casserole Recipe