What is a Hungarian French Toast? Well, it's quite the opposite of the sweet version many of you know. It's much like it, but it's usually deep-fried, and it is made salty. The good part is, that you can also make serve it as a sandwich. I'm going to share with you below how to make a French toast recipe salty. It's a really easy dish to make, and it's just tasting amazing! So, how to make a salty french toast sandwich recipe? Let's find out below what are the steps and ingredients for the best French toast breakfast sandwich!
Hungarian style french toast – How to make salty french toast sandwich?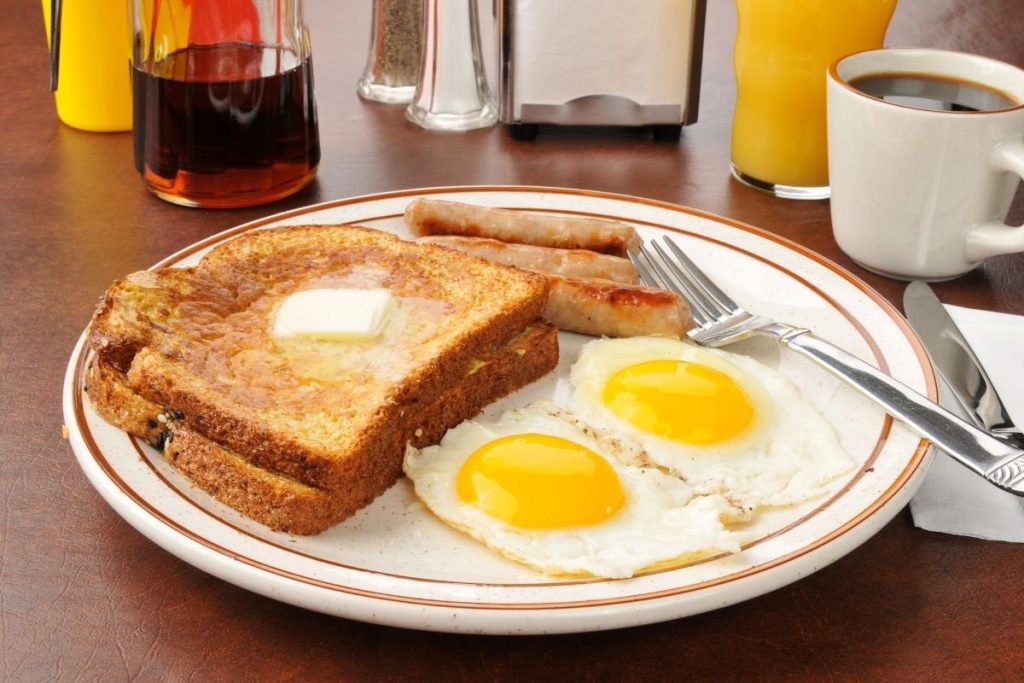 The great part of making Hungarian French toast is, that you can avoid all that sugar people usually eat with the French toast. A Hungarian toast is made differently firstly because instead of being sweet and being served with a sweet topping, it's salty. And my goodness, how tasty it is!
How to make a salty french toast sandwich you ask? The steps are really easy, and you don't need many things to it. For us Hungarians, french toast is what we love to make for Sunday brunches since they are some of the most delicious brunch sandwiches. If you've got some dry bread at home, the best you can do of it is always a french toast breakfast sandwich.
You'll need just bread, that's not soft. On the side, you'll need eggs, oil for frying, butter, cheese, and ham. It's important also if you're not making it as toast, but you rather serve it with just butter on top, to use dry vegetable mix spice. This will make it even more delicious!
What's the difference between Hungarian french toast and French Toast in other countries?
Well, as I have mentioned, the first difference is, that Hungarians never do a french toast with sweet ingredients or toppings. We don't really eat sweet things for breakfast like in Italy for example, but we go for salty things. A Hungarian toast is deep-fried in sunflower oil and the simple version is always served with butter on top.
This was my favorite about Sundays. When I was a kid, on Sundays I always woke up for the smell of the french toast. My father was doing it to use almost every Sunday and we just loved it. He used to wake up early, and have it always ready by the time we wake up with my mom. Since I can remember, I always had my french toast with butter and I have some of my favorite childhood memories attached to this great brunch food.
The better version for those looking for tips on how to make french toast recipe salty is making a french toast breakfast sandwich. It's basically like a grilled sandwich, but instead of simple toast, you're making it as an egg french toast sandwich. You can add inside other than ham and cheese vegetables too. You can literally use whatever you like to use in grill sandwiches. My personal favorite is however the version with ham and cheese and salad on the side. See below one of the favorite Hungarian dishes you could do for breakfast.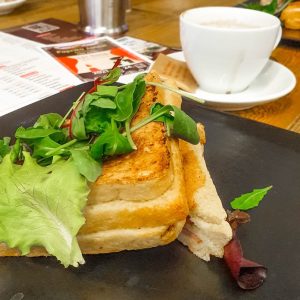 Hungarian style French Toast Recipe
The Best French toast recipe. Learn to make Hungarian french toast. Find out how to make french toast recipe salty. The ultimate way on how to make salty french toast sandwich recipe. A really easy french toast breakfast sandwich that the whole family will love!
Ingredients
8

slices

Toast

3

Eggs

1/2

tbsp

Dry Veggie Mix Spice

optional

Sunflower oil

Butter

4

slices

Cooked Ham / Yorkshire Ham

Gouda Cheese / Soft Cheddar

Salt, Pepper
Instructions
ThoseSunday brunches with your family are always the best. Why not spice it up, and make Hungarian-style, salty french toast?

The difference between the original french toast and this is that this is salty, and it should be consumed according to that.

First step for your salty french toast is to beat up the eggs. If you can, use rather drier bread, or leave the slices out for the night so they can dry.

The reason you should use dry bread is that it won't soak up the eggs, but it will form a nice layor outside.

Season the eggs with salt, pepper, and if you have a vegetable mix spice, that makes it even more delicious.

Heat up sunflower oil (or something similar) in a skillet. Add just as much oil that it won't cover the bread slices.

Once the oil is hot, dip the toast quickly in the egg mix, and take them out right away. If you leave them inside for too long, they will soak up the eggs. Place them right away in the hot oil and take down the heat so they won't burn.

Usually 3-4 minutes on each side are enough if you're frying them on medium heat.

As soon as they are ready, take them off, soak up the oil with a kitchen paper, and add on the slices some butter, two slcies of cheese, one on each side, and between the cheese, put a slice of ham.

If you want to use just one skillet, prepare all the sandwiches, get rid of the oil, and put back the sandwiches on the skillet on low heat.

This way, the cheese inside can melt a little. As soon as the cheese started melting, take them off, cut them in half, and serve. You can serve with vegetables on the side as well.

Simple version: You can easily make the french toast, and instead of making them as sandwiches, serve them as they are, and at consuming, just put a little butter on top. The butter makes it taste delicious!
Hungarian style French Toast