We've already covered many different Spanish tapas recipes, and now it's time for a new one! One of our favorites, the Spanish ham and cheese croquettes recipe is something absolutely delicious! Tapa in Spain is part of the culture, and sharing tapas is really popular. The ham and cheese croquetas are some of the basic tapa recipes that you can find anywhere in Spain. Let's see together a few things to know about ham and cheese croquettes tapas and how to make them!
Spanish ham and cheese croquettes recipe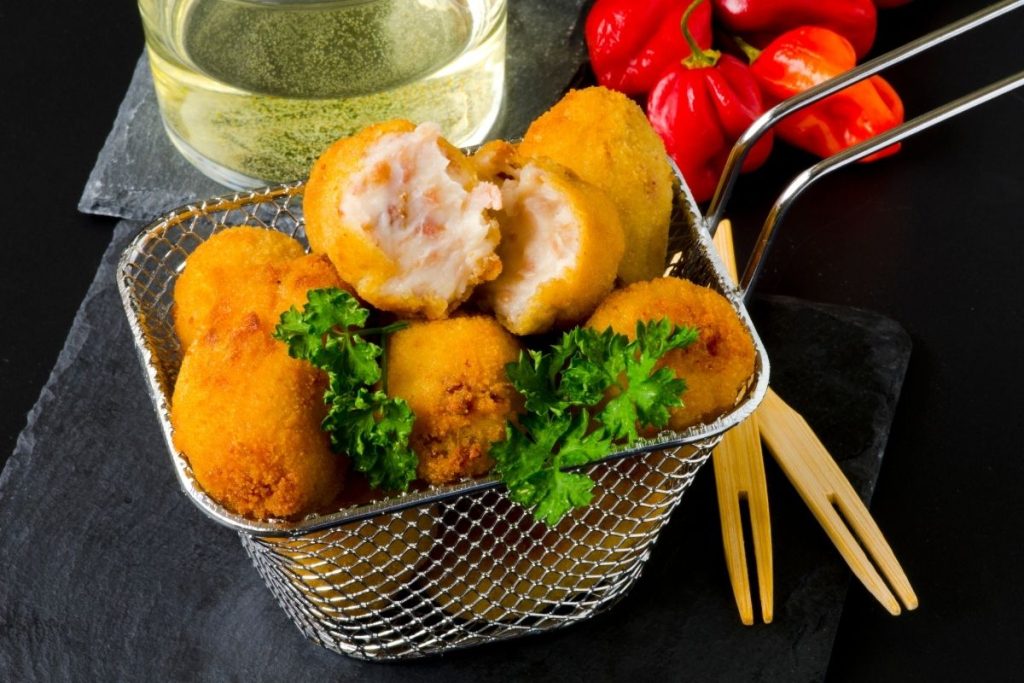 When you want to make Spanish ham and cheese croquettes recipe you must know that it's not the cleanest job to do, but it's so worth it. Just like with the Cordon Bleu, breaded deep-fried cheese, or breaded cauliflower, the mushroom croquettes are somewhat done with the same process.
If you're looking for ham and cheese croquettes tapas, this is definitely an easy one. In 2020, on a trip to Barcelona, I tried all the types of tapas dishes I could, to collect ideas for my cookbook. In Barcelona, I found so far some of the best tapas bars in Spain!
When I first did it, even if it was the really first time, I noticed how great it is, and how easy ham and cheese croquetas are to make! I am just wondering now why I didn't do it sooner? Spanish tapas is just great, and these recipes are great for appetizers for the family, or just for yourself. They are also excellent for gatherings, house parties, or events.
First of all, you'll need a pan. Then, you'll need three bowls for the different steps and a chopping board. Now you understand why it is a messy recipe to do? There are a few dishes you'll have to wash afterward. However, it's really delicious finger food so every moment at the sink is worth it.
How to serve Spanish ham and cheese croquettes recipe?
If you've got a Tapas bowl, that's the best. These aren't deep bowls, instead, they are a bit larger and it's the nicest way to serve different tapas dishes in Spain. It looks amazing on the table. Since tapas is basically finger food, you can serve ham and cheese croquettes tapas with salads, dips, and other types of finger food on the side. Make sure to check out our list of tapas dishes for more inspiration!
Ham and Cheese Croquettes Tapas
When it comes to the cheese to use in the Spanish ham and cheese croquettes recipe, you have different options. The best is always to use a combination of mature cheese and a soft one. For example, Parmigiano Reggiano and Gouda are nice together.
As for the ham, the best would be if you can use Serrano ham or Prosciutto di Parma. Otherwise, you don't need too many things. However, since the ingredients are very soft, you must make sure to have the oil heated up well before you start cooking, or they might just fall apart. Okay, so are we ready for the Spanish croquette recipe?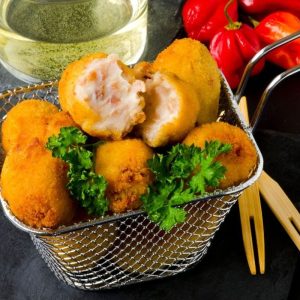 Ham and Cheese Croquettes Recipes
Getting ready for a Spanish Tapas night? Find our favorite Spanish ham and cheese croquettes recipe and fall in love with Spain and the delicious tapas they have. An easy recipe you can do at home without big experience in the kitchen.
Ingredients
100

g

Serrano Ham

or Italian Prosciutto Crudo

100

g

Cheese

Gouda

100

g

Flour

100

g

Butter

400

ml

whole Milk

2

Eggs

Breadcrumbs

Salt, Pepper
Instructions
Your first step to make a Spanish ham and cheese croquettes recipe is to cuprepare the ham. The smaller they are the easier it is to form balls with them.

Use one small pot to add the milk and ham in it and put it to cook on medium heat. Then, put the buttor in another small pot and melt it on the stove/in the microwave, but do not bring it to boil!

Cook the milk with the ham just for about 6 minutes and turn off the heat. Leave it a few minutes to cool, then add the melted butter.

Use a blender to blend it together well, so you can later form balls. Don't over-blend it though, make sure small pieces of ham remain visible. Shredd the Gouda cheese, and the Parmesan.

Add the cheese to the other ingredients and mix them together well, also season with salt and pepper after taste. Then, put the croquette mix in the fridge so it can thicken.

Once it got thick enough, you have to form little balls, or you can make also longer shape.

Beat up an egg with a teaspoon of flour and a few drops of milk and heat up the oil in a skillet. Add enough oil to cover completely the croquettes.

Once the oil is hot, dip your croquettes into the egg mix, and place them right away in the skillet. Fry them on medium heat for about 4 minutes. They are ready when they get a golden color.