Torta di Porri is a recipe my mother remembers my grandmother making which she later wrote down so that the recipe could be passed down in the family. Nonna (grandmother in Italian) was from a small village called Succisa in Tuscany which is surrounded by chestnut trees. When my mother visited Succisa, she saw them use a smokehouse to cook their traditional vegetable torta (tart) over an open fire, covering the top of it with chestnut leaves. She is not sure if this one was cooked in the same manner. Let's see more about the cheesy leek pie recipe!
Torta di Porri – Cheesy Leek Pie
This is a time-consuming recipe by the time you carefully wash the dirt out of the leek, chop it up and take the time to roll out a very thin dough using a long rolling pin with a small diameter. The result, however, is definitely worth the effort!
My grandmother and her sister teamed up several times with another woman whose parents came from the same village and spent several hours making torta di porri. Once they were all in the kitchen together, it didn't take them long to remember the details of the recipe. The experience brought back a lot of fond memories to these women who had spent hours helping their mothers with various culinary tasks. For example, at the age of five, my grandmother was already standing on a stool next to a wood-burning stove dropping vegetables into pots of soup. By the way, if you're looking for recipes you can easily cook with your child(ren), check out my favorite cookbook for kids, Little Green Kitchen, which I mentioned here on my list of resources!
Once you've decided to cook your torta, you might be wondering what it might accompany on the plate. The tart goes well with beef or veal along with a vegetable like green beans or asparagus. It can also be served as the main dish of a vegetarian lunch, paired with a green salad on the side. Once you make the torta, you can eat it straight from the oven hot after a short cooling period, or you can also enjoy it later at room temperature. It's delicious either way. After cooking it has the look of a fruit galette.
Italian Torta Salata – Leek Pie recipe
Leek is a member of the allium family, along with onion, and it has many nutritional benefits. In addition to being a good source of vitamin C, it is also a prebiotic food, thanks to its inulin content. It is also a food free of fat, saturated fat and cholesterol. I like to use leeks as an alternative to onions as they still add plenty of flavor to dishes but offer a gentler, sweeter taste profile for your palette.
One thing I learned recently is that there is no need to discard the tougher, darker green parts of the leek: these, too, can be consumed, as noted in the buttered leeks recipe linked a few paragraphs below. They just need a longer cooking time to soften up, so make sure to use this perfectly edible part, too.
Emphasizing plant-based foods such as leek in the diet and limiting animal-source foods rich in saturated fat and cholesterol is important for heart health. Plant-based foods are rich in antioxidants for disease prevention, as well as fiber, which helps with digestion, control our weight, and keep blood cholesterol levels under control. While this recipe does include several animal products, it is rich in nutrients and can be included in a healthy diet. It is a source of protein, carbohydrates, fat, vitamins, and minerals. The eggs, ricotta, and milk all contribute fat, while the ricotta and milk add some calcium to the mix, as well. While these components of the recipe do contain saturated fat, this is okay to include in the diet in moderation.
The torta itself is quite a rich and filling meal that will leave you feeling satiated.
Italian cheesy Leek pie recipe – Torta salata di Porri
Are you looking for more recipes with leeks? In addition to a leek tart, there are many other possibilities with leeks! Some of my favorites include making buttered leeks as a side dish or potato leek soup as a starter.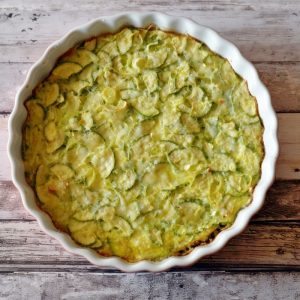 Italian Leek Pie recipe – Torta Salata di Porri
Ingredients
Filling
4

large

Leeks
Olive oil
Corn oil
Salt, Pepper

after taste

1

cube

Butter

1

cup

Ricotta

1/3

canned

Milk

4

Eggs

2/4

cup

Parmesan Cheese
Crust
3

cups

Flour
Water

1/3

tsp

Water

Olive oil

for the pan and dough
Instructions
Filling
For two tortas, use 4 large leeks, olive oil, corn oil, salt and pepper. When washing leeks, make sure you cut down the middle and check each piece for dirt and cut into 1/2 inch pieces for frying.

Fry until cooked, about 30 minutes or until tender. Add 1 cube butter, 1 cup ricotta, about 1/3 cup canned milk. Then beat 4 eggs before adding to leek, and add about 2/3 cup parmesan cheese. This is the filling to put in the crust.
Crust
The crust is like making homemade noodles, so if you have a good recipe, you could use it as well. To make the crust, use 3.5 cups of flour. Make a well in the center of the flour and put a little water and 1/2 tsp salt.

Stir with your hand. Add water a little at a time and work it into the flour. It's about 1 cup of water lukewarm in total. Roll and knead dough well. Cut in half and roll. As you roll dough, add flour to rolled dough to keep from sticking.

Continue rolling until thin. Oil pan well. Add crust and filling, cut corners of dough and put in center and cover with the rest of the dough. Oil the top of the dough and make holes with a fork on top of the dough to let air out. Bake for about 1 hour or until golden brown on top and bottom (start at 300 degrees F and reduce heat to 250 degrees). When it's nice and golden brown it's ready to come out of the oven.
Other recipes you might like
If you like Spanish dishes, you might want to check our recipes for Pollo Borracho (drunken chicken), the sauteed mushrooms in butter, or the chicken paella. We've got a lot of Italian recipes as well! And if you're looking for all international recipes in one place, don't forget to check the Wandering Cookbook, an international cookbook pdf!
Torta di Porri – Leek Pie