Paella is one of the most popular Spanish dishes around the world. If we would want to define what a paella exactly contains, that would be impossible, especially as you can do so many different types of paella. If you're looking for a chicken paella recipe, chicken and chorizo paella, the chicken sausage paella, an authentic Spanish paella recipe chicken base, you're in the right place! The famous Spanish chicken and yellow rice recipe is here! One of the best 10 10 best Spanish tapas!
Spanish chicken and rice recipe – Chicken Paella Recipe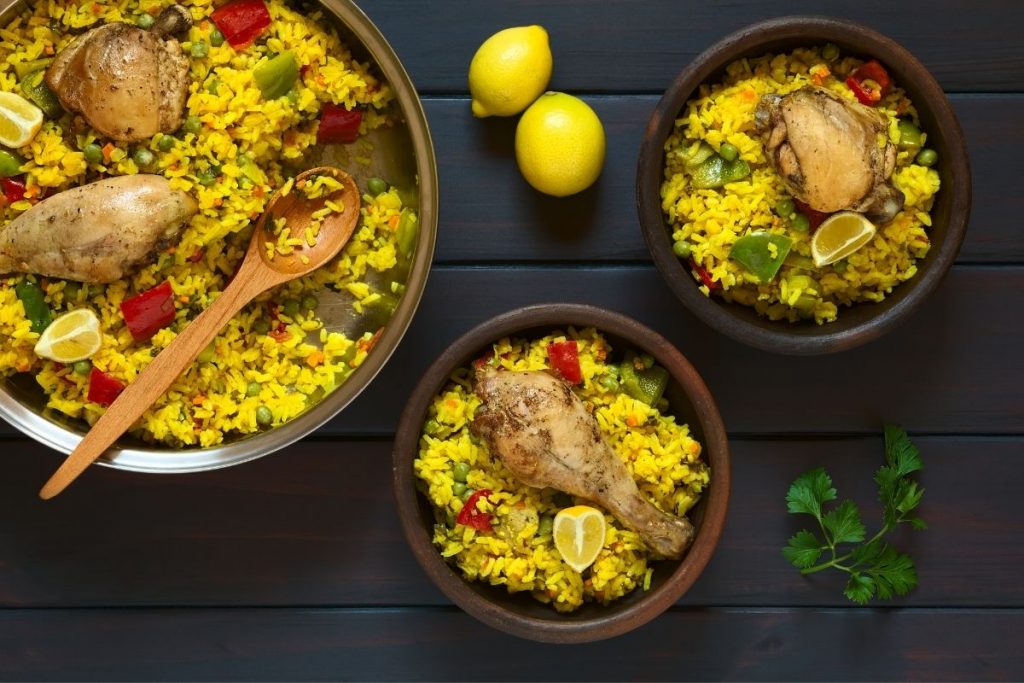 There are so many varieties of paella, it can be a chicken paella recipe, or a chicken sausage paella (chicken and chorizo paella), or seafood paella, but also rabbit meat is used in some places. Now, since I'm not a big fan of seafood, I'm going with a simple but delicious Spanish chicken and rice paella recipe that can also be spiced up by adding chorizo sausage to it too!
How to make a Spanish chicken and yellow rice recipe? The yellow rice as starters isn't yellow, it's a type of normal big rice that's used for paella, but you can do it with risotto rice as well. The yellow color is thanks to the saffron. So it's not a Spanish chicken and yellow rice recipe, but it's a chicken and rice with saffron! 🙂
Quick overview – Paella history
Did you know that the Spanish Paella (pay-eh-yah) is over 1200 years old? The origin, the home of this dish is Valencia and Eastern Spain. Valencia was one of the largest ports in the Mediterranean and it has been one of the most important rice-producing areas in Spain since the Moors introduced it over a thousand years ago.
The paella is a one-pot meal shared between many. Otherwise searched for as skillet chicken paella recipe, the chicken wasn't the first among the original paella recipes. Paella has a big tradition in Eastern and Southern Spain, but actually everywhere around the country. It's one of the favorite Sunday lunch dishes that families cook together and eat together. You can do Paella with different ingredients, but my favorite is still the Spanish chicken and yellow rice recipe!
Chicken Paella recipe
You can spice up this dish and do a chicken and chorizo paella (chicken sausage paella) instead, which requires as an extra ingredient the chorizo sausage. You don't have to change the ingredients, just add extra to it! Here comes the chicken paella recipe – Spanish chicken and yellow rice recipe!
For the paella, you'll need a large low pan/skillet to do the paella. The best is always to make it on a wooden fire, but at home on your stove will taste just as good!
If you're looking for more Spanish and international recipes, check out the Wandering Cookbook, an international cookbook pdf! If you're looking for other Spanish recipes like the drunken chicken or sauteed mushrooms in butter, make sure to check those out too!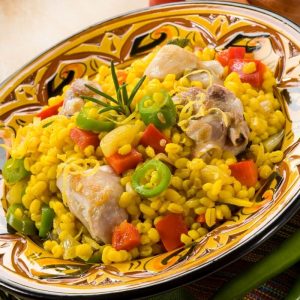 Spanish Chicken Paella Recipe
How to make the perfect Spanish chicken paella recipe? Here's our guide to make one of the best spanish dishes, chicken paella.
Ingredients
400

g

Chicken breast/thigh

200

g

Rice

1

tsp

Lemon Zest

1/2

tsp

Saffron

3

tbsp

Extra Virgin Olive Oil

1

Onion

1

large

Tomato

1

Red Bell Pepper

1/2

tsp

Parsley

Salt, Pepper

after taste
Instructions
The first steps for a great Spanish chicken and yellow rice recipe!

You can use bone-in chicken tights, or chicken breast, depending on what you prefer.

Usually, the tights are what's used in the paella. Chop all the veggies into small cubes.

You can either use a paella pan or any similar large skillet, or a wok if you have nothing else. Put 3 tbs of olive oil in the skillet, heat it up on medium heat, then put the onion and the chicken in first.

Cook until the onion is translucent and sautè the chicken, After the first 8-10 minutes add the bell pepper, mix it, then after another 5 minutes add the tomatoes too.

Mix them and leave them to cook for about 10 minutes on low heat. Now, you can add salt, pepper, and saffron.

Bonus: if you want to do a Spanish chicken paella with chorizo recipe (spanish chicken sausage paella) add about 100-150 grams of chorizo to it!

Fill it up with hot water until the chicken is completely covered. Leave it to cook on low heat until the water evaporates, then add the rice and fill it up with twice as much water as much rise you added.

Mix it all up together and leave it to cook for about 10 minutes without mixing it. Then you can mix it all together again, check if the rice is ready, and if it isn't add some more water, and cook until it evaporates. The Spanish chicken paella recipe ends here. Ready to serve!
Did you like our Spanish chicken and yellow rice recipe? Don't forget to rate it below!