When it comes to mushrooms, we all just say: I want more! So what are you looking for right now? You're looking for sauteed mushrooms in a butter recipe or the way of frying mushrooms in butter? If you're asking how to cook mushrooms in butter, cooking mushrooms in butter, how to make garlic mushrooms, or garlic butter mushrooms as others call it, here's the best garlic mushroom recipe, the mushrooms sauteed in butter and wine! The Spanish tapas, the Sauteed garlic mushrooms are what you've been looking for!
Sauteed garlic mushrooms recipe – Spanish mushrooms tapas recipe
So how are sauteed mushrooms in butter done? It's one of my favorite recipes that I've discovered in a Spanish Tapas bar, and I've been ordering it every time I've been out for tapas, but also at home. It's super easy to make sauteed garlic mushrooms, or garlic butter mushrooms as some of you might be looking for it! The process is easy, quick and the dish is delicious!
You can serve the sauteed garlic mushrooms as a side dish near the meat, or other vegan-vegetarian dishes, but it's also great for Appetizers at a finger-food evening with friends. The possibilities to use garlic butter mushrooms is endless, and it really depends on your personal taste. It can be great for lunch, appetizer, dinner, whenever you prefer!
Frying mushrooms in butter is super easy, and for the sauteed garlic mushrooms, the process is the same as if you'd be cooking mushrooms in butter.
The only important thing you must do when you're making a garlic mushroom recipe is to use fresh ingredients. If you don't have fresh parsley, you can use dried ones as well, but you will need to add more to it!
What to serve sauteed garlic mushroom with?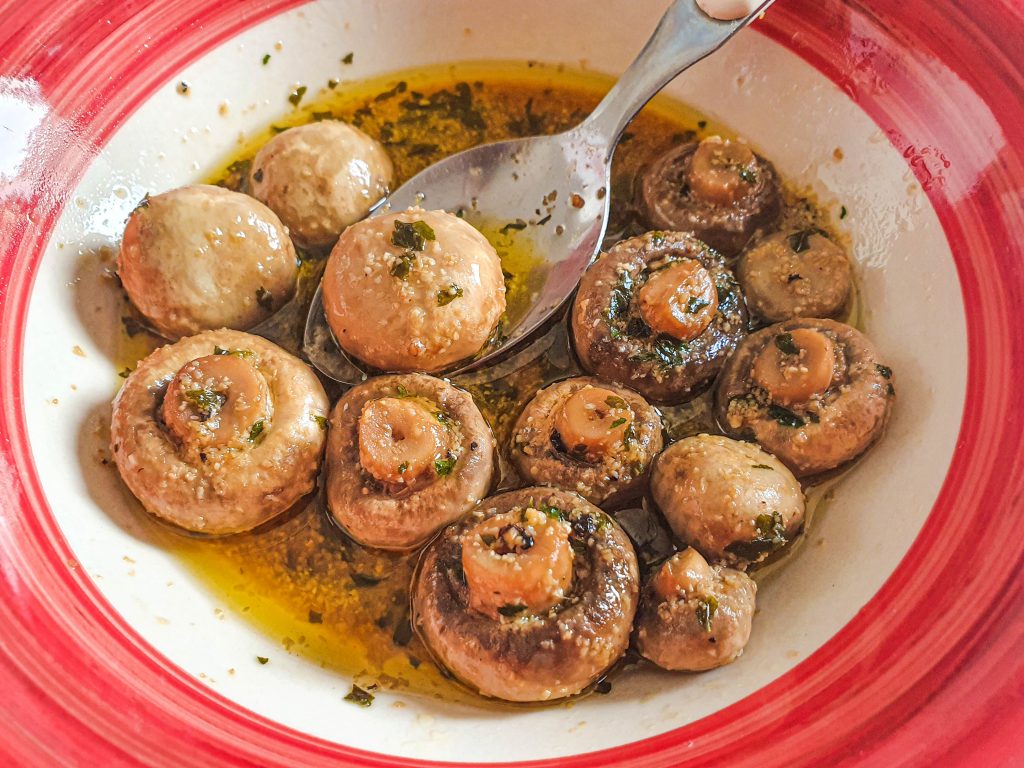 You can combine the sauteed garlic mushroom recipe, or garlic butter mushrooms with chicken or pork meat, as a side dish. It goes really well with grilled meat, with fish, but also with other types of vegan and vegetarian dishes.
It definitely goes really well with another favorite Spanish tapas, the Pollo Borracho (drunken chicken), but I personally love it with grilled chicken fillets. If you're on a weight loss diet, it can be a great alternative for many side dishes that will never taste as good as garlic butter mushrooms!
Alright, so are you ready to create this amazing Champignon recipe? The ingredients, as you'll see soon are easy to find, and this mushroom recipe is basically mushrooms sauteed in butter and wine, but also butter. You'll just need lemon juice and parsley added to these. One of the best meatless tapas dishes ever! Here comes the sauteed garlic mushroom recipe!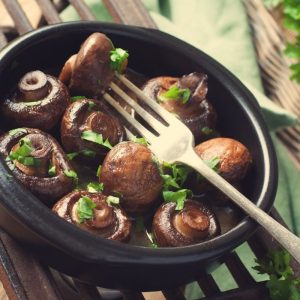 Sauteed Garlic Mushrooms in Butter and Wine
How to make the best Sauteed Garlic Mushrooms? A real Spanish tapas that will make you fall in love with mushrooms. Sauteed garlic mushrooms in Butter and wine are just amazing! See how it's done!
Ingredients
500

g

Champignon

small ones

15

ml

Dry White Wine

50

g

Butter

2

tsp

Parsley

1

tsp

Lemon Juice

1/2

tsp

Black Pepper

2

tsp

Garlic Powder

or

2

large

Clove Garlic
Instructions
Here's how to make the sauteed garlic mushroom recipe! Wash all the champignons, and cut the chunk off to the head of the mushroom.

You can also leave it longer if you like, but I prefer not to. In the meantime put the butter into a smaller pot in which all the champignons fit in and melt it. As soon as your mushrooms are ready, add them into the pot, and on low heat, let them cook.

Make sure to mix them from time to time, so each one gets cooked properly.

Add the salt, pepper, parsley, wine, and lemon juice, along with the garlic, and mix them all together.

The garlic can be either garlic powder or fresh minced garlic. 15 minutes are usually enough for them to be cooked properly. Your sauteed garlic mushrooms are ready to serve!
Did you like the mushrooms sauteed in butter and wine recipe? Pin it!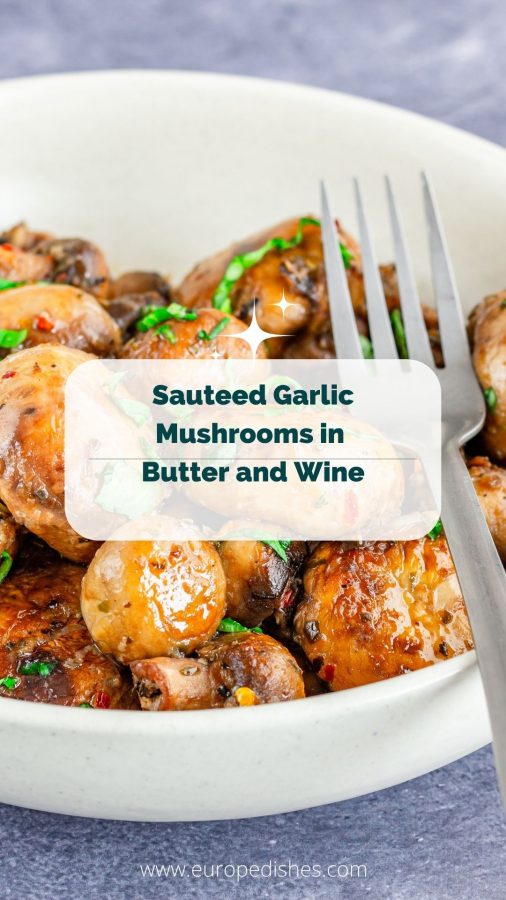 Garlic Champignon in Butter