Pollo Borracho is a Spanish tapas recipe that I found in an amazing tapas bar in England. Are you looking for a great Spanish chicken recipe, chicken wings Spanish recipe, or a Spanish chicken breast recipe? The place was owned by Spanish people and they've been serving different tapas dishes from different parts of Spain. Pollo Borracho, which literally means the drunk chicken is really tasty and easy to make! Let's see what you should know about this Pollo Borracho recipe! A beer chicken recipe you will love!
Pollo Borracho recipe
Drunken chicken or Pollo Borracho is a way of making chicken with alcoholic beverages. This drunken chicken recipe is made with beer, and you must use beer with alcohol in it. The alcohol will evaporate anyway, so it's safe to eat for anyone, but good quality beer is really important!
Beer is softening the chicken meat and combining it with onion and tomatoes is a delicious way to serve it. While Pollo Borracho is a Spanish tapas recipe, it is really popular in Latin America as well, and you can find it with the same name.
If you're a fan of international recipes or Spanish recipes, or you just want to create some Spanish vibes in your home while expecting friends, or just dining with the family, this beer chicken recipe will be a huge success! Also, don't forget that you can find this recipe in my international cookbook pdf with 90+ other international recipes!
What do you need for the best Spanish chicken breast recipe?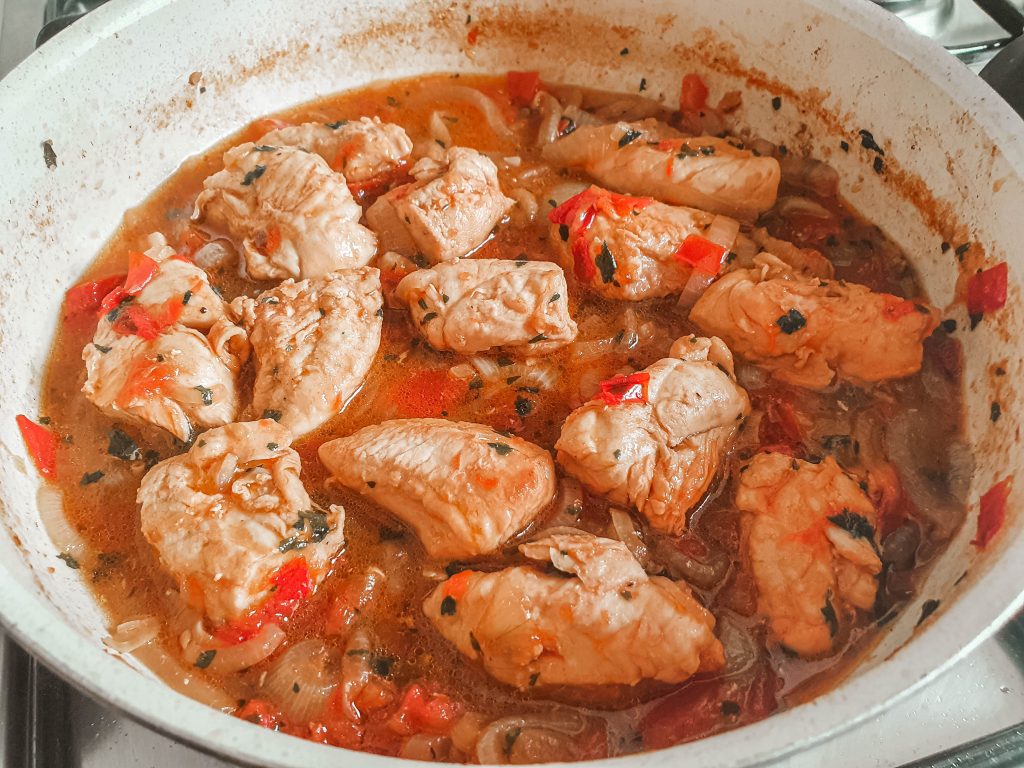 As you will be able to see below in the recipe itself, you can make the Pollo Borracho recipe either with chicken breast, chicken wings, or drumsticks. Since cooking is free art, we can accommodate recipes to our tastes. I personally don't like to eat any meat that has the bone in it, so I prefer making Pollo Borracho with chicken breast.
As a side dish, if you're doing Pollo Borracho to serve as the main course, you can serve it with Patatas Bravas, or baked potatoes. You can also combine it with other tapas recipes, such as Garlic Mushroom, that's a light and tasty side to combine the drunk chicken with. You can also serve it with rice or cus cus, but these two can slightly change the perfect final taste.
The easiest is to use a non-stick cooking pan, one that's deeper, so you've got enough space to cover the chicken with beer. Also, when it comes to the beer, if you have the possibility to use Spanish beer, even if it's just a San Miguel, it's always better to pick that. It just makes the Pollo Borracho recipe more Spanish!
Let's see now the Pollo Borracho recipe! Don't forget to rate the beer chicken recipe if you liked it!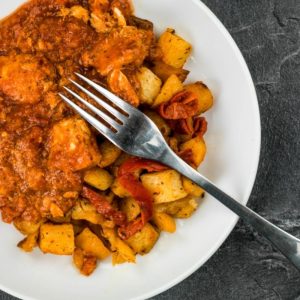 Pollo Borracho
One of the best and quickest chicken tapas recipe! Create Spanish vibes in your home with a great drunken chicken recipe. It's a great option for a main course at dinner, or served as tapas for appetizer. Let's now see the beer chicken recipe, the Pollo Borracho recipe!
Ingredients
500

g

Chicken breast

can be tighs, or dromstick too

1

large

Tomato

1

big

Onion

preferebly yellow/white

1

tbsp

Extra Virgin Olive Oil

250

ml

Blonde Beer

filtered

1/2

tsp

Black Pepper

1/3

tsp

Salt
Instructions
If you're going with chicken breast, your first step in a pollo borracho recipe is to chop the chicken breast into smaller pieces. like 5-6cm long and width.

To make the drunken chicken, the next step is to clean the onion. Slice on long shapes the onion and dice into small cubes the tomato.

When you're ready, heat up the oil in a skillet and put the onion in first, then cook until translucent.

After 3-4 minutes of cooking on medium heat, add the tomatoes too. Add the chicken in it with the diced tomatoes. Saute it for about 10 minutes on medium heat, and turn the chicken pieces once one side is ready.

Turn the heat down, and leave it to cook for another 5 minutes. Add the beer, and slow-cook it for 15 minutes. Make sure it has enough beer under, so it doesn't get burned! Cook until almost all the beer evaporates. Keep some of it to remain saucy.
Notes
Enjoy the Pollo Borracho recipe! One of the best beer chicken recipes out there!
Wrapping up the Pollo Borracho – Spanish chicken recipe
If you've been looking for a great Spanish chicken recipe, chicken wings Spanish recipe, or a Spanish chicken breast recipe, definitely try this Spanish tapas recipe! The Pollo Borracho recipe is unique, tasty, quick, and easy! A great beer chicken recipe that the whole family will love! Again, don't forget to rate the recipe, and check the Wandering Cookbook, the international cookbook pdf!