Everyone who ever heard about Italian food knows exactly what is a Ragu alla Bolognese recipe. We all love the delicious minced meat in tomato sauce with pasta and grated Parmiggiano Reggiano, don't we? Well, despite the many fake bolognese sauce brands all around the world, the real, traditional Bolognese recipe will always be more delicious, healthier, and the perfect comfort food you could ever try. The best part is, that once you make a traditional ragu Bolognese recipe, you can use that for different other recipes too. We'll speak about that later!
Traditional Ragu Bolognese Recipe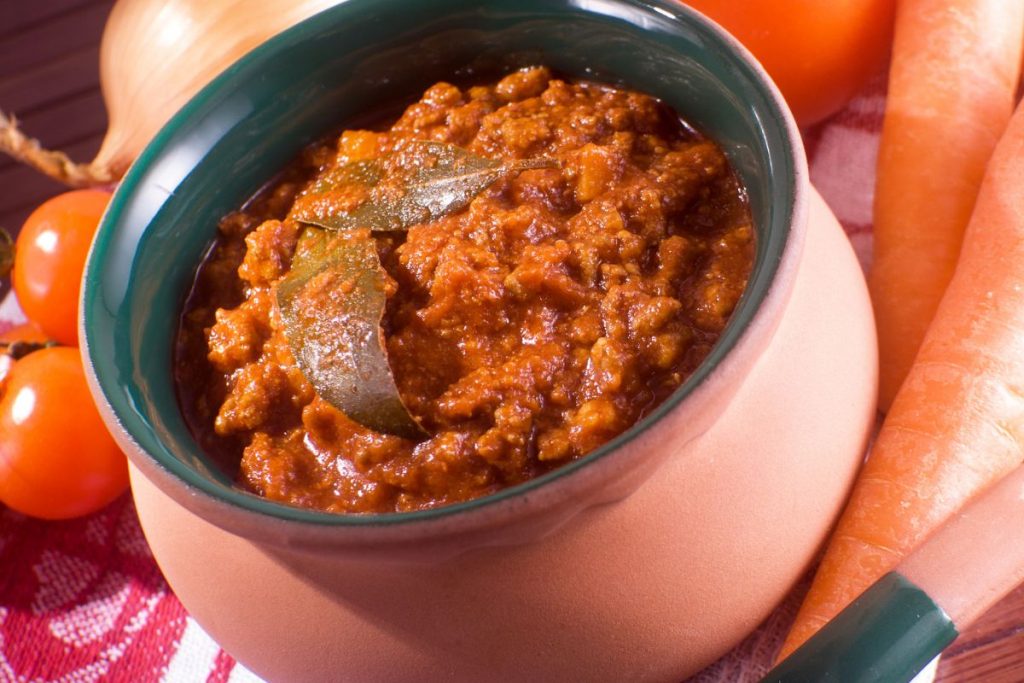 When it comes to a traditional Ragu Bolognese recipe, there are a handful of ingredients that can never-ever be replaced! As soon as you replace on, that's not a Ragu alla Bolognese recipe anymore. Italians respect their traditional food, and they don't invent a different version of it after taste, and still call it the same way.
Once you change a traditional Italian recipe, you shouldn't call it the way the traditional dish is called. If you change the recipe of a traditional Bolognese sauce from Bologna, call it another way. Call it a ragu, or tomato and minced meat sauce, but don't call it Bolognese since it's NOT a Bolognese anymore.
It's that simple. You heard how pissed an Italian gets when they hear people putting in a Pasta alla Carbonara cream or onion, right? Well, because that's not a Carbonara anymore. If you understand this, you understand the foundation of traditional Italian food, and why food is so delicious in Italy. Well, on top of that, why does one dish taste the same everywhere.
Ragu variations around Italy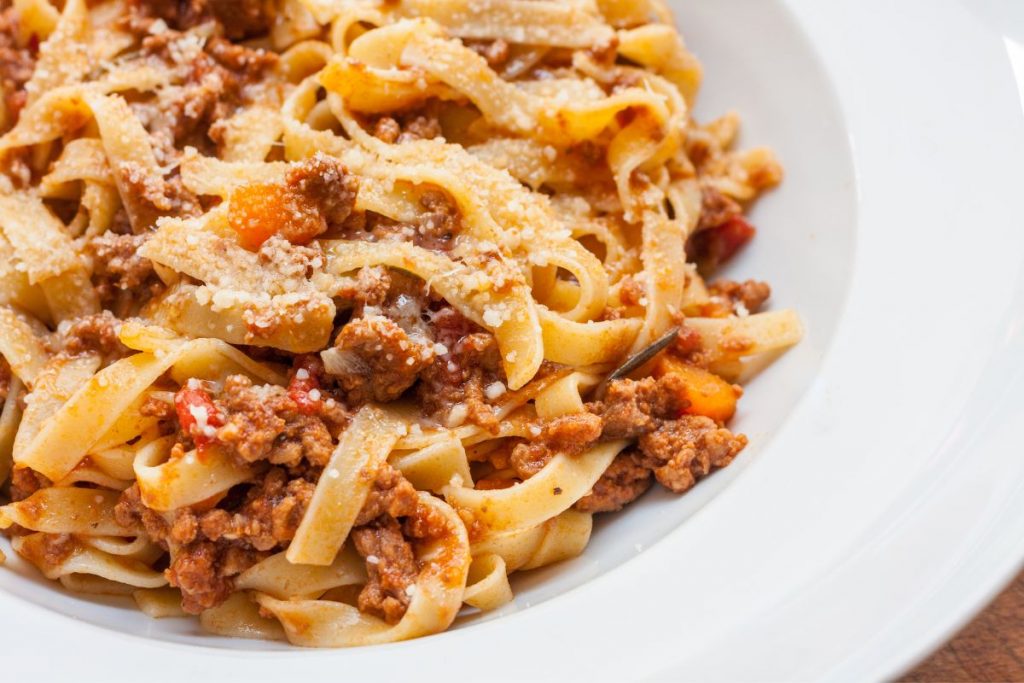 In Italy, you can find more than traditional Bolognese ragu recipe. In Italy, when you're asking for pasta with ragu, you must know what type of ragu you want. Beyond the Ragu alla Bolognese official recipe, there are plenty of other versions in different parts of Italy.
Also, beyond the traditional Bolognese sauce, there are other types of ragu with different types of meat. You can find ragu made of boar meat (which is best made in Tuscany and it's delicious), but also of rabbit, with cold cuts, and the list could continue.
While the traditional Italian Bolognese sauce recipe is our favorite, we must mention here the Tuscan Ragu, which is somewhat richer, than the one from Bologna. In Tuscany, they also add sausage to it, which makes it different. There's also Ragu Romagnolo which is similar to the Tuscan one, then the Ragu Genovese, and the Ragu Napoletano. In this last one, the fundamental difference is, that they use whole meat chopped into pieces instead of minced meat.
What never changes in a traditional ragu?
Right, so now that you know that even in Italy there are many different types of ragu, let's see now what are the key ingredients that never change in a traditional Bolognese ragu. When you're making a traditional Bolognese recipe, you must use both beef and pork meat, you can't skip the carrots, onion, and wine, either.
This is not where it stops, of course, you must use celery, tomato puree, and the seasoning that's indicated. You'll see below in our traditional Bolognese meat sauce recipe everything you need to make this ragu the way we do it in Italy, and you can get all the ingredients, basically all around the world. There's nothing in this recipe that you wouldn't find in other countries!
Ragu alla Bolognese Recipe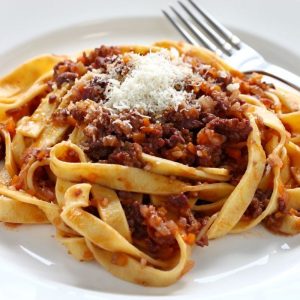 Traditional Ragu Bolognese Recipe
If you've been looking for a real Italian, a Traditional Ragu Bolognese recipe, you have found the one. We are based in the region of Emilia Romagna, where the Bolognese Ragu comes from so we can assure you that what you see here, is the traditional Ragu alla Bolognese recipe, without any add-ons.
Ingredients
250

g

Minced Pork Meat

350

g

Minced Beef Meat

1

big

Onion

500

ml

Tomato Puree

1

big

Carrot

1

mid-size

Celery

3

tsp

Extra Virgin Olive Oil

100

ml

Red Wine

50

ml

Whole Milk

Salt, Pepper

500

ml

Broth

Vegetable or Beef

Sage, Rosmary

Optional
Instructions
The first step is to peel the vegetables, then chop the onion, and shred both the celery and the carrot. You'll need to use a larger pot/nonsticky skillet, or even a wok can work for a traditional Bolognese ragu recipe.

When you put your skillet on the stove, add the Olive oil, heat it up, and att the onions to it. Cooking it until it becomes translucent, but you can add in the meantime the meat as well.

Use salt and pepper right away, on almost the highest heat cook the meat until it doesn't look raw anymore. It usually takes about 3-4 minutes, while you have to stir it continuously.

After the first 2 minutes, you can add the wine to it as well, and after those 3-4 minutes pass, and the meat doesn't look raw, add the shredded carrot and celery too.

Take down the heat to medium at this point, and cook until most of the wine evaporates and the vegetables got softer.

At this point, you should add the broth, put it on low heat, and cook it for about 2 and a half hours. However, to make sure your traditional Bolognese ragu recipe is done properly, you should keep an eye on it, and if the broth is gone, add water on top so it doesn't burn.

The reason to cook it for so long is simply that it will soften up and have a more delicious taste too. You should then add the milk and tomato puree. Taste and see if there's enough salt and pepper in it. If not, add more!

This is a facultative option, but most of us do it: You can season your ragu with Sage and Rosemary (or one of them if you don't like the taste of both). If you don't want to season it, that's also fine.

On the lowest heat, cook your ragu for another 30 minutes. Once that's off, you can turn off the heat, and either serve it with pasta or use it to make Lasagna. Or even both. I usually make enough to use half of the ragu for pasta, and another half for a Lasagna.
Wrapping up our Ragu alla Bolognese recipe
Now that your ragu is done, you can serve it with pasta. Please note that we in Italy don't put the pasta on the plates and add the ragu on top! We mix the pasta with ragu BEFORE serving, so the pasta can soak up the sauce and become even more delicious. This is one of the reasons why you should always cook the pasta al dente, because then if it soaks up the sauce, it will become just perfect, and not overcooked. You can also use the ragu to serve it with different types of Tortelli, or use it to make Lasagna.
We have plenty of other Italian recipes on our website, such as the Gnocchi ai Quattro Formaggi, the Gramigna alla Salsiccia, and much more. We prepared for you also ideas for different Bruschetta recipes, and we're also talking about the dishes that are not common, or don't exist at all in Italy!
You can also check the Bolognese ragu recipe in Hungarian.
Pin it: Italian Bolognese Ragu Recipe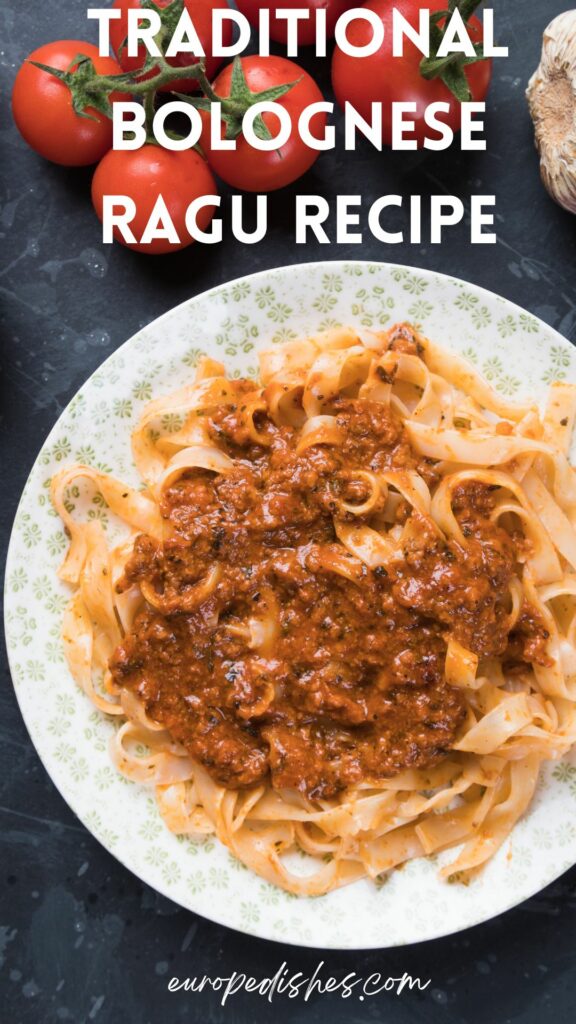 Traditional Bolognese Ragu Recipe