If you say salmon recipes, I say tasty Salmon Wellington recipe. For someone who's not a big fan of fish, when I tried my first salmon in puff pastry, I simply just fall in love. It was back in England, near a lake outside of London, in an Inn. Since that night, I've been looking for a recipe for salmon wellington, as I decided that there's no way I'm not going to make this on my own. While the below recipe is not the traditional English one as I changed a few ingredients, believe me, it's the best salmon in a puff pastry that you will ever try. With a hint of Italian taste, I managed to create something amazing!
Salmon Wellington Recipe – Salmon in puff pastry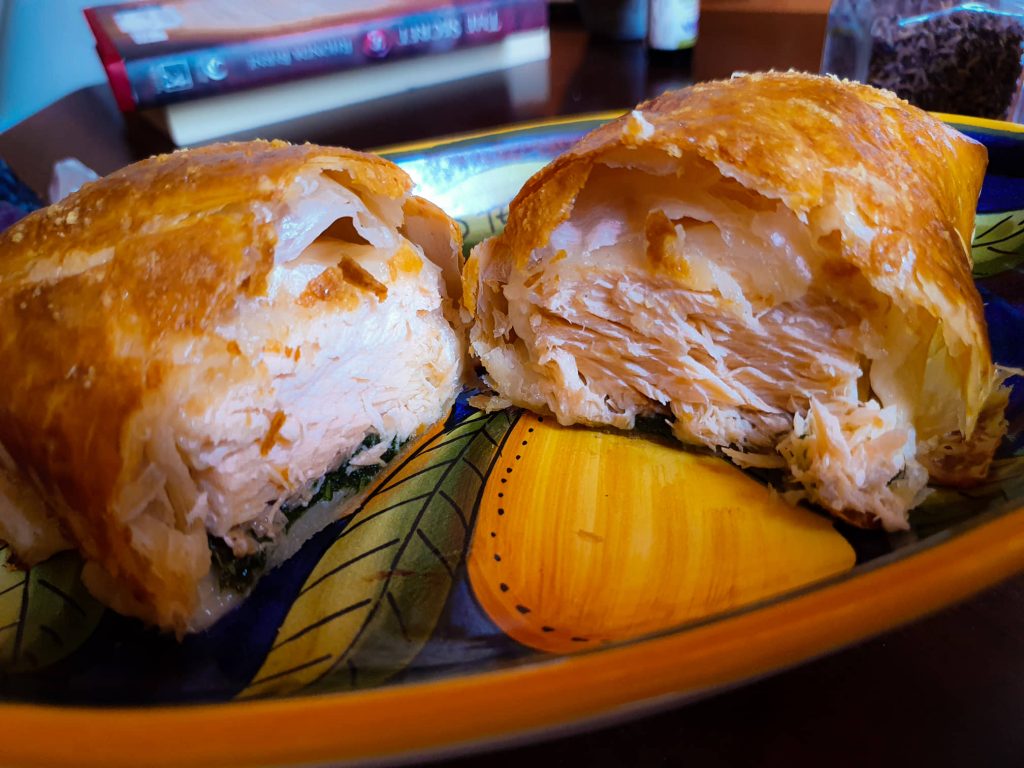 When it comes to a really tasty Salmon Wellington recipe, the traditional British salmon in puff pastry is great enough too. However, with an Italian twist, you can make it even better. There are plenty of salmon recipes to try, but if you actually want something that you and your lunch/dinner date will really appreciate, do try this one.
Traditional Salmon Wellington recipes suggest using thyme as a spice, but I did ignore that completely and used other spices instead. This is a really easy dish, that even newbie cooks can make, and there's literally no way you could mess it up. It takes really little time to prepare it, and it takes just about 25 minutes to bake it.
The key ingredients for Salmon in puff pastry
When we speak about the ingredients of my tasty Salmon Wellington recipe, you might want to know what that Italian twist is about, right? Well, I decided to do my salmon in puff pastry instead of cream cheese with Parmiggiano Reggiano (Parmesan cheese). This must be freshly grated though!
Also, instead of olive oil, I used butter, and as for the spices, I have used garlic and onion powder instead of thyme. A Wellington Salmon also has to have spinach in it. Another tip is to use salmon cuts that are not too thin since you want your dish to look nice, right? This is also important for a salmon in pastry puff, since you want to taste the fish, not only the spinach and the puff pastry, right? Let's see then, how this Salmon Wellington is made!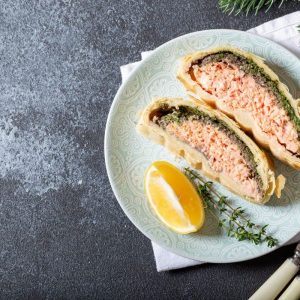 Salmon Wellington Recipe
IF you're looking for salmon recipes, and especially for recipes of salmon in puff pastry, you will definitely love our Salmon Wellington recipe! An easy, healthy and really delicious recipe brought from England, and redefined in Italy.
Ingredients
2

Cuts

Cuts of Salmon

The bigger the better

1/2

tbsp

Dijon Mustard

1

tbsp

Fresh Lemon Juice

1

sheet

Puff Pastry

Garlic Powder

Onion Powder

Salt, Pepper

40

g

Parmesan Cheese

1

Egg Yolk

150

g

Spinach

15

g

Butter
Instructions
Your first step must be to spice the salmon cuts. If there is skin on one side, make sure you cut that off. Then grease it with the mustard, add salt, pepper, garlic and onion powder on each sides. Spices should be used after taste – and not exagerated.

Once that's done, pour the lemon juice on the salmon cuts, and leave all that to absorb until you get everything else ready for your salmon in puff pastry recipe.

Wash the spinach, put a little bit of water on the bottom of a pot, turn on the stove, add the spinach, add a pinch of salt, and cook it until it gets soft.

In the meantime while you prepare your Salmon Wellington recipe, turn on the oven so it can warm up by the time everything gets ready.

Separate the egg yolk, add a pinch of salt to it, a little bit of water – 5ml maximum, and prepare a brush too.

Roll out the puff pastry. Usually one piece is enough for two salmon cuts, so cut the puff pastry in half, and put as much Parmesan on top of it as you prefer. I usually use about 40g.

Place the salmon cuts in the middle of the puff pastry sheet upside down – so the part where the skin was is looking up. add a little bit of butter on it so it will make it softer and delicious, and add the cooked spinach on top of it.

Do not exagerate with the butter or the downside of your Salmon Wellington won't get cooked well. Maximum 5 grams of butter for the two pieces is enough.

Fold in first the two longer sides of the puff pastry, push them down a bit so they stick together. Then, fold in the two short sides and do the same. Turn them upside down right away.

Use a knife to gently draw cubes on top of the puff pastry. But these don't have to be deep at all. Once that's done, wash them well on all sides (except the bottom of course) with the egg yolk. Place them on a baking paper, and after taste, you can sprinkle some parmesan cheese on top too.

Put them in the pre-heated oven, on 180 C degrees, and if you can put ventilation too, that's even better. It will take about 25 minutes to be properly baked. But make sure you keep an eye on it and if the top is getting burned, take off the heat to 160 degrees Celsius.

Once it's ready, take them off, and leave them a few minutes to cool down before cutting them and serving them.
Wrapping up this Salmon Wellington Recipe
Now that we've discussed everything about our salmon in a puff pastry, make sure you check some other British dishes we've listed, but also British chocolate brands, desserts, and recipe ideas we shared for different countries and cultures here, on Europe Dishes. We aim to bring you the best recipes from Europe, and we continue to do so, breaking them down into countries and nations. We've got you covered with Hungarian, Spanish, Italian, German, French, and many more recipes, food ideas, restaurants, and food brands too.
Pin it: Salmon in Puff Pastry