If you like mushrooms at least half as much as I do, this cream of mushroom soup recipe will blow your mind! Thanks to the deep mushroom flavor and the creamy texture, this dish is so special that you must try it. The joy of cooking cream of mushroom soup cannot be compared to anything, especially if the result is what you dreamt of. And the good news is that if you try this recipe, you won't be disappointed for sure! All you need is some fresh mushrooms, the more, the better. The secret of this recipe is to use multiple kinds of mushrooms and opt for those that have an intensive, deep, rich flavor. This will boost amazingly the taste of your soup, and when it comes to the cream of mushroom soups, this is exactly what you should aim for!
Cream of mushroom soup recipe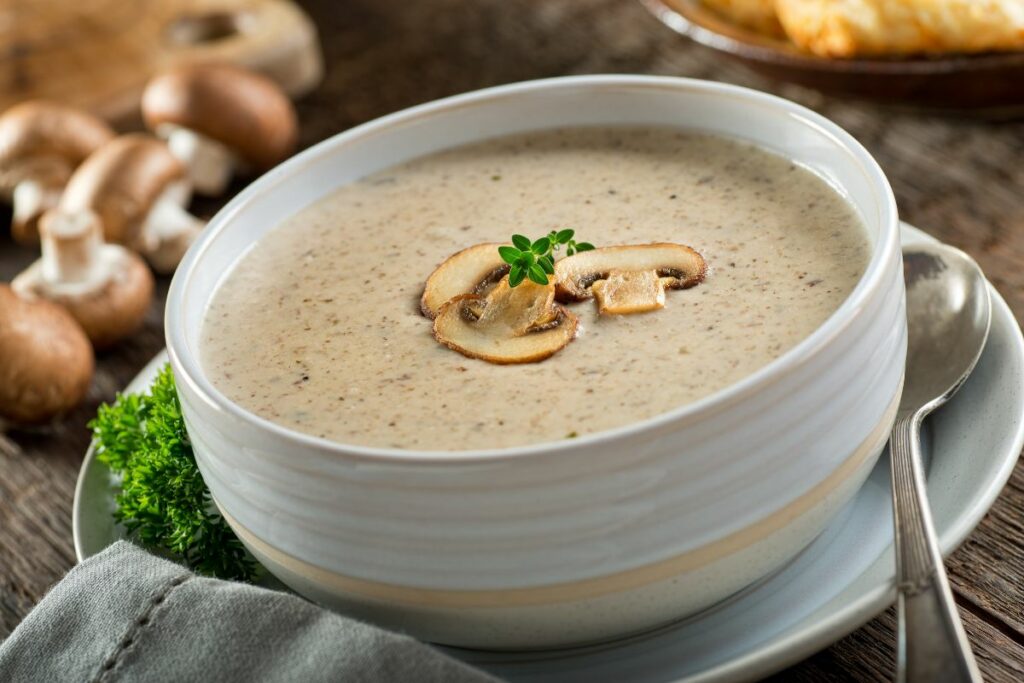 My cream of mushroom soup recipe is for 4 servings. Usually, this meal is so good that I eat it in 1 or 2 days, but it also happened that I couldn't eat all of it because of traveling. I share this with you because in case you are wondering whether or not you can freeze cream of mushroom soup, it is good to know the answer.
Well, when this happened, I started to ask myself the same question: "can I freeze cream of mushroom soup"? Here's the thing. You can keep your mushroom soup in the fridge for a couple of days, but in case you need to leave your home for a few days, there is the option to freeze it. Just make sure to put it in an airtight container or a freezer bag. You can freeze mushroom soup for up to 3 months, but here's the issue. The flavors might change a bit, and the texture might not be as creamy as it was when the soup was freshly prepared.
What do you need for a cream of mushroom soup recipe?
Cream of mushroom soup can taste in many different ways, depending on what types of mushrooms you use to make it. This is what makes it so exciting to prepare it. Each time it will taste differently. If you are lucky enough to buy organic mushrooms, you can easily make an organic cream of mushroom soup.
But what types of mushrooms can you use? Well during the past years, whenever I prepared this soup, I have used a mix of mushrooms. Two basic mushrooms that you should definitely use are the champignon and the baby bell mushrooms. All the others are optional depending on resources. You can use sheathed woodtuft, shiitake, bay bolete, or king bolete mushrooms too. But if you ask me, using some porcini will make the soup extra delicious. However, what you will definitely need is a blender, so you can blend the mushroom and achieve the creamy texture.
Cream of mushroom soup variants
There are many mushroom soup variants, depending on what types of mushrooms you use. Recipes can also be different. While some use only mushrooms, other recipes include other vegetables as well. Some are made with veggie broth, without cream. Now, no worries, my recipe is with cream! In case you have a similar taste to mine and you prefer creamy soups, you won't be let down. But now, without further ado, let's see what ingredients you need and what instructions you have to follow to prepare this heavenly cream of mushroom soup!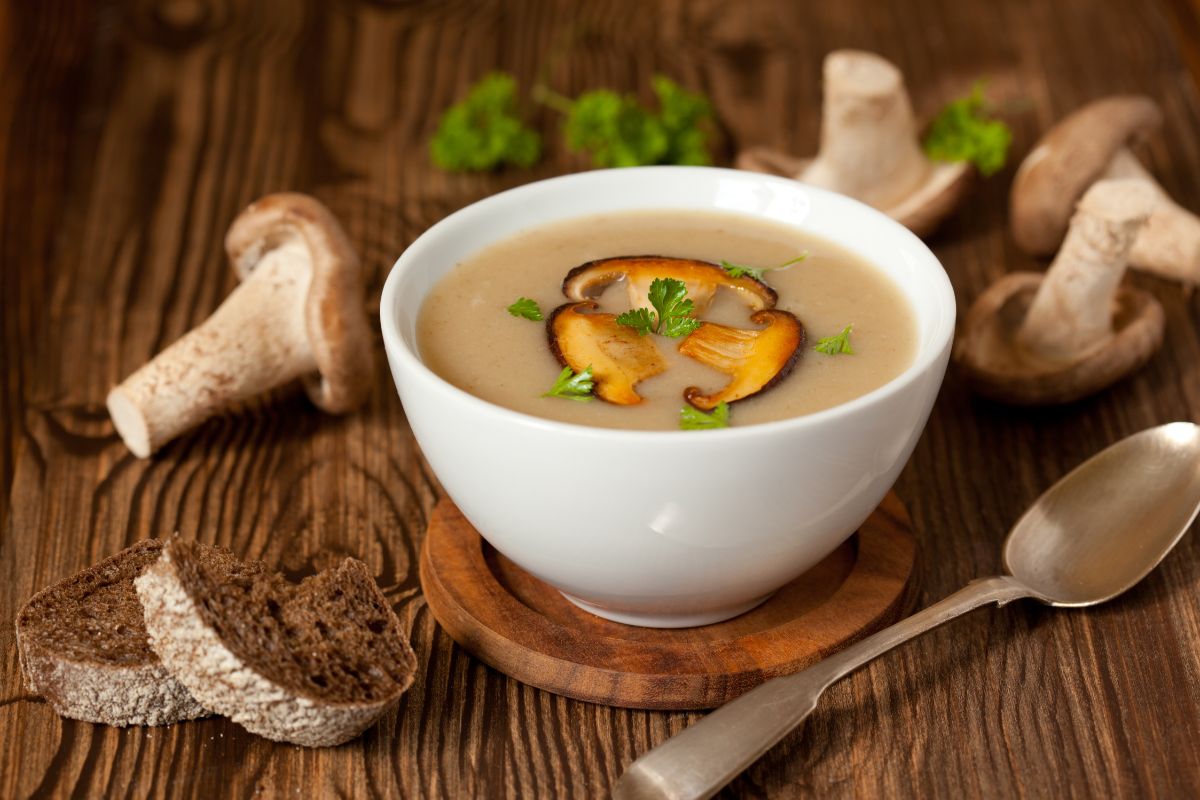 Cream of mushroom soup recipe
Create your own organic cream of mushroom soup that will blow your mind! Use as many types of mushrooms as you can and enjoy the rich flavor and creamy texture of the best home made mushroom soup!
Ingredients
1

onion

150

g

champignon mushrooms

100

g

baby bell mushrooms

50

g

shiitake

15

g

porcini mushrooms

sheathed woodtuft mushrooms

(optional)

bay bolete

(optional)

king bolete

(optional)

40

ml

dry white wine

50

ml

fresh cream

salt, pepper

1/2

tsp

parsley

olive oil
Instructions
The first step of the cream of mushroom soup recipe is to chop the onion and cook it on 2 tbs of extra virgin olive oil until translucent.

Chop the mushrooms and add them to the pan.

Add the wine and cook until the mushrooms get soft.

Fill it up with water, and leave it on the stove until it boils. 

Season the mushrooms with salt, pepper, and 1 tsp of parsley.

Use a blender to blend the ingredients until creamy.

As the last step, stir the fresh cream into the soup.

Serve your mushroom soup with some chopped fresh parsley on top and toasted croutons.
Wrapping up the cream of mushroom soup recipe
It is so simple to prepare this amazing dish! All it takes is 30 minutes, which let's be honest, is nothing compared to the unbelievable result! When I have friends coming over, I often make this soup, as I know that they will be amazed by the rich taste of the mushrooms. You cannot go wrong with this soup. It is a great choice for lunch, but you can also serve it as a starter before dinner. Hope you like it and you will have a great time preparing this cream of mushroom soup recipe!
Pin it: Cream of mushroom soup recipe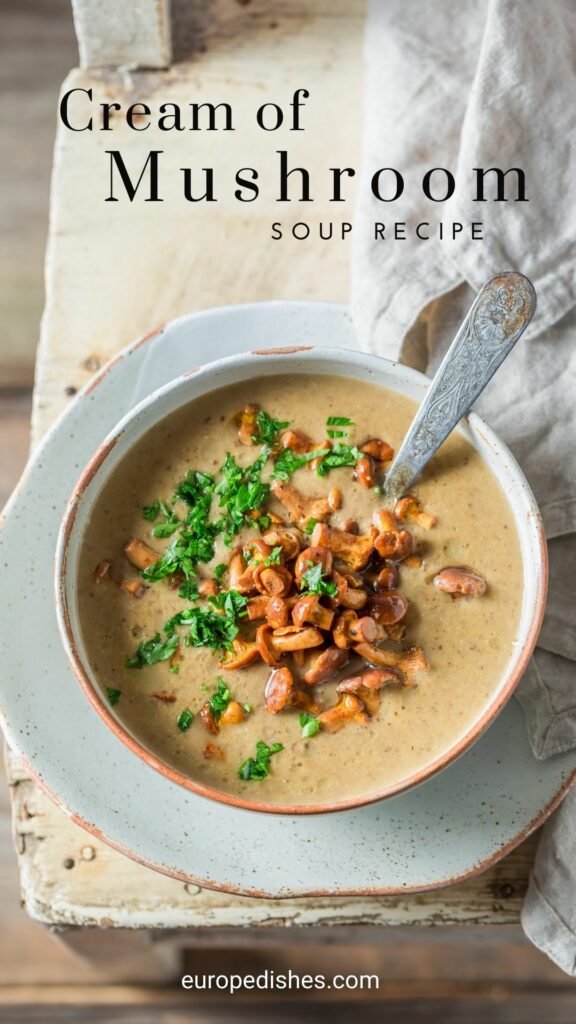 Cream of Mushroom Soup Recipe