Is Dinner time approaching and you have absolutely no idea what to put on the table? Did some unexpected dinner guests arrive, but you didn't have time to prepare in advance? No need to worry, this baked feta pasta recipe is about to save the night. The feta tomato pasta recipe known from TikTok lives up to the huge popularity that surrounds it right from the beginning, especially if you add a few twists that make this great dish even more unique. Below, we will get to dive deep into the steps of the tomato feta pasta recipe I prepared so many times. The good news is that the preparation of the dish is very simple and does not require any serious kitchen-related knowledge. If you want to dazzle your family and friends with a really tasty dish, you can be sure that you won't go wrong with feta tomato pasta.
Baked feta pasta recipe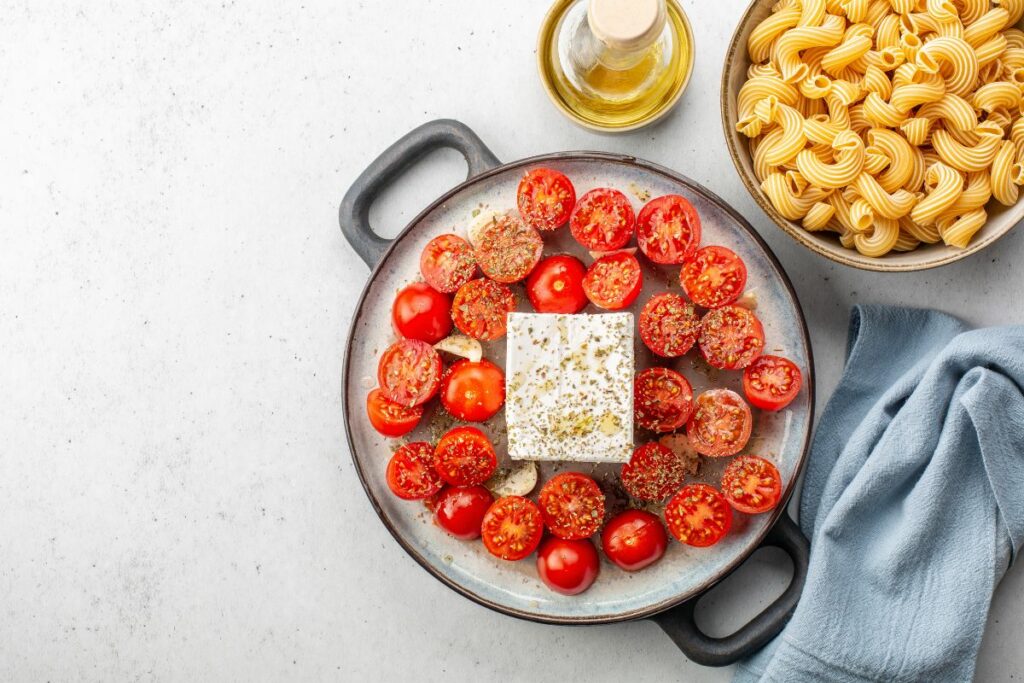 It is important to point out that this baked feta pasta recipe is a great choice for several reasons. In addition to being easy to prepare, it can be prepared using one single pot. So if you don't want to end the evening with a pile of dirty dishes, choosing the tomato feta pasta recipe is a great option for dinner. What you will need is a medium-sized ceramic or glass bowl, but any ovenproof dish will do.
Another reason why this recipe is a favorite of many is the simplicity and affordability when it comes to the ingredients. The most expensive ingredient is feta cheese itself, but every other ingredient is a cheap buy. Pasta, tomatoes, and spices can be found in many households, so you don't have to spend a lot of money to prepare a delicious dinner.
Ingredients to a feta tomato pasta recipe
In the following section, we will deal with the method and steps of preparing tomato feta pasta. I am sure that after first making this dish, it will quickly become a recurring favorite on your dinner table. However, it is important to note that although it is a dish with an Italian twist. But it is different from the world-famous dishes of Italian cuisine. Rather, this feta pasta recipe shows how the simplest ingredients can be creatively combined so that the result is an impressive one-pot meal.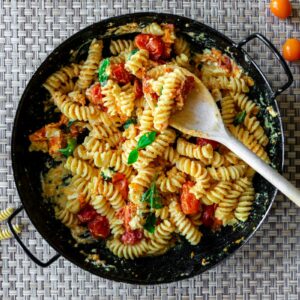 Baked Feta Pasta Recipe
Learn the simple steps of making this feta pasta recipe, and impress your dinner guests with a heavenly dish! Now, without further ado, let's see the steps of the tomato feta pasta recipe, the new favorite you cannot say no to!
Ingredients
200

gramm

Feta cheese

500

gramm

Cherry tomatoes

4

gloves

Garlic

400

gramm

Penne Pasta

(choose between rigattoni, campanella, rotini)

Olive oil

Salt

Pepper

Fresh basil

Chili flakes

(optional)

Tomato paste

(optional)
Instructions
As the first step of the tomato feta pasta recipe, place the feta cheese in the center of a ceramic or glass bowl or any ovenproof dish.

Place the washed cherry tomatoes around it.

Cut the garlic in half and place it between the tomatoes.

Sprinkle salt, pepper, and chili flakes on the tomatoes and feta. Finally, drizzle with a little olive oil.

Now, this is the step that makes this feta pasta recipe a baked feta pasta recipe. Place the dish in a 200-degree oven and leave for half an hour, until the cheese melts a little and the tomatoes cook through.

When it's done, remove it from the oven and use a potato masher to crush the tomatoes and garlic. Mix the entire contents of the pot with the cheese. The goal is to get a uniform paste.

At this point, in case you want to add more acidity to your dish and make the sauce creamier, stir in a tablespoon of tomato paste.

Add the pre-cooked pasta to the sauce and mix.

As a final step, add some fresh basil on the top.
Wrapping up the feta cheese pasta
As you can see from the list of ingredients and the instructions, making the tomato feta pasta recipe is a very simple process. Though, while it's called an Italian recipe, we must point out that this is one of those dishes that don't exist in Italy. First of all, because Italian traditional recipes are made with Italian cheese, and feta is not one of those!
Even inexperienced cooks can prepare it without any problems. What we like about the feta pasta recipe is the affordability of the ingredients and the simple and quick execution. Last but not least, the result is a mouth-watering dish that will certainly impress all lucky guests at your dinner table. Enjoy your meal!
Pin it: Baked Feta Pasta Recipe