There are so many reasons why you must visit Barcelona. This city has everything from art, culture, and architecture to the best restaurants, rooftop bars, and clubs. Barcelona is known for the famous works of Antoni Gaudi as well as the Sagrada Familia, one of the most exquisite architectural sites in the world. But today we are searching for the best Barcelona restaurant.
How does one choose where to eat in Barcelona? There are over 10,000 restaurants in this city, so we are positive that you'll find one on this list to your liking. Among the many Barcelona bars and restaurants, the most famous dishes served are tapas. You'll also find cuisine inspired by Asian cultures and the list wouldn't be complete without Michelin-star restaurants.
15 Best Restaurants in Barcelona Spain – Where to eat in Barcelona
The best places to eat in Barcelona can be categorized by the dishes, location, interior design, and prices. Some of these locations are hidden in small streets, but when you step inside it's a different world. Just like the best rooftop bars in Barcelona, these restaurants Barcelona are highly rated by travelers from all around the world. We hope by the end of the list you have found your favorite Barcelona restaurants and lounge. Let's get into it!
1. Cocina Hermanos Torres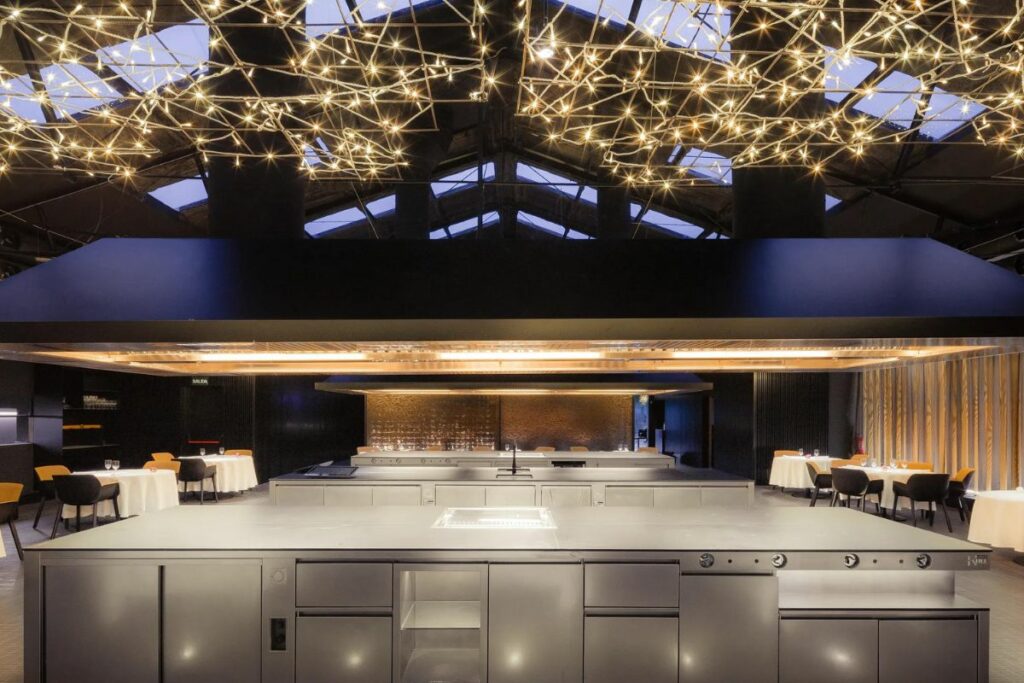 One must visit the Cocina Hermanos Torres, the most beautiful Barcelona restaurant out there. As the name suggests, it was a dream of the Torres brothers to open up a restaurant where guests could learn about the culture and national dishes and experience the delicious meals firsthand. The kitchens are made of different sections like cold room, meat, and poultry area as well as fish and seafood section. Furthermore, the wine cellar is the perfect place to have a drink or cocktail and have a lovely conversation with friends and family.
As it is a fine dining restaurant, the tasting menu is the most popular option among guests. It is a selection of dishes created by the Torrest Brothers for you. They use seasonal products so the ingredients are always fresh. You can choose to have a wine pairing with these based on the dishes, the sommelier will recommend you the best of the wines. There isn't an option of a la carte, therefore you are relying purely on the choices of the best chefs!
Cocina Hermanos Torres location: Carrer del Taquígraf Serra, 20, 08029 Barcelona
2. Dos Palillos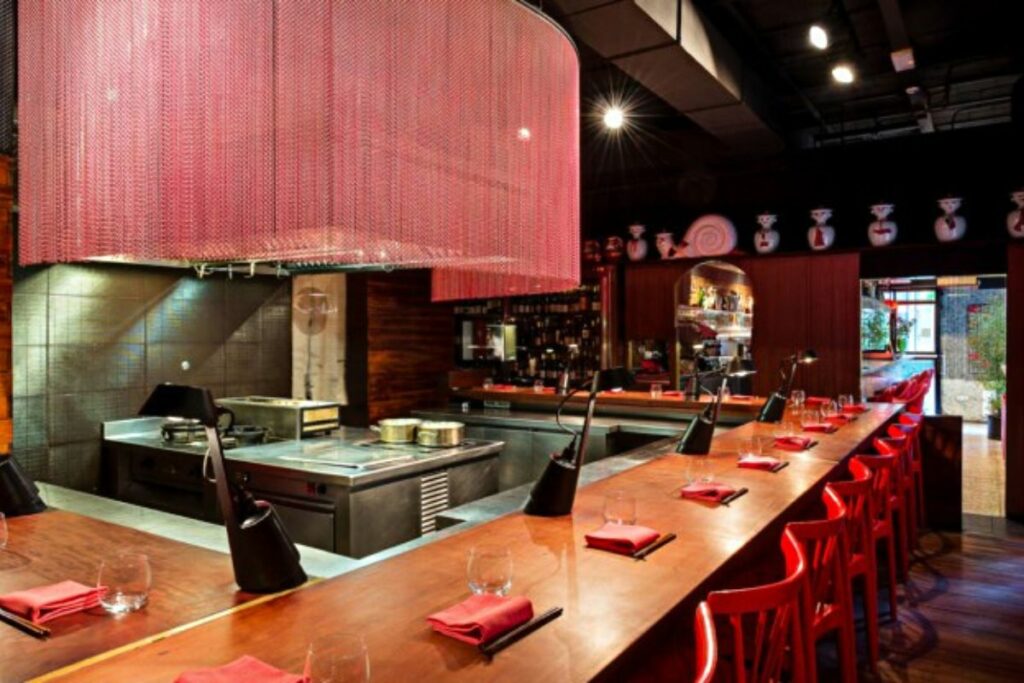 Although you are in Barcelona, besides trying out the best Spanish dishes, you should also discover Asian gastronomy. Dos Palillos offers both Barcelona bars and restaurants in one place. The cuisine is mainly made up of Japanese, Chinese and Southeastern Asian meals. You should also visit the Sake Bar for more options. What they did with this restaurant is bringing the two cultures together. They implemented Tapas into Asian cuisine.
The Japanese-style bar is where guests can sit down and the chefs serve the dishes themselves. There are only 20 spaces so it's a one-of-a-kind experience. If you are looking for a la carte dishes, then the Sake Bar is the one to visit. You can find quality Jun Mai sake paired with a menu made by Tamae Imachi who is the owner of the restaurant and bar. What kind of meals can you expect? Well, everything from sushi to sashimi but also Japo burger.
Dos Palillos location: Carrer d'Elisabets, 9, 08001 Barcelona
3. Bar Cañete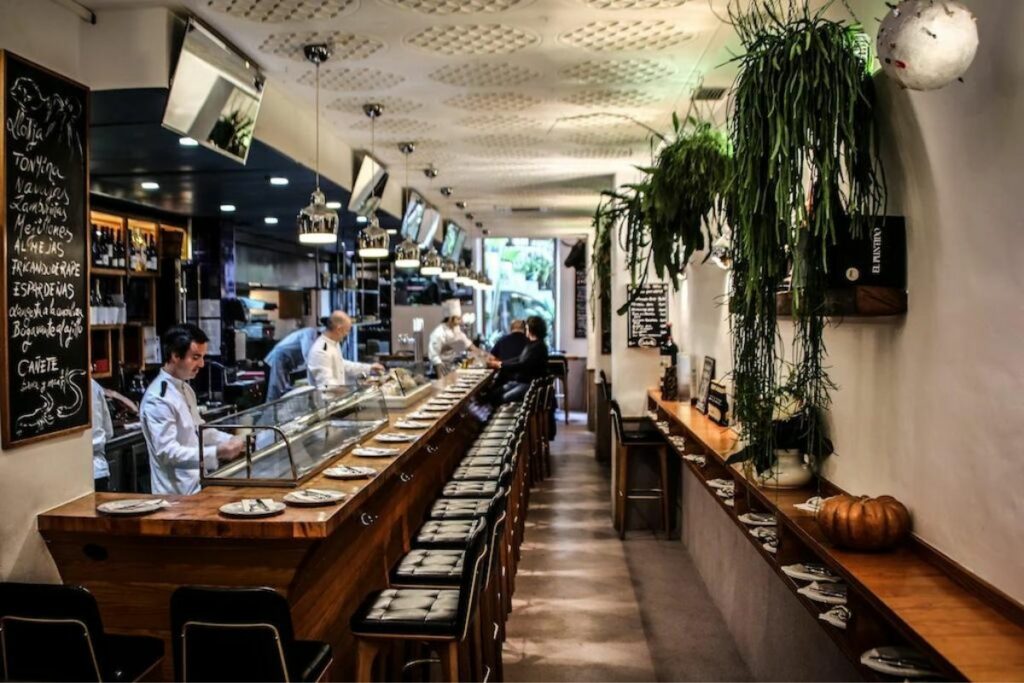 Moving onto the more national and classic dishes Spain has to offer, Cañete is a Barcelona restaurant, the place you go to when you wish to taste seafood paella, duck cannelloni, or clams. It is not too far away from the Sagrada Familia, but closer to the beach itself. The founder of the restaurant is Antonio, who was a professional waiter. Because of him, his daughter and husband moved to Barcelona and opened up their bar Molins de Rey. The two of them were a great duo and thank her father Bar Cañete now has been passed down to younger generations.
Among the Barcelona bars and restaurants, bar Cañete is a great location and it's very modern from the inside. The a la carte includes special dishes like seasonal artichokes, traditional hot meatball soup, or fresh prawn open omelet. You can also order an assortment of traditionally produced cheese. Furthermore, the snacks menu looks really appetizing. It's made up of dishes like Cañete fried fish assortment, or aged beef steak tartare with french fries. Make sure to check out one of the best Barcelona restaurants, Cañete.
Bar Cañete location: Carrer de la Unió, 17, 08001 Barcelona
4. The Green Spot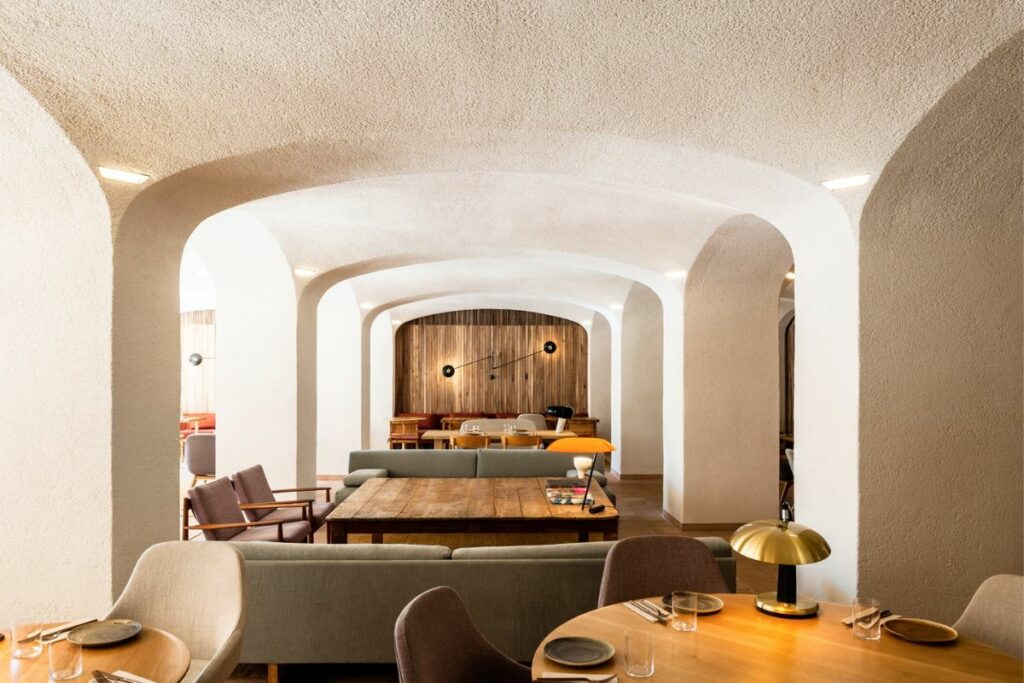 The Green Spot is one of the best restaurants Barcelona created by an entrepreneur named Tomas Tarrauella. He has been creating restaurants for over 20 years and each of them has a different concept. He draws inspiration from cultural influences and gives so much personality to each place. The Green Spot can also be characterized as an avant-garde setting with fair prices.
The menu has quite a lot of dishes and it's available in Spanish, Catalan, and English as well. Guests can choose from a number of appetizers, pasta and rice dishes, pizza as well as dishes from the world. For example, the appetizers include kale chips, beet tartare with avocado, or red pepper dip with walnuts. These are vegan dishes and some of them are gluten-free as well.
The Green Spot location: Carrer de la Reina Cristina, 12, 08003, Barcelona
5. Berbena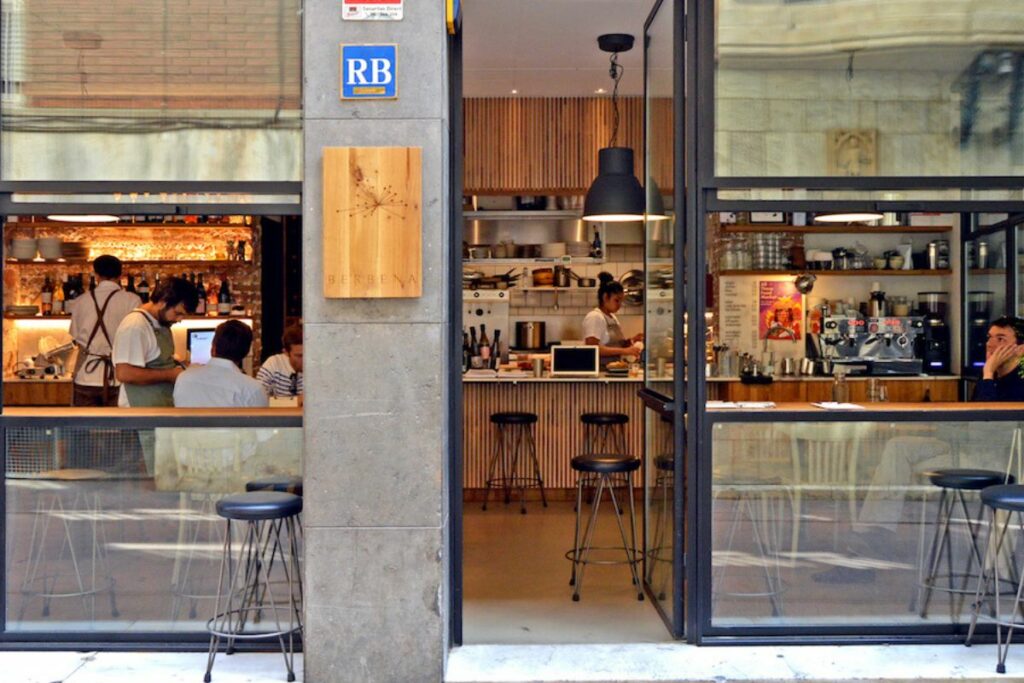 Berbena is a gorgeous Barcelona restaurant where guests must book a table before they visit. Their times are very specific and if you don't arrive in time, then you lose your table, which is understandable as the chefs work hard to serve the dishes. They specialize in Spanish cuisine, everything from monkfish, to the best tapas and soup.
Berbena is a must-visit among the best restaurants in Barcelona on our list. The owner, Carles Pérez de Rozas, used to study at the Hofmann School, Barcelona's culinary institution. He also worked at other Michelin-starred restaurants so it was natural that he would open his own where he could let his passion for creating the most delicious dishes flourish. Moreover, the products used in his kitchen are organic and fresh.
Berbena location: Carrer de Minerva, 6, 08006 Barcelona
6. Con Gracia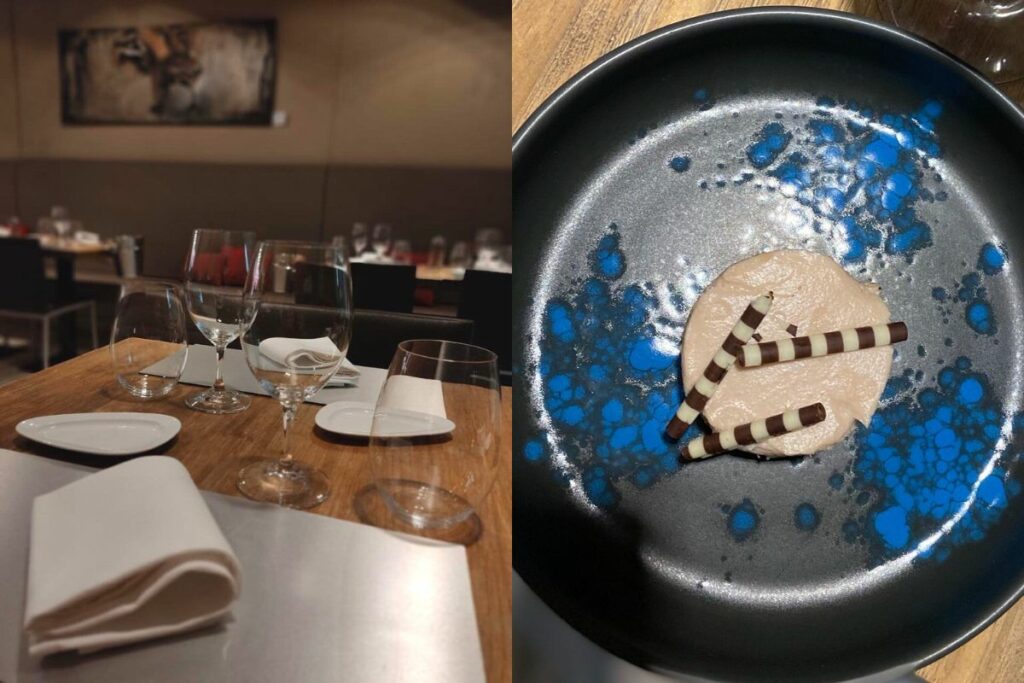 Still wondering where to eat in Barcelona and what are the best locations? Con Gracia is a safe option for anyone who wants to try out tasting menus with delicious wines. They have been in the business for over 16 years and guarantee a unique experience every time you visit. For instance, the experience menu is made up of 9 dishes that the chef chooses.
Furthermore, if you are not interested in the experience menu, there are seasonal dishes that can be served as well. Currently, the Autumn 2022 menu is available at this point which includes only a handful of dishes. For example, try out the oyster foam with curry, leek, and ginger or the baby lamb ribs with roasted sweet potato. If you wish to pair it with wine you'll just have to pay extra. Con Gracia is one of the versatile Barcelona restaurants as the tasting menu is available in vegetarian and vegan options.
Con Gracia location: C. de Martínez de la Rosa, 8, 08012 Barcelona
7. Assunta Madre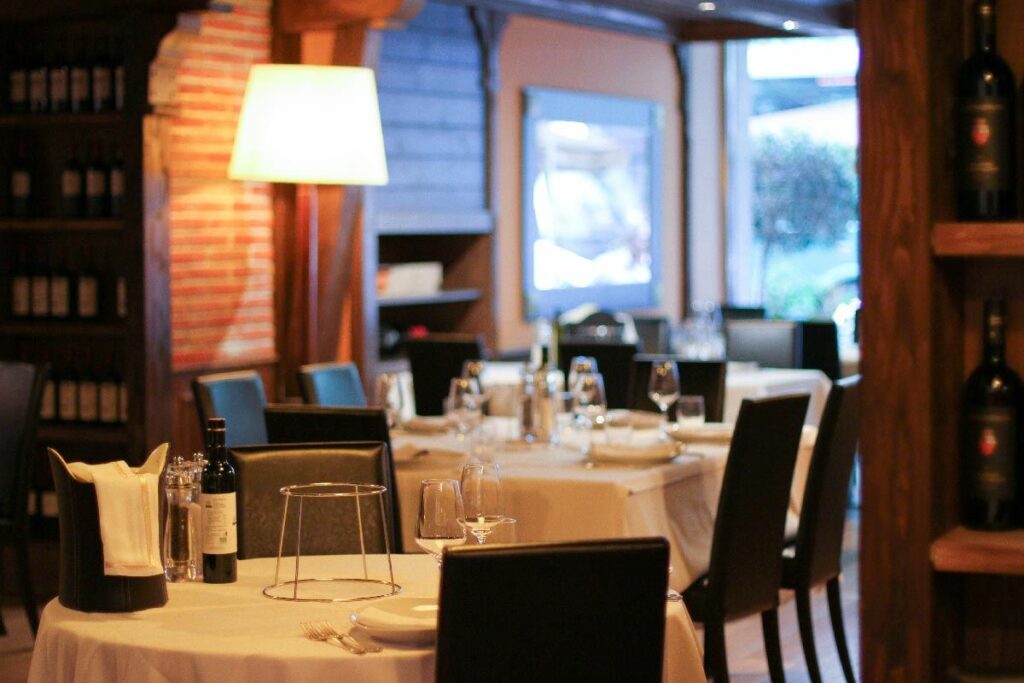 In the middle of the great city, there is an Italian restaurant called Assunta Madre which is one of the best places to eat in Barcelona. It features seafood and delicious wines. According to them, in this place 'luxury meets tradition' where guests can try a number of exotic seafood like oysters, and shellfish and they can even purchase them as they have their own shop of gourmet seafood.
On the menu, you'll find a combination of raw and cooked fish which completely depends on the daily catch. For instance, the raw starters might include tartare of the day, oysters, or raw scampi. It wouldn't be an Italian Barcelona restaurant if there wasn't pasta in it. Gnocchi with red prawns, spaghetti with clams, or tagliolini with lobster are all great options. Last but not least, Assunta Madre also offers grilled fish and a few main dishes such as seafood and chickpea soup.
Assunta Madre location: C/ de Provença, 300, 08008 Barcelona,
8. Xavier Pellicer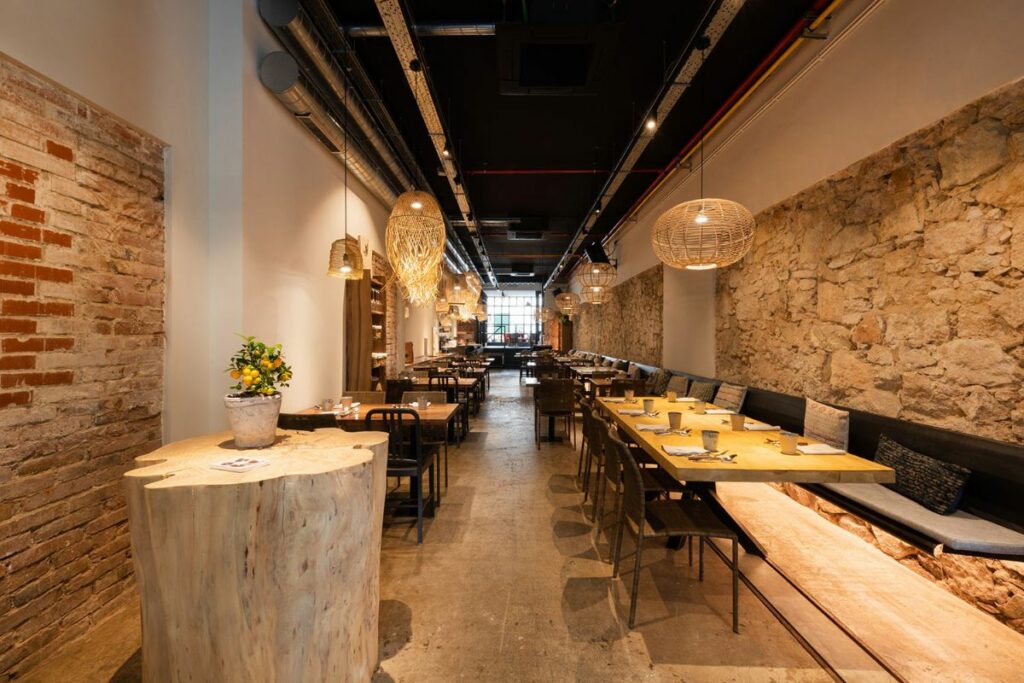 Having open kitchens in restaurants has become really popular and it does give an amazing atmosphere to the place. Xavier Pellicer is one such Barcelona restaurant, where you can dine and take advantage of a great gastronomic experience. They specialize in wok and grill dishes but meet every dietary need. Whether you are vegetarian or vegan or you love meat, Xavier Pellicer is the place for you.
In case you love testing your taste buds, Xavier Pellicer has a tasting menu for vegans, vegetarians, and meat lovers. In the vegetarian one, for example, you'll be eating dishes like potato and green beans, seaweed lava cake, sweet potato with chards and sprouts, and many other delicacies. Another reason why it's among the best restaurants Barcelona is due to its cellar which features ecological and natural wines.
Xavier Pellicer location: C/ de Provença, 310, 08037 Barcelona
9. Bodega Biarritz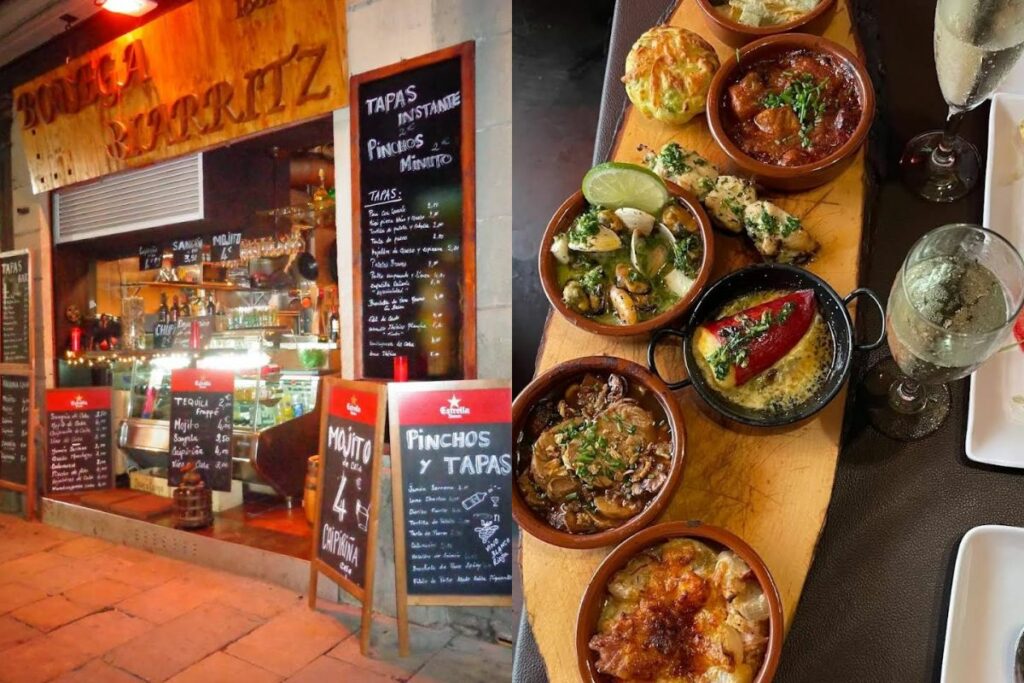 Bodega Biarritz is a Barcelona restaurant and lounge that sells tapas, but the twist is that they are a surprise. There is no menu to check beforehand, you will only find out about the meals when you arrive at the location. It is near the World Trade Center or not too far away from the Catedral of Barcelona. It opens every Thursday from 1:30 pm to 4 pm and then opens later again until 10 pm. Tuesday and Wednesday are closed.
Even though the menu is always a surprise, Bodega Biarritz serves traditional Spanish dishes. You'll be seeing paella, roasted veggies, stuffed pepper, different type of seafood dishes, and also meat dishes. Travelers all over the world rate it as one of the best Barcelona restaurants with over 4,600 ratings on Tripadvisor alone. Not to mention the prices are also great.
Bodega Biarritz location: Carrer Nou de Sant Francesc, 7, 08002 Barcelona
10. Xerta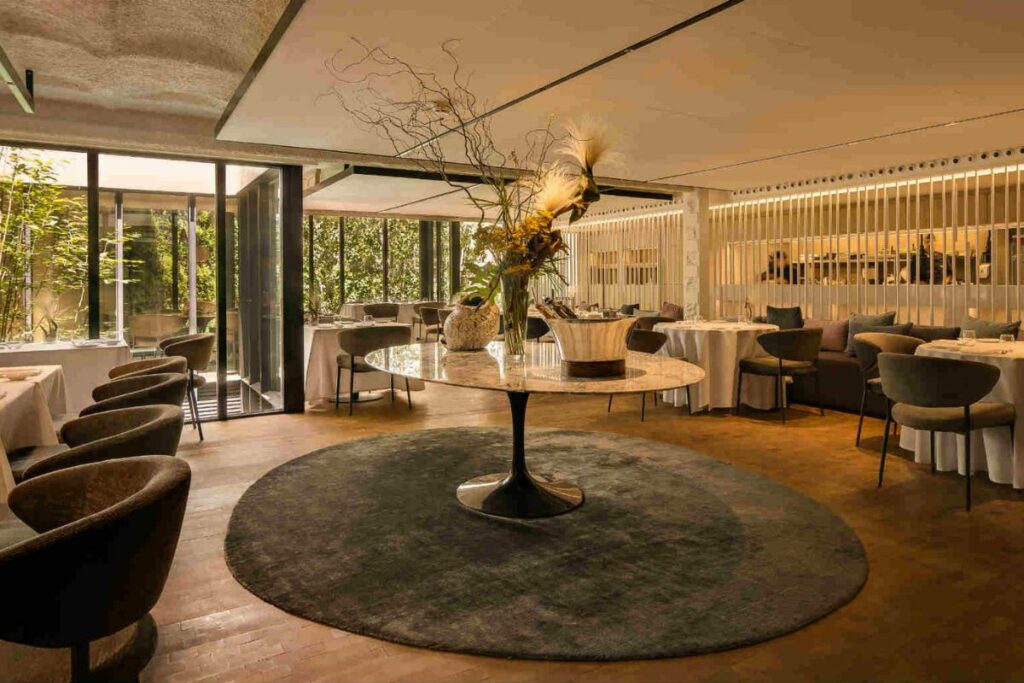 This is among the most beautiful Barcelona bars and restaurants and it is located in the Ohla Eixample Hotel. The interior design is stunning, the table setting is simple yet elegant. It's a Michelin-starred restaurant and travelers, as well as locals, rave about it. It has one star and it has also appeared in the Michelin Guide.
Its talented chef is Fran Lopez, who was training alongside the famous Alain Ducasse for three years and now he's creating delicious dishes for you. The menu is made up of oysters, and different types of meals are presented in a way only Michelin-star restaurants know how to present. Furthermore, Xerta is among the first European restaurants that received a Kashrut Kocher certification.
Xerta location: C/ de Còrsega, 289, 08008 Barcelona
11. Casa Amalia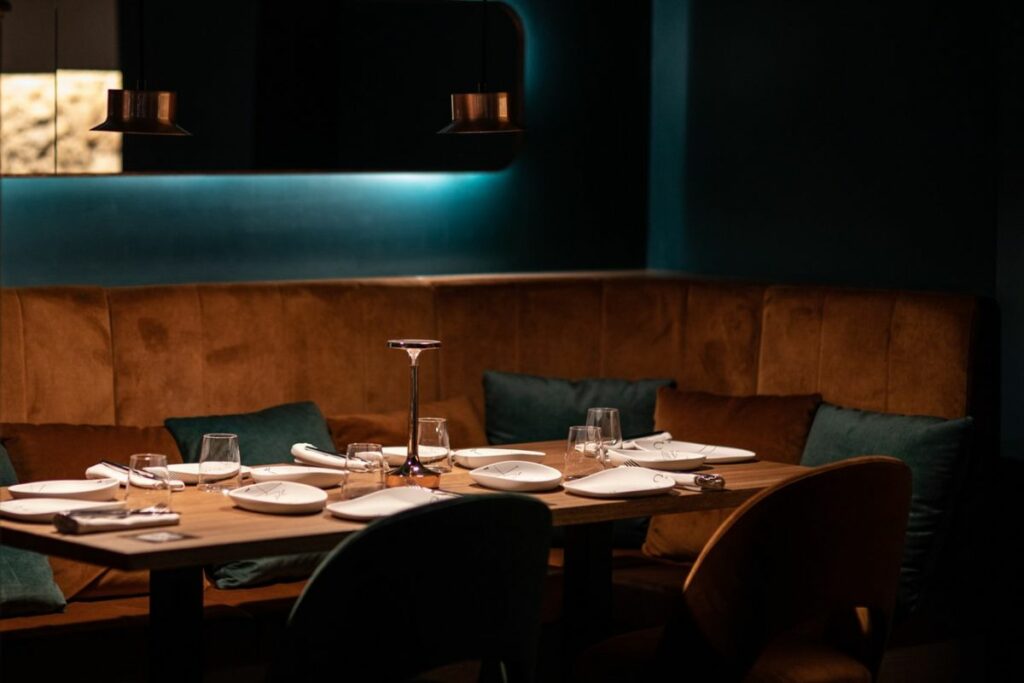 Casa Amalia has been serving traditional recipes to its customer in an ambient location. These recipes go back to the 50s and while they are traditional, the chefs know the best way to bring out the flavors to meet the taste buds of modern people. So naturally, we had to place it on our list of best restaurants Barcelona as the interior is really stunning.
The menu consists of several different categories such as bites, traditional meals as well as some of the best desserts. From the traditional meals, one can choose meat cannelloni with creamy bechamel sauce. Or your typical seafood paella with squid, scampi, and red prawns. As a dessert lover myself, Amalia's cheesecake is mouthwatering and so is the Brandy and Valrhona dark chocolate truffles or Irina's Flam.
Casa Amalia location: Passatge del Mercat, 14, 08009 Barcelona
12. RAO Restaurant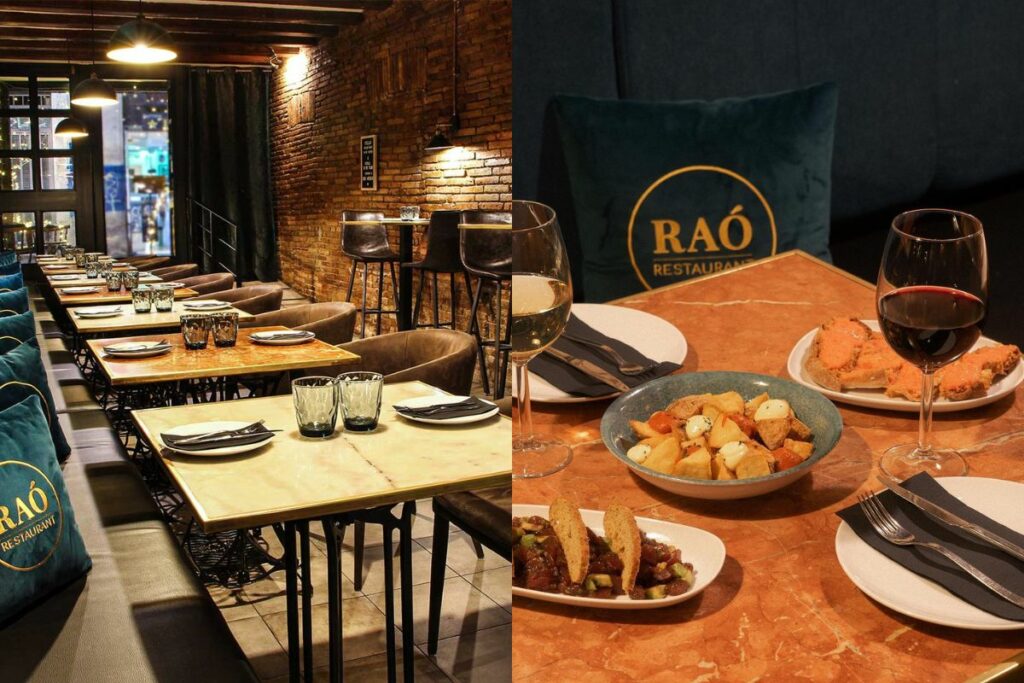 If you're ever wandering on the streets of Barcelona close to the cathedral, you might stumble upon RAO. Although it is hidden on a small street, the inside of the Barcelona restaurant really doesn't match the outside. It's one of the best restaurants in Barcelona for its authentic mix of Catalan architecture and modern style. The building itself has been around for hundreds of years now, which is typical for Barcelona.
When we're looking at the menu, they serve the modern version of Tapas, so instead of smaller meals, RAO serves medium-sized dishes. These are all made out of locally sourced products and are great for sharing. Some of these meals are Jamon Iberico, creamy Italian burrata, lamb, tuna tartar, grilled octopus, or a delicious seasonal salad. You can be sure RAO only offers quality!
RAO Restuarant location: Carrer de les Sitges, 3, 08001 Barcelona
13. Paco Meralgo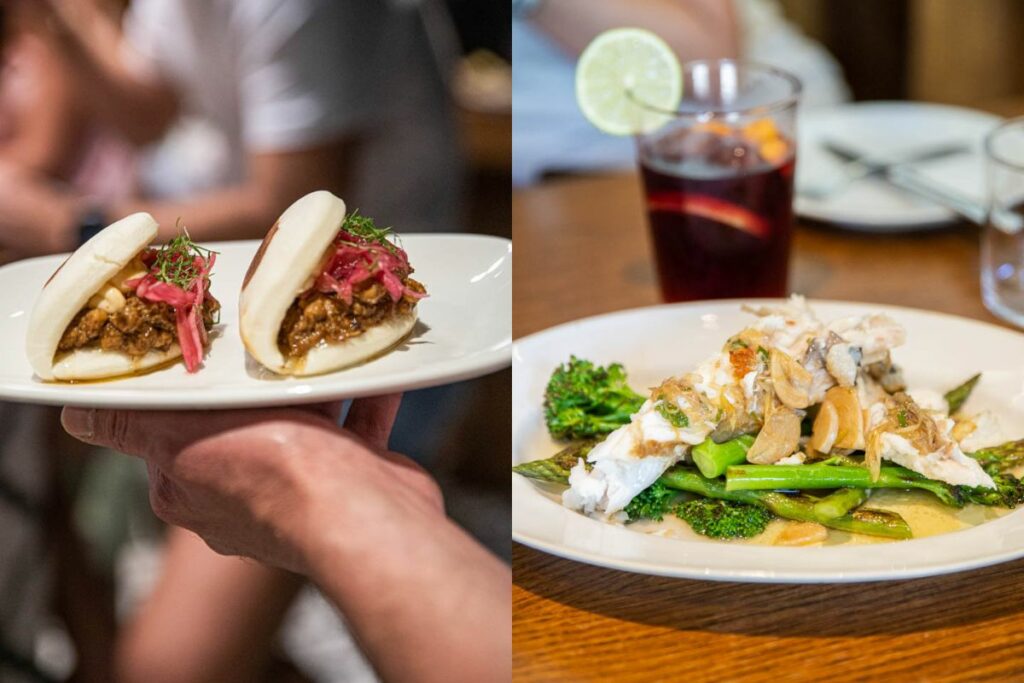 Another great tapas location in Barcelona is the Paco Meralgo. It can be exhausting to look for the best places to eat in Barcelona, however, thanks to the many ratings of travelers, one can discover amazing locations. Did you know that there are over 10,000 restaurants in Barcelona? So why is this one special? They opened up in 2002 and changed the location completely.
Paco Meralgo serves quality tapas, which are all freshly made and created from original recipes. The restaurant has a separate section for the dishes they suggest. For instance, grilled octopus with spinach and cured pork veil. If you haven't heard of or tried codfish omelette, you can do so at Paco Meralgo. It's sort of like the famous Spanish omelette, but with cod! Furthermore, the "Montaditos" are special dishes served on bread and they are really small, so you better order more to fill your stomach.
Paco Meralgo location: C/ de Muntaner, 171, 08036 Barcelona
14. Suculent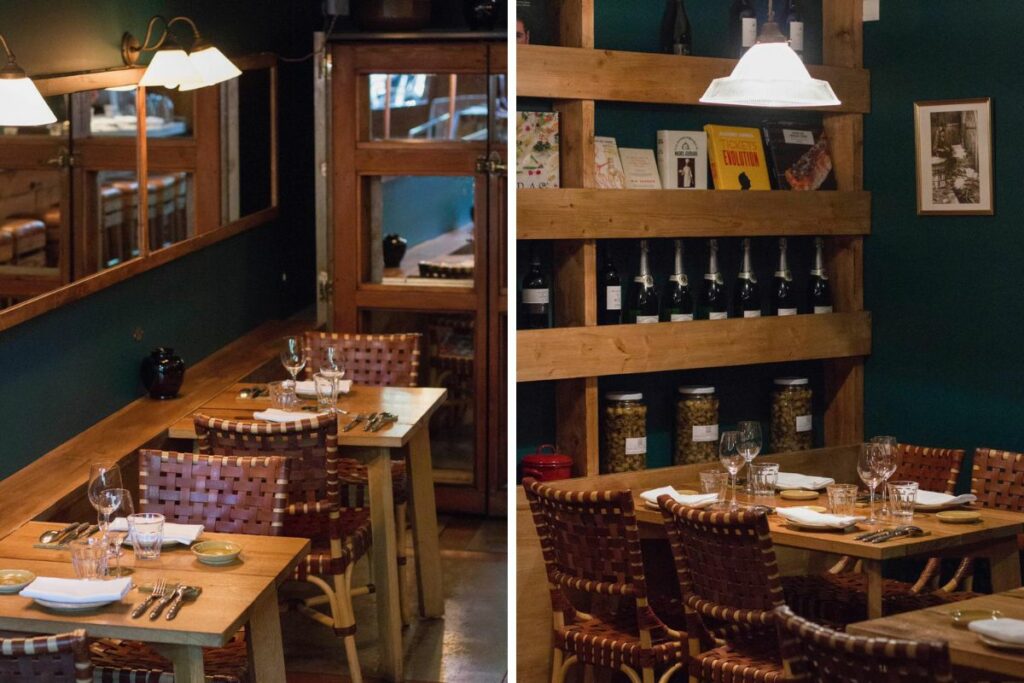 Still wondering where to eat in Barcelona? Suculent restaurant is cozy and welcoming with special broths and sauces. The interior design is special as the owner chose to keep the old furniture and reuse them throughout the restaurant. Mediterranean and traditional Spanish dishes are served here, made with more modern techniques to match the world today. Like many restaurants in Barcelona, Suculent's menu is also changing with the seasons.
You can order tasting menus which include about 8-9 courses. This can be consumed either on its own or if you choose you can pair it with the finest wines. The second tasting menu is a bit more extensive and it's made from seasonal dishes instead. This too can be paired with wine. There is no a la carte option at Suculent, and the menu is available on the website in case you wish to look at it before you visit.
Suculent location: Rambla del Raval, 45, 08001 Barcelona
15. Gresca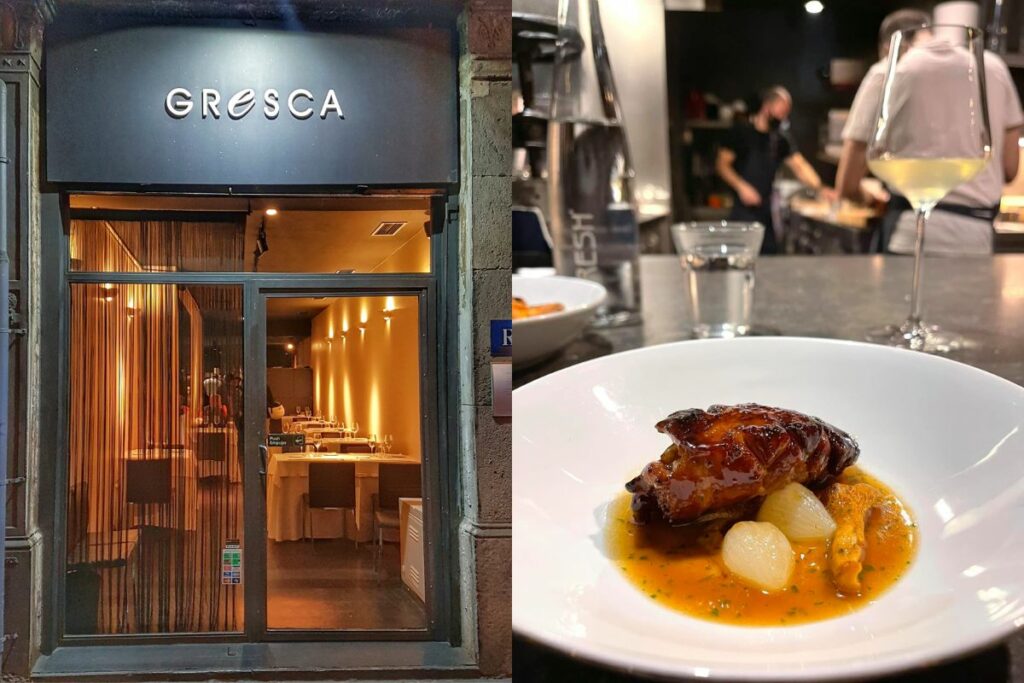 Finally the last on our list of restaurants is the Gresca, which features an open kitchen and serves tapas and wine. This Barcelona restaurant and lounge is located in the city center of Barcelona and it's very easy to find. It appeared in the Michelin guide as a 'contemporary dishes' type of restaurant that showcases seasonal ingredients. There is also a bar next door which specializes in world wines.
The menu consists are a wide variety of tapas such as marinated anchovies with lemon. Beetroot salad, small pizzas, grilled seafood, veal brain, lobster, different types of cheese, and many more. There are also. a few desserts such as chocolate cake or profiteroles. Moreover, the wines list features a number of wines from Spain, Italian wines from the Piedmont region or Sicily, French Bordeaux, and even from the United States.
Gresca location: C/ de Provença, 230, 08036 Barcelona
Conclusion – Barcelona Restaurant – Best Places to Eat in Barcelona
That concludes our list of the best places to eat in Barcelona. From tapas bars to Michelin-star restaurants, as well as places with traditional Spanish food, you'll find everything here. Whether you are a meat lover, vegetarian or vegan, you shouldn't spend too much time thinking of where to eat in Barcelona. This city is vibrant, colorful, full of friendly people, and the most delicious and versatile food in Europe!
Pin it: Best Restaurants in Barcelona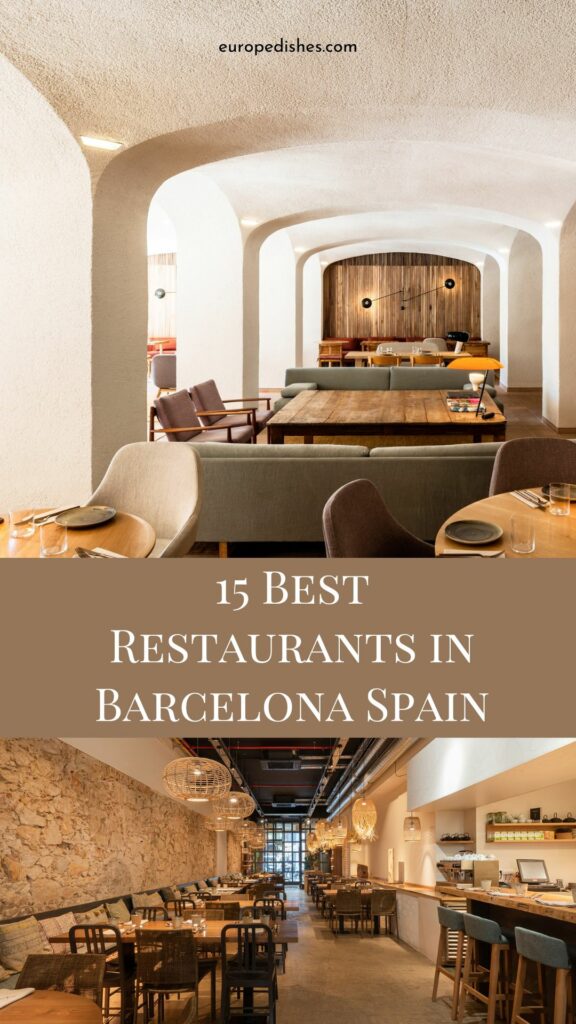 15 Best Restaurants in Barcelona Spain