One of the best things to do in London is visit rooftop bars and check out the scenic views while enjoying cocktails. London is beautiful for many reasons, one of them being the epic skylines from different angles. These rooftop bars London offer scenic views of the vibrant city and the atmosphere is unmatched.
Whether you're looking to have Japanese, Italian, British, or just European meals, there are plenty of rooftop restaurants London to try out. Just like the pubs in London, going to a rooftop bar has become a norm when visiting the capital. There are so many options to choose from, full of vibrant neighborhoods and the views are special in each of these rooftop London bars.
15 Best Rooftop Bars in London – Rooftop Restaurants London
So how do you choose from the top London rooftop bars? As you can imagine, some of them are pricy, and even paying for drinks might seem like a fortune. But don't forget, you are not just paying for the things you consume, it's also the location, the different settings of the bars and restaurants. Some of them are luxurious while others are a bit laid back.
Did you know that one of the bars has an ice rink during winter? It's literally the only ice rink on a rooftop in the whole of Europe! If that doesn't encourage you to go on a hunt, I don't know what will. In case you are looking for a garden rooftop London, there are plenty of those too. Without further ado, let's get into our list of the best rooftop bars in London.
1. The Rooftop at One Hundred Shoreditch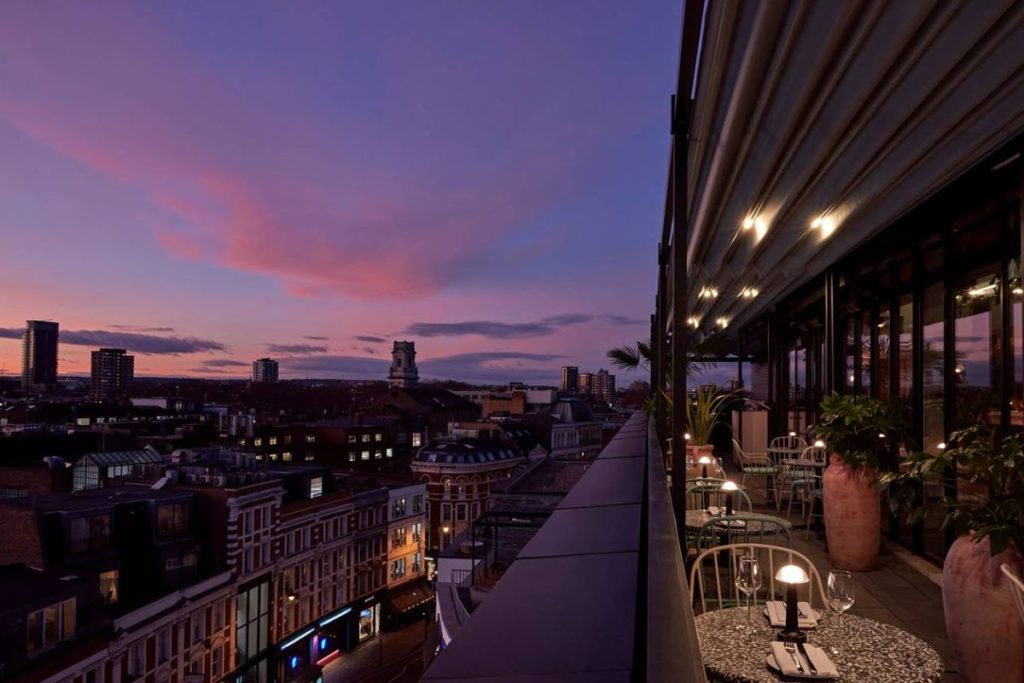 Starting our list with one of the most spectacular rooftop bars London, The Rooftop at One Hundred Shoreditch. It is said that 'it feels like a playful, Californian escape in East London' and we couldn't agree more. It's like a garden rooftop London, with cute succulents all over the place and the views are dreamy, especially during sunset! It is recommended to book a table in case you wish to come here for drinks or food.
On the menu, there are only a few options for meals. Salmon tostada is delicious and so is smoked sweet potato or braised lamb shoulder. For something vegetarian, try the wild mushroom tacos. Among the drinks options, One Hundred Shoreditch offers a wide variety of cocktails such as watermelon spritz, spicy margarita, or white negroni. Furthermore, the drinks menu offers a number of white, red or rose wines that would go well with some meals.
The Rooftop location: 100 Shoreditch High St, London E1 6JQ
2. Jin Bo Law Skybar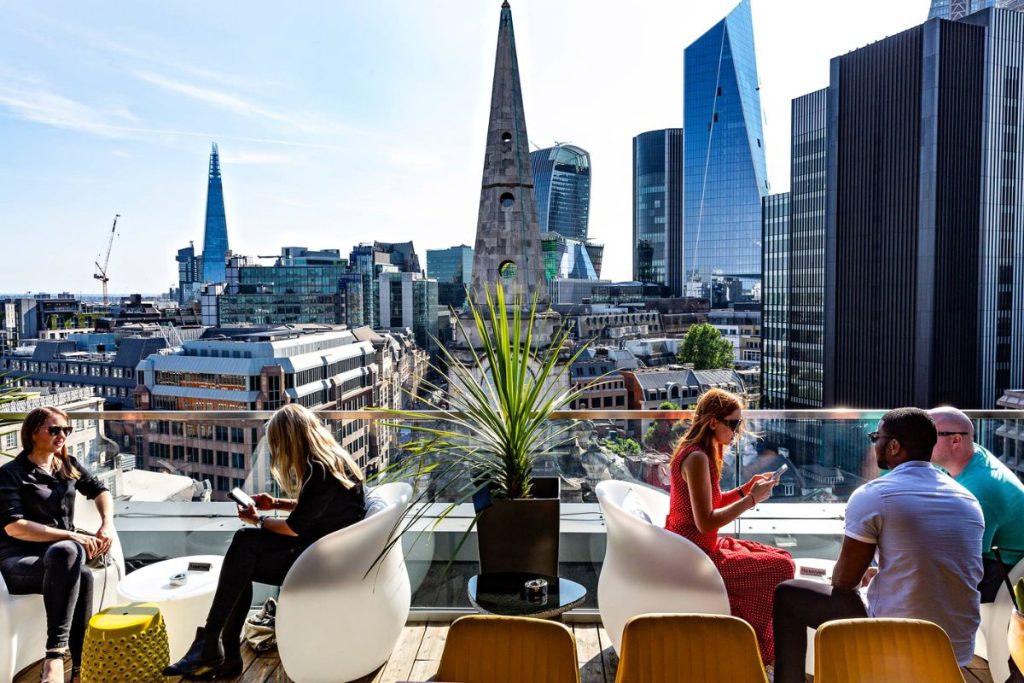 Jin Bo Law Skybar sits on the 14th floor of the Dorsett City Hotel and offers spectacular views of London's most iconic skyline. The vibes in this place are amazing, as soon as you step in you can feel the energy from the people and from the city under. Besides seeing the Shard on the right, if you look to your left on the terrace the Tower Bridge is also visible. It's simply one of the most beautiful rooftop bars London.
So what can they offer here? First of all, there are no meals available at Jin Bo Law. This is strictly a bar where people go to get some drinks, enjoy the music, and each other company. Jin Bo Law also hosts parties here with several DJs. Try out the best cocktails at one of the top rooftop bars in London. Their specials are Jin Bo Papa which is a mix of Mount Gay Eclipse rum, and Bumbu rum with Wray & nephew Jamaican overproof rum. It's an exquisite drink, just like the rest of them on the menu!
Jin Bo Law Location: 14th floor, 9 Aldgate High Street Dorsett City, London EC3N 1AH
3. The AMANO Rooftop
If you're familiar with the AMANO Group hotels then you know they offer nothing but quality. And it's not just the hotel that's quality, but it features one of the best rooftop bars London. It is situated on the 7th floor of the hotel and it's located in Covent Garden. The views are beautiful, you get to see the London Eye from far away. They hold parties with DJs while you get to enjoy delicious drinks and some snacks.
The AMANO rooftop can welcome a maximum of 124 guests both inside and outside. Choose from a number of summer cocktails such as Gin Time which includes some fresh raspberries with thyme, mixed with Martin Miller's gin. In case you wish to celebrate, take out the champagne menu and enjoy the best bottle of Vintage Brut or vintage Rose. Whatever the occasion, you'll be loving this rooftop bar London.
AMANO Rooftop location: Drury House, 34-43 Russel St, London WC2B 5HA
4. Sky Garden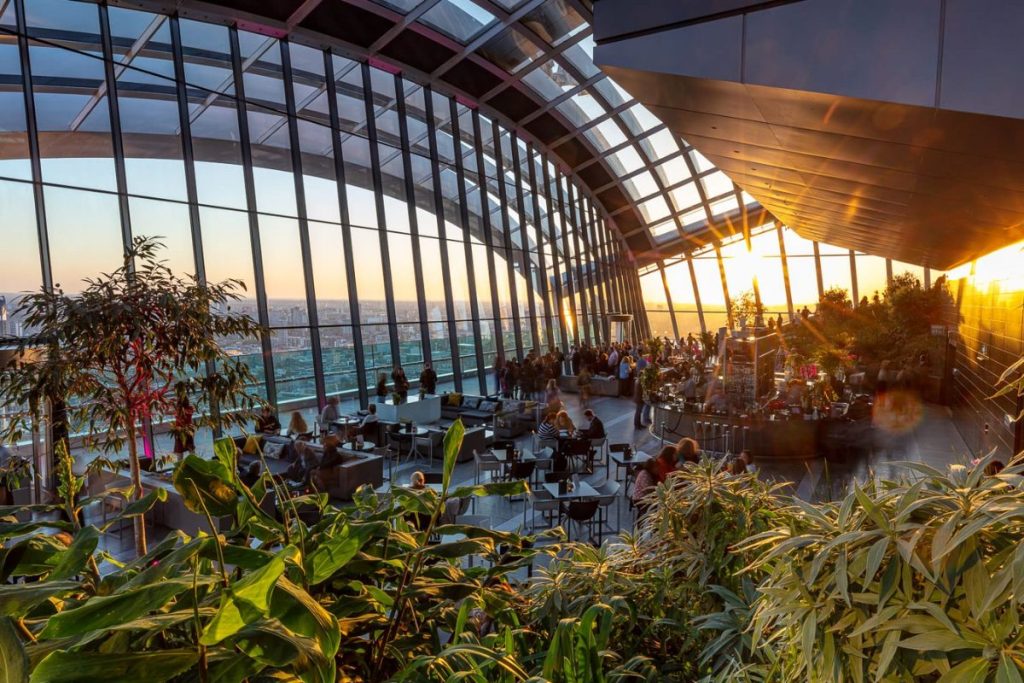 The Sky Garden is located in the Walkie Talkie building. Why is it called this? It's due to the unique shape it holds and it's one of the most iconic rooftop restaurants London. People don't just come here for the food, but also for the views and the atmosphere. It's a garden rooftop London, there are so many beautiful plants that create a contrast between London's stunning skyline and the interior.
You can book free tickets in case you're only interested in the views. Otherwise, there are quite a few restaurants and bars available. First of all the Darwin Brasserie serves seasonal dishes. The Fenchurch Restaurants is a contemporary British fine dining restaurant that you must visit and experience once in your life.
Then of course the Sky Garden Bars, which are made up of two separate bars the Sky Pod and City Garden. Lastly, the Fenchurch Terrace is a separate terrace right on the top of the Sky Garden. It's not just one place where you can enjoy food or drinks, but 4 amazing locations in one building. Out of all of the views of London, this is one of my favorites.
Sky Garden location: 1, Sky Garden Walk, London EC3M 8AF
5. Seabird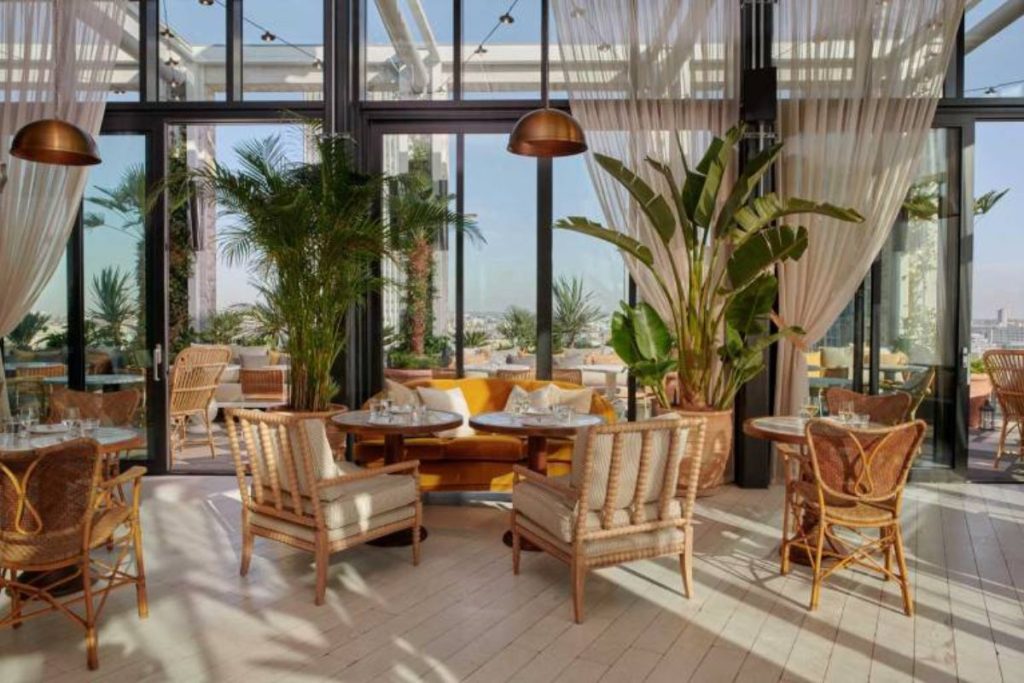 Seabird is among the rooftop restaurants London that are not only famous because of the beautiful views, but also the interior design. It is located in the heart of Southwark. It belongs to The Hoxton group which is a "series of open-house hotels inspired by the diversity and originality of the streets and scenes that surround us". I am in love with the design of this place.
Naturally, you would have to book a table as it's a well-sought place. The menu is versatile, from oysters to Sunday brunch and even festive group menu one can find anything. The everyday menu includes delicious meals such as beef rib eye, prawns, crab, or tuna tartare. Do you feel like having brunch? No worries, Seabird, one of the top London rooftop bars will make all of your brunch wishes come true.
Seabird Location: 14th Floor, South Bank, 40 Blackfriars Rd, London SE1 8NY
6. Garden Rooftop London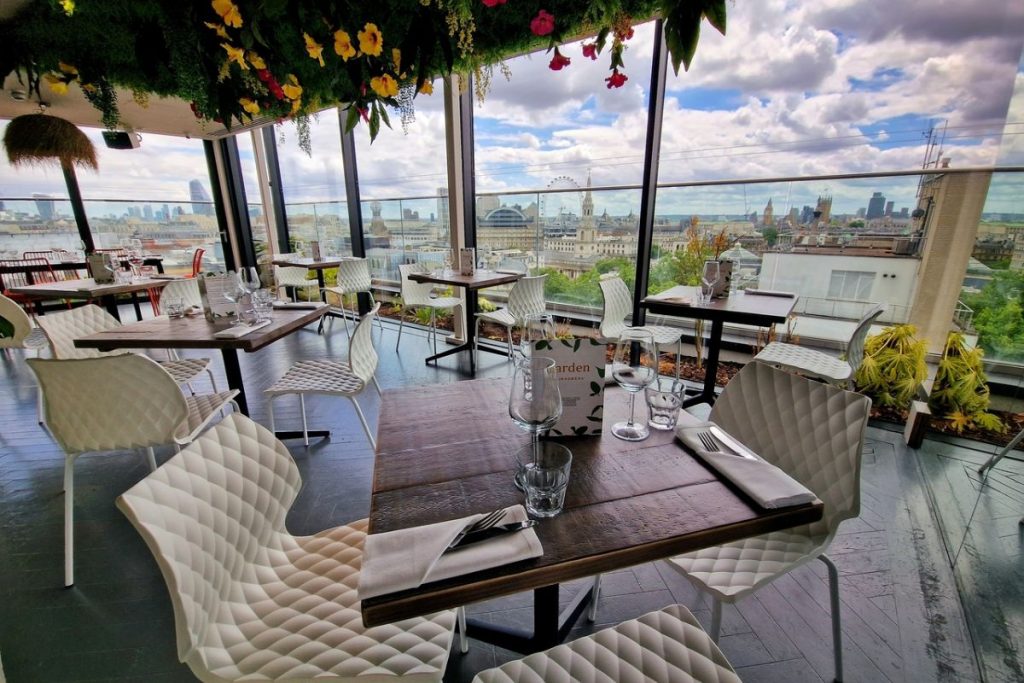 The Garden Rooftop London is located on the Assembly Hotel, precisely on the 10th floor and it's among the best rooftop restaurants London. The reason why they call it Garden Rooftop is due to the live plants inside the restaurant. The food is Italian-inspired and they serve classic and signature cocktails while you enjoy London's stunning skyline.
The drinks menu includes white wines such as Pinot Grigio or Lugana, Rose, and Red Wines. From the classic cocktails, you can find the Rooftop Delight to be delicious, which is made from vodka, Cointreau, lemon juice, rose wine, syrup, and egg white. Or course classic cocktails like Espresso martini will always be a good idea in case one doesn't wish to experiment with new flavors. Garden Rooftop London holds parties as well as Saturday & Sunday Brunch so don't miss out!
Garden Rooftop London location: above Assembly Hotel, 31 Charing Cross Rs, London WC2H 0LS
7. Skylight Tobacco Dock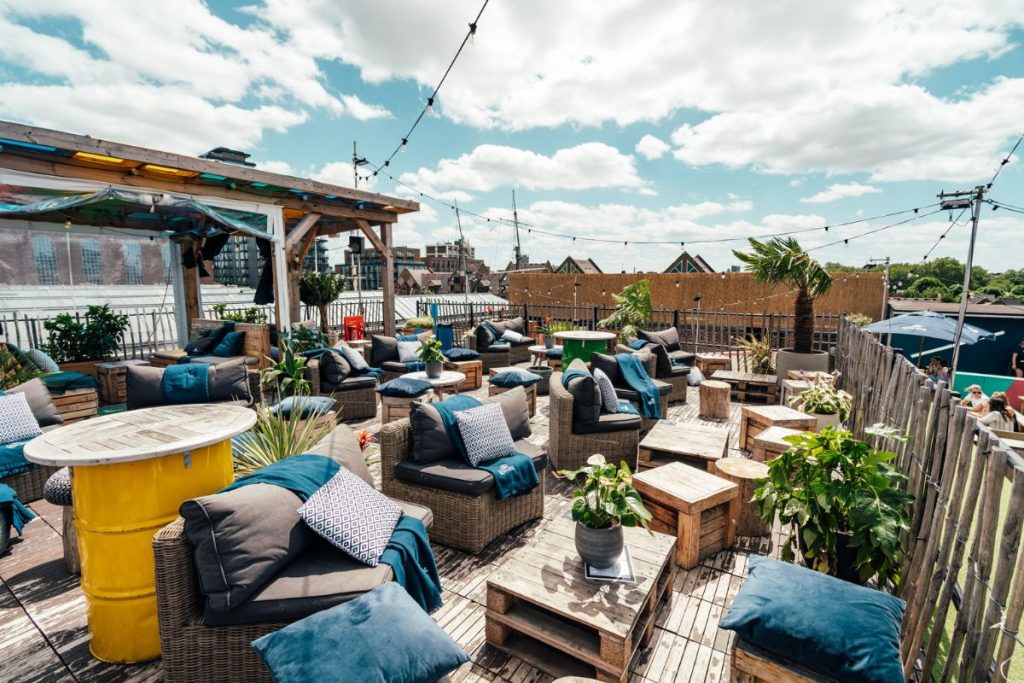 Skylight Tobacco Dock is located near the River Thames in the heart of London. It's a dreamy place and we can include it among the best rooftop bars London thanks to their holiday-themed decorations. Whether it's Halloween, Christmas, or spring, the bar creates an atmospheric vibe where one can enjoy brunch, lunch, or dinner. Furthermore, Skylight is the only rooftop bar that has an ice rink in the whole of Europe. This is available in November.
As far as meals, the Skylight Tobacco Dock features mouthwatering street food. For example, hot dogs, delicious burgers, and finger food. The cocktails menu includes East London iced tea which is made with a lot of alcohol, such as Hennessy, tequila, rum, vodka, and Cointreau. Italian wines are always available at the top rooftop bars in London. Don't forget to book a table so you don't get disappointed.
Skylight Tobacco Dock location: Tobacco Dock, London E1W 2SF
8. H10 Waterloo Sky Bar
What is it about London views that we love so much? Probably the neverending energy of the city that gets even better when you're on the rooftop bars London. The H10 Waterloo Sky Bar is located on the 8th floor of the hotel and has stunning views of the London eye and other famous landmarks. It's the perfect place to watch a sunset while you are enjoying a drink with your friends.
The decor is elegant and luxurious, everything is perfectly placed. In case you are looking for a restaurant then in the same building but on the first floor, you'll find the Three O Two Restaurant serving delicious meals. H10 Waterloo Sky Bar on the other hand has a tapas menu and classic cocktails.
H10 London Waterloo location: 284-302 Waterloo Rd, London SE1 8RQ
9. Savage Garden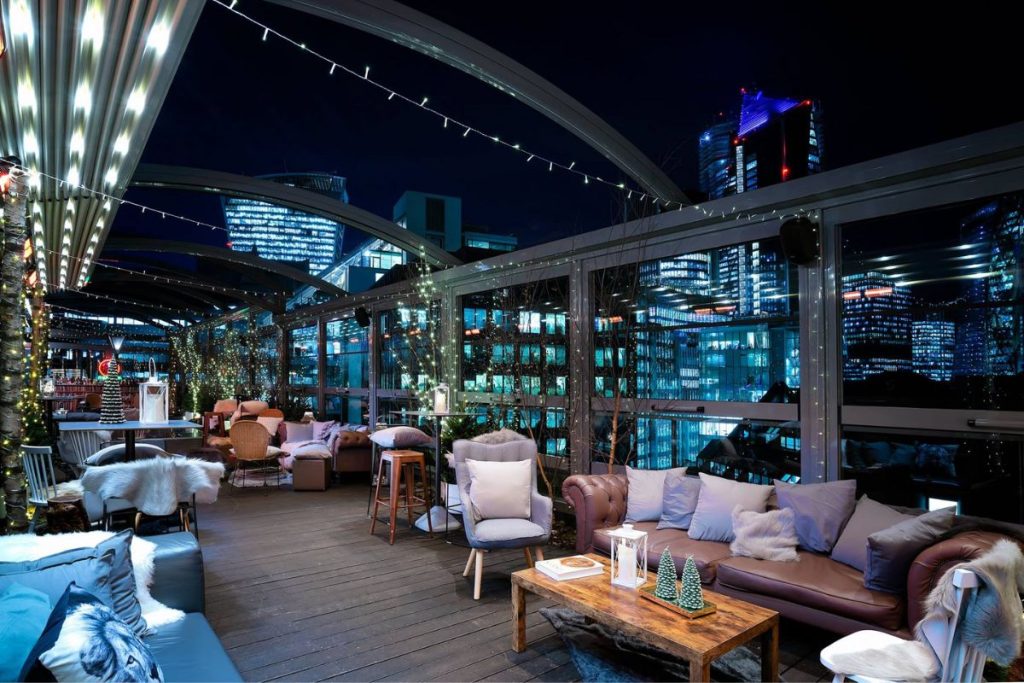 They call themselves "London's wildest rooftop bar", and we can completely understand why. If you're looking for a fun night, this is the best London rooftop garden bar. It is on the 12th floor and away from the busy city. The only thing you need to concentrate on here is your drink and the music. Savage Garden hosts private events, fantastic food, and cocktails.
The Savage Food menu is made up of addictives like salted caramelized nuts, small wonders such as Burratina or charred octopus and then the best 'Feasting savagery" are the main dishes and they can be shared with your friends. Try out the cocktails menu or the Savage Signature such as Devil's advocate or Poppy Field. In case you're looking for a space for your birthday, Savage Garden can accommodate up to 380 people!
Savage Garden Location: 12th Floor, Doubletree by Hilton Hotel London, Tower of London, 7 Pepys St, London EC3N 4AF
10. Skylight Peckham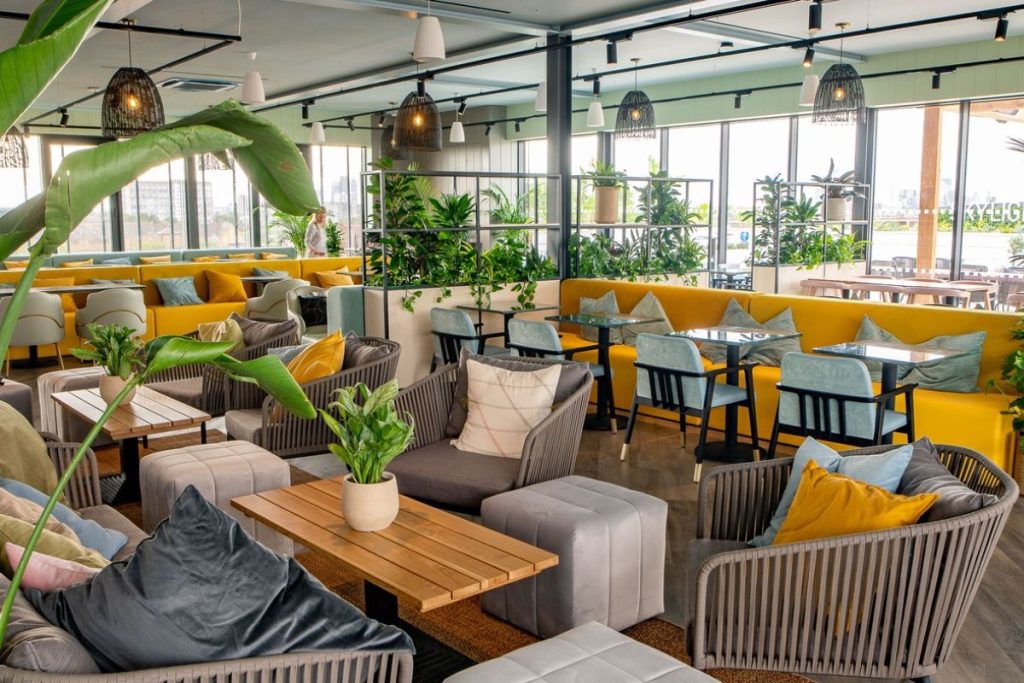 Skylight Peckham is among the top London rooftop bars that are a part of the Skylight Bars chain. Similar to Skylight Tobacco Dock, the Peckham Bar offers a different scenario altogether. With iconic views of the Shard, Walkie Talkie, and other famous landmarks, Skylight Peckham offers the best time for you and your friends. First of all, the menu is designed to be shared among people.
They usually have a seasonal menu made with fresh ingredients. Some of the meals on the menu or Crushed avocado on sourdough, burger of the week, or small plates to share. In case you are having a lazy weekend, try out their Saturday & Sunday brunch menu or the Bottomless brunch option. Lastly, Skylight Peckham is one of the top rooftop bars in London as it also offers a desk for anyone who wishes to get out of their own house and work in a different environment.
Skylight Peckham location: Theatre Walk (in between Peckham Library and Mountview College, 120 Peckham Hill St, London SE15 5JT
11. Wagtail Rooftop Bar & Restaurant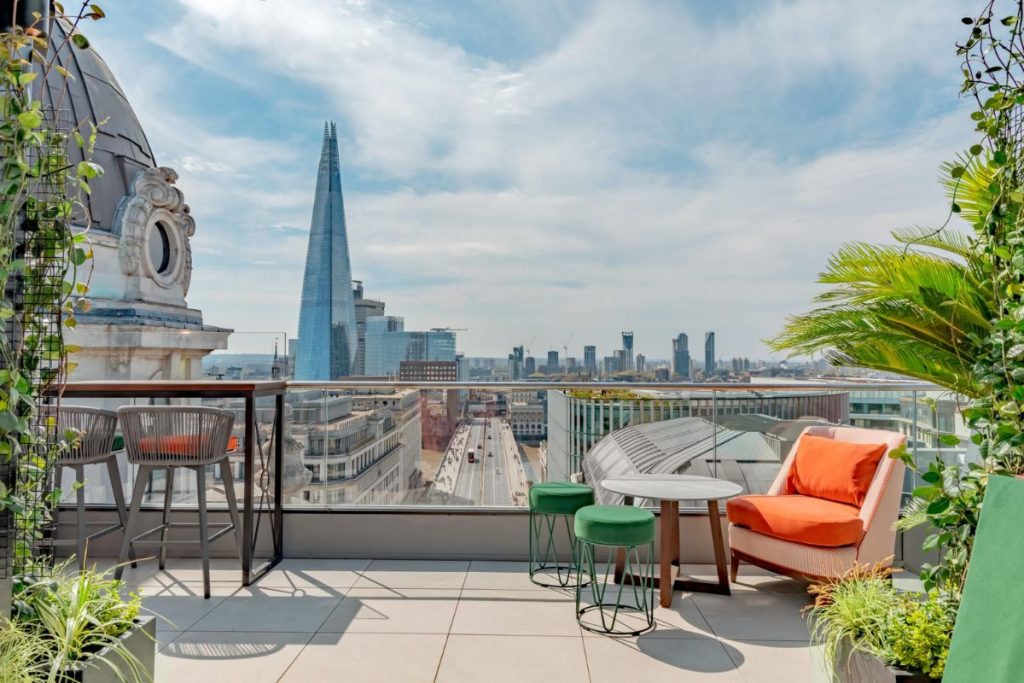 Next on our list of best rooftop bars London is the Wagtail Rooftop Bar & Restaurant. It's situated in 'the eaves of one of the City's grandest art deco buildings.' At Wagtail one can enjoy fantastic views of London while drinking fine wine or delicious cocktails. They are open from 8 am until midnight or even later on most days. Whether you wish to look at the sunrise or sunset, you can do that here.
There are two separate terraces. One of them has an elegant rooftop terrace bar while the other offers a private dining room in the cupola. Unlike most of the rooftop restaurants London, at Wagtail one can look at a 360° view of London's most iconic landmarks. Make sure to book your table in advance so you're not disappointed in case they are already fully booked.
Wagtail Rooftop Bar & Restaurant Location: 68 King William St, London EC4N 7HR
12. Sushisamba
Sushisamba is an exquisite Japanese restaurant with the best views over London and even better food. If you love Asian food, this will quickly become a favorite! It is located on the 39th and 39th floor of the Heron Tower and it features both outdoor and indoor dining. It also offers a 360-degree panoramic view of the city, which is why we had to include it on our list of rooftop restaurants London. You'll be taken up in a glass elevator which already offers stunning views.
The interior design is simply breathtaking, with a huge tree and a lot of greenery overall to make your meals even more pleasant. Although the name suggests that it's only a Japanese restaurant, Sushisamba also serves Brazilian and Peruvian dishes. They cater to all types of dietary requirements such as gluten-free and vegan menus as well. Try out the delicious drinks offered by the restaurant while you enjoy the views of London.
Sushisamba location: Heron Tower, Bishopsgate, London EC2N 4AY
13. Netil360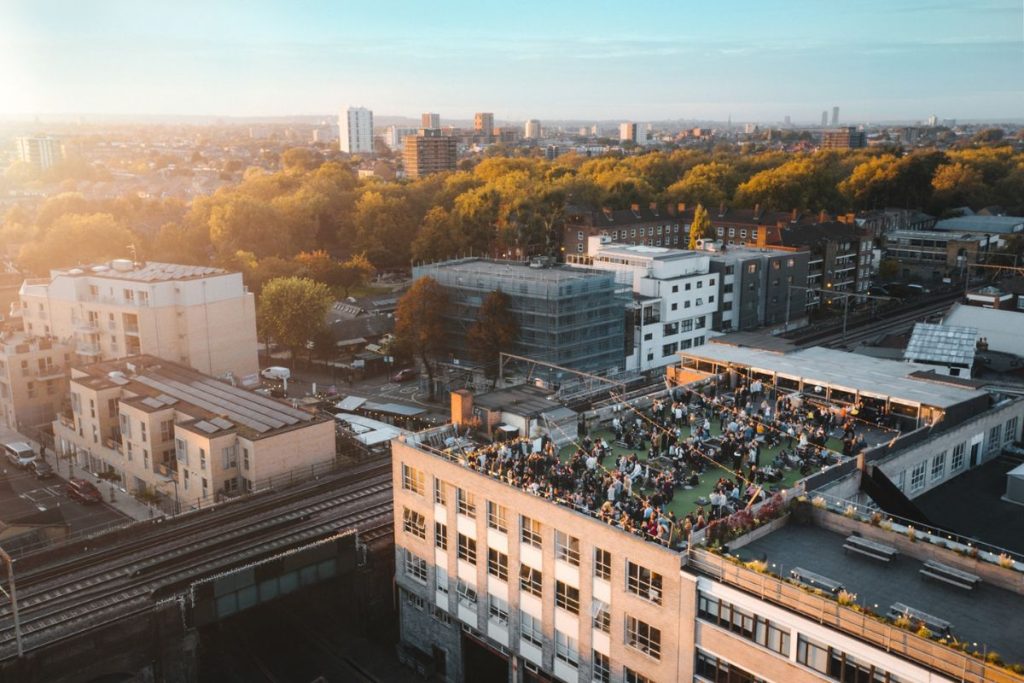 Netil360 is a very interesting London rooftop garden bar. Besides offering a different view than the rest of the rooftop bars in London, the seating is also much more laid back and casual. Instead of regular tables and chairs, they have wooden ones lower to the ground and thanks to the grass layout people can just sit down while they enjoy their drinks. It's a very popular place, and besides serving drinks or food, Netil360 also offers a sauna. Sadly, that is not available at the moment, so check back on the website when it becomes available.
The meals are inspired by Mexican cuisine. It is delivered by Caldera which is a bit further away from the rooftop. The menu offers quesadillas, tacos, nachos, burritos, and some desserts. Netil360 serves the best draft beers. While DJs are invited to perform, one can taste the drinks the bar serves and enjoy the music. They do not take bookings, so it's on a first come first serve basis.
Netil360 location: 1 Westgate St, London E8 3RL
14. Alto by San Carlo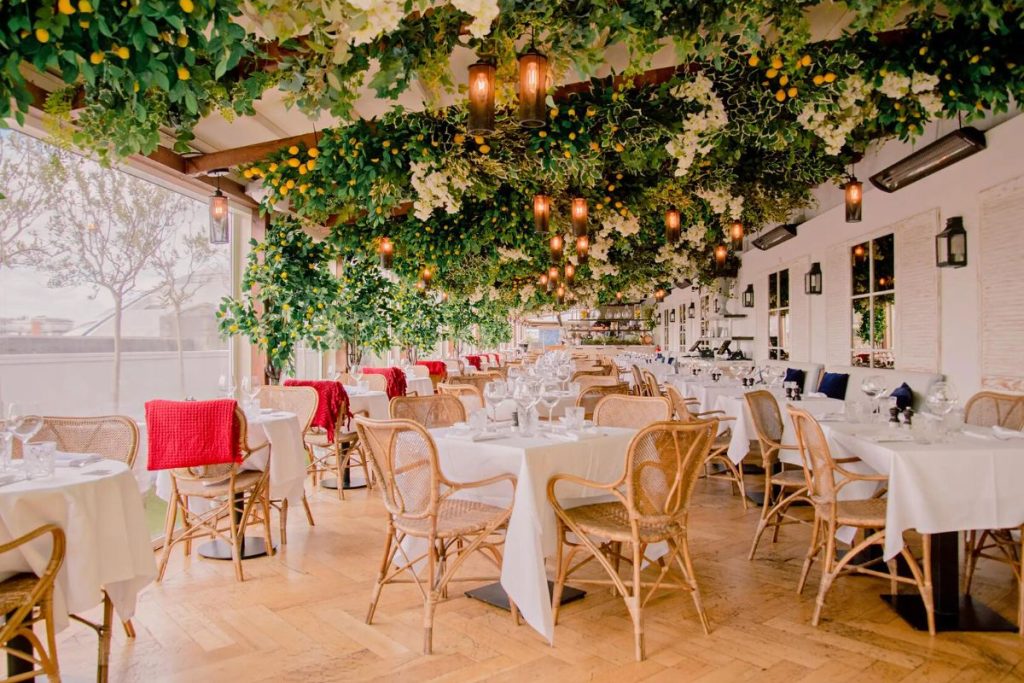 Among the stunning rooftop bars London, we can name Alto by San Carlo an iconic location you must visit. It is on the top of the Selfridges department store and offers a beautiful setting to try out Italian dishes. It does look like a small Italian city with flowers decorating the restaurant all over. Furthermore, the roof is fully retractable making it an all-year-round location.
The menu already starts with some aperitivo options in case you are unsure what to have for lunch or dinner. Prosciutto di Parma, Burrata, Caprese Salad, as well as lobster or scallops are a part of the menu. Ask the waiter for suggestions on which wines to pair it with and you'll have the best meal at one of the most prestigious restaurants.
Alto at Selfridge Roof Terrace location: Alto by San Carlo, The Rooftop, Selfridges, Oxford St, London, W1A 1AB
15. Radio Rooftop, Strand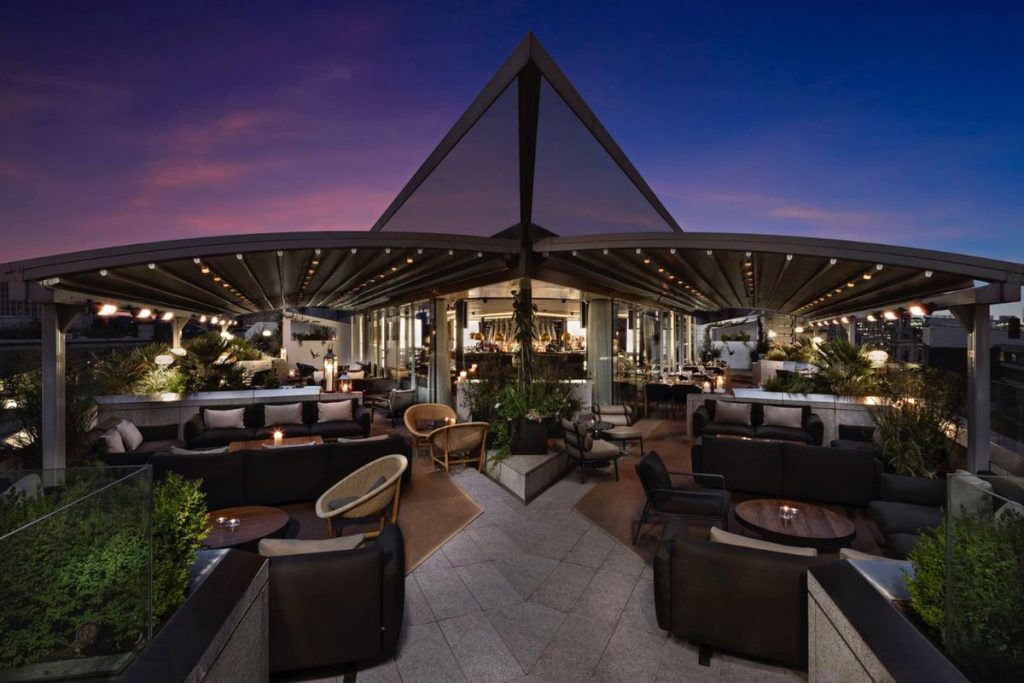 Out of the many rooftop bars London I find the Radio Rooftop London to be the most beautiful inside. It is situated on the 10th floor of ME London and offers stunning views across the River Thames and London's famous skyline. Radio Rooftop is available for breakfast, brunch, lunch, a relaxed evening, or business evenings. It's one of the top breakfast places in London.
I'm not sure when did brunch become such a trend, but almost every restaurant seems to have a separate menu for it. On Radio Rooftop's menu, one can find aubergine rigatoni, Chilean seabass, lobster sliders, churros, and other delicious meals. Choose from a variety of champagnes, wines, and other spirits to go with your tasty meals. Furthermore, you'll fall in love with the atmosphere and table setting of this place. I know I have!
Radio Rooftop location: 336-337 Strand, London WC2R 1HA
Top Rooftop Bars in London – Best Rooftop Bars London – Conclusion
Finally, we reached the end of the top London rooftop bars list. I have selected the best of the rooftop London bars, catering to many different needs and budgets. I can never get over the scenic skylines of this epic city, no matter how many times I visit. Check out the London rooftop garden bar like Sky Garden for an unforgettable experience!
Pin it: Best Rooftop Restaurants London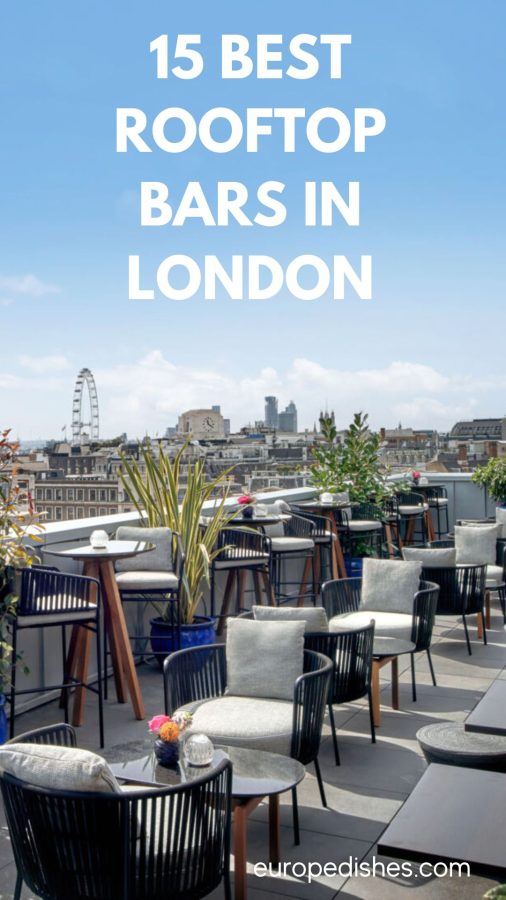 15 Best Rooftop Bars in London