Food is what brings people together often times and Indian dishes have been popular all over the world for years now. They are known for being healthy, often easy to prepare full of flavor, and rich in taste. We want to introduce you to the Indian vegetarian dinner recipes that you can prepare at home for your family. These easy Indian dinner recipes can also be made with chicken or swapped to vegan/vegetarian options.
So how does one make easy dinner recipes for Indian dishes? The key is often times in the quality of the ingredients. If you are lucky enough to have an authentic Indian store where you live, then you can get all of the ingredients from there. Of course, flying to India is always the best option!
10 Best Indian Dinner Recipe Ideas – Indian Vegetarian dinner recipes
While Europe Dishes is for European food mainly, we decided to introduce an international category too, since there are just way too many great dishes in the world! My love for Indian food was introduced in one of the restaurants in Colchester called Curry Leaves.
Their dishes inspired us to also prepare some of the easy South Indian dinner recipes at home, like Masala Dosa. You'll fall in love as well with these quick Indian dinner recipes as they can be made in under one hour. This is just a guideline for Indian dinner ideas, so look up the recipe in full to follow the steps. Let's get on with this!
1. Butter Chicken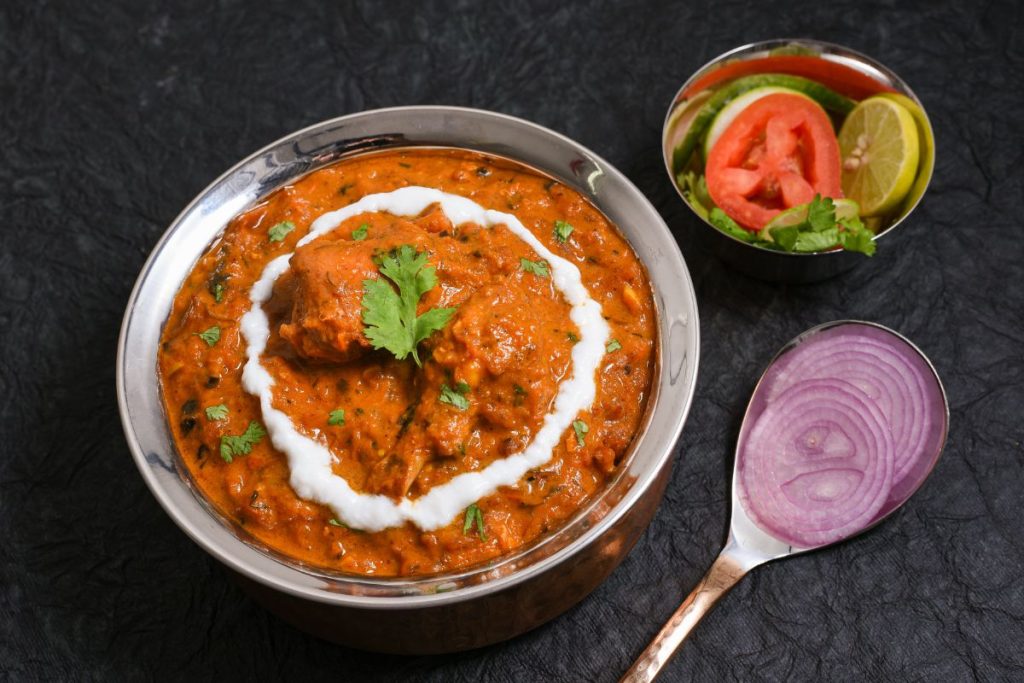 Starting our list with one of the easy Indian dinner recipes that are called Butter Chicken or Murgh Makhani. This is famous, delicious, and loved all over the world. And the best part is that it's quick to make, unlike other famous Indian recipes. This is a typical dish originating from North India.
Butter chicken is usually served with Naan bread, but you can have it with Chapati/Roti or even rice. You can prepare this dish in less than an hour, which is ideal for busy people! The main ingredients are chicken, spices like garam masala, turmeric, ground cumin, red chili powder, and minced garlic which make the dish so delicious and full of flavor.
Firstly, you should marinate the chicken in the spice mix for at least 30 minutes, but marinating overnight is always better. The sauce is made of tomato, garlic, and ginger paste and it's simmered until the water evaporated. I personally like to blend it in a mixer and then use a sieve to get that smooth texture. It's one of the best Indian recipes for dinner.
2. Masala Dosa and Sambar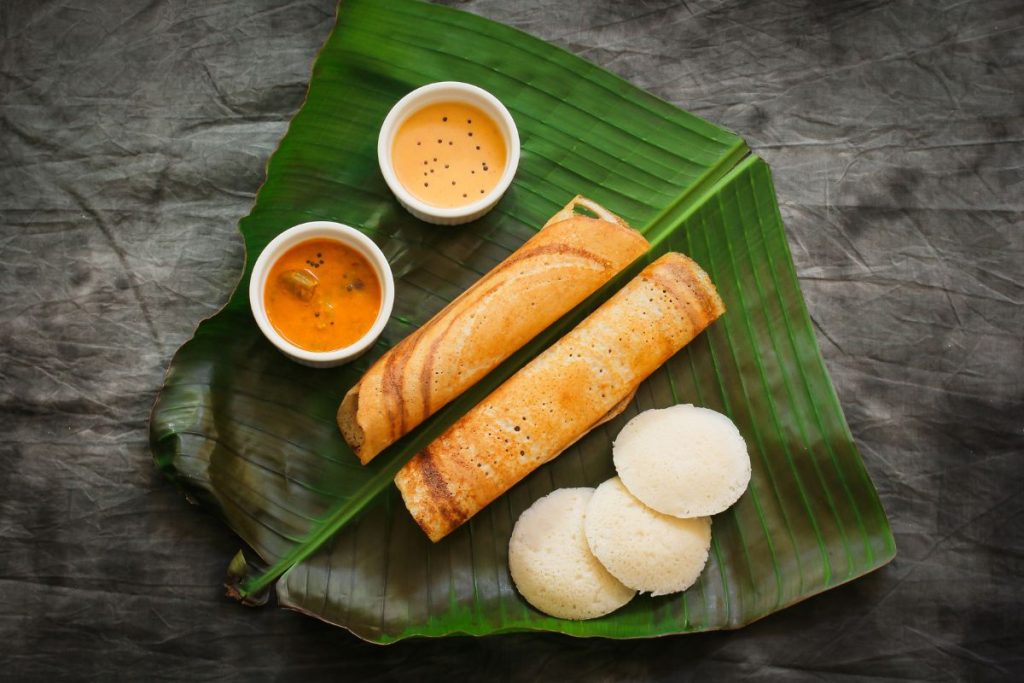 The reason why I love this dish is thanks to my Indian boyfriend. Every time we would go to the Indian restaurant in Colchester, he would order Masala Dosa. This is one of the easy south Indian dinner recipes, however, people also have them for breakfast. The Dosa is a type of crepe made from fermented batter of rice and black gram lentils.
You do not necessarily have to ferment it, however, it's recommended for better taste. Without fermentation, it's one of the easiest dinner ideas Indian dishes. It should take you about 40 minutes in total to make the dosa and sambar together. If you are lazy, you can literally purchase dosa batter from the store and sambar powder!
And as for the Sambar, this is like a soup but you can't really call it a soup. It's a mix of tur dal (lentil) with vegetables of your choice. You have to make the base of the sambar in the pressure cooker, then after adding your vegetables and simmering it, you can combine the dal and add a lot of water. The taste of this dish is so simple yet so delicious and filling. It's perfect for kids too if you don't add a lot of chilies!
3. Hyderabadi Chicken Curry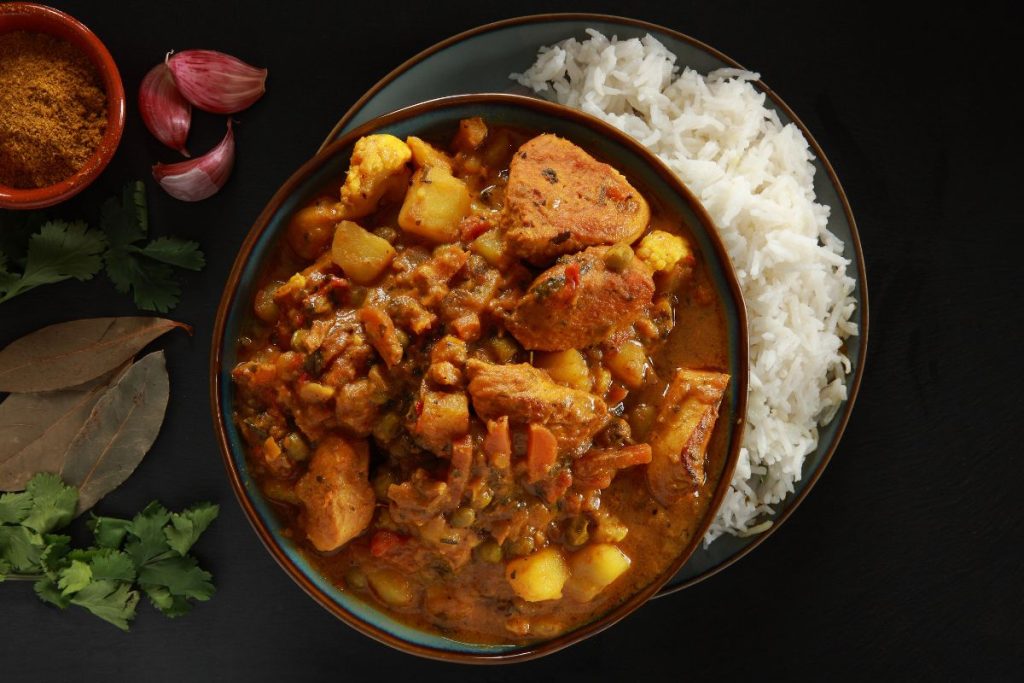 Hyderabadi Chicken curry is among the easy dinner recipes Indian dishes, that everyone loves. The reason why it's so convenient is due to the fact that you can literally just make it in one pot without making a lot of mess. This is a traditional South Indian recipe and you can make it exactly as they do it in India.
The key is to marinate the bone-in chicken in yogurt and spices. The spices you'll need are cardamom, chili powder, cumin powder, turmeric, garam masala, and crushed coriander. You'll also need fresh coriander, ghee, cinnamon, shallot, and bay leaves. After you marinated the chicken, you'll have to fry the onions so they get that crispy flavor and texture.
The curry is easy to make, just add all the spices to the chicken and let it simmer for 20-30 minutes. Then at the end, you just mix everything together and you'll have a delicious Indian dish served. It's easy to set aside for a few days. In case you are looking for egg Indian recipes for dinner, you can substitute the chicken with eggs.
4. Palak Paneer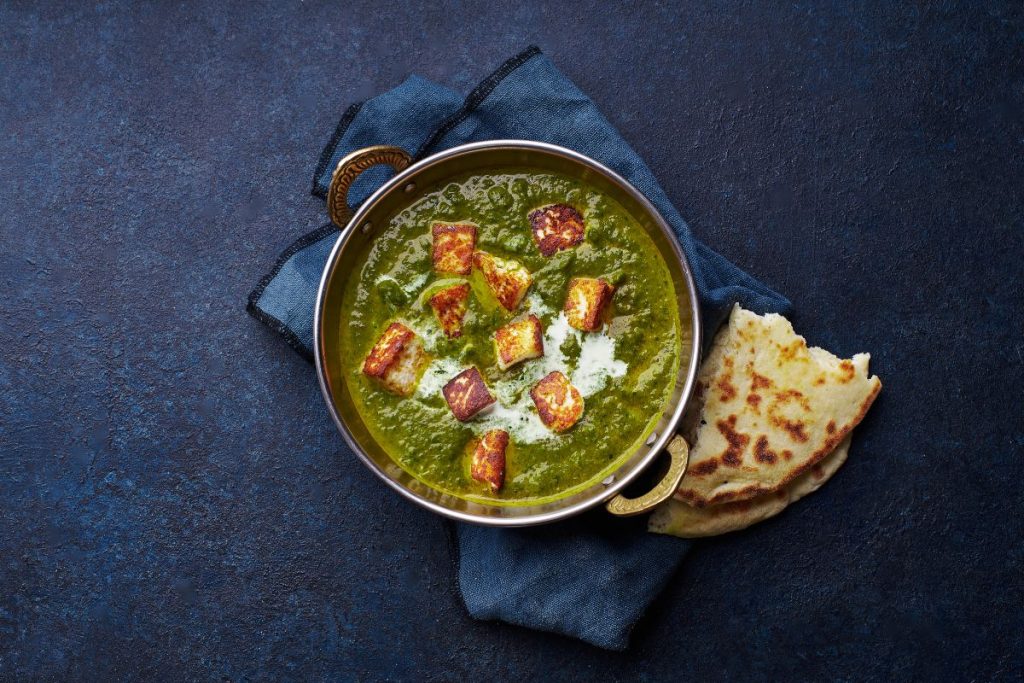 Palak Paneer is easily among the favorite Indian vegetarian dinner recipes. It's so easy to make and it is healthy. Some might mistake Palak Paneer for Saag Paneer and although they are similar, Palak Paneer is made only with spinach. This is a typical dish from North India.
In case you are new to these Indian recipes for dinner and are unsure of what is Paneer, then let me clear that out. Paneer is a type of Indian Cheese that is very smooth, creamy, and delicious. I really cannot compare it to any other type of cheese known in Europe. Palak Paneer is easy to make.
The important part is to make sure you boil the spinach and mix it well with all of the spices. To get that creamy texture, it must be blended in a mixer. I love to roast the paneer before adding the curry on top, it has a better flavor that way. Serve with home made chapati or naan. It takes less than an hour to prepare, so you have no excuse!
5. Coconut Chickpea Dal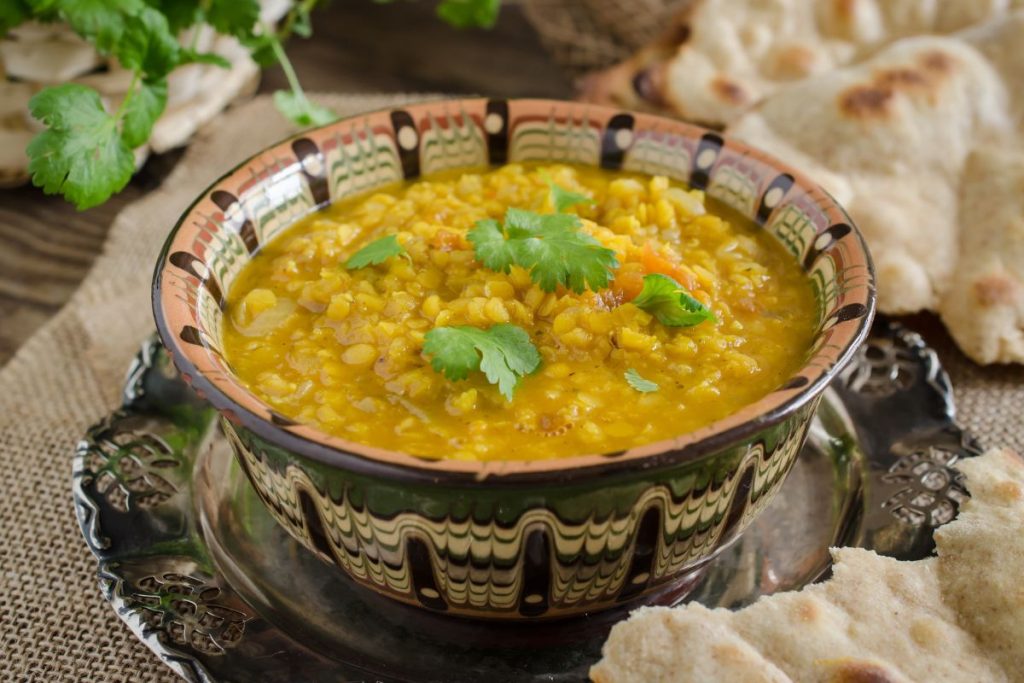 Coconut Chickpea Dal is a recipe I stumbled upon in HelloFresh. The recipe is only inspired by Indian cuisine, however, it is not typical. With that being said, I like to make it according to our own taste. If you're running out of dinner ideas Indian dishes, then this one is quick and easy.
The recipe also includes mushrooms, which I admit adds an interesting flavor. But you can leave out the mushrooms. All you need is some canned chickpeas, red split lentils, some spices like garam masala, turmeric, powdered coriander, and sabzi masala and you can even add some dal makhani masala to it. Although the original recipe didn't have onions, I always like to start by roasting the onions slightly before adding the rest of the ingredients.
The texture all depends on how much coconut cream you add in. It's one of the easy Indian dinner recipes as again it only takes less than an hour, you can make everything in one pan and serve it with rice, naan, or chapati. I made this the other day and it was a success, everyone loves it. But be careful, chickpeas are heavy on the stomach, so try to eat a few hours before bed!
6. Chickpea Curry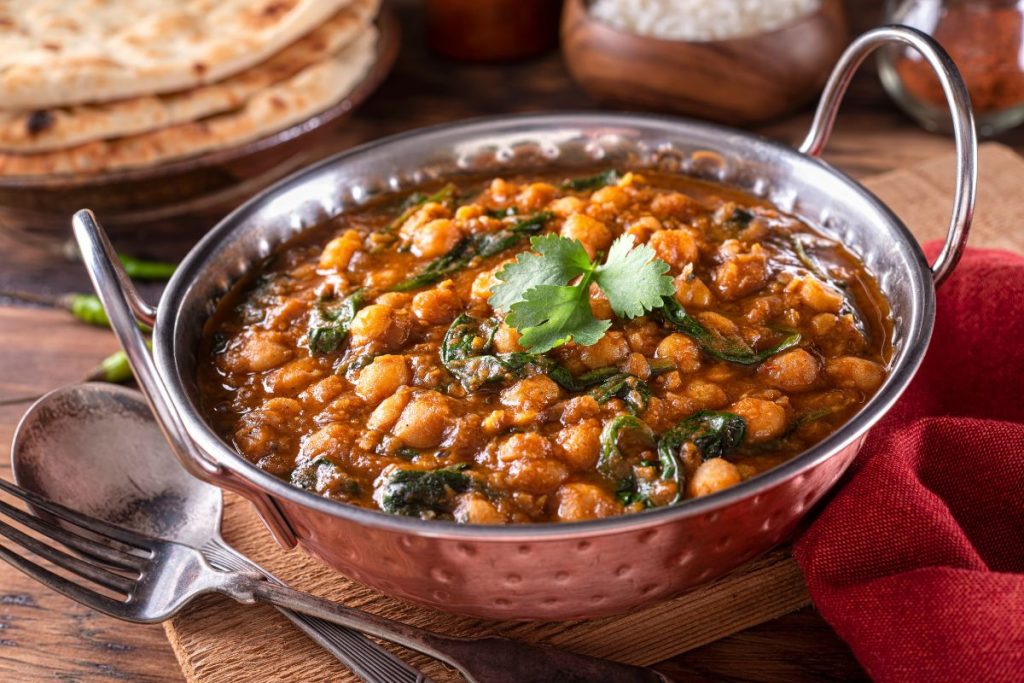 Chickpea curry is another one of the quick Indian dinner recipes you can make for yourself or your friends. It's vegan, healthy, and filling. Although it is similar to the previous recipe, the beauty in these Indian dishes is that you can often swap the ingredients to your liking. The ingredients are tomatoes, onion, chickpeas, garlic, coconut milk, or even regular cream, and a mix of spices.
Once again you start by adding the onion and tomatoes to the same pan and adding the spices together. The key is to let the tomatoes melt and be extra soft. Once you add in the chickpeas I like to add a tiny bit of water as due to the spices it tends to stick to the bottom of the pan. Add the cream of choice and let it simmer until the chickpeas are soft.
Again, this is one of the Indian vegetarian dinner recipes that can be made in so many ways. If you don't like chickpeas, just swap them with some lentils or you can even add beans. The key is always in the curry and the spice mix, if that's made well the dish is automatically a success.
7. Mattar Paneer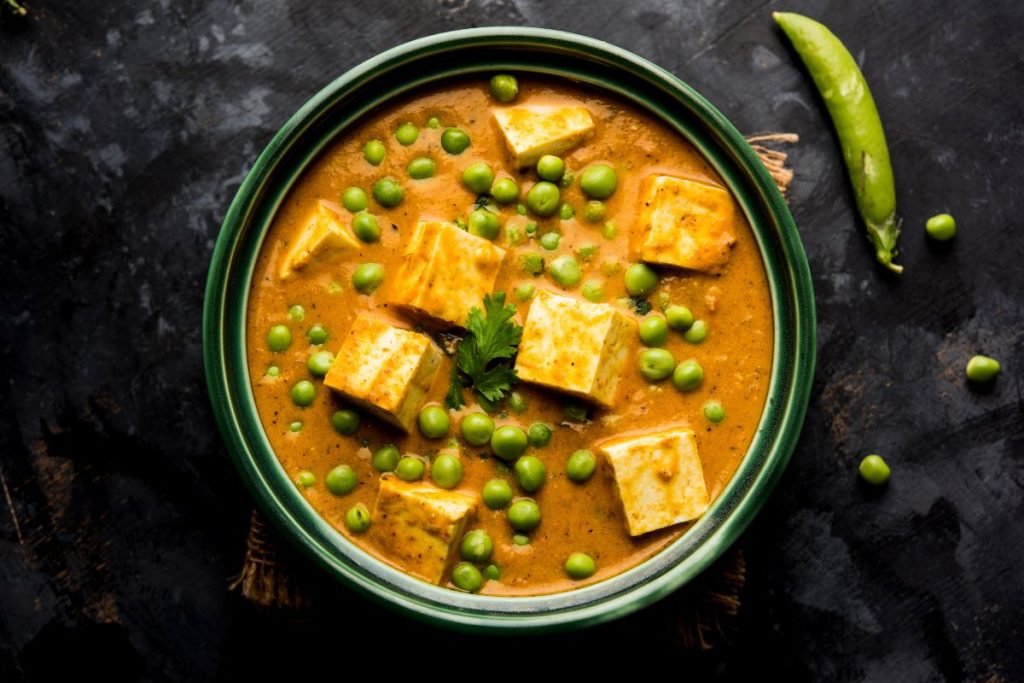 Anything that has paneer in it s delicious. That's a simple fact. Mattar paneer is the next on our list of Indian vegetarian dinner recipes that are so quick and easy to prepare, not to mention how delicious and creamy it is. You can prep this in about 15-20 minutes and cooking is again about 10-15 minutes.
The ingredients needed are paneer, ginger, ground cumin, turmeric, ground coriander, some green chili if you want it to be spicy, tomatoes, frozen peas, garam masala, and fresh coriander. Trust me, fresh coriander makes a big difference in these Indian recipes for dinner. And finally some naan, roti or rice.
I usually fry the paneer after I made the gravy. So just ad the tomatoes in with the spices and smash it with the fork. Add water according to the type of thickness you wish the curry to have. Once it is thick enough add in the peas and the paneer. Top it off with coriander and it's ready to serve with naan or roti. This curry also works with the egg Indian recipes for dinner!
8. Chicken Lababdar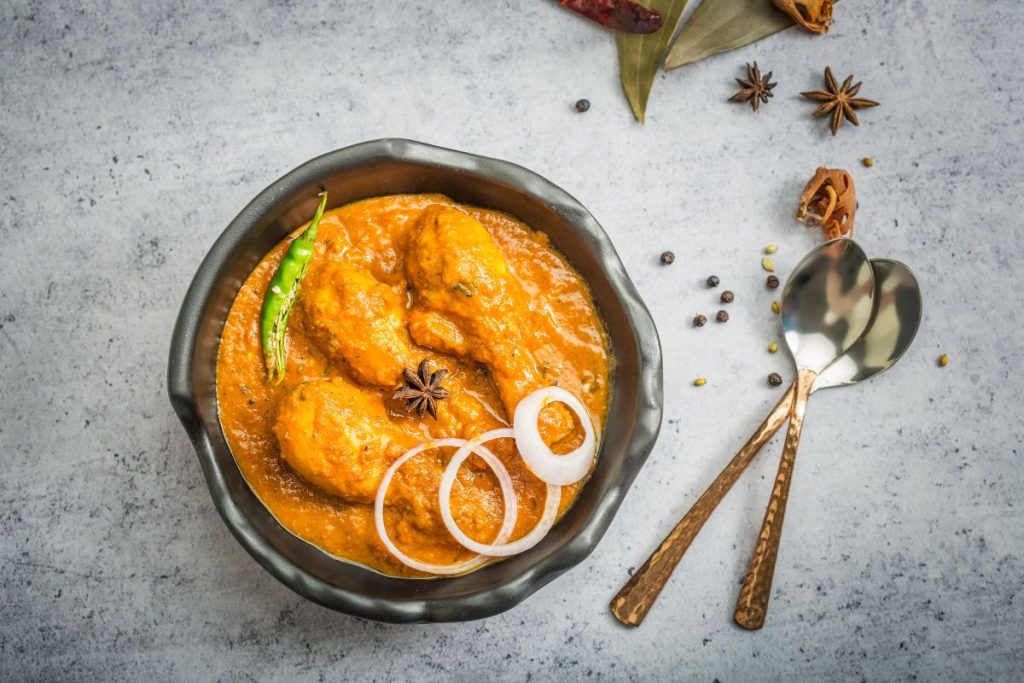 Looking for dinner ideas Indian dishes? Try out this northern Indian curry rich in flavors and taste, your family will love you! This is not like butter chicken and people might even argue which one is tastier. When you make any type of gravy, you can either blend them until they are smooth or only blend a portion and the rest leave in chunks. It's tasty either way.
For the spices, you'll need some cardamom pods and cinnamon sticks, ground turmeric, chili powder, coriander powder, cumin, some cashew nuts, some kasoori methi, and then the fresh coriander. It is made with skinless chicken cut into pieces.
As I said, if you wish to have a smooth texture, then it's better to have the sauce made separately while you cook the chicken in a different pot. Once you mixed all of the ingredients besides the chicken, you can blend them together and then add them on top of the chicken to boil them together. This dish can be served with rice. To be fair, almost every dish that has curry can be served with rice, roti, or naan.
9. Aloo Gobi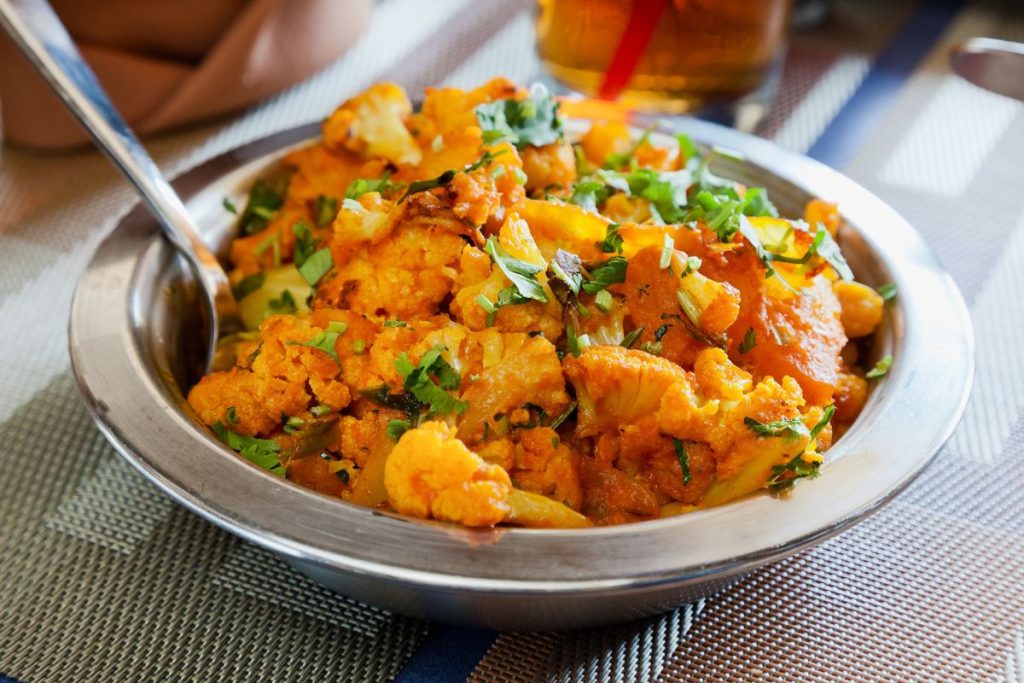 Aloo Gobi is a delicious healthy dish infused with the best Indian spices. It's among the easy dinner recipes Indian dishes and you'll find it comforting to eat. This dish is made with potatoes, cauliflower, spices, and herbs. In case you're wondering, aloo means potatoes and gobi means cauliflower in Hindi. There's also a pratha version of this, where they mix the mashed ingredients with chapati flour and make them in a pan.
But let's get back to the original recipe. It is made of some onion, green chili, potatoes, cauliflower, and spices like red chili powder, garam masala, coriander powder, and turmeric. It can be made in one pot, just add the potatoes first with the spices, and when the potatoes are nearly done, add in the cauliflower.
The number and amount of spices you add will purely depend on you. If you don't like the dish to be too spicy just add less chili powder and more of the other spices. The cauliflower should be crunchy in the end. One can have this on its own or serve it with roti or rice. It's really one of the best Indian vegetarian dinner recipes.
10. Dal Makhani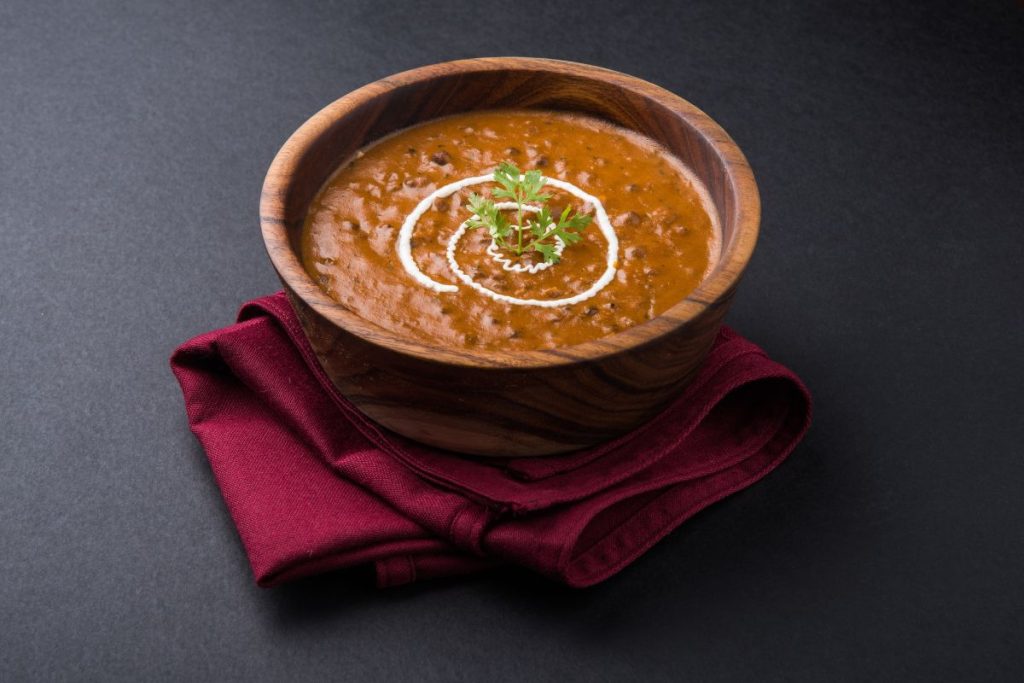 I might have left this for the last of the Indian dinner idea, but it's really my top favorite next to paneer dishes. The first time I tried it I was blown away by the rich flavor of this dish. But I regret to say it is not among the easy Indian dinner recipes one can make. Dal Makhani requires preparation the night ahead and quite a lot of time on the stove, however, the results are delicious!
It's a dish originating from New Delhi and made from urad dal, which is basically black lentils. Makhan means butter in Hindi, therefore referring to the buttery creamy texture of the sauce. Besides soaking the dal overnight, the preparation itself can take up to 3 hours, and a pressure cooker is required.
It is important to simmer it on low heat but for a longer time. You'll need some urad dal, kidney beans, ghee, butter, white onion, ginger garlic paste, red chili, salt, garam masala, sugar, and some cream. Serve this with roti, naan, or rice. I prefer to have this dish with butter naan, it's just mouth-watering. Stay tuned for our own Dal Makhani recipe! Oh, also we have a Coconut Dal recipe you should try!
Wrapping up the Indian Vegetarian Dinner Recipes – Easy Indian Dinner Recipes
We hope you have found all of the Indian dinner ideas useful on this list. From Indian vegetarian dinner recipes to easy South Indian dinner recipes, you'll find everything here. And there's so much more we could write about. Most of these recipes can be prepared and cooked under one hour, however, there are also a few which require more time and patience.
If you love these types of articles, check out the best dishes in Slovakia, famous dishes in Spain, or popular dishes in Germany! We cover also Hungarian dishes, Italians, and the most famous dishes in England too. Europe Dishes is all about food!
Pin it: 10 Indian Vegetarian Dinner Recipes – Indian Recipes for Dinner – Indian Dinner Ideas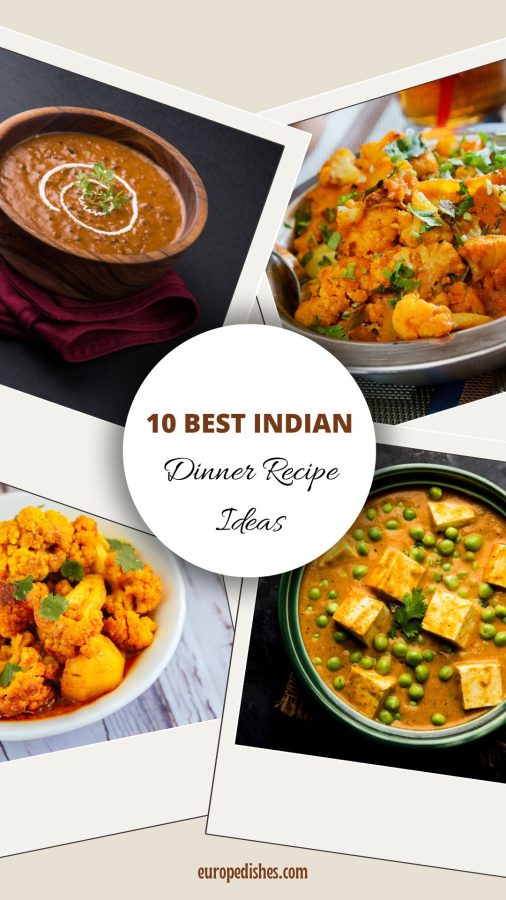 10 Best Indian Dinner Recipe Ideas