Gnocchi alla Sorrentina recipe is one of the basic Italian gnocchi recipes, that are not only very popular in Italy, but also worldwide. This Italian dish is dating back to the 16th century's Campania region, and it's one of the most popular dishes to try here after the pizza! Actually, the ingredients added to the gnocchi are just what's used for pizza Margherita. Gnocchi alla Sorrentina is a basic, and easy dish you can prepare at home with only a few ingredients, and it's guaranteed, that the whole family will love it! Of course, you can always choose to make it fast and easy, or make everything from scratch, and sacrifice more time for the best taste! Let's learn a few things about this dish, and then see the recipe!
Gnocchi alla Sorrentina recipe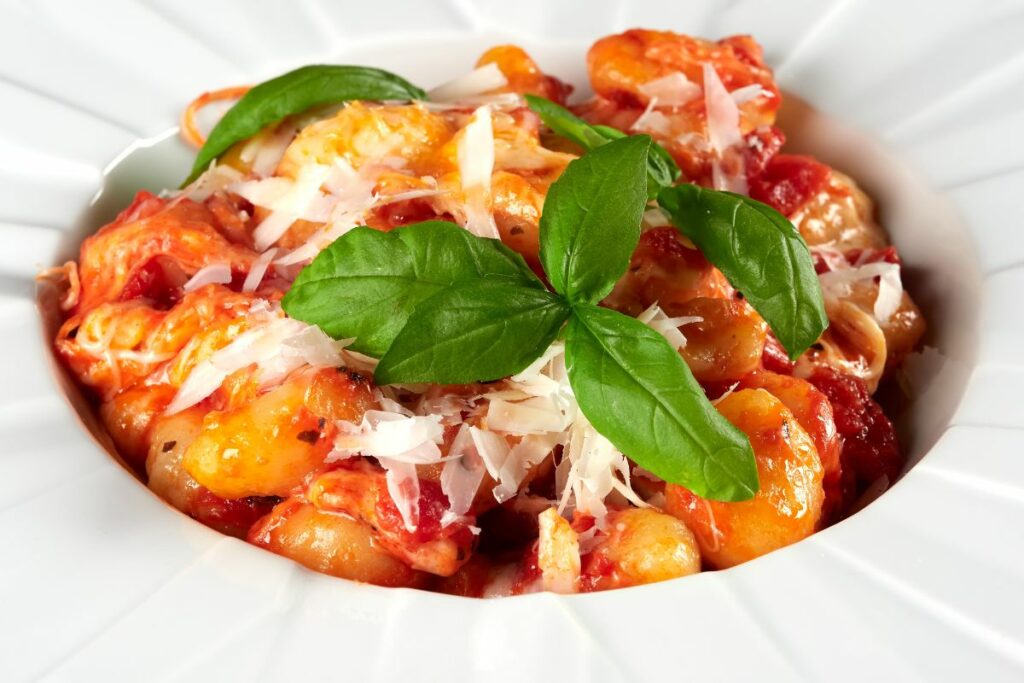 Where does the Gnocchi alla Sorrentina recipe come from? There are two tales actually, the first one that sets the origins of gnocchi in Northern Italy, but this is actually for the basic gnocchi. The Gnocchi Sorrentina recipe is believed to come from Sorrento, a beautiful town on the Sorrentine Peninsula (on the other side is the Amalfi Coast). Sorrento is one of my personal favorite towns in the area, with orange and lemon trees, and stunning views. There are plenty of spectacular hotels in Sorrento for the perfect relaxing summer holidays, but you can also do a day trip from Naples to visit!
Now, in Sorrento, legend says that a chef of an old tavern in Piazza Tasso (we're still talking about the 16th century) received a bag of this new vegetable coming from the newly discovered Americas, the potatoes, and while he was experimenting what can be made of potatoes, he created the first gnocchi. Gnocchi alla Sorrentina is traditionally made with the same ingredients as Pizza Margherita: mozzarella, tomato puree, and fresh basil.
How to make Gnocchi Sorrentina?
Making Sorrentina Gnocchi can be fast and easy, or you can go for the 2nd version which can be a bit messy and it takes longer. The fast and easy way is to buy gnocchi in the grocery store, as they are quite similar to homemade ones. Of course, they will never taste as good, but still, they are edible! The second version is to make yourself the gnocchi at home. This usually requires boiled and mashed potatoes, an egg, water, flour, and salt.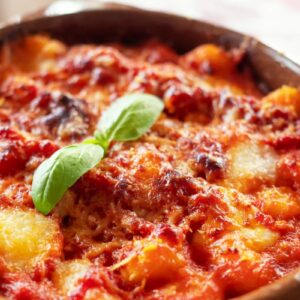 Gnocchi alla Sorrentina Recipe
A delicious Gnocchi alla Sorrentina recipe, originating from the region of Campania, from the town of Sorrento. Sorrentina Gnocchi is an easy and delicious dish made with the same ingredients as a Pizza Margherita.
Ingredients
500

g

Gnocchi

500

g

Tomato Puree

150

g

Fresh Mozzarella

10

fresh

Basil Leaves

1

clove

Garlic

15-20

g

Parmigiano Reggiano (grated)

1/2

tbsp

salt
Instructions
This recipe is based on the faster version of Gnocchi alla Sorrentina. So, you will need a pack of gnocchi from the store. You'll need to boil water, adding salt to it. The gnocchi is ready in 2-3 minutes, so you can start boiling the water when your sauce is almost ready!

In a saucepan pour 2 tbs of extra virgin olive oil, and saute the peeled garlic until it becomes pale golden. In the meantime chop 3 leaves of basil for later.

Chop the mozzarella into small cubes, and drain it. You MUST use fresh mozzarella, the one that's sold its liquid, and in order for the dish to not be watery, it's important for the cheese to be drained for a few minutes.

If you bought pre-grated Parmigiano Reggiano, you'll just have to prepare to have it by your side. If you've got the chunk of Parmigiano cheese, then at this point grate it so you'll have it ready when needed.

At that point, add the tomato puree, salt after taste, and 7 fresh basil leaves to it, and saute for another 10 minutes on medium heat. (You can add 1/4 tbsp of sugar too, that always makes the tomato puree better). Also, make sure you're stirring it from time to time.

After 10 minutes, take the pan off the heat, cover it, and leave it to rest. During those 10 minutes of sauteing the sauce, you can boil the water for the gnocchi too. In the meantime, you can heat the oven to 200°C.

As mentioned, the gnocchi in boiling water is ready in 2-3 minutes. The way you know the gnocchi is ready, is that they float to the surface of the water. As soon as they do that, you can start taking them off and putting them into a baking dish.

Add 3/4 of the mozzarella cubes to it, and mix it all together. Add the remaining 2-3 leaves of chopped basil and the tomato sauce. Make sure you remove the garlic and basil leaves before mixing the tomato sauce with the gnocchi.

Sprinkle on top the leftover mozzarella, and the parmesan cheese. Honestly, there's no rule for the parmesan, if you love cheese, just add more than 15-20g. Once you're ready, and the oven is pre-heated, put the baking dish in, and leave it to bake for 15-20 minutes.
Wrapping up the gnocchi Sorrentina recipe
Gnocchi Sorrentino (as some call it) is correctly Gnocchi alla Sorrentina. This is one of the easiest, and most delicious gnocchi recipes from Italy, and one of the best Italian dishes to try both in Italy, and at home. We also cover another amazing gnocchi recipe if you're up for something with way too much cheese: Gnocchi ai Quattro Formaggi. Of course, you can find many other Italian recipes on our site, such as bruschettas, carbonara, bolognese, and many more! Keep an eye on Europe Dishes for the best Italian recipes!
Pin it: Gnocchi Sorrentina Recipe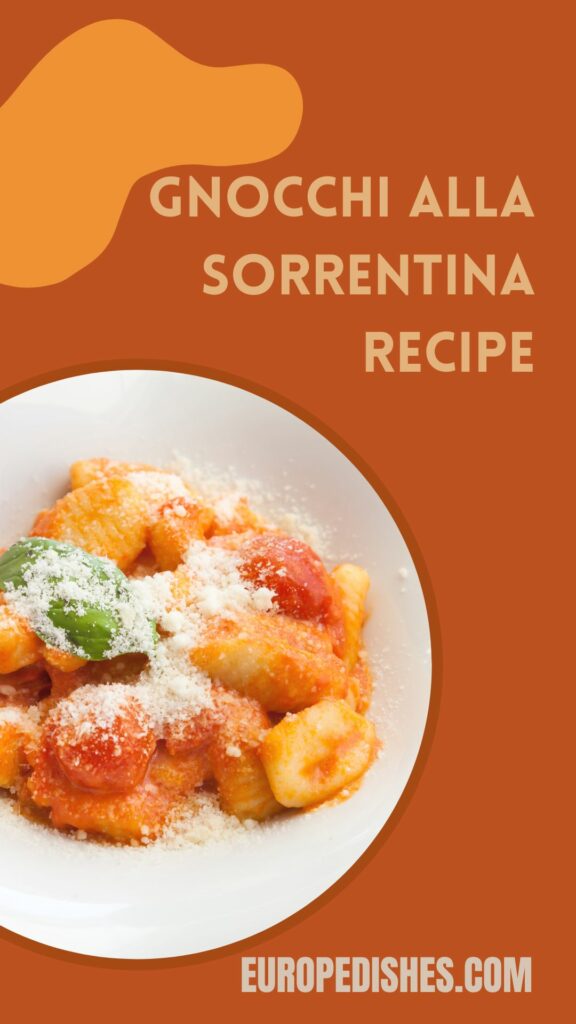 Gnocchi alla Sorrentina Recipe