If we speak about world cuisine, we always have a few countries that pop in our minds first, right? Spanish dishes are definitely one that everyone has on the list of their top 5, at least in Europe for sure. In this post, we'll be having a close look at the most popular food in Spain, along with different Spanish tapas. You can now find out what food to eat in Spain, and also what to drink. As the last on the list, you'll also find one of the most popular Spanish drinks, on side of the famous Spanish dishes.
10 Most popular food in Spain – Best Spanish dishes
Below you can find some of the best food to eat in Spain, like Paella, croquettes, churros, or the famous Tortilla de Patatas. On top of sharing the list of famous Spanish dishes, you'll find each of them linked in their recipes too.
Since on Europe Dishes we concentrate on European food, we wanted to make sure that we're covering also the recipes to some of the traditional Spanish dishes out there! Now, let's stop here, and let us discover what to eat and drink in Spain!
1. Paella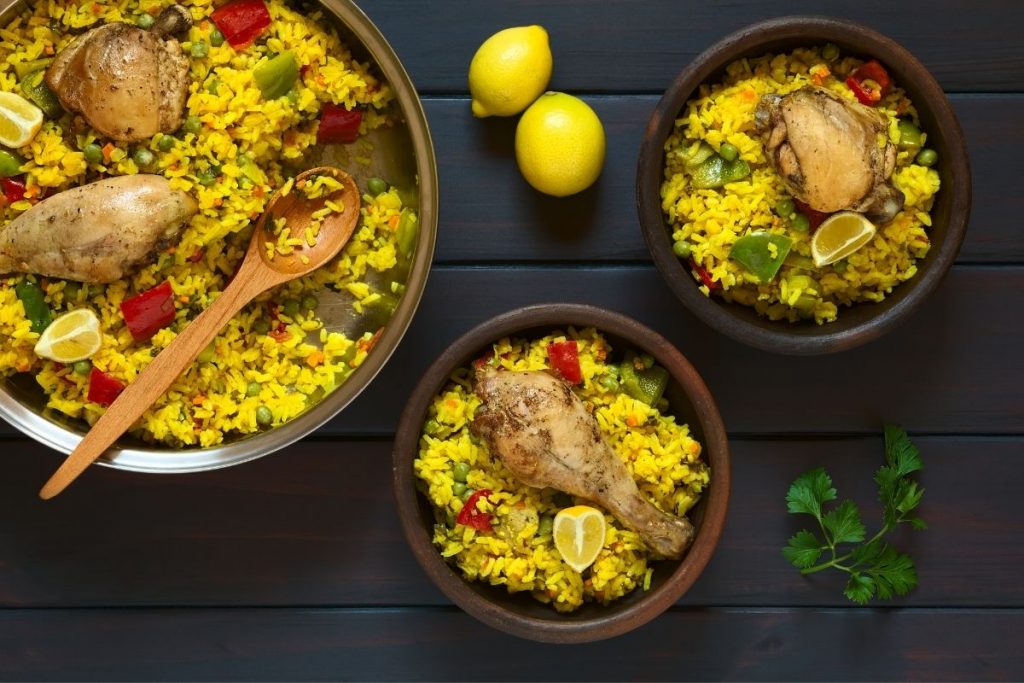 Paella is one of the most popular food in Spain and it's definitely our favorite lunch option when it comes to Spanish dishes! Since I'm personally not eating seafood, though the seafood Paella is the most popular, I'm rather making Paella with chicken. My first paella in Spain was in a restaurant in Malaga with chicken and pork meat.
Paella is one of the most popular dishes from Valencia, Spain but it's very famous actually all around Spain. The main ingredient of the Spanish Paella is rice, then vegetables, saffron, and different types of meat or seafood. It is definitely one of the best Spanish tapas recipes, and if you want to make a Chicken Paella, definitely check out our recipe!
2. Tortilla de Patatas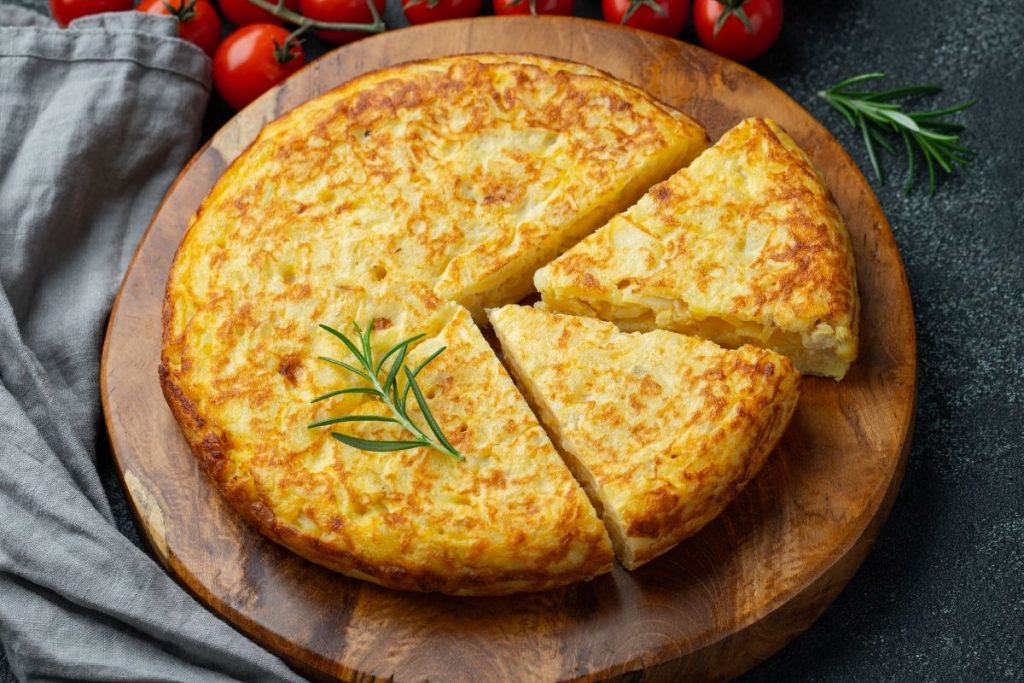 The Tortilla de Patatas or Spanish omelet is definitely one of the best food to eat in Spain! If you're looking for some of the most famous Spanish side dishes, or Spanish egg dish, you will always find the Tortilla de Patatas on the list. To make the perfect Tortilla de Patatas (Spanish omelet) you must use great quality ingredients and the best fitting saucepan.
Being one of the most famous Spanish dishes, the Spanish omelet is consumed as a tapa, but it also is consumed for lunch. In many countries where omelet or frittata is a breakfast meal, you might want to consider the Tortilla de Patatas too for a great Sunday breakfast or brunch.
The ingredients of the Spanish omelet are easy to find. You need eggs and potatoes. Though you can make it with onions and pepper too! You can find on our site as well the best Tortilla de Patatas recipe too!
3. Patatas Bravas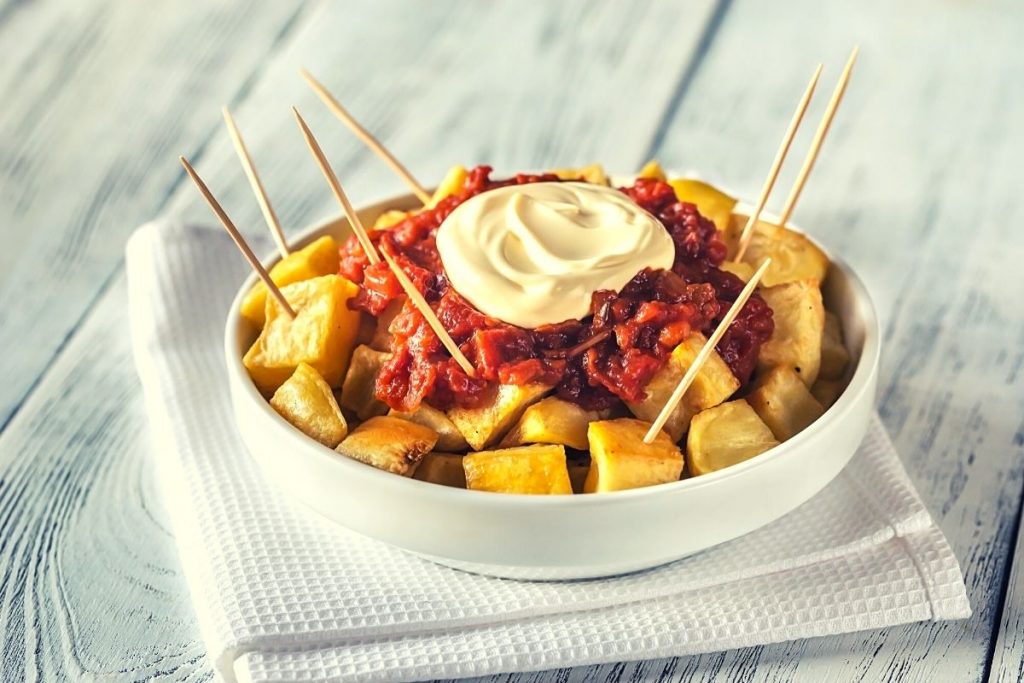 Patatas Bravas is one of those traditional Spanish dishes we can't ignore! It's simple, easy, and tasty. This is also one of the most popular food in Spain, especially in places like Barcelona! We all love chunky double-fried potatoes with delicious dips, right? Well, rest assured that this specific one of the Spanish dishes, you can find in any tapas bar, not just in Spain, but around the world.
The Patatas Bravas is one of a kind, with a soft inside and crispy outside. It is traditionally served with tomato sauce, which also can be spicy, and with alioi, which is more common in Calatonya and Valencia. Alioli is a garlic cream that makes the patatas bravas amazing and delicious. Patatas bravas is also a great pick if you're looking for Spanish side dishes for different meats and seafood.
4. Albondigas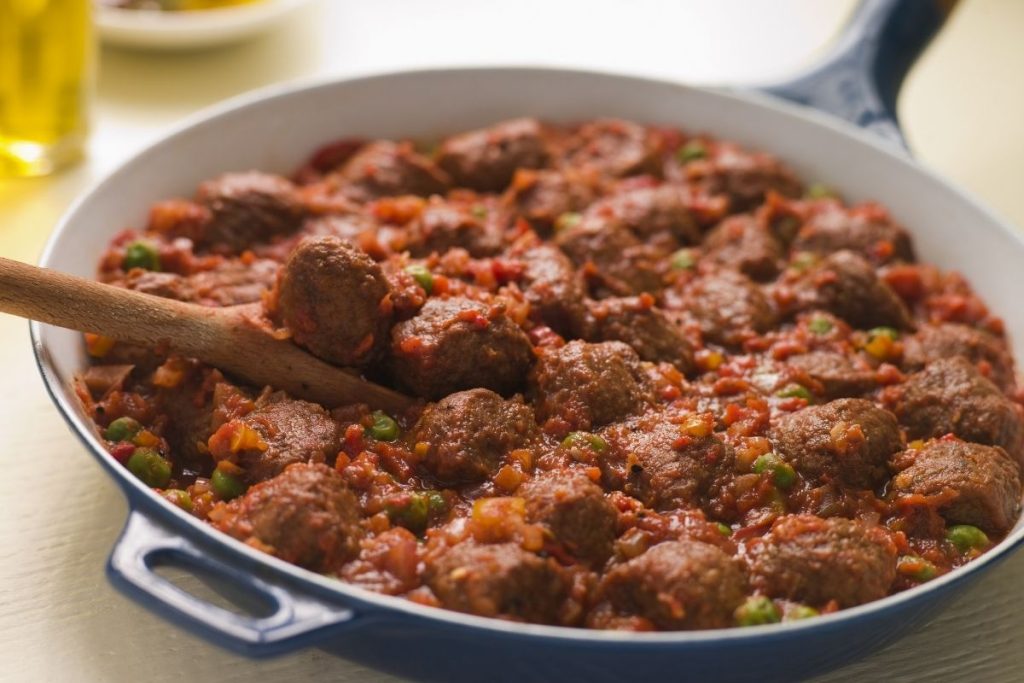 Right, so our next nominee on the list of famous Spanish dishes is Albondigas. We all love meatballs right? The whole world is rounding around different meatball dishes and recipes. Fried meatballs, non-Italian, Italian meatballs, cooked meatballs, or meatball soup… All that you can imagine.
Now Albodigas is one of the most popular Spanish dishes that's basically made of meatballs. These are meatballs served in tomato sauce. We've got something similar in Italy too. When you want to find out what to eat and drink in Spain, you might want to try Albodigas also because there are interesting variations done with different vegetables, or meatballs drizzled in almond sauce even.
5. Pisto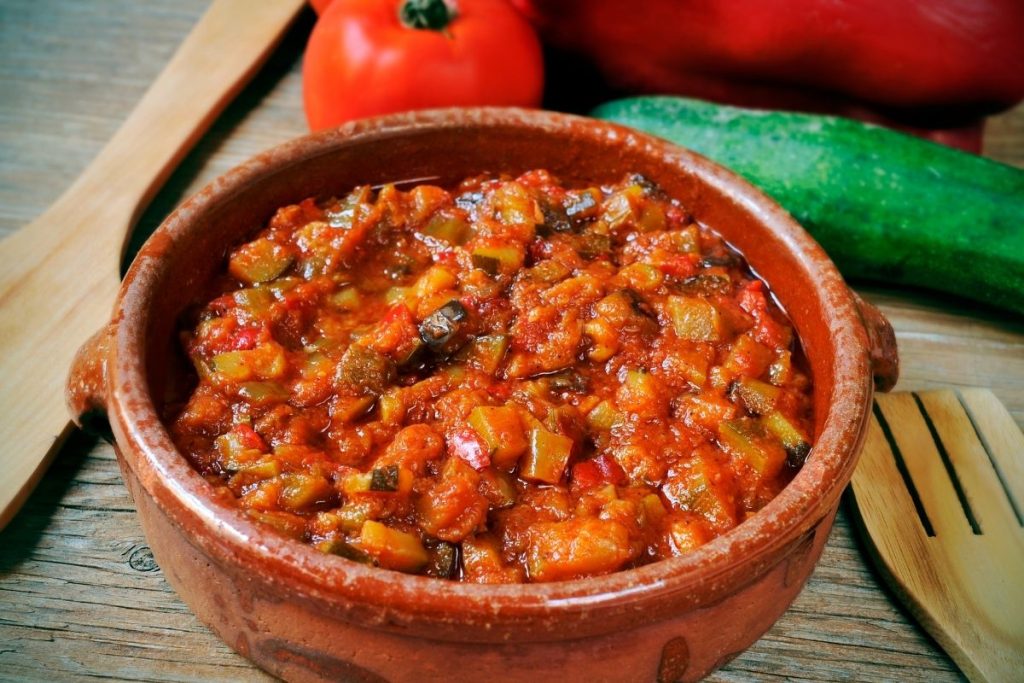 We're just halfway through the most popular food in Spain, so here's another highlight, the Pisto. Yes, you might have heard a lot already about the French ratatouille, but mostly because France marketed their food better than others. Pisto is basically the Spanish version of ratatouille, and to clarify, in many other European countries, like Hungary too has their own ratatouille.
If you're looking for traditional Spanish dishes, this is a delicious, tasty one. Pisto contains tomatoes, peppers, zucchini, garlic, onions which are roasted in olive oil. This dish comes from the La Mancha region, and you can have Pisto as an appetizer, main course, but also as a side dish.
6. Gazpacho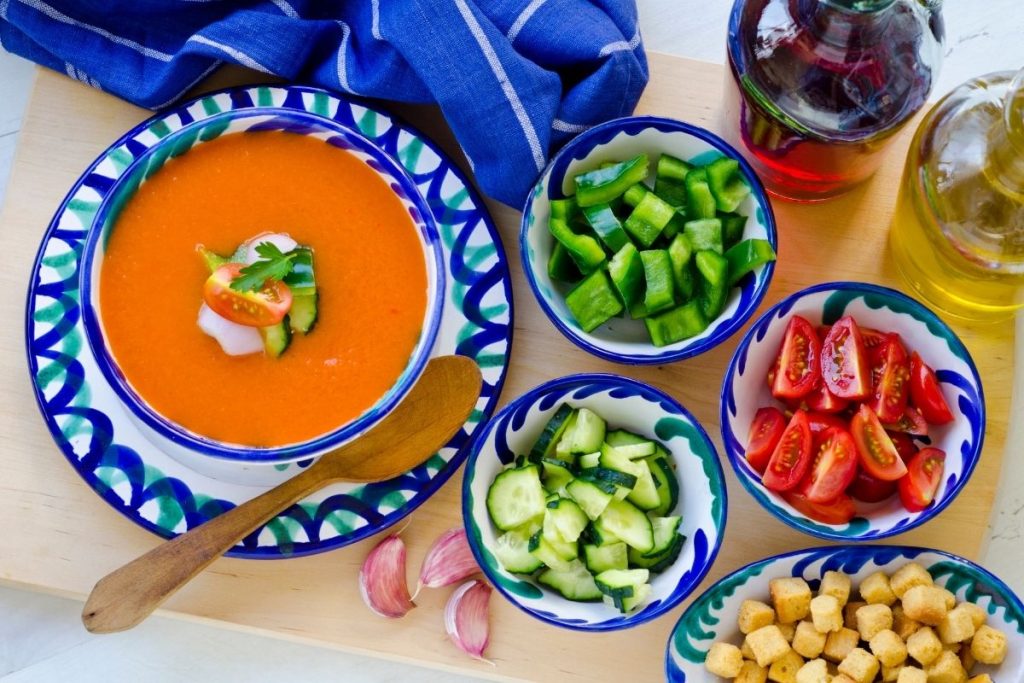 Gazpacho, mouth pouring just to think about it. One of the best food to eat in Spain is Gazpacho, the highlight of Spanish summers. There's no better way to cool down in Spain on hot summer days, than with a bowl of Gazpacho, that's usually served as an appetizer.
Gazpacho is also really easy to make at home. You just need fresh tomatoes, pepper, cucumbers, garlic, and herbs that go with gazpacho. On the side, you'll also need toasted bread. A really delicious dish packed with vitamins. You will definitely love this dish.
7. Fabada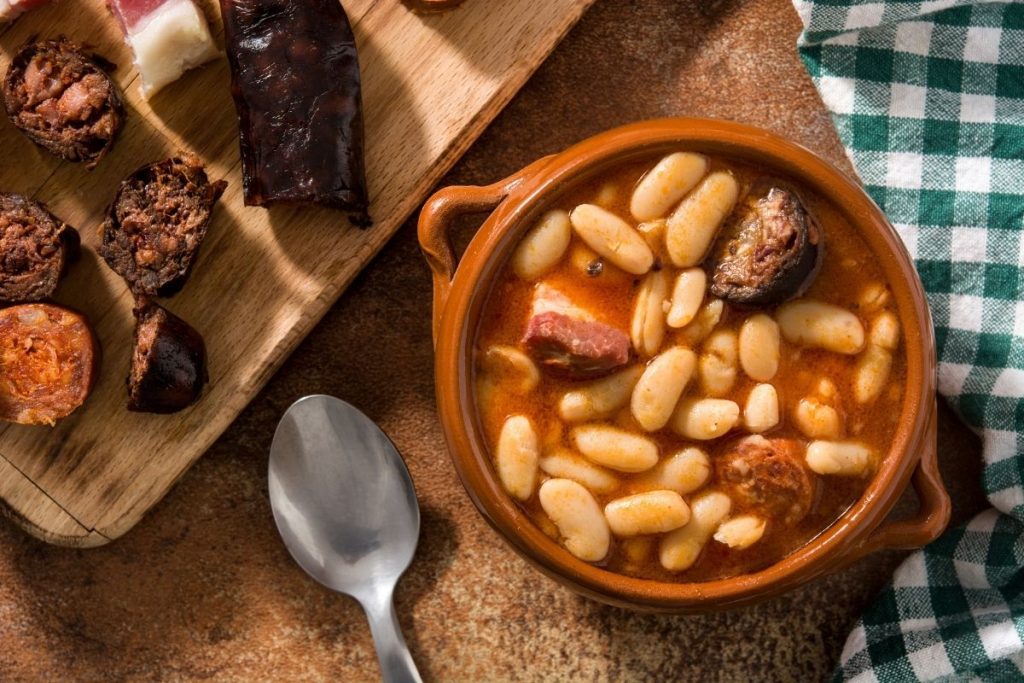 Fabada is one of the most popular food in Spain. A really simple dish, that can't miss the list of famous Spanish dishes. The interesting fact about Fabada is, that it's really much like the bean Goulash (Hungarian Bean Gulyas), just this one is made with sausages like chorizo and morcilla.
You can easily make this bean stew at home as well. The traditional Fabada originates from the Asturias region, but you can actually find plenty of variations in different regions of Spain. In each case, just as the Hungarian bean gulyas, the Fabada is also really delicious, simple, traditional, and you will surely love it!
8. Croquetas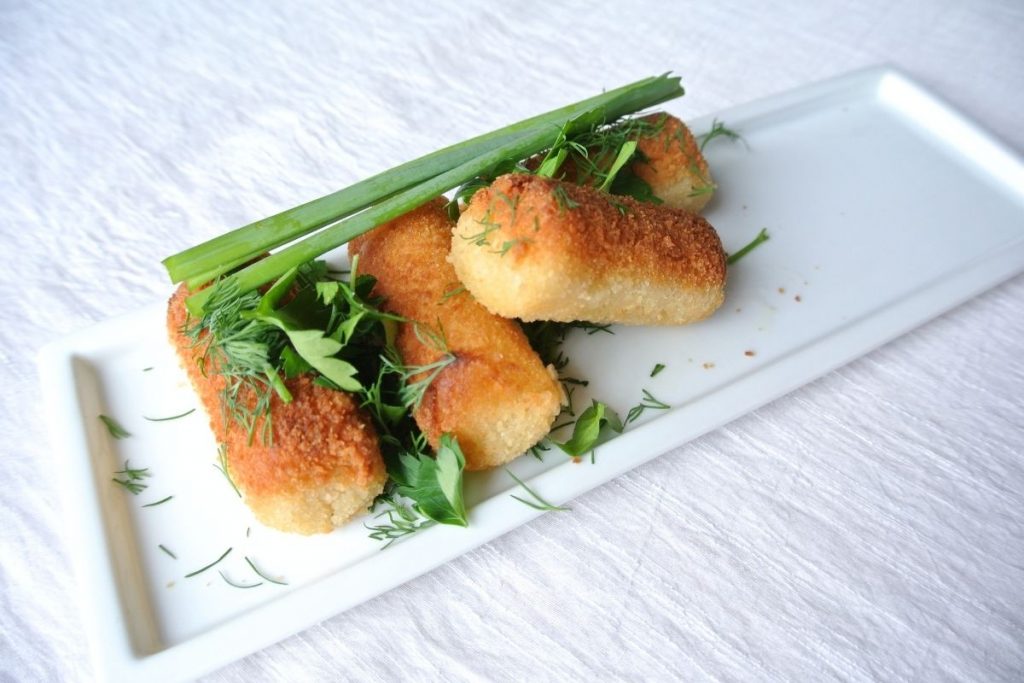 When it comes to the best tapas, and the best Spanish dishes, it's time that we talk about croquettes! The most traditional type of croquettes is those with ham. However, you can find croquettes with chicken, cheese, or mushrooms as well. There are croquetas with king crab, squid, cod, or prawns too these days! So, if you visit a Tapas Bar, you're looking for Spanish side dishes, or a Spanish egg dish, make sure you try croquettes!
Some of our favorite Croquetas are with different types of cheese! If you're looking for the best cheese croquettes or the best mushroom croquetas, we've got the recipe ready for you! Some of the best Spanish tapas recipes for sure! Croquetas are easy to make but it's messy work as well. However, the results are always worth the work!
9. Churros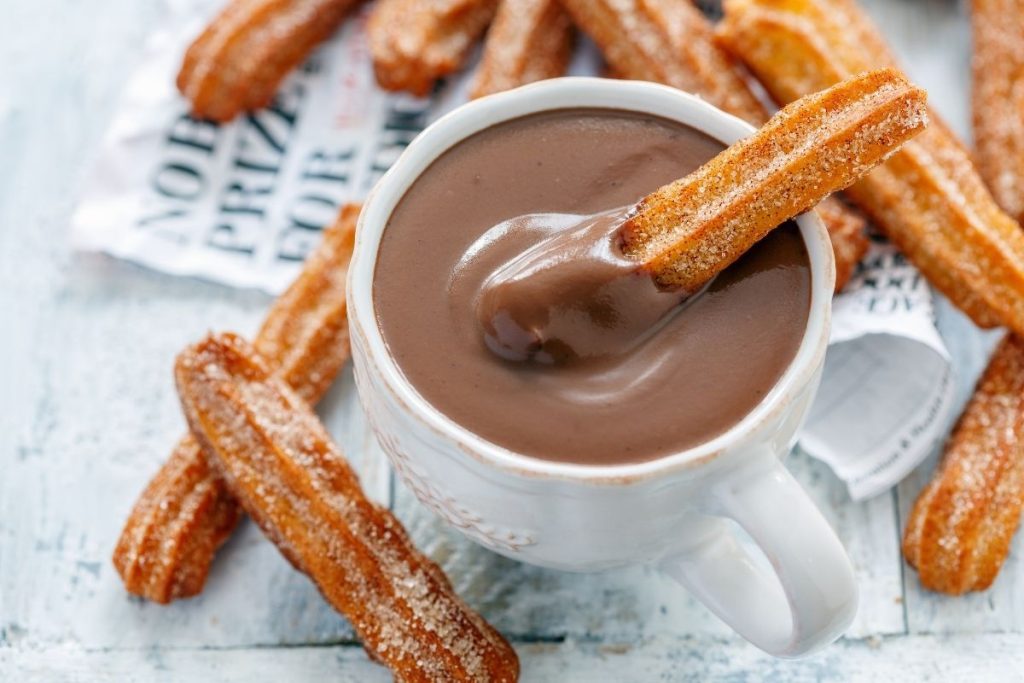 You can't imagine how heaven is if you don't try Churros! When it comes to regional famous Spanish dishes, this delicacy can't miss your Spanish food bucket list! When it comes to popular Spanish dishes, sometimes we might just forget the sweet things and concentrate on full meals, but in this case, we can't concentrate just on sugar and chocolate.
Churros are a popular snack made from fried dough pastry, that's doused in sugar. These are some popular things to eat in the morning, at parties, and get them at roadside vendors too. Start your day with hot churros dipped in hot chocolate… Is there any better way to start a day? – Actually yes, with Briosche with cream and Cappuccino in Italy, but we're talking about Spain now.
10. Sangria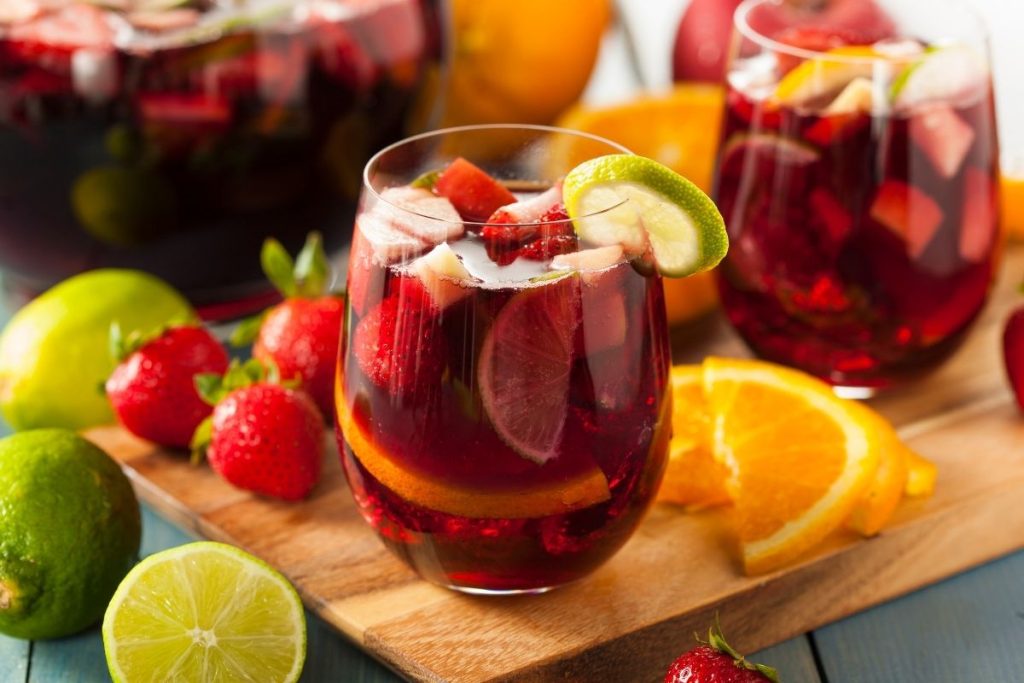 We're done talking popular food in Spain, it's Sangria time! When you speak with people about what to eat and drink in Spain, at the drink part, the conversation usually ends with Sangria. Something really, really delicious!
So what is Sangria? This is a traditional Spanish drink, that especially tourists love to drink without limits. Imagine tasty red wine with fresh fruits inside and orange juice. It's almost like the mulled wine, but for the summer, and it's really refreshing and delicious. Something you want to try when in Spain!
Wrapping up the 10 most popular food in Spain
Now that we've shared the most popular Spanish dishes, covering some famous tapas, traditional Spanish dishes, and the delicious Sangria too, I hope you're ready to dig into the Spanish cuisine and try these delicious dishes.
If you're traveling to the country, and you've been looking for food to eat in Spain, I tried to make sure to add on the list just those Spanish dishes, tapas, and Spanish side dishes that are actually popular Spanish dishes, so no matter which side of the country you visit, you could find each of these!
Pin it: 10 most popular food in Spain
10 Most Famous Spanish Dishes