What is a better way to discover the life in London than visiting pubs? Finding the best pubs in London is easy when you have a list like this. We have gathered some of the famous pubs in London that locals and travelers love visiting. Among these, we have also included the oldest pub in London, although it seems like there are quite a few of them.
Pubs are a part of the country's heritage, at least that's what nearly 50% of the locals believe. And I couldn't agree more. There's nothing like the feeling of stepping into a pub that you know has been standing there for decades. Some of the East end pubs in London have even been passed down for generations.
15 Best Pubs in London – Famous Pubs in Central London
But it's not just about drinking and dining. On this list, you'll also find the best pubs to watch football in London. After all, there are many sports fans in London, especially when it comes to football. I couldn't choose a favorite, they are all unique in their own way. Located in different parts of the city, but the central and East end pubs in London are probably the most popular. Read on to find out more!
1. The Seven Stars, Holborn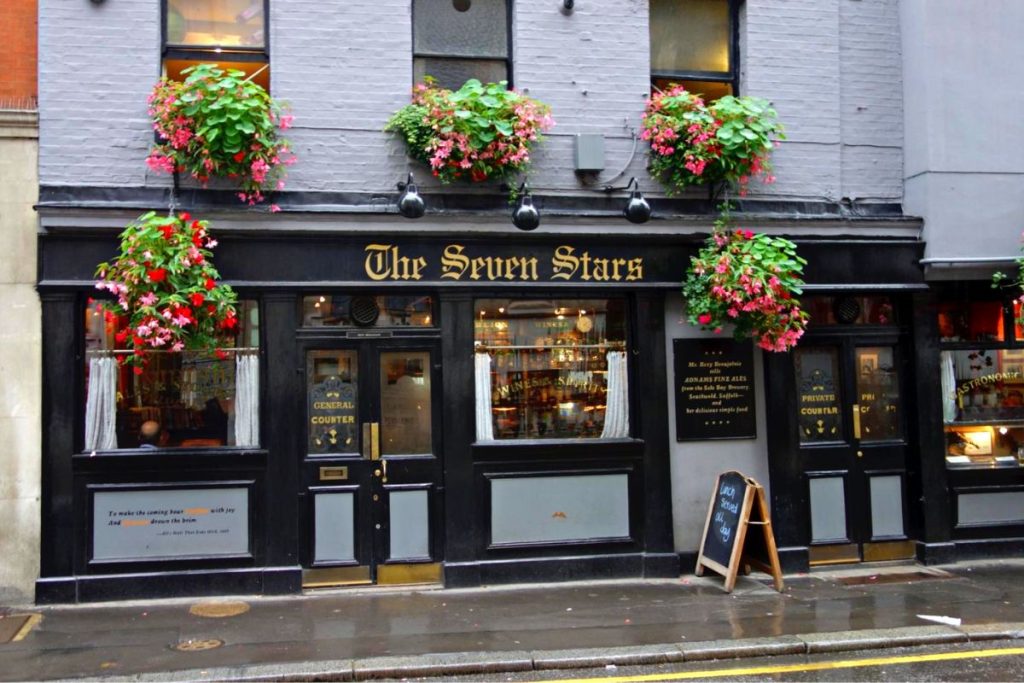 Do you want to step inside the oldest pub in London? Well, you can at The Seven Stars. It's the oldest living east end Pubs in London dating back to 1602. The structures of the buildings are listed Grade II, and 1603 was the last year of Elizabeth I's reign, so it really is extra special. The walls, the roof, and the floorboards are all old yet that's what holds all of the tails. Centuries of tales!
Not even the Great Fire of London could destroy this pub in 1666, it was really meant to be here so you can visit and have a cold beer inside. The Seven Stars is open pretty much every day, except for holidays. Its current owner Roxy Beaujolais decides what is on the menu, depending on freshness and her mood. We love this!
The Seven Stars location: 53 Carey St, London WC2A 2JB
2. The Abbeville, Clapham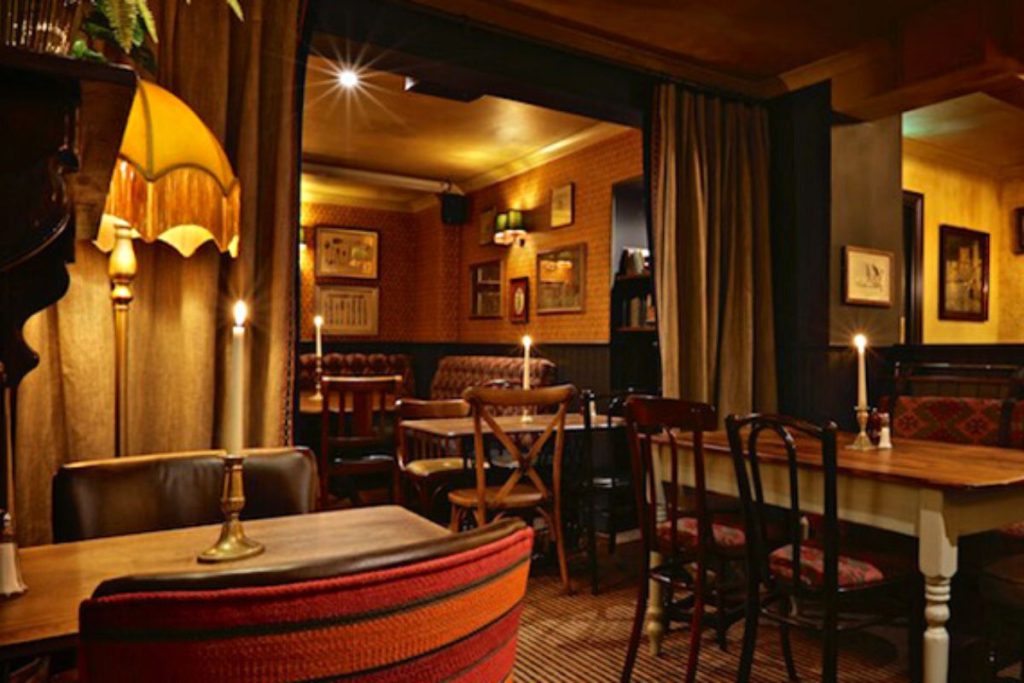 The Abbeville isn't as old as the Seven Stars, however, it's one of the best pubs in London that you should be visiting on your city break. It opened in 2003 and has been running since then. The three founders, Tom, Nick, and Mark want to make sure that customers feel the best in their pubs. It has won awards and serves delicious meals and wine.
The reason why it's also one of the famous pubs in London is all because of the small producers the Abbeville is working with. If you are looking to eat a delicious burger, you have to know that these are supplied by the producers of the British Isles. The chicken and pork are all free-range meanwhile the beef is aged in-house and even the fish is sustainably sourced. These guys are surely doing well!
The Abbebille location: 67-69 Abbeville Rd, London SW4 9JW
3. The Cricketers, Richmond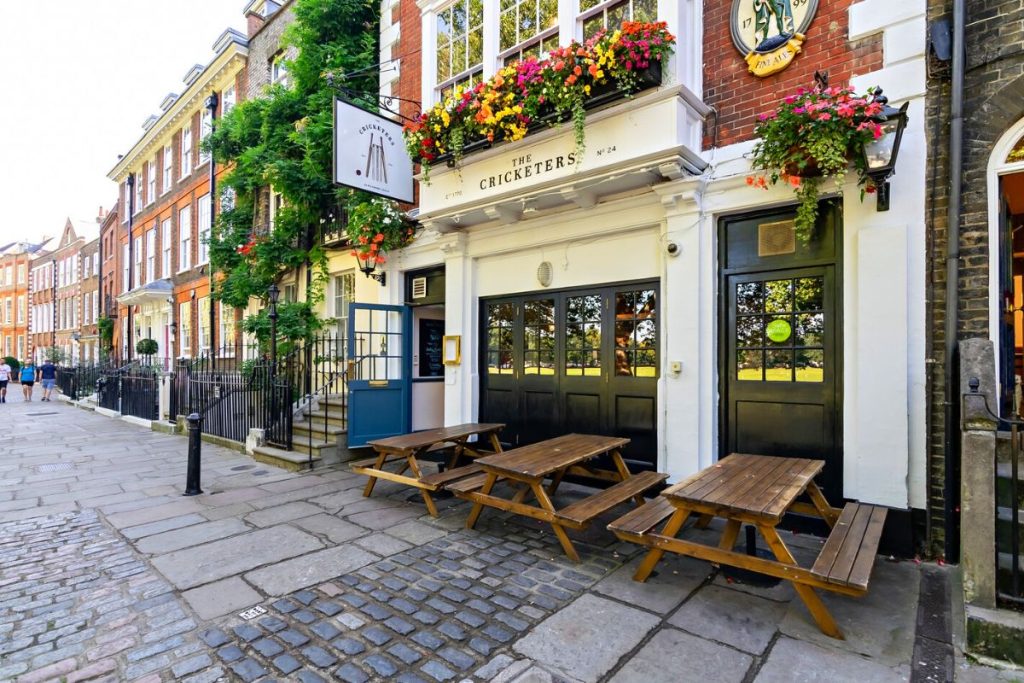 The Cricketers is also among the oldest pubs in London founded in 1770. The location of this pub is ideal for watching cricket or any other sports events. There isn't much information of how it was founded and who owns the pub at the moment. What we do know is that you can wine and dine here as well as celebrate special events. The Cricketers offer special packages, you can celebrate birthdays, engagements, or family gatherings.
Their food is delicious, with burgers, starters, sharers, and other lunch options. Try out the 'short rib & flank burger' or the 'vegan burger'. And they even have one of the special British desserts like sticky toffee pudding! If the main menu isn't enough, there's a separate Sunday menu which also has roasts. After all, a Sunday roast is mandatory! Check out the best pubs to watch football in London that we include on our list!
The Cricketers location: The Grn, Richmond TW9 1LX
4. The Crooked Billet Pub, Wimbledon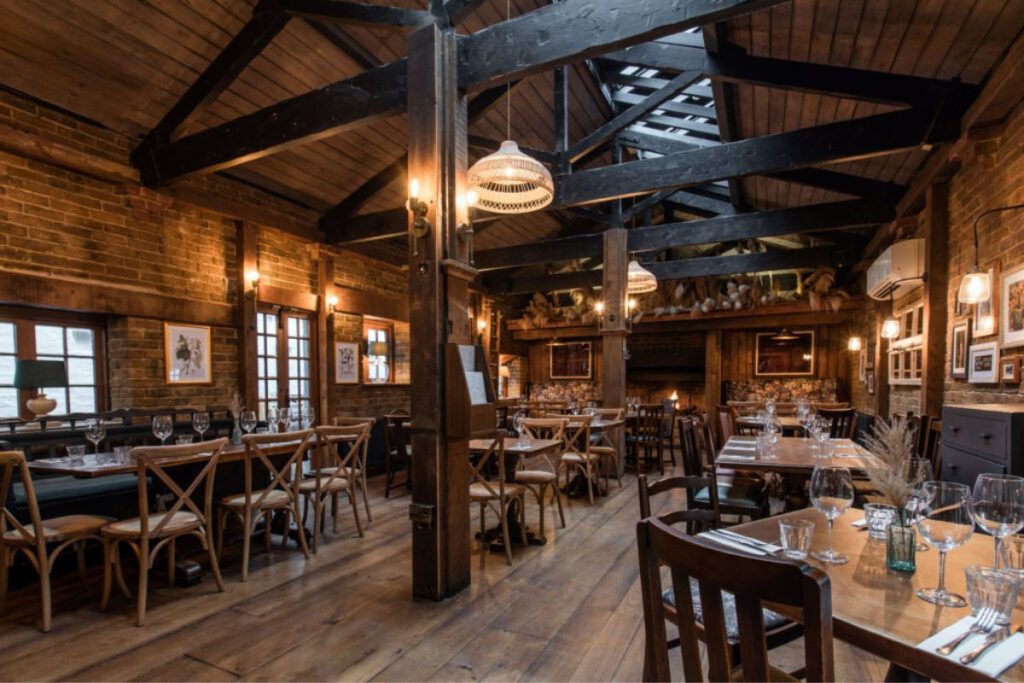 In case you are ever wandering in Wimbledon, The Crooked Billet Pub is a must-visit. From the high number of pubs in London England, this one is homely, and welcoming and they serve delicious meals. The Young family is the one who's still taking care of it since 1881. It has been passed down for generations now so you can be certain they take good care of it.
Their cask ales are award-winning alongside craft beers and let's not forget the wines and spirits. All of their meals are home prepared and they are seasonal. On the main menu, one can find the famous Billet Garden Platter which includes hummus, artichoke, sundried tomatoes, vegan feta, and many other delicious bits. The wine list is also extensive, you'll find some Italian white wines and Pinot Grigio.
The Crooked Billet Pub location: 15 Crooked Billet, London SW19 4RQ
5. The Royal Oak, Marylebone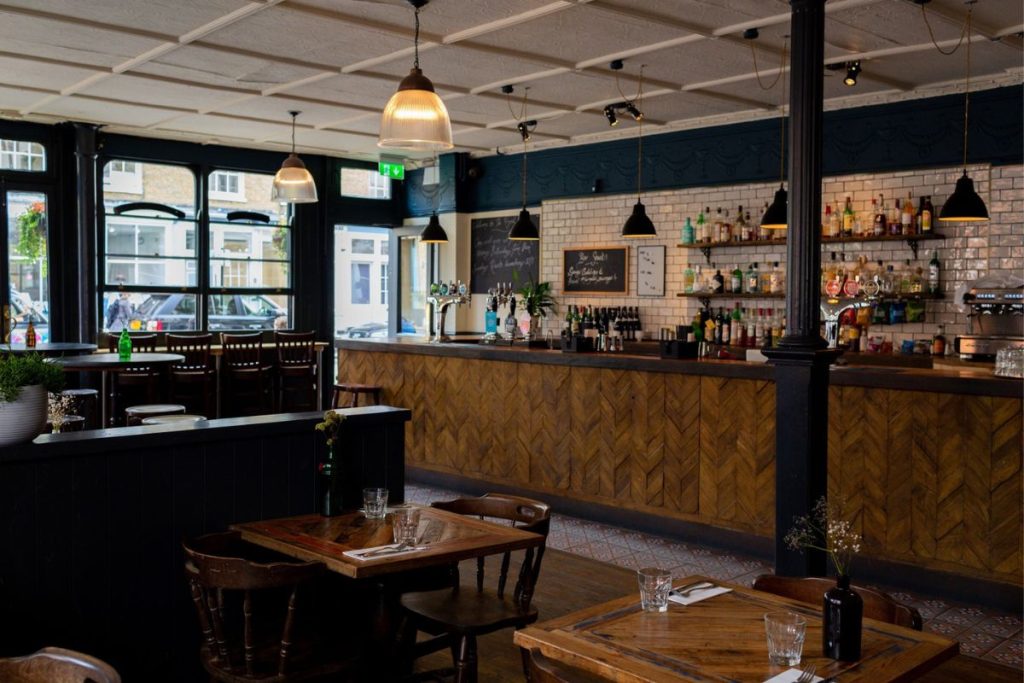 The Royal Oak is among the East End pubs in London established in 1807. They have quite a bit of history in making people gather together in an environment where the beer is good and everyone can enjoy an evening off from work. After all, their motto is 'Where everyone's a regular'. The food is updated on a regular basis at The Royal Oak.
It's not only the taste you'll fall in love with, but also with the presentation. And like every good pub, The Royal Oak also has a separate menu for Sunday's roast. The drinks menu consists of many different types of draught beers and ciders as well as a great selection of Spirits. One of the reasons why it's among the famous pubs in central London is thanks to its location.
The Royal Oak is not too far from Marylebone Old Town hall which makes the pub the perfect location for a small family gathering after a wedding. They offer personalized menus and provide an intimate and beautiful space for your celebration.
The Royal Oak location: 74-76 York St, London W1H 1QN
6. Colonel Fawcett, Camden Town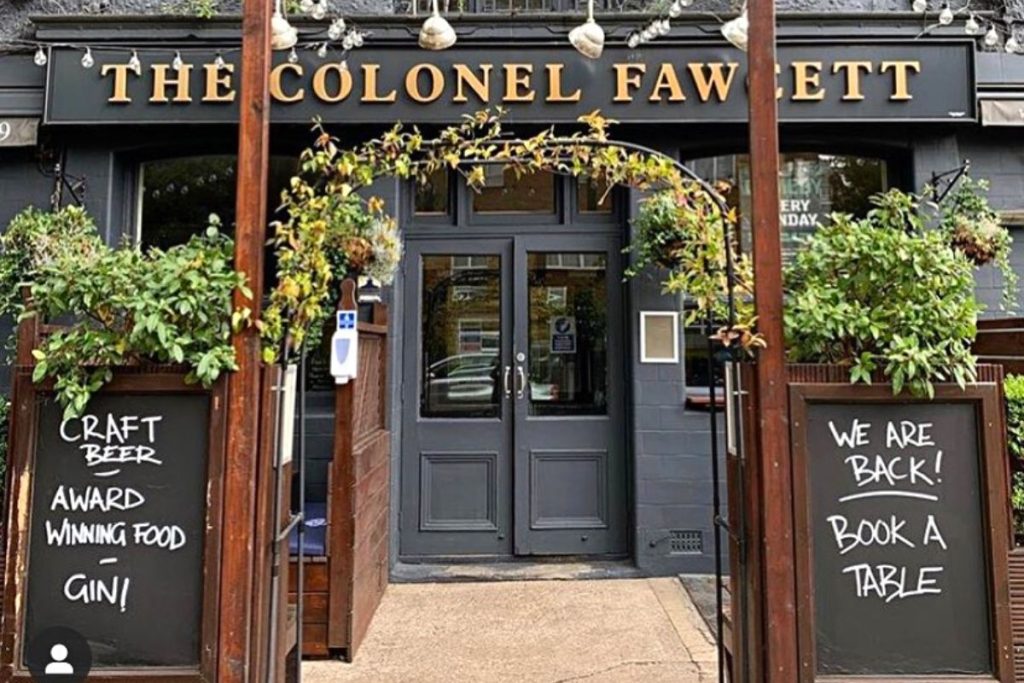 I love Camden Town in London. It's a colorful neighborhood with its amazing market on-site. But besides the market, you'll also find a few of the best pubs in London England here. One of them is the Colonel Fawcett pub. In case you're craving some craft beer, quality gin, and delicious British food, this is the pub to visit.
The pub opened up in 2011 and it's been among the best pubs in Camden Town London ever since. The atmosphere is welcoming, and according to the founders, their beer range has improved and extended over the years. Colonel Fawcett also has an atmospheric garden and hosts weddings and other parties too. It's the perfect spot for a Victorian themed wedding!
The Colonel Fawcett location: 1 Randolph St, London NW1 0SS
7. The Newman Arms, Fitzrovia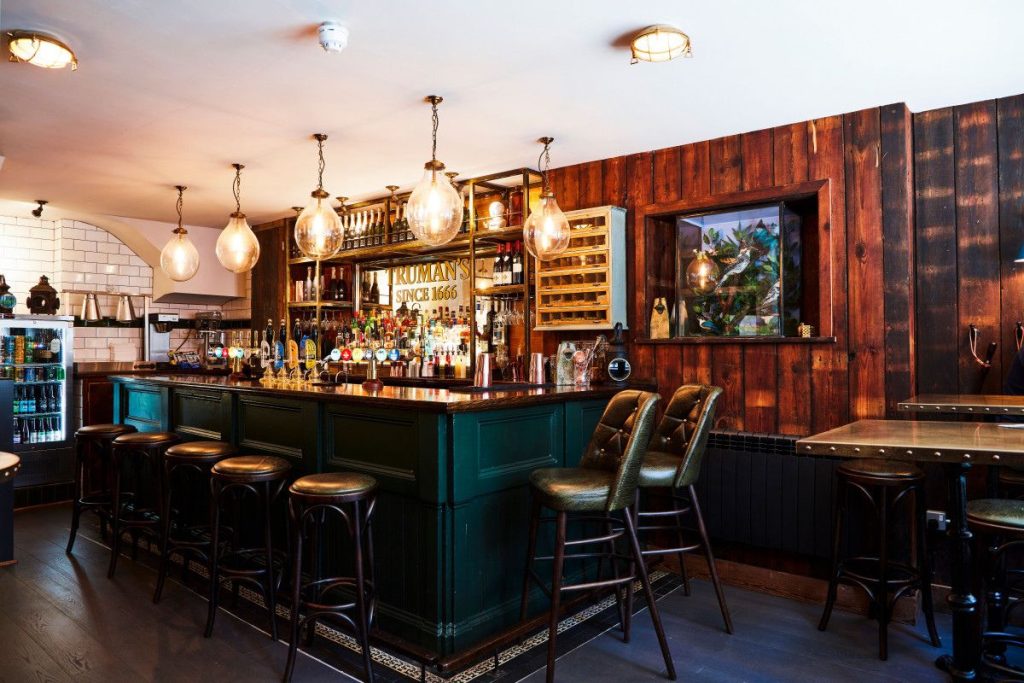 Fitzrovia is a neighborhood in London that's situated nearby Marylebone and Mayfair, as well as Covent Garden and Soho. So it's safe to say there are a high number of famous pubs in Central London and among them, we can count The Newman Arms. The pub dates back to 1730 and famous people have been inside, like George Orwell or Dylan Thomas.
It has exquisite decor and an amazing atmosphere. The Newman Arms does not serve food at the moment, however, for a night out with your friends, enjoying some drinks is perfect. They offer over 10 different draft beers as well as the best beers from UK breweries but not just. On top of that, The Newman Arms in Fitzrovia also serves delicious cocktails, wines, and spirits.
The Newman Arms location: 23 Rathbone St, London W1T 1NG
8. The Guinea Grill, Mayfair
Although we have mentioned the oldest pub in London before, The Guinea Grill can be traced back to 1423. At the site of the existing Guinea Grill, back in 1423, there used to be an Inn. Then the restaurant officially opened in 1952. This place has a lot of history which makes it even more exciting to visit. Firstly, they have two restaurants on site.
You can book a table at either one of them, the earliest opening time is 12.30. The Guinea Grill even offers a private room that fits up to 28 people for a private gathering. You'll be having the best pub food in central London! They serve delicious steak paired with the best selection of wines. Furthermore, the pub also serves steak in the form of a pie or kidney pie. You shouldn't miss out on trying them!
The Guinea Grill location: 30 Bruton Pl, London W1J 6NL
9. The Yard, Soho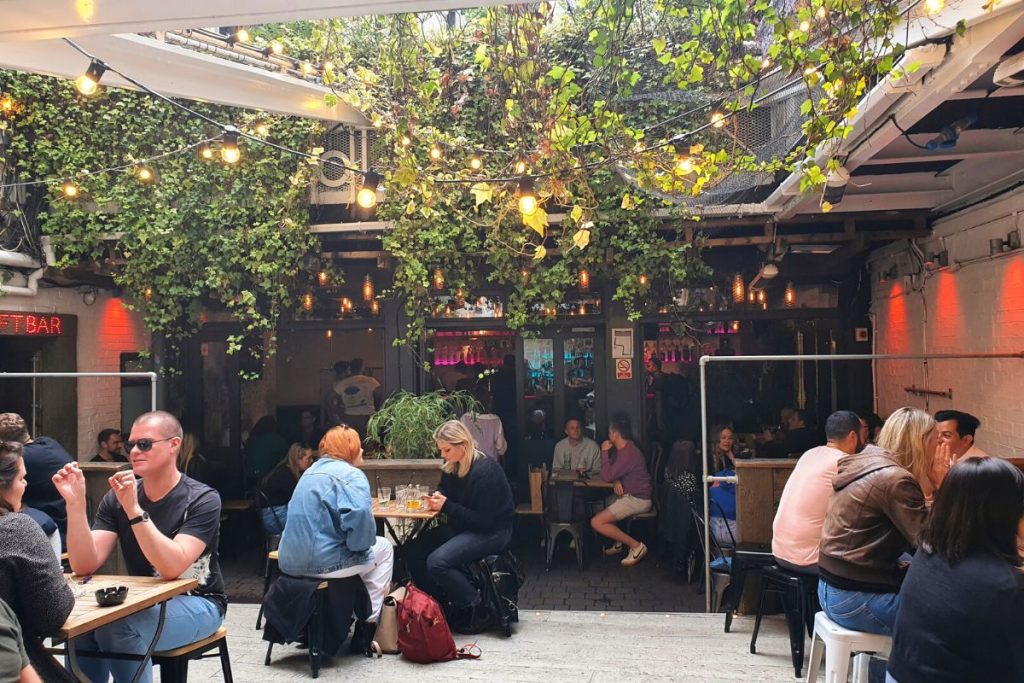 The Yard is an amazing gay bar in Soho. It has such a cool vibe and a unique atmosphere. There are great parties here for any occasion. It is a little bit hidden, so you'd have to pay attention to the massive sign. More precisely, you can find The Yard on Rupert Street, entering a beautifully decorated little alley and you're welcomed in a friendly-looking bar.
The bartenders are all lovely, there's a high selection of beers, spirits, cocktails, and much more. It's one of the best pubs in London I have been to! You are not required to make a reservation, but it is recommended on especially in the evening, as it gets really crowded. The Yard celebrates everything, from Chinese New Year, to Halloween, Pride, or Valentine's day! From the great number of pubs in London, I suggest you check this one out! Love, peace, and good vibes!
The Yard Bar location: 57 Rupert St, London W1D 7PL
10. Hippodrome Casino, Covent Garden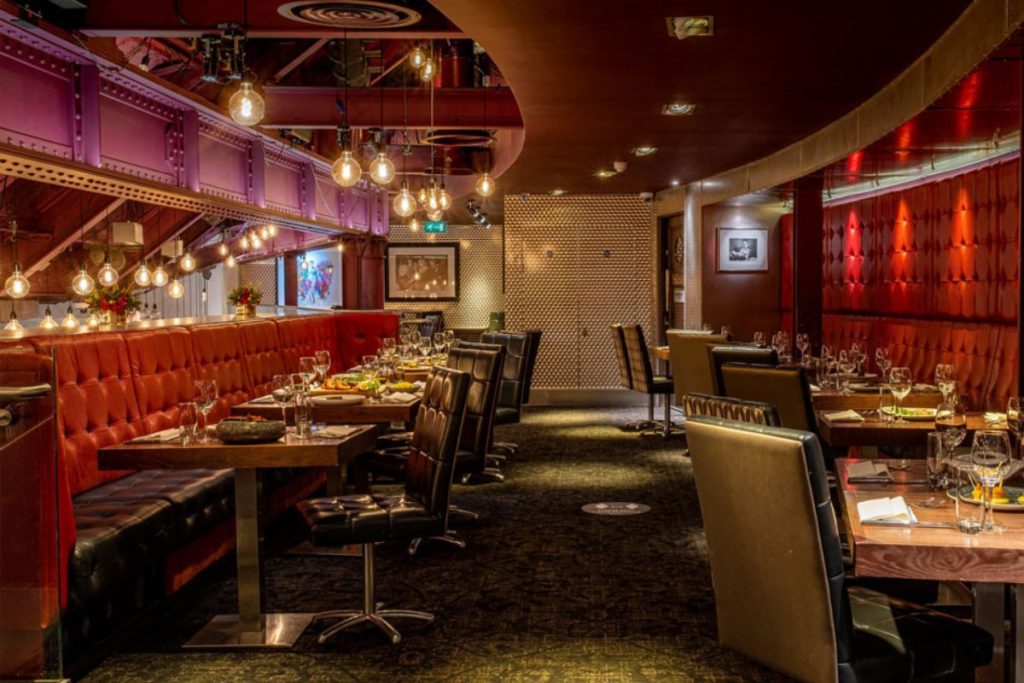 This isn't one of your usual famous pubs in London England, the Hippodrome Casino is nothing you've seen before. Ladies, if you wish to see Magic Mike, head to Hippodrome Casino. This is the 'biggest entertainment and casino venue in the country' and they welcome millions of guests each year. Besides the Magic Mike show, there's also a large casino with table games, slots, poker, and much more.
Furthermore, the Heliot Steak House is a famous restaurant serving delicious meals. Then you have the rooftop terrace which is on the third floor. It also features outdoor gaming, dining, and drinking. Book yourself a table for special occasions or if you just want the coolest atmosphere with the best entertainment, you will not be disappointed here!
The Hippodrome Casino location: Cranbourn St, London WC2H 7JH
11. Lock Tavern, Camden Town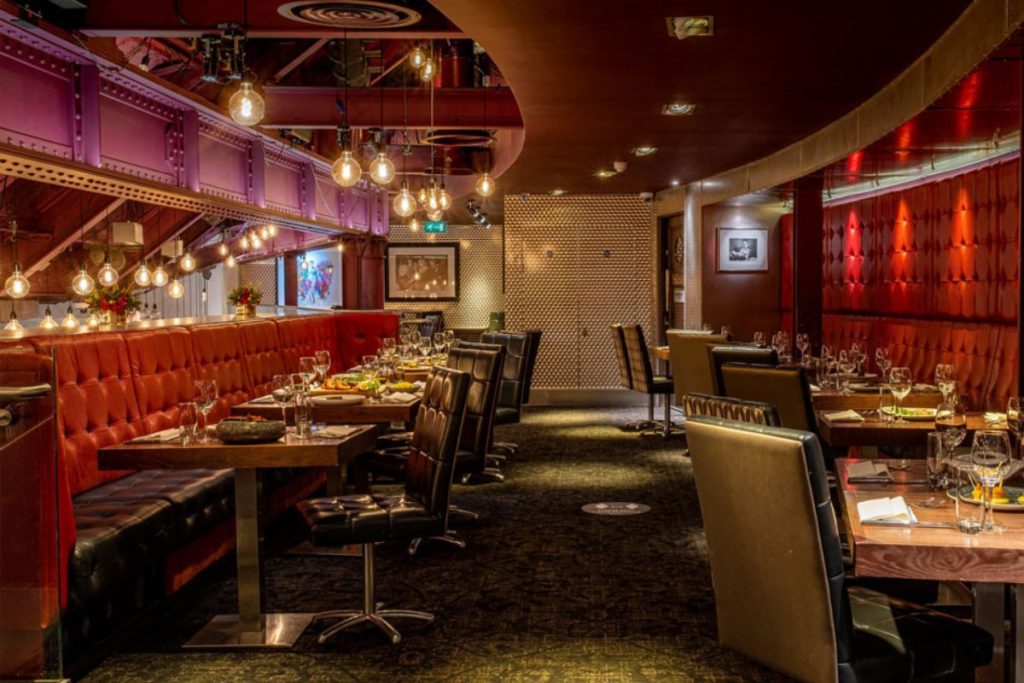 To bring you more of the pubs in Camden Town London, one must check out Lock Tavern. The pub has recently been renovated and they sell probably the cheapest beer in the area! When you step inside you'll appreciate the decor and vibe of the space. They host private parties, weekly pub quiz as well as Sunday Roasts.
Furthermore, Lock Tavern prides itself on mouthwatering beef burgers as well as the most delicious vegan mushroom burger. But it's not just for everyday time passing, Lock Tavern is also among the best pubs to watch football in London. Try out everything from starters, to burgers, pizzas, salads, and some delicious desserts.
Lock Tavern location: 35 Chalk Farm Rd, Chalk Farm, London NW1 8AJ
12. Ye Olde Mitre, Holborn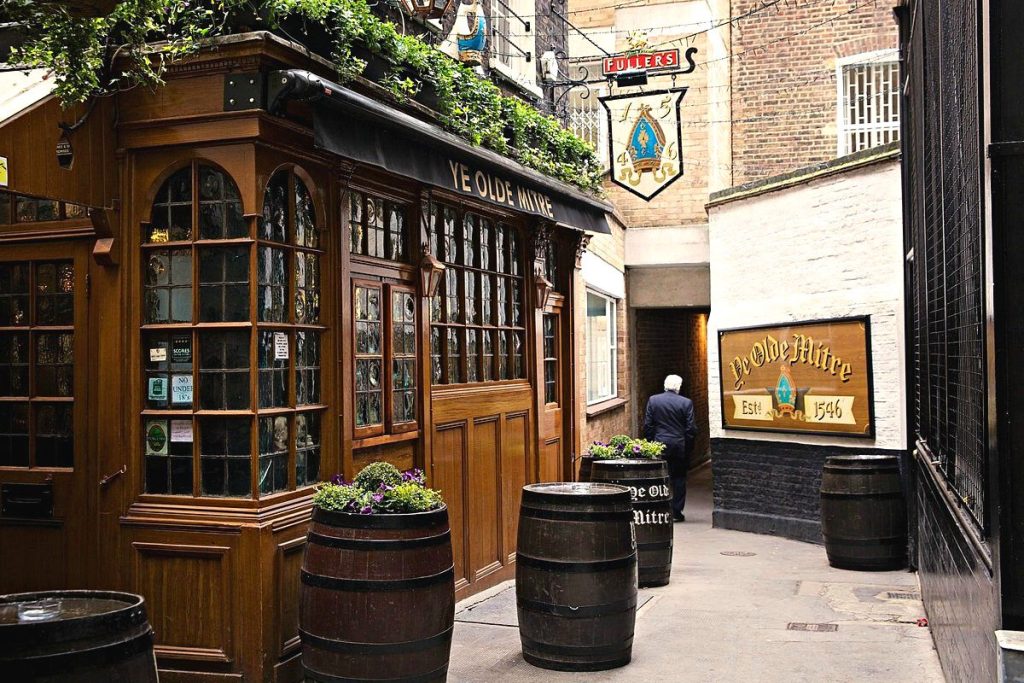 When I look at this pub, I can't help but think about Peaky Blinders, even if the establishment year was way before them. The outside and inside of Ye Olde Mitre are truly legendary. It's supposed to be the oldest pub in London, among the top three properly as it was established in 1546. It's hidden away in a small alley, with barrels outside the wooden facade to match the style and oldness of the pub.
Ye Olde Mitre offers a great menu for the best meals, private events, and great craft beers. From the menu, one can select a number of homemade snacks and delicious toasties. As with any British pub, it's natural that you'll find the best draught beer or cask ale. Besides this amazing pub, we have a few more of the best pubs in London to look at!
Ye Olde Mitre location: 1 Ely Ct, Ely Pl, London EC1N 6SJ
13. Rose of Denmark, Woolwich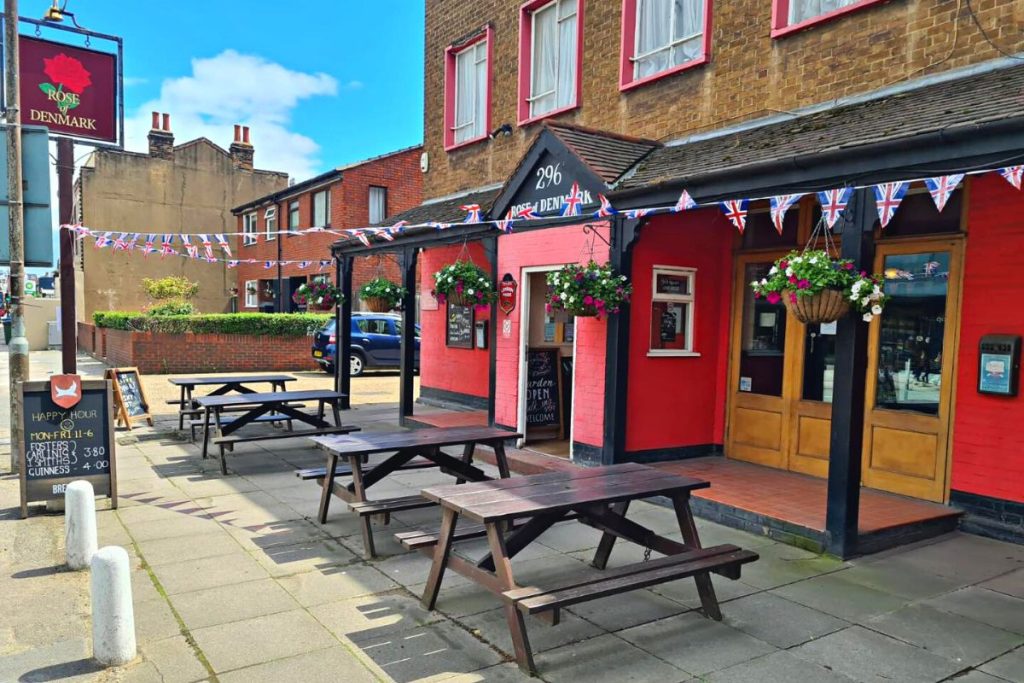 We cannot miss out on the Danish pubs in London, of which one is Rose of Denmark. In the Woolwich neighborhood, you must visit this lovely pub. They occasionally offer live music, karaoke, discos, and even special events. But I really love the way this pub looks like. If you've been to Denmark before then you'll surely discover a piece of Denmark here too.
It's also among the best pubs to watch football in London as Rose of Denmark has Sky Sports and BT Sport. They all love football and follow international football, racing, rugby as well as cricket and gold. You really cannot go wrong with stepping inside this pub. Although they do not serve meals, there's a great selection of beers, wines, and spirits!
Rose of Denmark location: Rose of Denmark, 296 Woolwich Rd, New Charlton, London SE7 7AL
14. The French House, Soho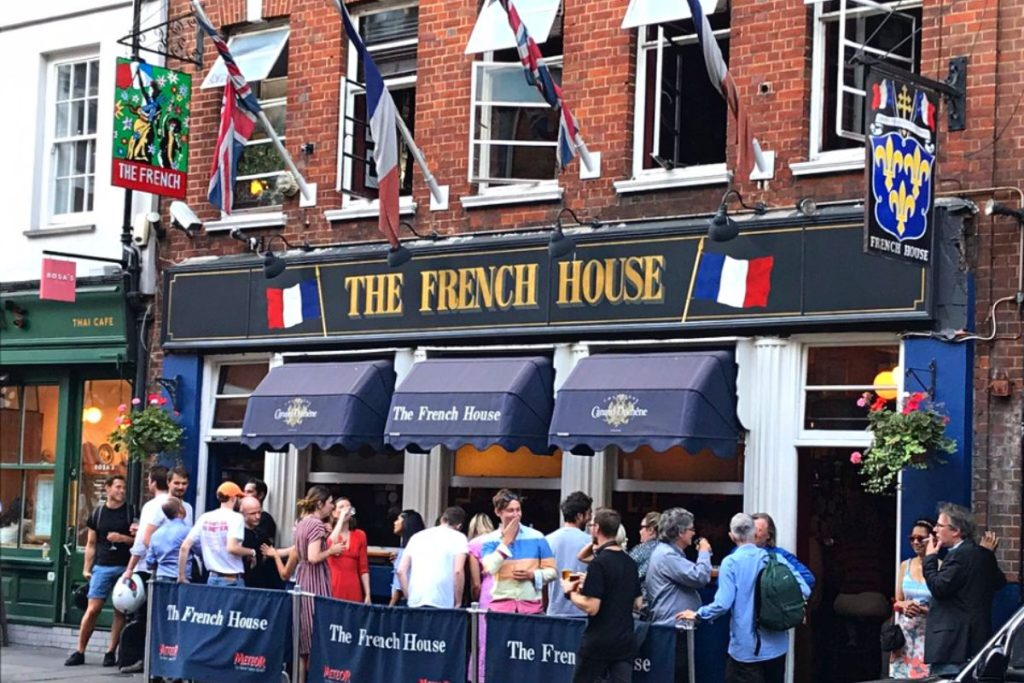 The French House is amazing for artists and writers. It's a place where everyone can gather for drinks and food while enjoying the best conversations. When you visit the pub there's no music, machines, television, or even allow you to use phones, this way ensuring that guests actually talk to each other.
I cannot say this is really the case each time, however, it is a really nice incentive. I'm sure we've all been there when we're with a bunch of friends and suddenly everyone starts to use their phones. It's also said that this is the best pub food in central London, so make sure to check out the menu!
The French House location: 49 Dean St, London W1D 5BG
15. Dirty Dicks, Liverpool Street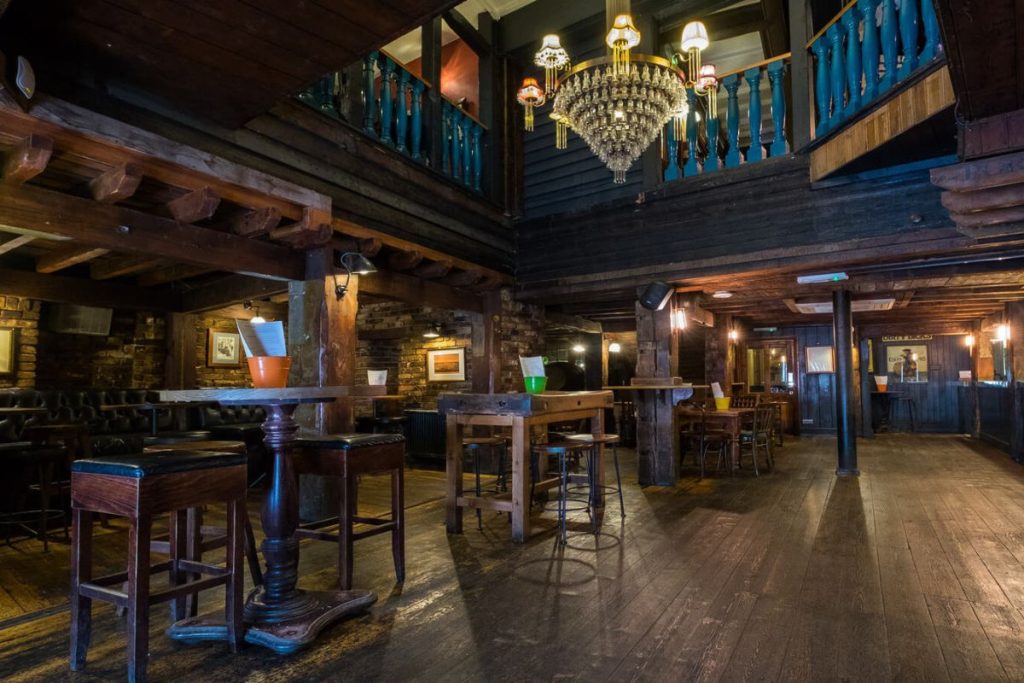 The last on our list of East End pubs in London is the Dirty Dicks. This one is legendary and you'll see it right when you walk out of Liverpool Station. Well, depending on which street you're walking to. The pub has been established at the beginning of the 19th century. It's close to Shoreditch too.
But the name isn't the reason why this is one of the most famous pubs in central London. I suggest you have some fish and chips, which is a true classic in England! Dirty Dicks also offers the most delicious Sunday Roast selection. Don't forget to check out the great selection of drinks.
Dirty Dicks location: Swedeland Court, 202 Bishopsgate, London EC2M 4NR
Conclusion – Famous Pubs in London – Pubs in Camden Town London
Before we move on, make sure you check our other articles for breakfast places in London, rooftop bars, michelin-starred restaurants, Asian restaurants, and Italian restaurants in London! That concludes our list of the best pubs in London. Do you know which one you'll be visiting? I can definitely recommend the pubs in Camden Town London, but also the Danish pubs in London. Or better yet, why not visit a number of pubs in London in a day. It's like taking a historical trip to old landmarks, to buildings that have stood against the test of time!
Pin it: Oldest Pub in London – Best Pub Food in Central London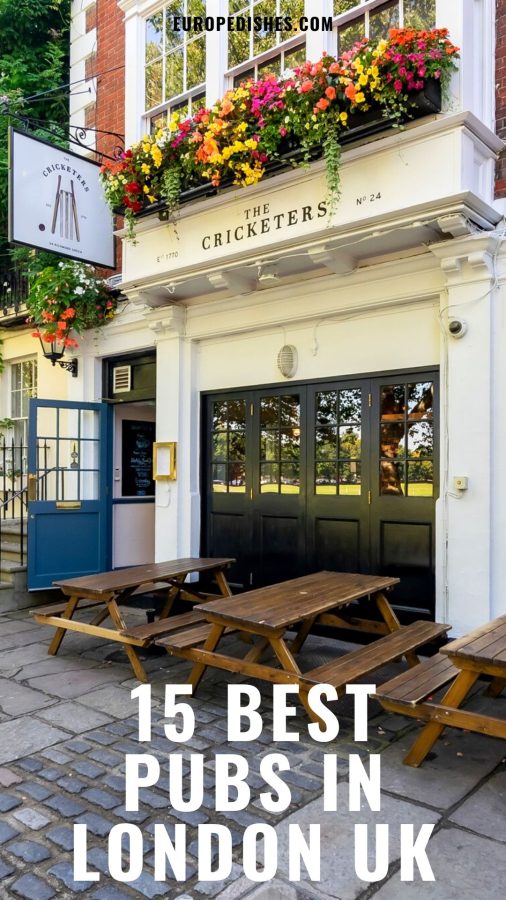 15 Best Pubs in London UK