In between London and Brighton there lies a small but rather charming market town, East Grinstead. It is home to the longest continuous runs of 14th-century timber-framed buildings in the whole of England. The peaceful air is only disturbed by the buzz caused by the best East Grinstead restaurants. Pubs in East Grinstead have so many different and exciting features to offer, for example, the Wiremill East Grinstead, which offers a getaway from the busy everyday life to a tranquil lakeside inn and pub. If it's not a getaway that you are looking for, but something exciting, something colorful and lively, then why not try out one of the newest cocktail bars in East Grinstead which opened their doors earlier this year? Whatever you're looking for, rest assured, you will find it in East Grinstead England!
10 Best East Grinstead Restaurants and Pubs
East Grinstead should be on every adventurer's list of visiting in south-east England. Not only for its unique history and beautiful countryside scenery and woodlands but because of the varied cuisine style that East Grinstead restaurants have to offer.
You will definitely find everything in East Grinstead: pizza, Mediterranean restaurants, classic English pubs and so much more. The pubs in East Grinstead, UK will not disappoint either with their wide selection of gins and with their personally tailored services, for example, the Wiremill pub East Grinstead offers its customers the chance to send a handcrafted cocktail anywhere in the UK via post.
1. Rocca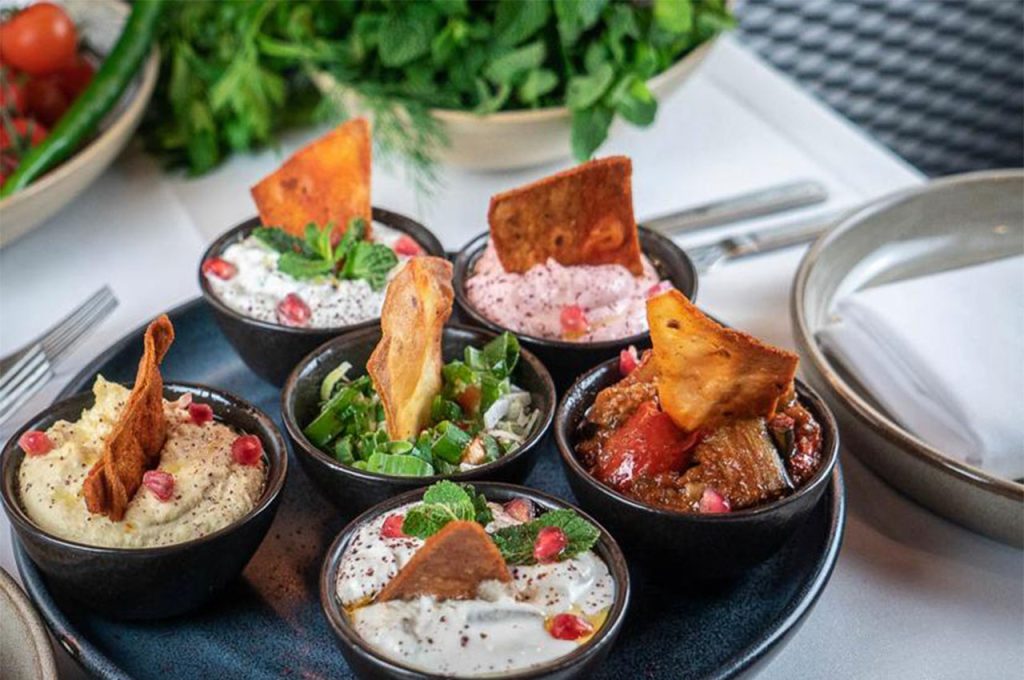 Rocca is one of the most authentic Mediterranean restaurants and cocktail bars in East Grinstead England. Situated on the High Street in a building that has been operating as a restaurant since 1837, Rocca offers a vintage surrounding with a hint of color, right in the heart of town.
Their menu features many of the Mediterranean classics, like Koftes, Shish, Beyti and chargrills however they have a wide selection of seafood, pasta, vegetarian and vegan dishes too, which can be accompanied by one of their professionally handcrafted cocktails.
The food, drinks, surroundings, and staff will definitely make you feel like you are on a holiday in the middle of the Mediterranean and that's why we think it is one of the best restaurants in East Grinstead.
Rocca address: 42 High St, East Grinstead RH19 3AS
2. The Wiremill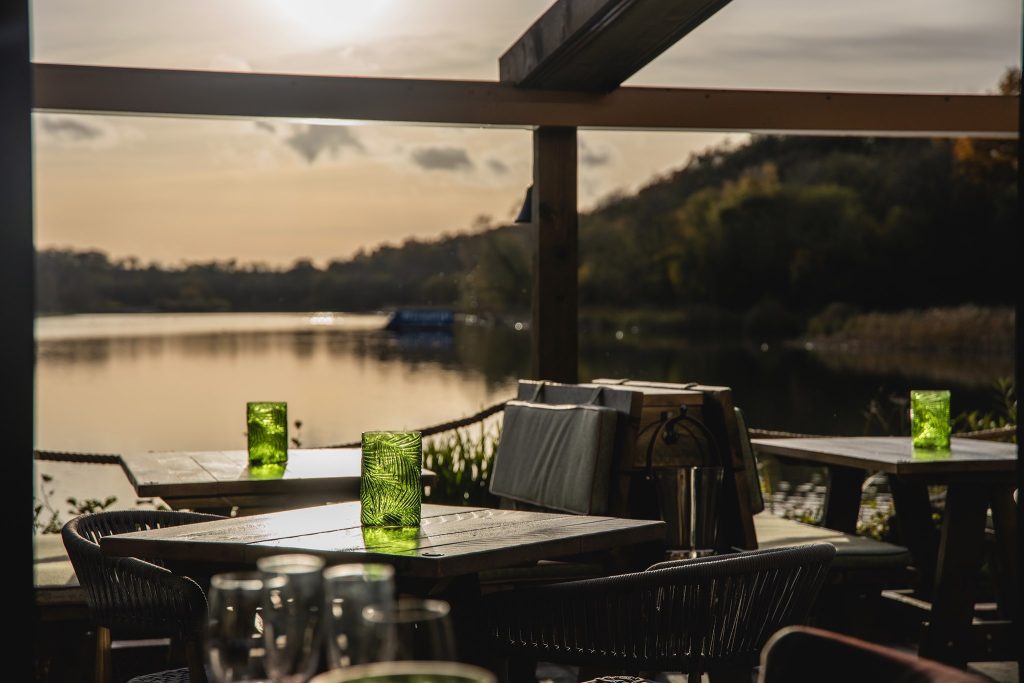 If you would like to enjoy your meal in a natural environment, then The Wiremill pub East Grinstead is the place for you! The Wiremill is not actually located in East Grinstead, but it's just outside the town. It is a lakeside pub with a gorgeous decking right next to the water, where customers can enjoy their food and drinks in peace.
This tranquil scenery is only disturbed by the water skiers on the lake, whom you can join if you're looking for things to do near East Grinstead. The Menu of The Wiremill East Grinstead offers English pub classics with a twist of elegance.
In this great pick of East Grinstead restaurants, you will find a wide selection of burgers, steaks, and fish dishes alongside vegan and vegetarian options. Visiting the Wiremill is great for lunch, dinner, or just spending the afternoon by the lake. Make sure you try their Salmon Wellington! It's delicious!
The Wiremill address: Wire Mill Ln, Felbridge, Lingfield RH7 6HJ
3. London Road Bar & Grill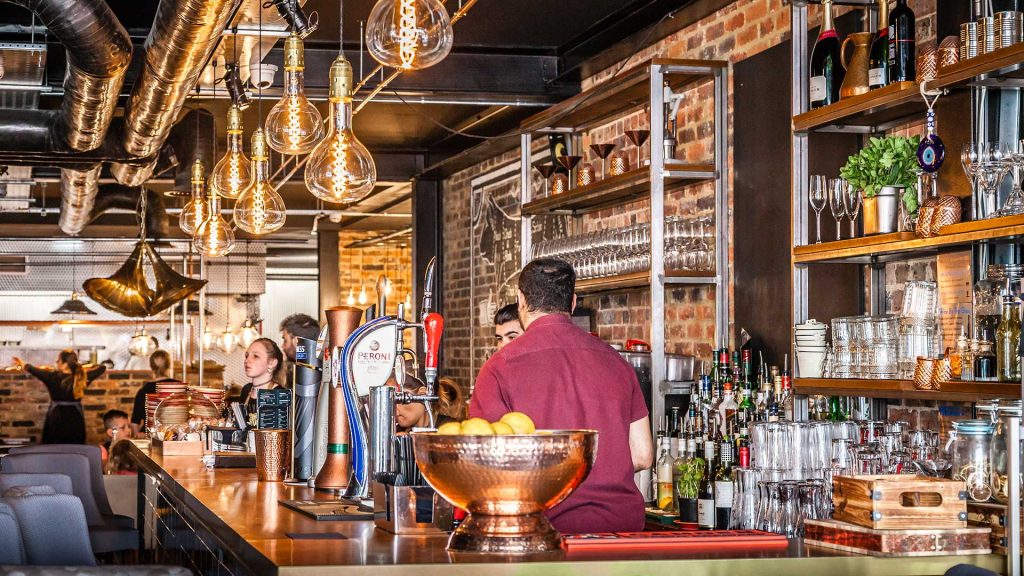 London Rd Bar and Grill is one of the best East Grinstead restaurants, which is a popular destination for everyone who is after a high-quality service as they have over 30 years of experience in hospitality. Their main focus is providing premium British beef cuts, which they are aging on-site for 45 days!
Alongside their steak menu, you'll find breakfast, brunch, and lunch dishes too, making it a perfect stop for any occasion. London Rd Bar and Grill has a New-York style bar, offering over 10 types of gin and many different cocktails from all around the world. They also offer a cocktail masterclass giving you the chance to learn how to prepare your favorite drinks.
London Road Bar & Grill address: 60 London Rd, East Grinstead RH19 1AB
4. By The Fountain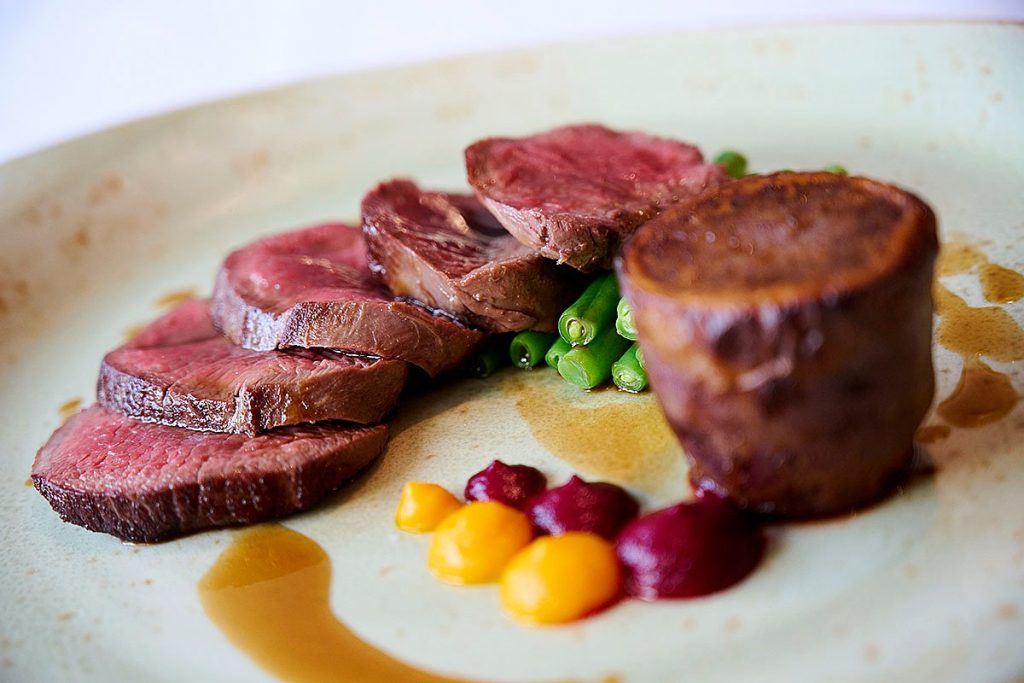 By The Fountain is a fine dining restaurant, located on the historic High Street of East Grinstead England. The Michelin Bib/AA award-winning front-of-house staff welcomes their customers in their warm and relaxed surroundings.
They are offering an á la carte menu as well as a set menu on Sundays. They are actively working and implementing changes to their menus to reflect seasonality and always thrive to source their ingredients locally and as fresh as possible, making them one of the best restaurants in East Grinstead.
By The Fountain address: 16 High St, East Grinstead RH19 3AW
5. The Ship Inn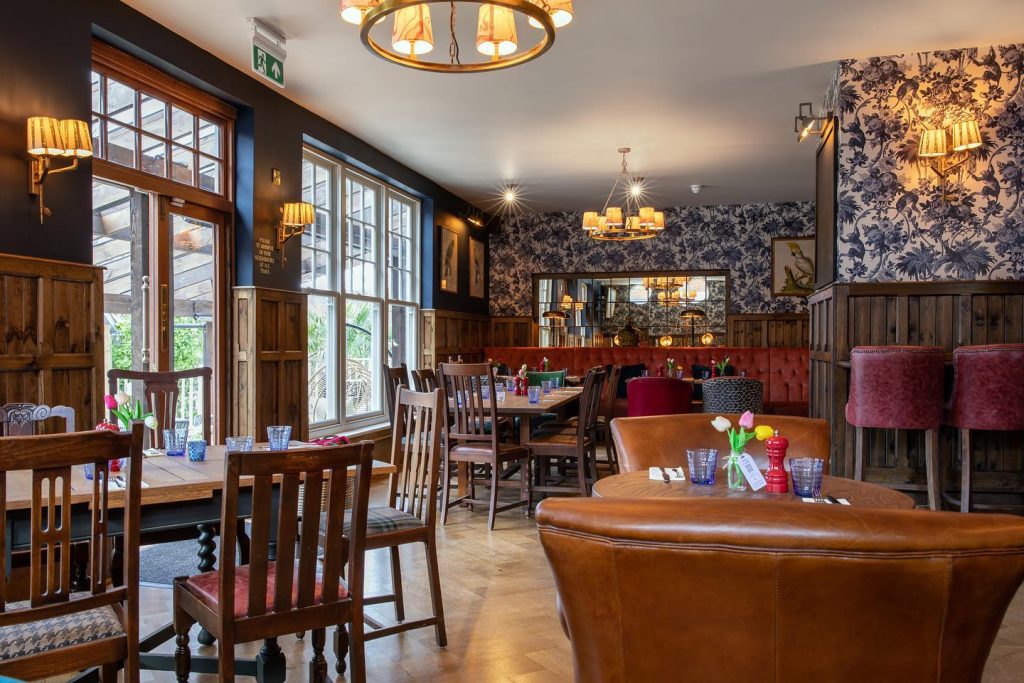 The Ship Inn has been a traditional pub in East Grinstead for many years, always popular amongst the locals. It has recently undergone a major refurbishment giving it a touch of elegance and finesse. They have kept their traditional English pub menu but they have brought them to the next level.
This is really matching the restaurant's looks and feel. Our pick for East Grinstead restaurants, The Ship Inn also has a fabulously decorated garden area, with multiple hidden tables and corners offering privacy for a romantic night out.
The Ship Inn address: Ship St, East Grinstead RH19 4EG
6. The Tasting Rooms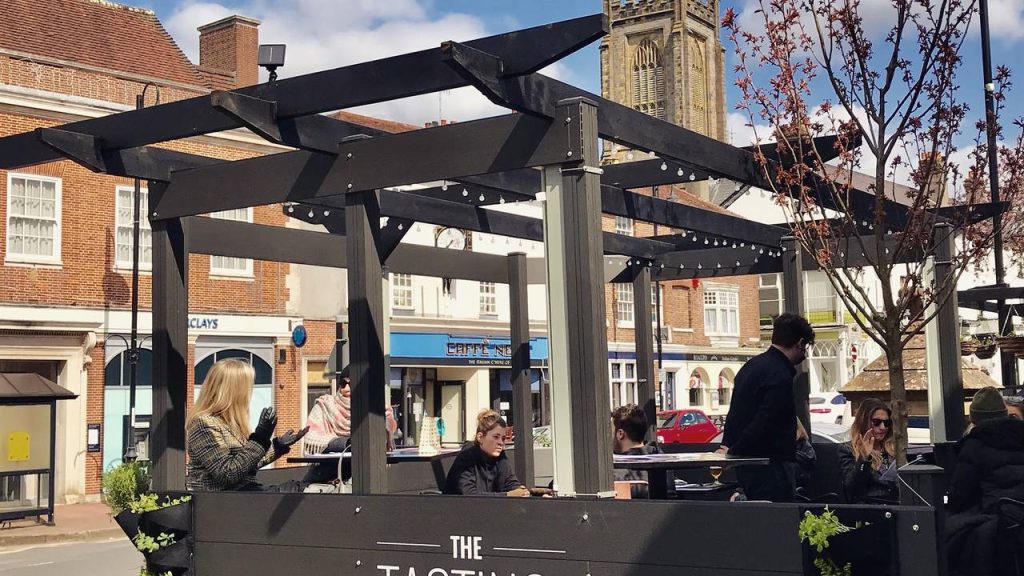 The Tasting Rooms in East Grinstead Sussex has a very unique business model, focusing on giving their customers experiences and knowledge. This ensures that they remain one of the quirkiest pubs East Grinstead offers. Their events vary from month to month, but it can be anything from gin tasting to quiz nights or even private events.
In The Tasting Rooms feels like a vineyard tour or private wine tasting with food pairing! Their Menu features grilled sandwiches and waffles perfect for a midday brunch destination! While their evening menu consists of sharing platters and nibbles, perfectly paired with wine, fizz, and some good company.
The Tasting Rooms address: 14 High St, East Grinstead RH19 3AW
7. The Old Dunnings Mill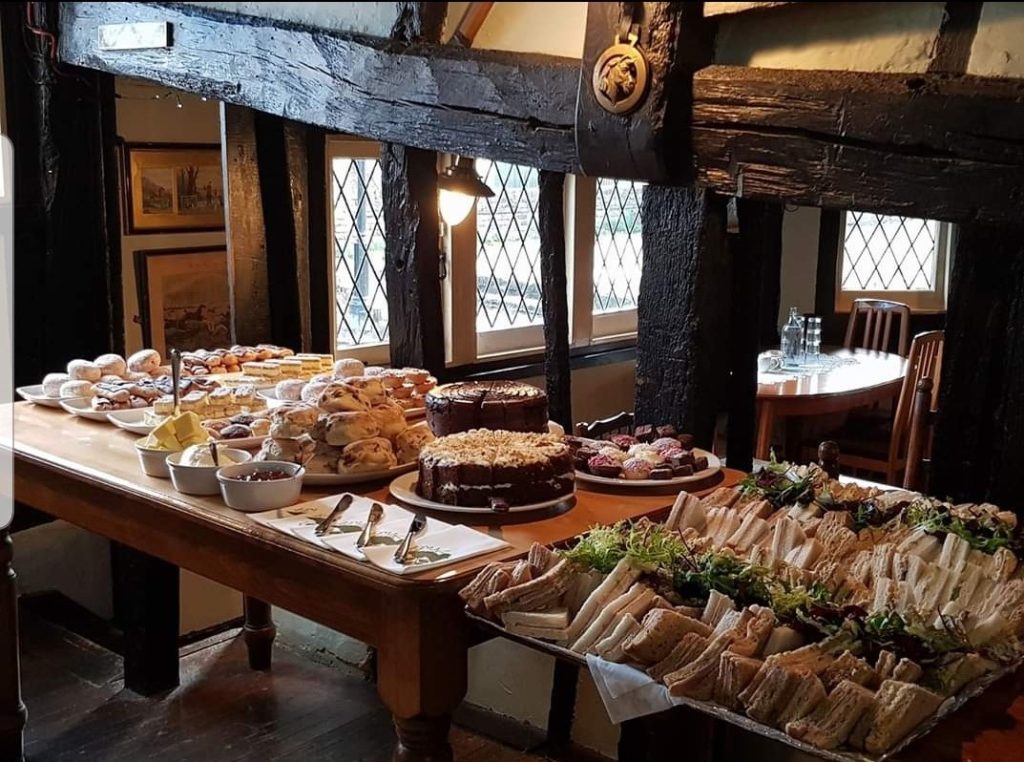 Located on the edge of the Ashdown Forest, The Old Dunnings Mill is an extended 15th-century pub in East Grinstead. It got its name from an old rotating water will, which had to be changed for a replica after the original mill got demolished.
You can find various award-winning beers here, perfect to cool you down on a hot summer day, in their beautiful and spacious pub garden. In 2020 they have made Camra's Good Beer Guide list, which is known for its annual publication listing the best pubs in the UK.
Their menu features English pub classics, including beer battered fish and chips and their signature burger is great too! You will also find homemade desserts and lunch dishes, all of which are made from locally sourced Sussex ingredients, making it one of the best restaurants East Grinstead offers.
The Old Dunnings Mill address: Dunnings Road, East Grinstead, RH19 4AT
8. CJ's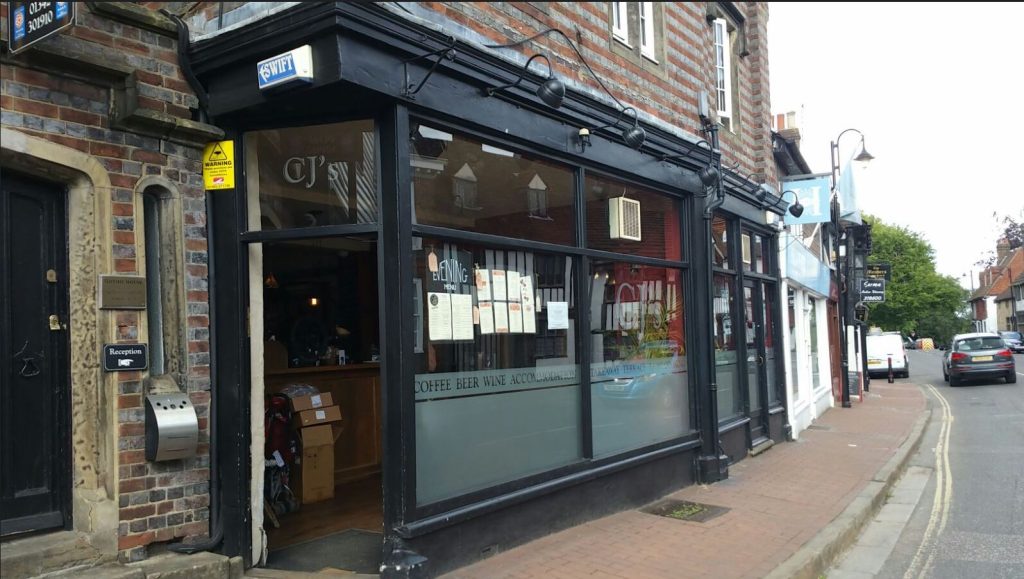 At the top of the High Street, you will find CJ's, another one of the best restaurants in East Grinstead. It is a unique pub and restaurant with a stunning outside terrace, overlooking a centuries-old church and its graveyard, giving it a spooky yet rather relaxed feeling.
On their menu, you'll find a variety of cuisine styles from traditional English breakfasts and Sunday roasts to Spanish Tapas dishes to Greek-style mains and handmade pizzas too! It is guaranteed for everyone to find something they love.
CJ's in East Grinstead Sussex, has its own bed and breakfast too and with its town center location, it is a great choice for an overnight stay when visiting the town.
CJ's address: 55/57 High St, East Grinstead RH19 3DD
9. Hux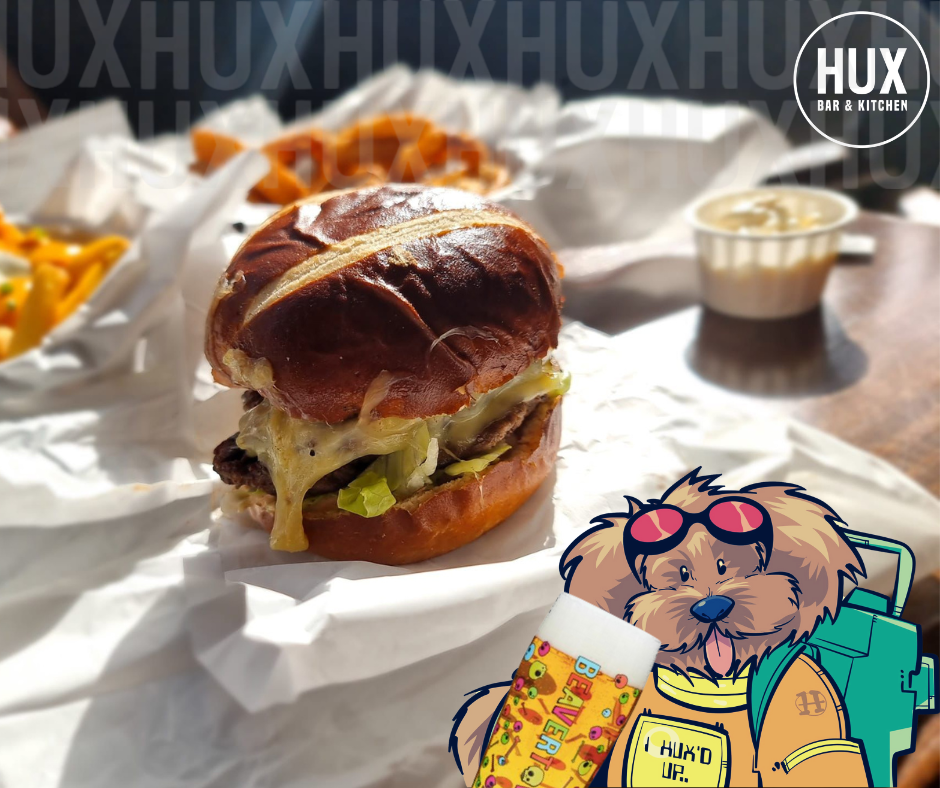 Our next pick for the best restaurants in East Grinstead list is the newly opened burger bar, Hux, which is quickly becoming a hot spot amongst youngsters for its colorful and funky style. As it is a burger bar, its menu consists of a wide selection of handmade burgers featuring its very own Hux burger sauce.
If you have cravings for one of the most delicious homemade burgers in town, you must stop by Hux. On their drinks menu, you will find numerous classic cocktails, gins, and beers to choose from, making it a strong competitor amongst the pubs in East Grinstead UK.
HUX address: 125 London Rd, East Grinstead RH19 1EQ
10. La Farola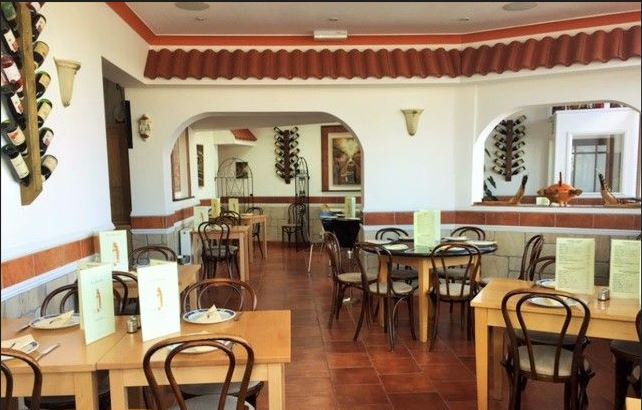 La Farola is a family run restaurant and pub in East Grinstead UK, which opened its doors way back in 1984 as a coffee shop. Over the years they have expanded and introduced their authentic Spanish menu. Their Spanish dishes mainly consist of tapas dishes.
However, they offer steak, fish, and traditional paella to accommodate any and every mood you may be in. La Farola is great to stop by for drinks in their pub area, but it's also a great pick for dinner! Their Pollo Borracho, Patatas Bravas, and Glarc Champignon in Butter are something unbelievable! Vibes are always great at La Farola to feel like you're in Spain.
La Farola address: 198-200 London Rd, East Grinstead RH19 1EY
Wrapping up the 10 best East Grinstead restaurants and pubs
This wraps up our list of the best East Grinstead restaurants and as promised, we have included an option for every and any mood you may find yourself in. Head over to the Wiremill East Grinstead for a relaxed brunch next to the lakeside, or try out Rocca, one of the new cocktail bars in East Grinstead for a livelier evening.
Pubs in East Grinstead have so much to offer, not only with their menu but with their service as well as activities and events, making East Grinstead one of the best places to visit in West Sussex!
Pin it: 10 Best East Grinstead Restaurants and Pubs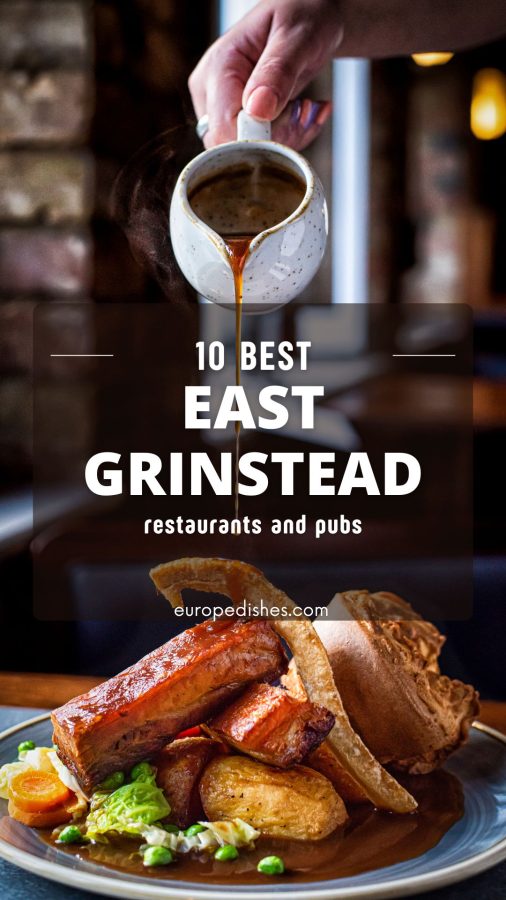 Written by Nora Balint
10 Best Restaurants and Pubs in East Grinstead