Colchester is a lovely city in the county of Essex, filled with huge parks, beautiful landscapes, amazing pubs, and people, as well as restaurants with delicious food. People love going out in the evening for a drink or to socialize with friends outside of their office. For that, the best restaurants in Colchester come in handy.
Having lived here for two years now, I have tried most of the Colchester restaurants. I can say with honesty that the food is delicious and thankfully, I didn't have bad experiences when ordering. My favorite has to be the Indian restaurant Colchester or the Chinese restaurant Colchester. In this list, I have gathered the best restaurants Colchester that are worth the visit.
10 Best Restaurants in Colchester UK – Colchester Seafood Restaurant
Colchester is located on the southeast side of England in Essex. It is famous for its Essex University where a high number of international students and students from all over England come to study. Did you know it's the oldest town in England? Yes, that's right! There are lots of things to do in Colchester, like visiting the beautiful Castle Park and the Museum, going to the cinema, and trying out restaurants in Colchester. If you've been looking to try fish and chips, check out the best Colchester seafood restaurant on our list!
1. Pavilion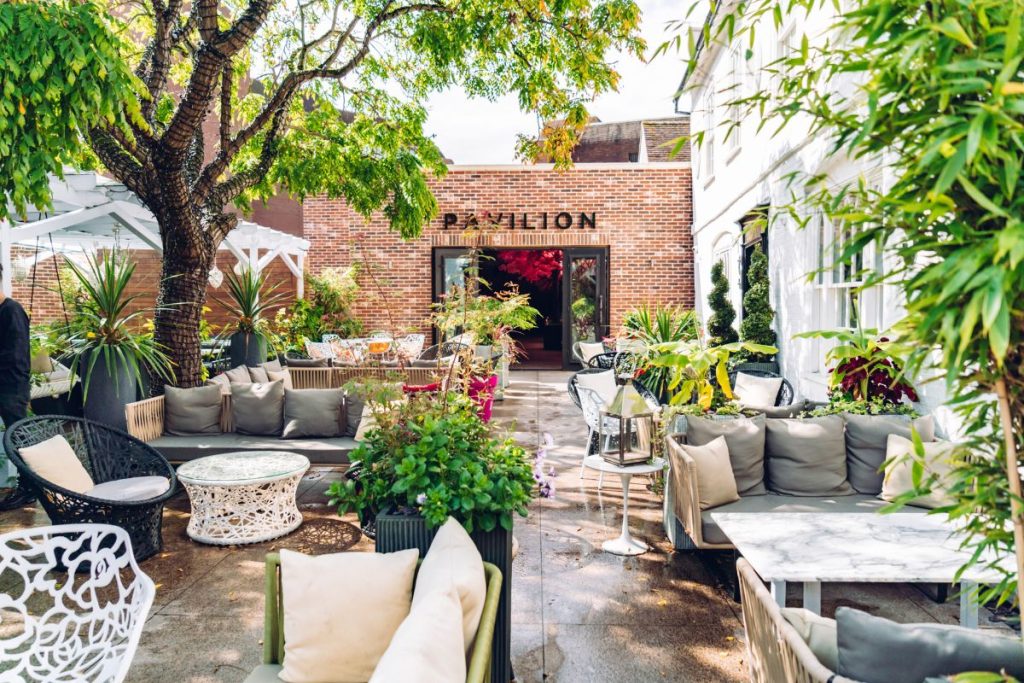 The number one Colchester restaurants one should visit is Pavilion. This is a beautiful place with great food and drinks. Pavilion Lounge and Restaurant is also a bar with a luxurious terrace. Their menu consists of a mix of dishes from North and South America, as well as Eastern Asia and Australia. But the interiors of this place are what really make the Pavilion so special.
The terrace holds the most gorgeous trees a restaurant could have and it's even visible from the street. Pavilion is located between the city center and the train station. Just as you'd come off from the North Hill, Pavilion is just at a roundabout. They are also a great place to hire for private events.
Pavilion has a number of different menus. For example, A La Carte, dessert menu, six-course tasting, or eight-course tasting menu. Pavilion isn't a Japanese restaurant Colchester, however, they do serve some of the best Japanese dishes. The A La Carte menu for example consists of dishes like Sashimi, Sushi boat, wagyu beef, or Indonesian Chicken Skewer. They really have special dishes in the most unique atmosphere in town!
Pavilion location: 20-21 Middleborough, Colchester CO1 1QX
2. Bill's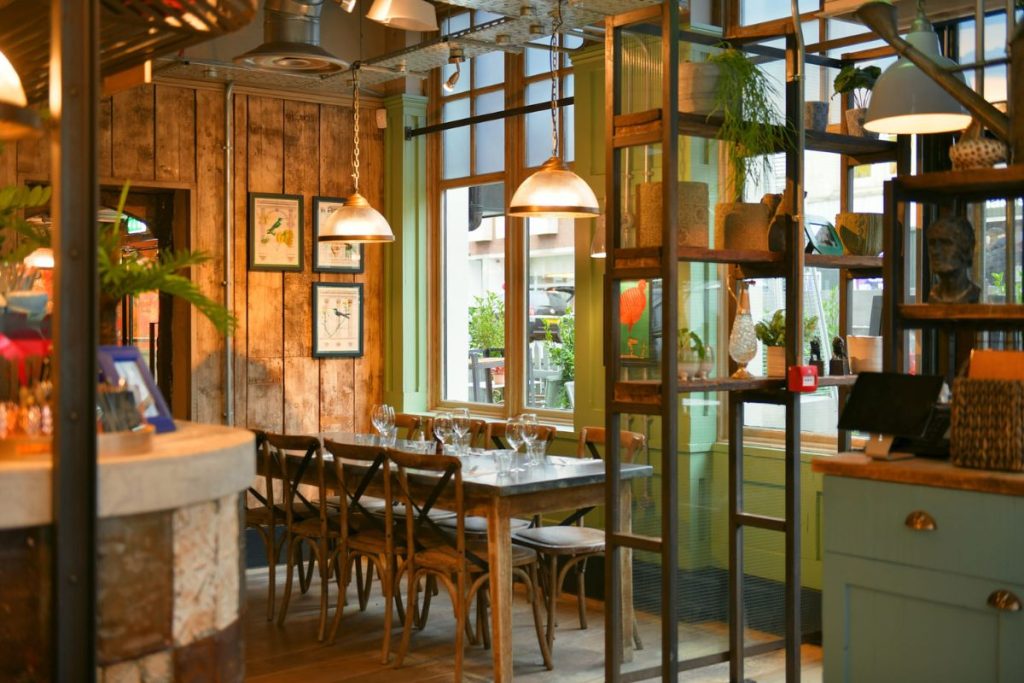 Bill's is among the best restaurants in Colchester for a quick bite after strolling around the town. I really love the interior design of this place, it's very cozy at the same time elegant. They created an amazing atmosphere and Bill's has an extensive menu of cocktails too.
It's also among the restaurants in Colchester town that are perfect to book for private events. They can host up to 28 people. How convenient as it's located right next to the city hall where people can get married! Furthermore, if it's any type of holiday like Christmas, you already know that Bill's will host parties.
Among the all-day menus, one can encounter Calamari, duck salad, or delicious burgers. Thankfully Bill's also has plenty of vegetarian and vegan options, but for any meat lover, you must try the burgers. Browse the cocktails menu for a night out on the high street. There's everything from your usual Pina Coladas to Bloody Mary and specials from Bill's.
Bill's location: 136-137 High St, Colchester CO1 1SP
3. Middletons Steakhouse & Grill Colchester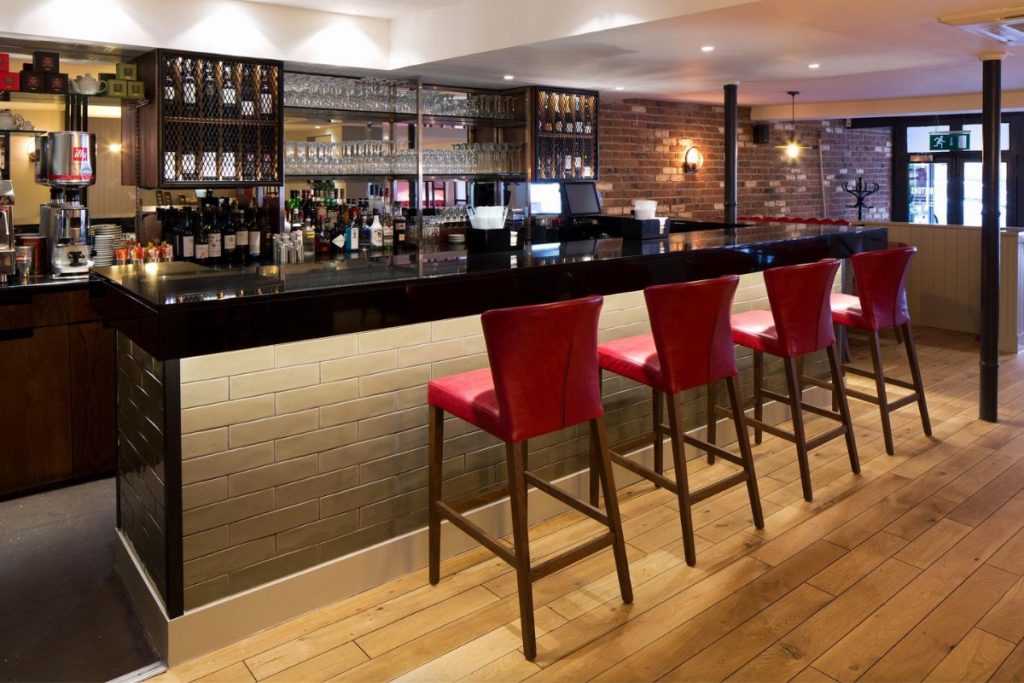 Looking for the best steak in Colchester? Look no further. The Middletons Steakhouse & Grill is famous for its steaks but it's also a Colchester seafood restaurant. They opened up in 2011, however, the Middletons name has been known since the 17th century. The building is also old, and they kept the facade the same for centuries.
Middletons is not only available in Colchester, but also in Cambridge, Chelmsford, Peterborough, Norwich, and so on. In Colchester, it's located on North Hill which is the street leading you up to the famous high street. This is my favorite street, especially if you are a bit further away from it, the sun is going down and you get a peek at all of the old buildings!
Among the steaks you can choose from Sirloin, rib-eye, fillet or fillet mignon, and much more. Then the seafood selection is also amazing. For example, try out the Salmon fillet, seabass fillets, or the Dublin bay scampi. It wouldn't be a proper British pub without some burgers. Choose either a steak burger or a veggie burger and it will be served with a side of choice. Middletons Steakhouse &
Middletons Steakhouse & Grill location: 19-20 North Hill, Colchester CO1 1DZ
4. Romano Lounge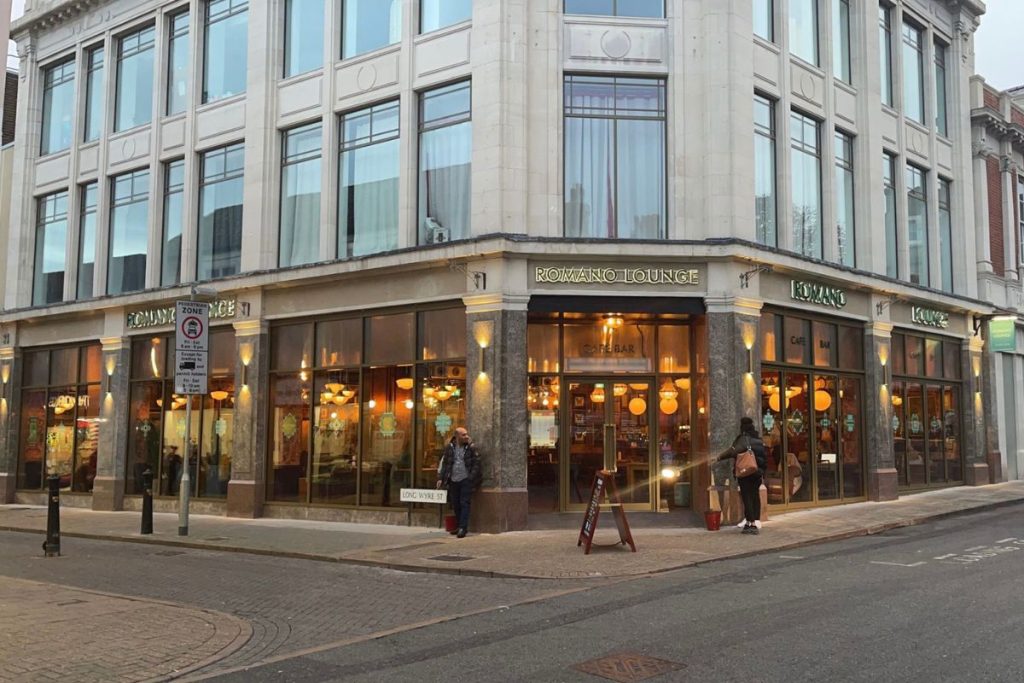 Romano Lounge is one of the newest Colchester restaurants, that opened just a few months ago. This might not even come up in your browser as one of the best restaurants in Colchester. I really love this place, it has some interesting decor and the menu is quite large. Well, first of all, the location is ideal. Although if you're not from Colchester and you are not shopping in Primark, then you might not find the restaurant.
It's off the high street, just have to enter another street and right on the corner, you'll find Romano Lounge. What I love about this is that there's a separate menu for vegetarians and vegans. That is quite rare to find in most places, so kudos to Romano Lounge. On the non-vegan menu, one can select from brunch, sandwiches, burgers, and several main dishes.
There are some great burger options on the menu, like the Lounge Burger or Lounge Bacon Cheeseburger. Then from the mains, one can try out some Mexican SuperBowl with chorizo or buttermilk fried chicken with chipotle mayo. To be honest, whatever you choose I guarantee it will be delicious. The drinks menu includes several cocktails and draft beer as well as regular bottled beer.
Romano Lounge location: Foundation House, Colchester CO1 1LF
5. North Hill Noodle Bar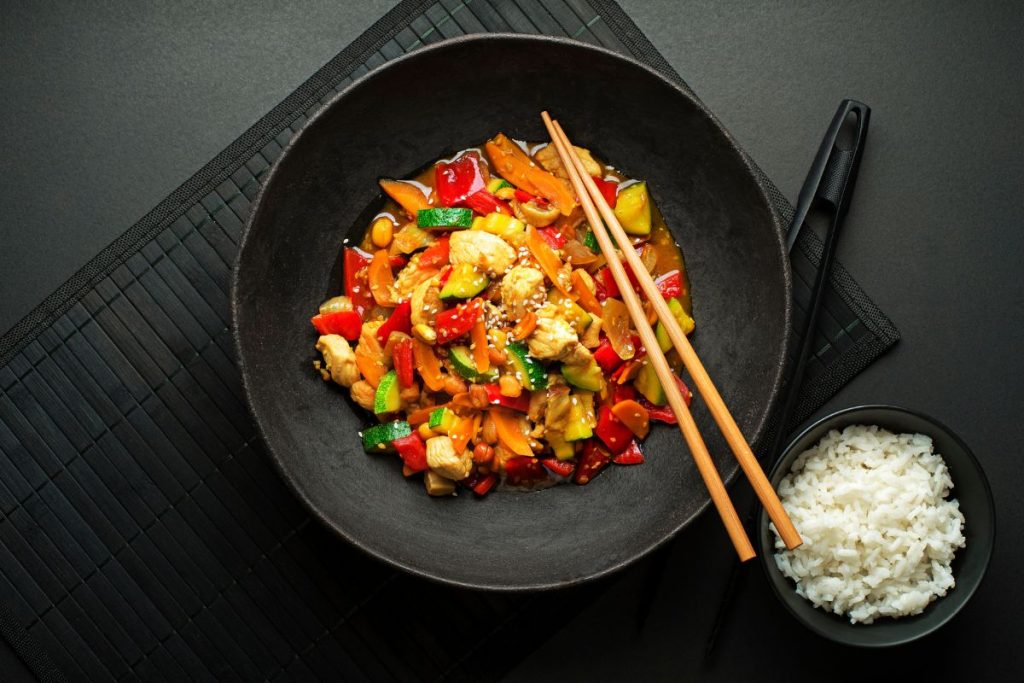 Finally, we arrived at my personal favorite. Just by looking at the outside one might not step inside North Hill Noodle Bar, but I'm telling you now, you must eat here. The chicken satay noodles are delicious! It's the best Chinese restaurant Colchester. This is situated just on the way to the high street on the hill.
The restaurant inside is not too big, however, you can order takeaway too. The owner is usually there to welcome the guests and they are really lovely. Everyone is friendly so by default you'll have a great time. North Hill Noodle Bar offers a selection of noodles, soup noodles, rice, sides, and other extras.
Their specialties include North hill noodles which are made with prawns, roast pork, and chicken. Then there are some delicious Singapore noodles or Rendang chicken noodles. For anyone that's possessed with soup noodles, try out the spicy chicken noodle soup or the tofu and vegetable noodle soup. It's among the best restaurants in Colchester when it comes to Asian dishes.
North Hill Noodle Bar location: 2 North Hill, Colchester CO1 1DZ
6. Wagamama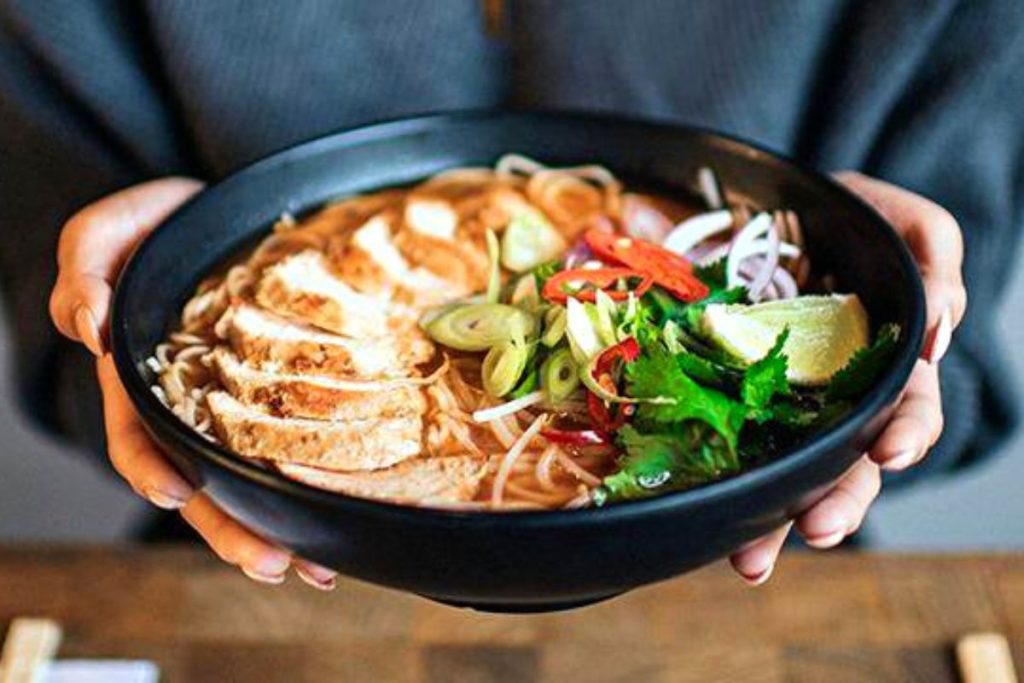 Wagamama is a known chain in the whole of England. It's a personal preference whether you enjoy these dishes or not. But overall people love it as nearly 800 reviews gave the restaurant 4.5 reviews in Colchester. So this Japanese restaurant Colchester can be found on the high street of the city.
I personally enjoy the vegan and vegetarian options here. For instance, the 'sticky vegan ribs' have a special taste and they are made up of mushrooms and soya. This paired with some noodles and veggies makes a delicious meal. From the restaurants in Colchester town, Wagamama is one of the busiest. If you don't have a reservation on a Friday night you might have to wait to get inside.
They are also famous for their ramen. Recently the restaurant implemented Gyoza ramen which is made of steamed gyoza, vegetable broth, roasted bok choi, and some other vegetables. Furthermore, there aren't only vegetable dishes on the menu, Wagamama offers chicken, duck, prawn, and other fish dishes too. Let's see the rest of the best restaurants Colchester.
Wagamama location: 141-142 High St, Colchester CO1 1PG
7. Curry Leaves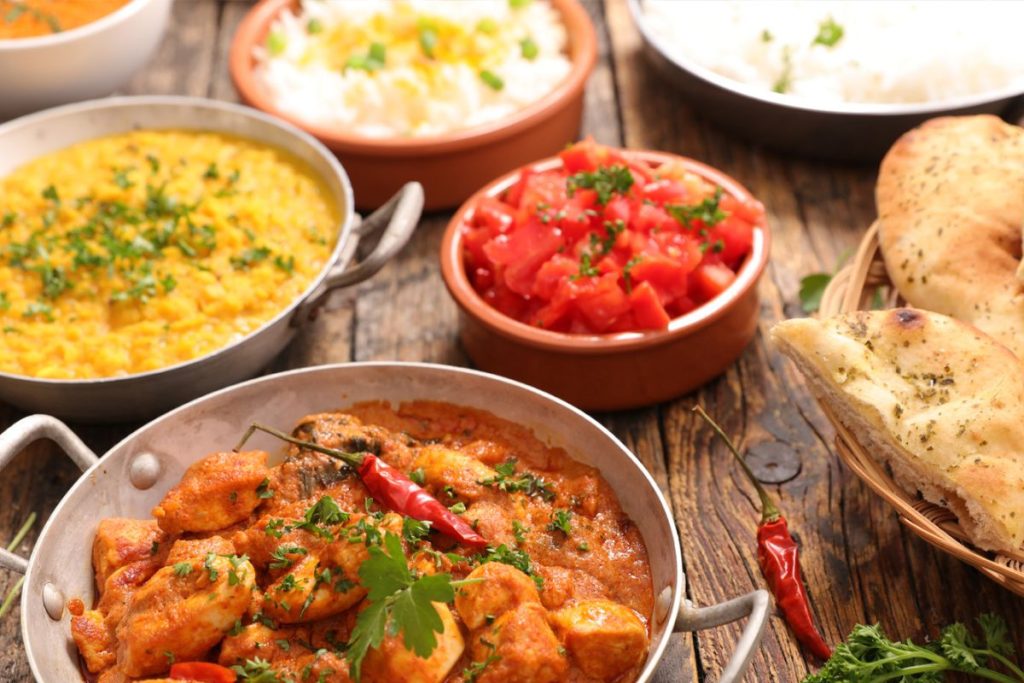 I cannot leave out an Indian restaurant Colchester off the list. Curry Leaves is probably one of the best restaurants in Colchester when it comes to Indian cuisine. The owners are from South India and they feature both North and South Indian dishes. I love their Dosa and Paneer Butter Masala with some butter naan. It just melts in your mouth!
Curry Leaves is situated near the Colchester main train station. It is also about a 15-20 minute walk from the city center. If you're in Colchester you should be visiting more than just the high street and neighboring shops. The restaurant inside is very modest, it's not overly decorated, and guests can enjoy their meals with some lovely Indian music.
From the starters, the Gobi Manchurian is a delicious option. It's an Indo-Chinese fried cauliflower that is tossed into sauces. Another favorite of mine is the Dal Makhani with some naan. This is a lentil dish, it is a bit heavy on the stomach, so you might not want to eat it late at night. The Palak Paneer or the Chana Masala are also great options to choose from.
Curry Leaves location: 71 N Station Rd, Colchester CO1 1RQ
8. The Playhouse – Wetherspoon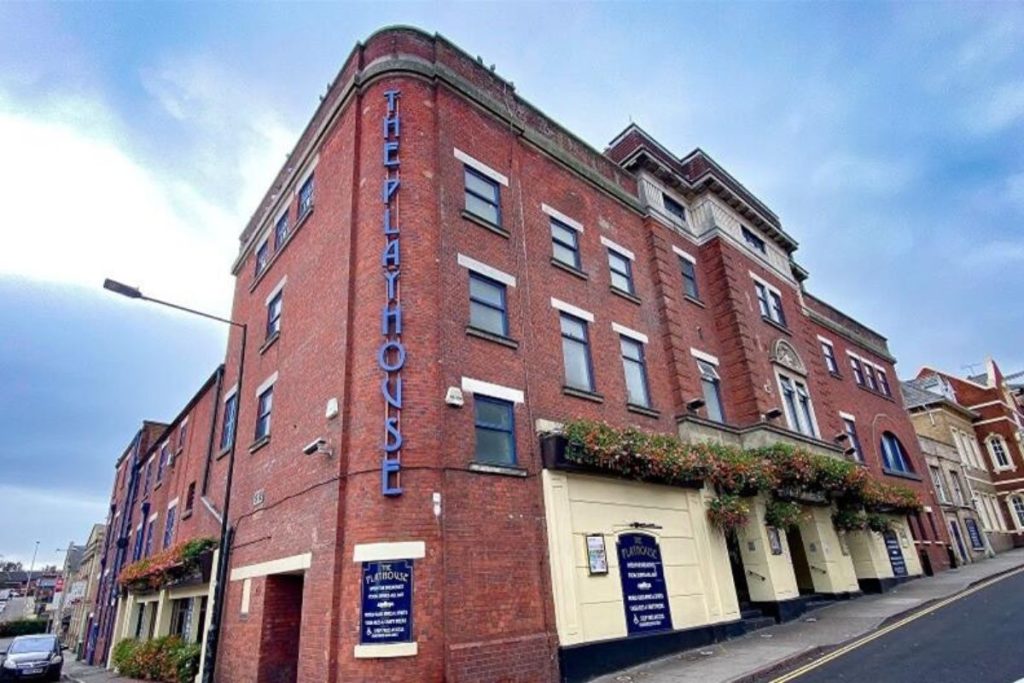 Wetherspoon is a famous restaurant chain all over the country. The reason why it's on our list of best restaurants Colchester is due to the interior design. From the name you can already guess that the theme has something to do with playing. The building you see is from 1929 and it used to be a theatre called Playhouse. Then later it became a cinema in 1981.
Today it's a bingo hall as well as a Wetherspoon pub, but they have kept the name Playhouse as it still represents the history of the place. The decor is quite amazing. It features a balcony just as you would see in the theater and they made some cardboard famous figures like Obama or the Queen. I was fascinated by this place the first time I saw it.
Wetherspoon is also a Colchester seafood restaurant, they have some delicious fish and chips or Scampi. You can have breakfast here, and choose from a number of delicious burgers, and gourmet burgers as well as salads, pasta, grilled food, and pizza. Basically, whatever your heart desires, you'll find it at the Playhouse. And the prices are reasonable too!
The Playhouse – Wetherspoon location: 4 St John's St, Colchester CO2 7AA
9. Prezzo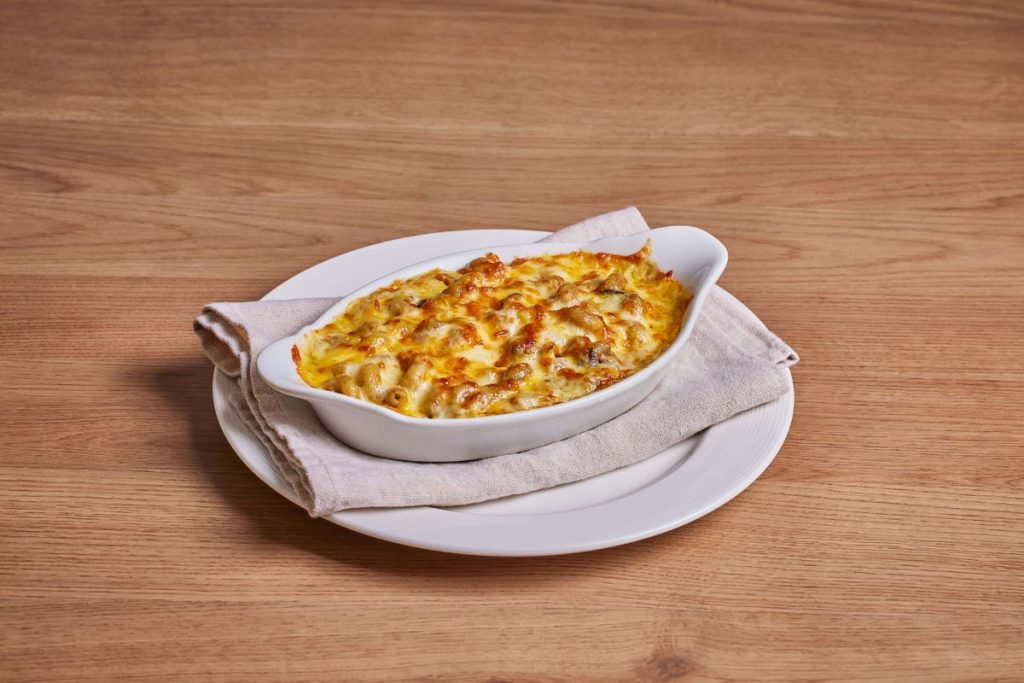 Prezzo is a casual Italian restaurant Colchester situated just a few minute's walk away from Castle Park and the high street. It's the perfect spot to dine in after you have been out shopping all day. It has all of the regular Italian dishes you can think of.
Some of the starters include a delicious Tuscan vegetable and pasta soup, a mix of olives, or garlic bread. Prezzo also serves the most delicious bruschetta with handmade pizza dough instead of bread. Then from the lunches choose a smaller version of pizza.
From the pasta selection, Prezzo serves bolognese, crab & lobster ravioli, Carbonara, or Penne alla Rusticana. Then they also have Al Forno which means oven-baked goodies. The Prezzo truffled macaroni cheese sounds delightful! Of course, if you are looking for a regular-sized pizza, Prezzo has a great selection of this too.
Prezzo location: 1 Culver St E, Colchester CO1 1LD
10. Turtle Bay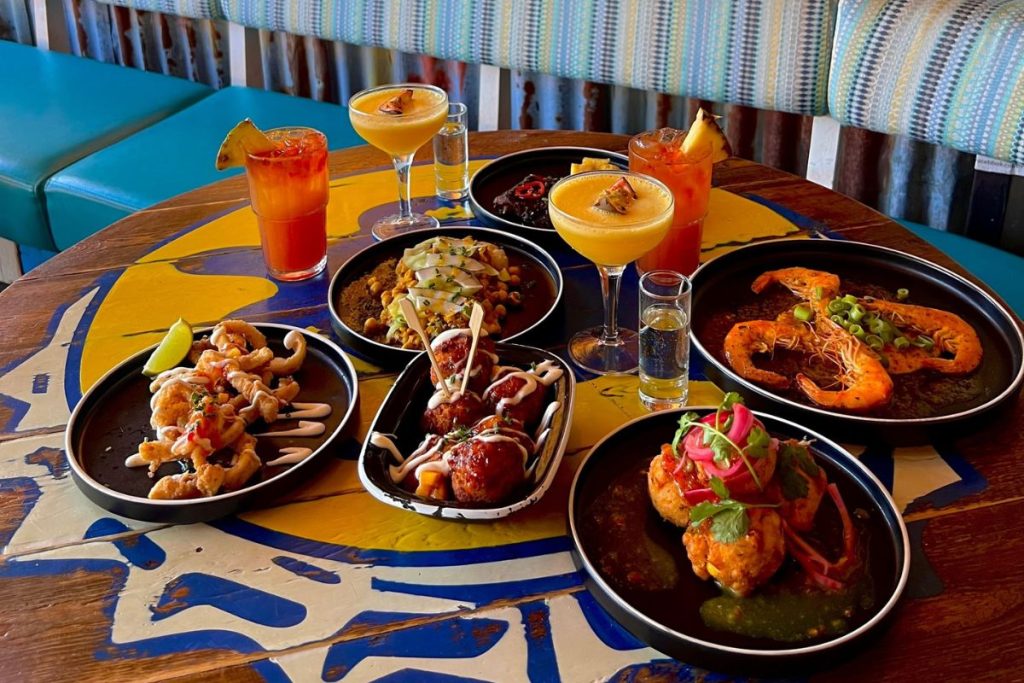 Finally Turtle Bay is the last of the best restaurants in Colchester town that we wish to mention. Turtle Bay is located on the high street of Colchester next to Wagamama and Fenwick. It's a Caribbean restaurant with amazing food. This isn't just a regular restaurant. It is for people who wish to have a few cocktails and enjoy conversations with friends.
When you think of the Caribbean, I'm sure you think of good vibes, the seaside, and drinks with friends. That's what Turtle Bay is about, except for the seaside. Turtle Bay isn't only in Colchester, it's available all over the UK. The menu consists of starters, mains, lunch, and light bowls.
It also features west Indian curries, soul food such as Kingston fried chicken, or burgers like Shack stack burger. The Jerk pit is a specialty of Turtle Bay, which means that they marinate their own jerk for 24 hours and then grill it with that intense flavor. And the best part is the bottomless brunch!
Turtle Bay location: Greytown House, High St, Colchester CO1 1YJ
Conclusion – Best Restaurants Colchester – Restaurants in Colchester Town
There you have the 10 best restaurants in Colchester that locals love to visit. Whether you are a traveler or a local, Colchester is a city that's worth strolling around. Sure, the restaurants might not be like the famous London pubs, but the city overall is very charming. I hope you can find your favorite Colchester restaurant on this list! Also, if you're looking for things to do in Colchester, don't miss out on our article!
Pin it: Colchester Seafood Restaurant – Japanese Restaurant Colchester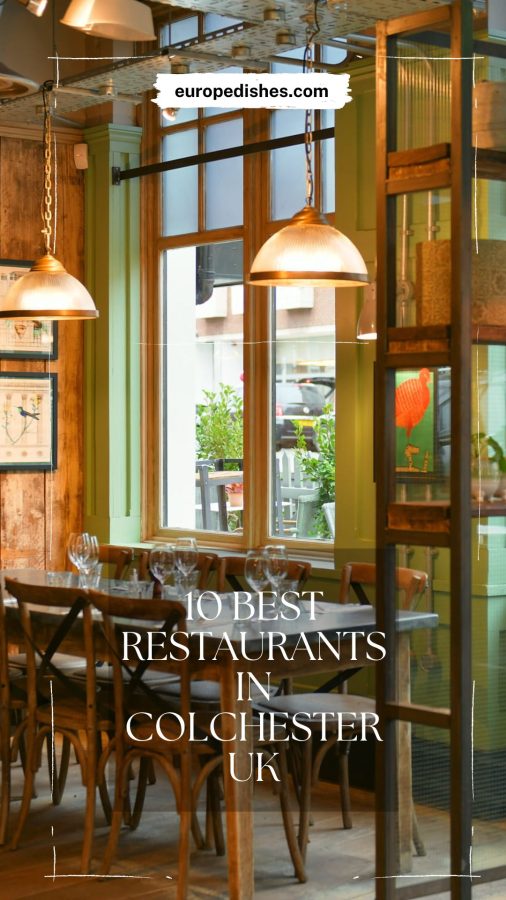 10 Best Restaurants in Colchester UK