If you're one of those cheese fanatics who'd give anything for cheesy dishes, then you will absolutely love this appetizer! Baked Camembert in puff pastry is one of the most delicious appetizers we personally ever created, and we do cook a lot. Imagine the perfectly crusty puff pastry, dipping it in melted camembert cheese… That's how we imagine the taste of heaven! If you've been looking for cream cheese puff pastry recipes, do yourself a favor, and get some puff pastry and camembert in the grocery store!
Baked Camembert in Puff Pastry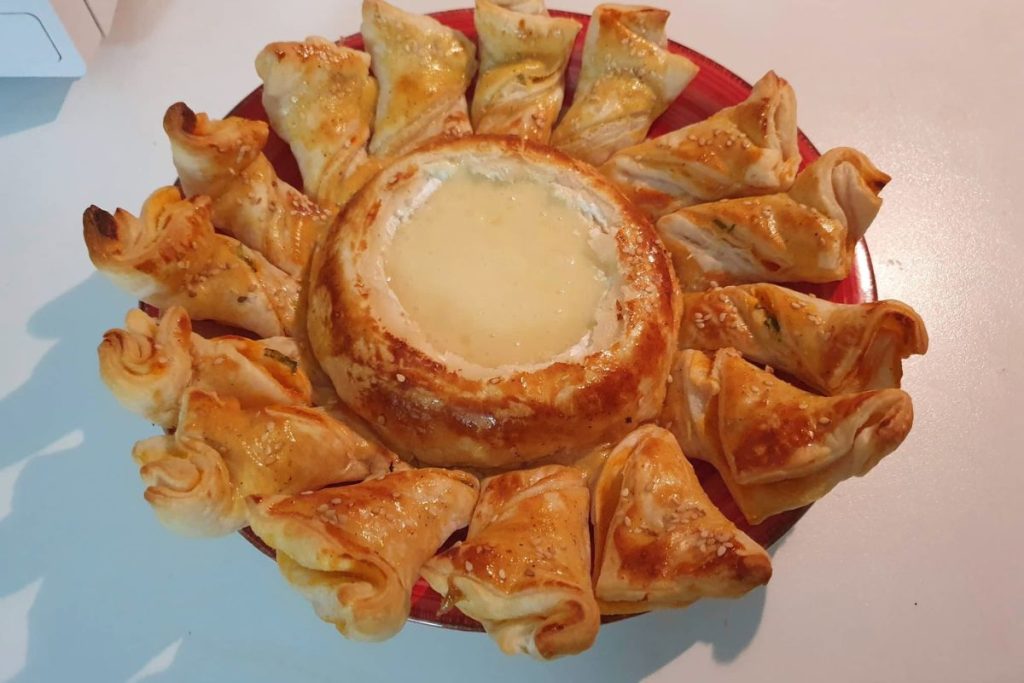 Honestly, the baked camembert in puff pastry is the easiest recipe ever. The trick with this cheese puff pastry recipe is that you have to be more careful with the details. Creating this delish puff pastry cream cheese appetizer takes very little time, and you don't need just a few very basic ingredients.
Mostly because we are concentrating on fast & perfect appetizers usually, we're not going to include in our recipe how to make puff pastry at home. We love the high quality, NOT frozen puff pastry from the store, and it saves us hours to buy it instead of making it. It's a busy world.
When it comes to traditional dishes, we give them the time they need, and we make everything from the base, especially Hungarian dishes, and Italian dishes. But these types of appetizers are made when you're having a home date night, or you're expecting guests, and in both cases, time is pretty limited and there's a lot to prepare.
Baked Camembert in Puff Pastry VS Brie in Puff Pastry
Both Camembert and Brie are types of French cheese, and two bases of French cuisine. When it comes to cream cheese puff pastry, many of you might not expect to see this flower-form dish. But believe us, this is an absolutely delicious starter for any occasion. We specifically suggest making the puff pastry using camembert cheese for this! The brie cheese puff pastry is also delicious, and it's not much that changes, only that you put brie in the middle instead of the camembert.
We suggest choosing camembert instead of brie for multiple reasons. First, that bigger size brie is rarer than the camembert. And it's also rare to find round brie. A 250g Camembert is the most perfect for this appetizer. The other reason why the brie cheese puff pastry in this form is not the best is that you're using the cheese as a dip, and the brie is sweeter and has a lighter taste than the camembert.
Cream Cheese Puff Pastry
Before we dig into this cheese puff pastry recipe, we want to point out another ingredient we added after the first 2-3 experiences. Pesto makes the puff pastry bites more delicious, and it gives the entire dish a more savory taste, as well as it makes it richer. On side of the pesto, camembert, and 2 round puff pastry sheets, you'll just need some sesame seeds and one egg yolk.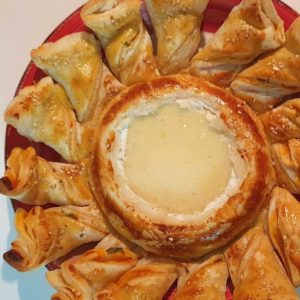 Baked Camembert in Puff Pastry
The perfect cheese appetizer for every occasion! Here's the recipe for baked camembert in puff pastry , while in our article you can also find details about the brie cheese puff pastry making too.
Ingredients
2

sheets

Round Puff Pastry

250

g

Camembert

2

tbsp

Pesto

10

g

Sesame Seeds

1

Egg Yolk
Instructions
If you decide to make puff pastry at home, you'll just have to make it rounded in order to obtain the form we need. If you're getting puff pastry at the grocery store, you will find round ones so you don't have to form it. You will need a round oven dish, like a pizza dish, or a large pie dish.

The next step is to roll out one sheet, and place the camembert in the middle. Before you start preparing the cream cheese puff pastry recipe, turn on the oven and heat it up to 220 C degrees.

When you're making baked camembert in puff pastry, it's important to not soak the bottom, especially around the cheese, or it will be flowing out all over the place. Leave at least 3 cm around the cheese completely dry.

Spread two spoons of Pesto on the pastry sheet, leaving those 3 cms empty around the cheese. Then, roll out the 2nd sheet, and carefully place it on top of the other sheet and the cheese.

Try to palce the upper sheet perfectly on the other, but before you do anything else, push it down as much as you can around the cheese, so you make sure the cheese won't flow out.

Do this really carefully, so the pastry sheet doesn't break. Then cut slices all around the pastry, starting about 3 cm from the cheese, and cutting rays towards the outskirts. Like you'd be drawing sun rays.

Between these cuts, leave 5-6 cm of space. Then, wash the outside with an egg yolk (put salt in the egg yolk so it will taste better). After this, sprinkle sesame seeds over the puff pastry.

take the slices you created and twist them over one by one. One twist is enough. Then check the cuts around the cheese, and press the two sheets together where you see any leaks. Again, we are making sure the cheese will stay inside.

Once you're ready with this, place it in the oven without any cover, and take down the heat to 180 C degrees. It will take about 20 to 25 minutes to get ready, but you will see this as soon as the top becomes red.

Once it's ready, take it out, and give it 2 minutes to cool down enough so you can cut off the top of the middle, above the cheese. You should also remove the skin of the cheese so you can actually dip the puff pastry bites in it.
Wrapping up the baked camembert in puff pastry
We are ready to bet that you will all love this recipe! If you love cheese and puff pastry, then there's no way this would become your favorite appetizer. If you're looking for other appetizer ideas, check out our bruschetta recipes as well as some of our Spanish tapas recipes, such as ham and cheese croquettes, and mushroom croquettes. and of course the French onion soup.
Pin it: Cheese Puff Pastry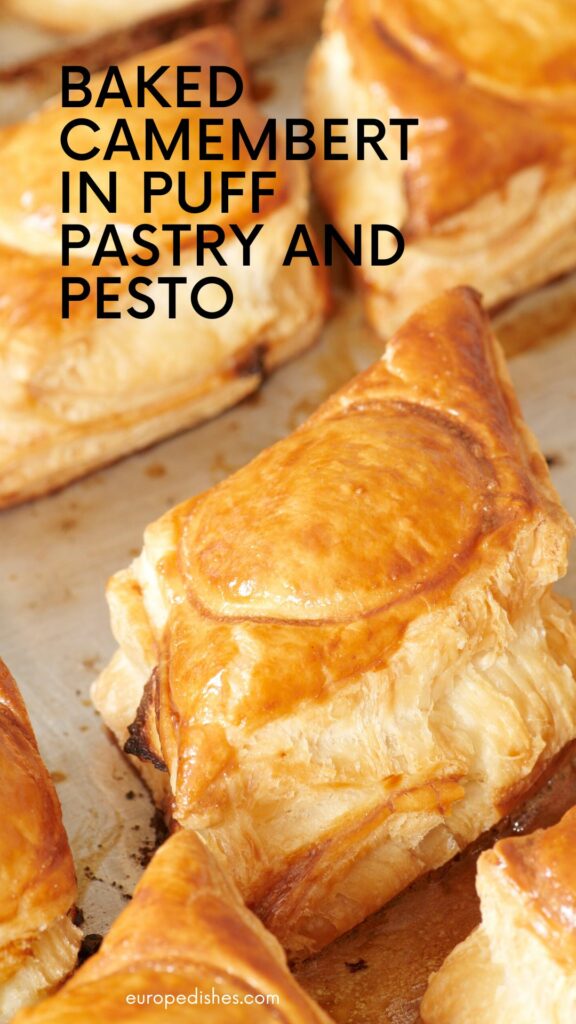 Baked Camembert in Puff Pastry and Pesto