In the city of lights, rooftops are unmissable. There's nothing more romantic than watching the beautiful skyline from Paris rooftop bars, while you enjoy a great drink or some amazing dishes! If you're in Paris, you want to know which is the best rooftop Paris bar, right? Or you're specifically looking for a rooftop restaurant Paris offers? We're going to share with you the 15 best places you could pick for a fun, romantic, or business outing in Paris!
15 Best Paris rooftop bars
There are plenty of Paris rooftop bars to pick from. Many of them are really central, but there are many of the top rooftop bars Paris offers that are a bit more outside of the central areas. When it comes to rooftop bar Paris, we all want places with a view over the Eiffel Tower, right?
What other view would be more perfect than that, no? So, let's see all those rooftop bars in Paris that we considered the top ones! Don't forget to check our other Paris articles, for things to do, street food in Paris, and also the best restaurants! We cover cocktail bars, fine dining places, and the most historic, and authentic places we all have on our bucket lists!
1. Sequoia Rooftop Bar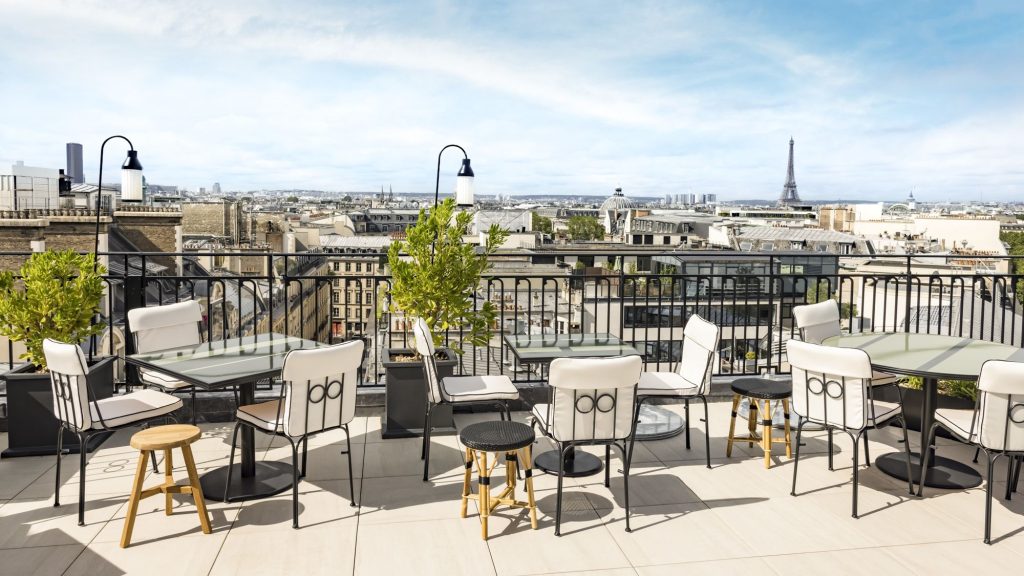 Our first pick for the rooftop Paris bar list is Sequoia, one of the most beautiful Paris rooftops you could see the city from! If you're looking for rooftop Paris restaurants, you also can consider this place! Sequoia Rooftop Bar is set in a stunning Art Nouveau building dating back to 1917.
This spot is steps away from Opéra Garnier and the Tuileries Gardens, and it's hosted by Kimpton St Honoré Paris hotel. This bar is elegant and decorated with plants, and it feels like a garden scape. They've got stylish lounge sofas and dining tables, and you'll get a 360-degree view of Paris and its famous monuments.
They serve at Sequoia Rooftop Bar tapas-style dishes, French cheese, as well as champagne and signature cocktails. A perfect place for drinks, lunch, or candle-lit dinner with some great French wines. Sequoia Rooftop Bar is a walk-in-only place, and reservations are only available for private events!
2. Bar le Perchoir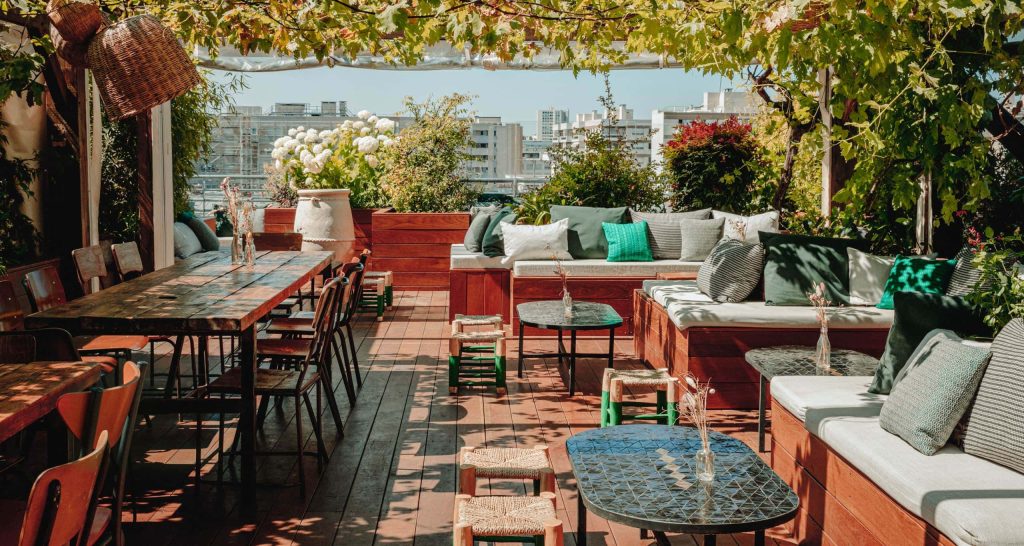 With our second pick for Paris rooftop bars, we went for something a bit more bohemian, a style that we absolutely adore when it comes to rooftop bars. Bar le Perchoir is one of the best rooftop bars Paris can offer, and it's a place you don't want to miss if you're planning outings with friends!
This one is a really large, really nice, and popular bar in Ménilmontant with 360 degrees of view over Paris from the 7th floor. Comfy sofas, attractive decorations, colorful plants, and scented herbs in pots. At Bar le Perchoir you'll find on the menu cocktails, draught beer, wine, and tapas dishes too. You should get here early, or after 10 to find a table, but you can also reserve a table in the restaurant too, which is one floor below.
3. Terrass" Hôtel Montmartre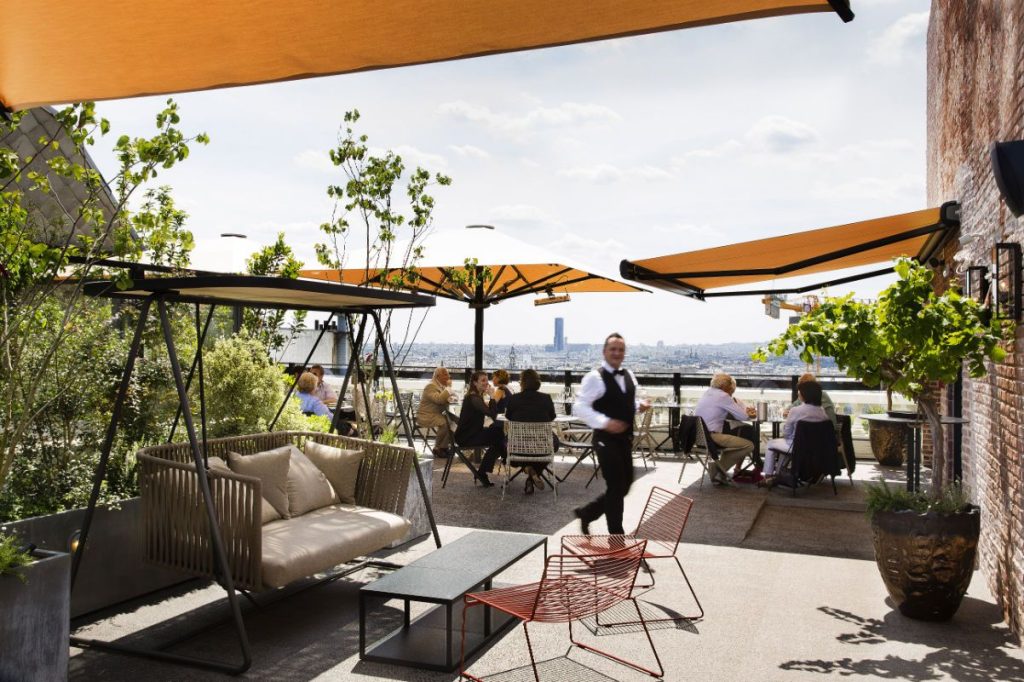 Terrass" at Hôtel Montmartre is a great rooftop bar Paris offers. When we picked our 15 best Paris rooftops, we didn't rank them in this list, we believe each of them is great for different reasons! Terrass is a sophisticated bar on top of Terrass" Hôtel Montmartre and it offers beautiful panoramic views.
This is a lovely stylish terrace that's mixing chic and sleek, featuring beautiful greenery, and plants, and they've got both dining tables and comfy sofas too. This means you can stop by at any time. At the hotel, there's a restaurant called Edmond Restaurant, and the Terrass bar. The bar is open from 3:30 PM, and if you're heading to the bar you'll find a table based on availability. At the restaurant, however, you can book your table.
4. Skybar Paris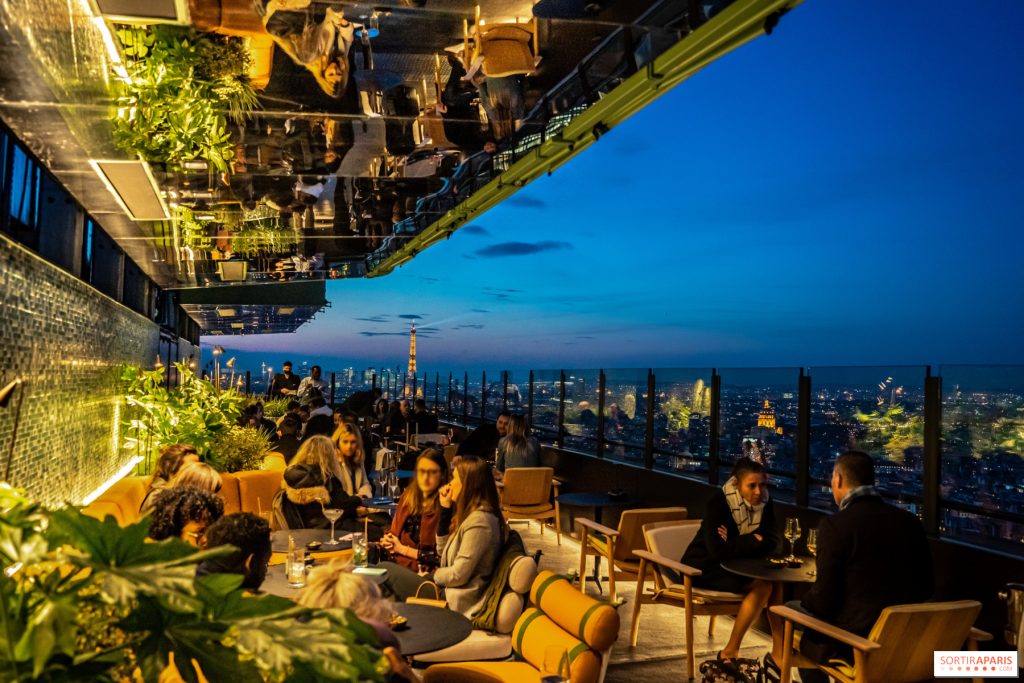 Skybar Paris is another great rooftop Paris bar, a trendy rooftop lounge and it's also the highest open-air bar in Paris. If you fancy heights, Skybar Paris is on the 32nd floor and it's one of the top rooftop bars Paris offers, which you should definitely consider going to!
Skybar Paris is set in the Pullman Paris Montparnasse hotel, and it's 115 meters high over Paris. Now, Skybar Paris offers indoor and outdoor seating too, and its design is inspired by famous sky bars in Asia. This is not only true for the decor, but also for the menu. At Skybar Paris you can enjoy Asian fusion dishes, as well as unusual, creative cocktails.
This bar is open every evening, all year around, and during the weekend you can also find a live DJ set. You must get there in time to catch a good spot, or you can make a reservation in the VIP corner if you're looking for a truly exclusive, yet more private and elevated experience!
5. L'Oiseau Blanc & Le Rooftop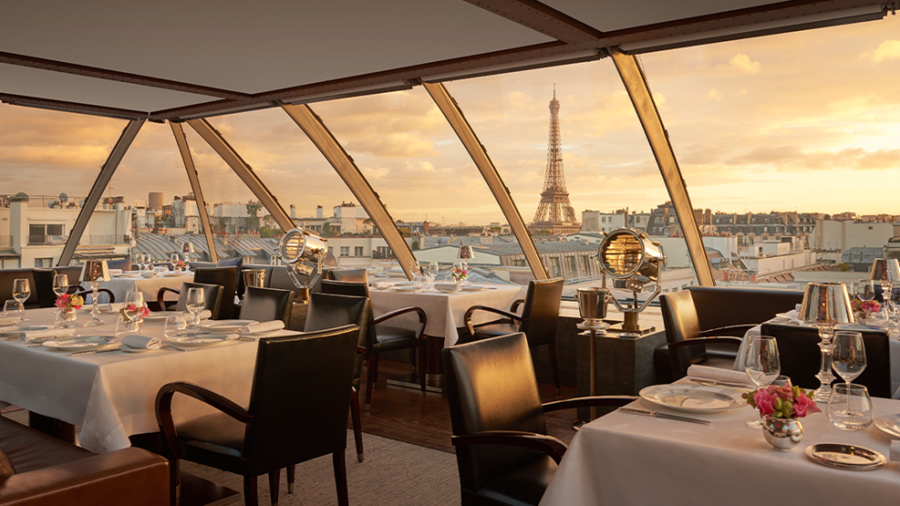 L'Oiseau Blanc & Le Rooftop is definitely one of the most beautiful and elegant Paris rooftop bars and it's also a rooftop restaurant Paris offers. When you're looking for rooftop Paris restaurants, you want to make sure that your experience will be exquisite, and that's what you'll get at L'Oiseau Blanc & Le Rooftop.
If you're seeking dinner with a view, enjoying some French dessert, champagne, and French dishes of a 2 Michelin-starred place, L'Oiseau Blanc & Le Rooftop is the one for you! The restaurant and bar are set on top of the 5* Hotel the Peninsula Paris, close to the Arc de Triomphe.
Now, the restaurant is the one that's called L'Oiseau Blanc and obviously the rooftop will be the one called Le Rooftop. Both venues are on the same floor, so depending on what the occasion is, you can choose either the bar or the restaurant. Or both. The bar has outdoor seating as well, while the restaurant doesn't. Also, on the rooftop, you are required to spend at least 30 euros per person.
6. Perruche
Perruche is an amazing option for rooftop bar Paris. This is a lush rooftop Paris restaurant, basically like an oasis in the city with Mediterranean vibes and beautiful views. Perruche is set on 500 m2. It's a cocktail bar and restaurant as well on the top floor of the Printemps Haussmann shopping center.
Perruche is open every day from lunch to late at night, and you can choose from the indoor restaurant or the open-air terrace too. This is a good place for many occasions, which includes a stop-by after a shopping session downstairs. A sophisticated place to enjoy food and cocktails with beautiful surroundings.
7. Auteuil Brasserie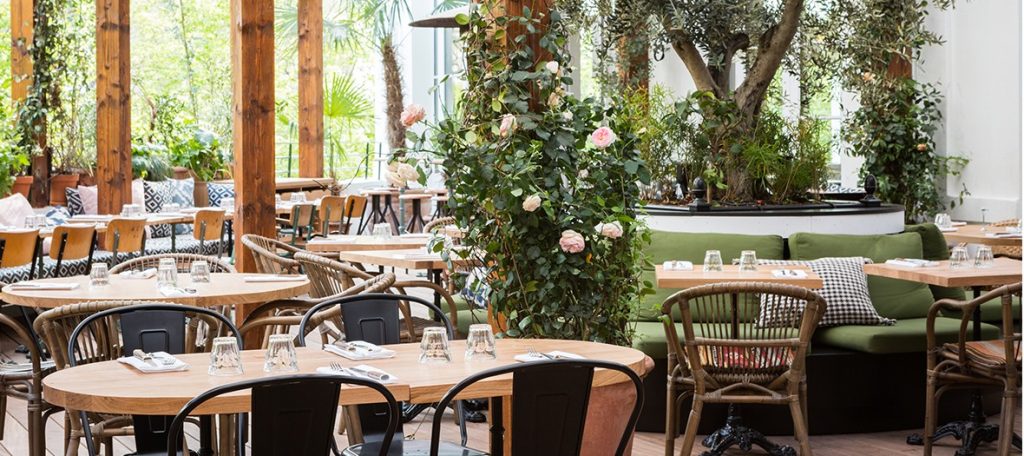 Auteuil Brasserie is a real oasis, a beautiful escape that you must know about! When it comes to the top rooftop bars Paris, this one might not offer views over the Eiffel Tower, but it's definitely a place you can't miss. Auteuil Brasserie is an Italian brasserie near an abandoned railway track, set in a former station building on the Petite Ceinture.
A breath of fresh country air, that's what Auteuil Brasserie offers in Paris. You can reach this location by the metro line 10 to Auteuil. The restoration and design make this place unique and unmissable. You'll find an Italian menu at affordable prices, and they've got also appetizers like mozzarella balls on a bed of cherry tomatoes, bruschetta, but also traditional pizza and pasta dishes too.
8. Skyline Paris Lounge & Bar
While we've already seen a similar name on our list of Paris rooftop bars, Skyline Paris Lounge & Bar isn't like the other Skyline Paris. When it comes to Paris rooftops, as you could see there are chic and elegant, bohemian, home-like, and rustic places too. Something for everyone!
Skyline Paris Lounge & Bar is in the middle of La Défense, a major business district that is located 3 km west of the city limits. While it's not in Paris, it still offers great views over the city. From far away. This rooftop restaurant is on the 19th floor of the Melia Paris La Defense hotel. A business-style place, as you can imagine.
9. Créatures Paris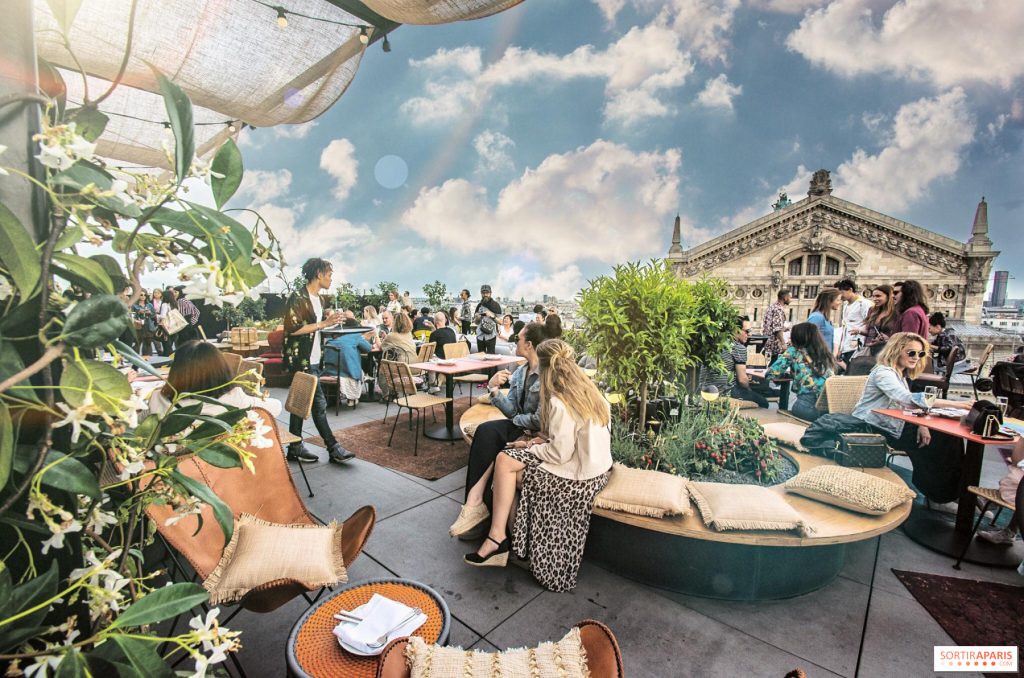 When it comes to a rooftop bar Paris, Créatures Paris is a must-visit place on top of the Galeries Lafayette department store in the heart of the city. Créatures Paris is set on 1500 m2 on the 8th floor, and it offers a 360-degree view over the city, with the Opera House and the Eiffel Tower in the background.
This rooftop is creative and colorful, with a design that's catching and makes you feel welcome and enjoy your time. Créatures Paris offers an open-air retro and lush setting with regular dining tables as well as lounge sofas and bar seats too.
The rooftop restaurant is run by Chef Julien Sebbag, who offers a seasonal and 100% vegetarian menu that combines flavors of the Mediterranean with Tel-Aviv influence. You can go to Créatures Paris for lunch and dinner, but in between too. The place is open from mid-June to mid-October.
10. 43 Cocktail Bar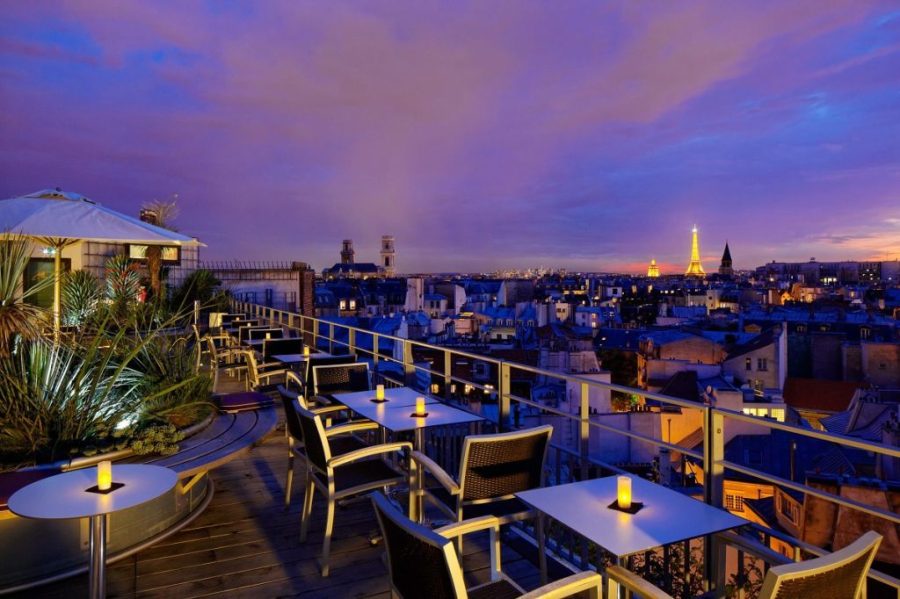 43 Cocktail Bar is another great option if you're looking for a rooftop Paris bar. Chich settings, stunning views over landmarks, Sacre Coeur, and Tour Montparnasse as well. 43 Cocktail Bar is packed with tropical plants, which makes it a beautiful escape for summer evenings.
Actually, 43 Cocktail Bar is open only in the summer. It's a rather peaceful, enjoyable place, with pretty affordable prices. Affordable I mean, it's not in the luxury category, but it's not a cheap hotspot. 43 Cocktail Bar is based on the 9th floor of the Notre-Dame Holiday Inn hotel, and it's highly suggested for intimate outings!
11. Laho Rooftop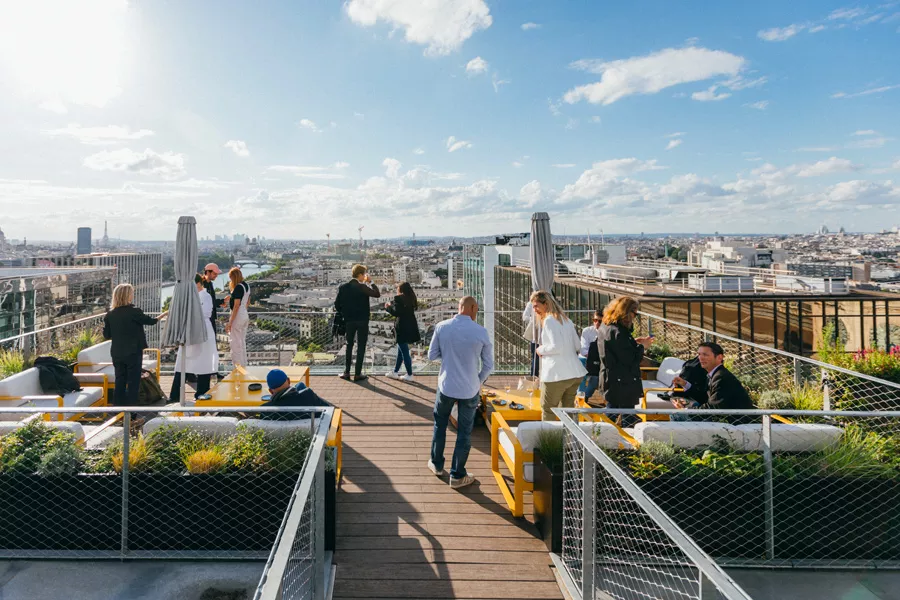 Laho Rooftop is considered one of the top rooftop bars Paris offers, mostly for its amazing views. When it comes to the best rooftop bars Paris, we usually were and will be saying the same things, since there's something common with each of them. Beyond the common things, Laho Rooftop was opened in 2019,
It's a green and lush rooftop bar in Paris we all can fall in love with. Laho Rooftop is by Gare de Lyon railway station, and it's set 60 meters high above the Parisian life. Comfy lounges, beautiful views, far from the hustle of the city. You can book from Tuesday to Saturday from 6 PM to midnight. They've got a great quality menu with dishes by chef Julie Basset. There's also a DJ set sometimes.
12. Le Georges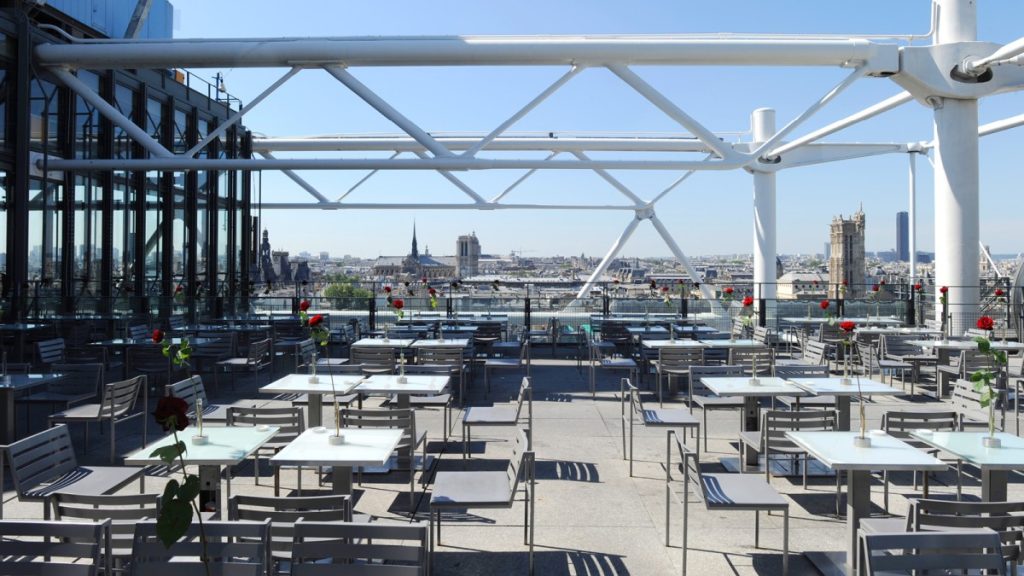 Le Georges is considered one of the best Paris rooftop bars. This is also it's a rooftop restaurant Paris offers, but this isn't a luxurious place. Le Georges is located on the top floor of the Pompidou. The architecture is another highlight featuring the work of Dominique Jacob and Brendan McFarlane's industrial-chic interior.
Le Georges is a really busy place, so you'll have to wait before you get seated, and it's usually packed with tourists. Prices are higher than the average, but they don't have 5* prices. We added Le Georges to our list, but the latest reviews say that the place is chaos, which makes many people turn away.
13. The Shed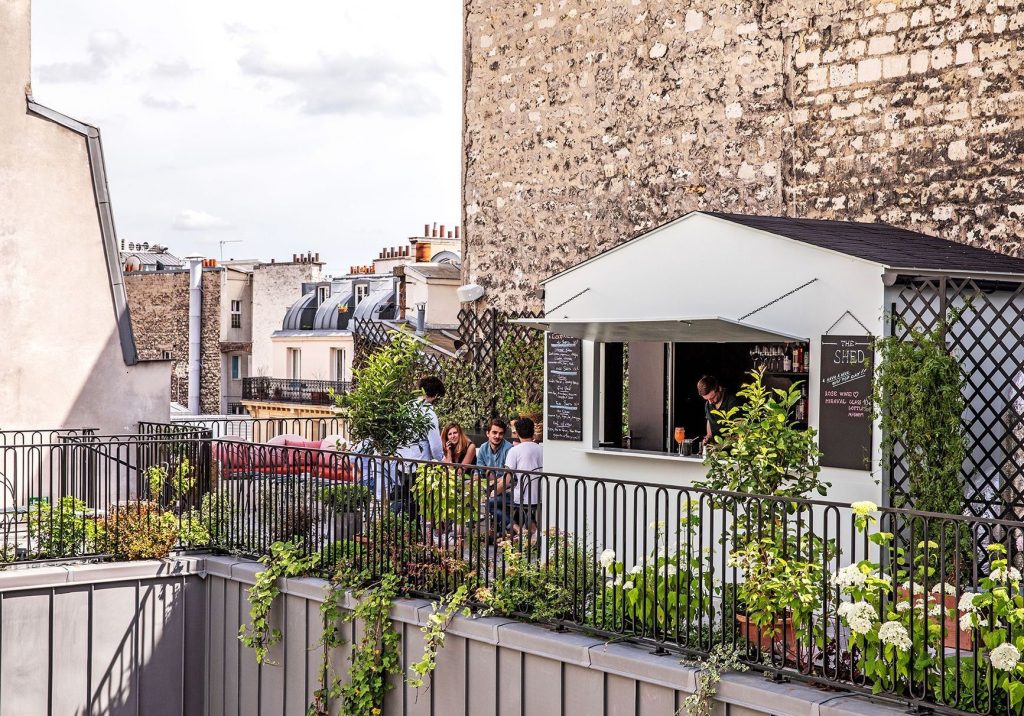 The Shed is a rooftop Paris bar that's giving you this everyday life in Paris vibe. A beautiful green oasis on top of Hotel des Grands Boulevards, which is located in the heart of the city. This is not a fancy, elegant, smart dress code-only place. The Shed is a rustic-chic terrace, a rooftop garden that makes you feel at home.
At The Shed, you'll find cute decor, comfy pink and red sofas, stools, benches, and soft lights, where you can enjoy a nice glass (or bottle) of wine, champagne, or cocktails. Interesting in this place is the types of cocktails that change with the season.
You've got three types of cocktails, the No Shed, which is cheaper (10 euros) and it's alcohol-free, the moderate cocktail called One Shed, and those that have a normal amount of alcohol, Two Shed, that's 16 euros. The Shed is open every night, and it's perfect for friends' outings, girls' nights, or relaxing with fine drinks with your bestie.
14. Terrasse de l'hôtel Raphael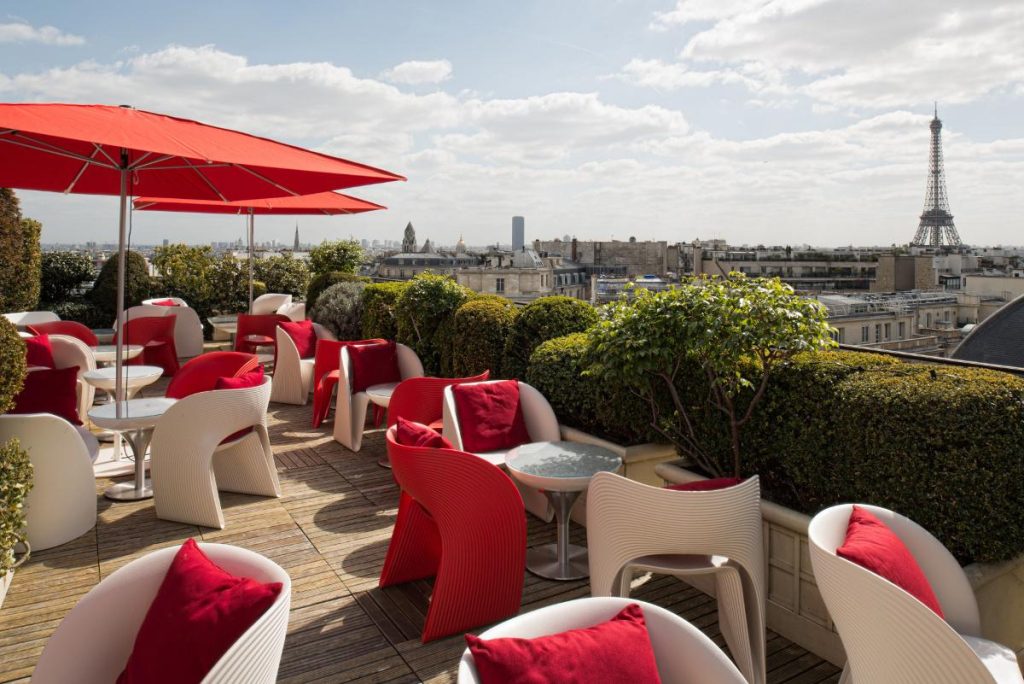 Another highlight of the top rooftop bars Paris is Terrasse de l'hôtel Raphael. As from most rooftop bars that got on our list of the best rooftop bars Paris offers, Terrasse offers also beautiful panoramic views over the Eiffel Tower and the Arc de Triomphe.
This place doesn't come cheap, as it's one of the most luxurious terrace bars in the city. They also got a signature cocktail, the Raphael cocktail that's made with manzana verde, strawberry pure, lime, and Perrier-Jouët Grand Brut champagne. This is one to try! To elevate the sophisticated vibes, you can also get a bottle of Perrier-Jouët Belle Epoque which is €950. Smart, elegant, or cocktail are the dress codes that are acceptable!
15. Le Louxor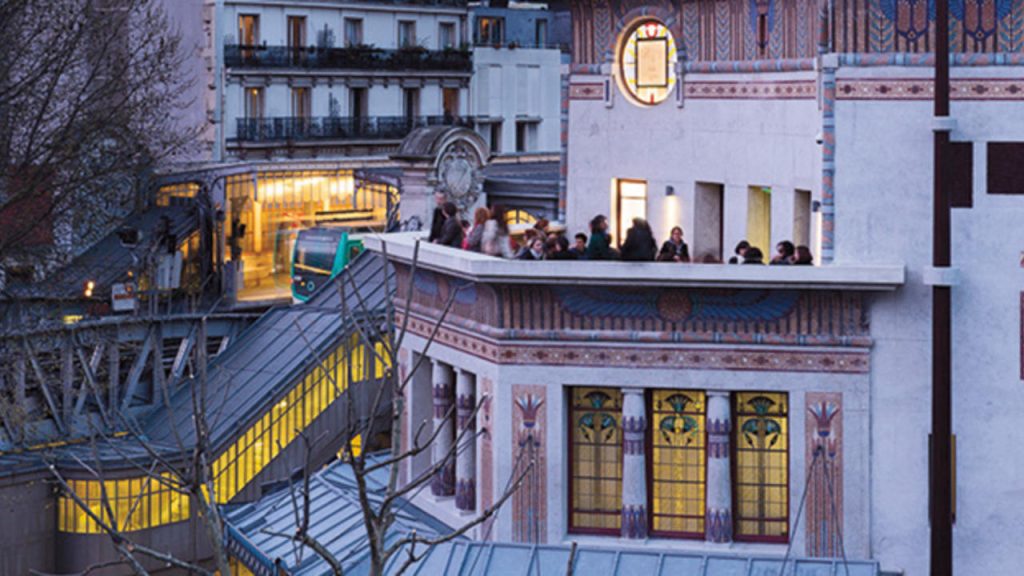 Le Louxor is the last on our Paris rooftop bars list. This place opened in 1921, a few years after the so-called Belle Époque. If you're looking for historic Paris rooftops, Le Louxor is the place to stop by. This place survived WW2 which hit hard on Le Louxor, then it became a drug den, and let's not forget the 80's club and gay disco which was followed by 25 years of abandonment.
In 2013 it reopened again as a cinema again. Le Louxor has now an upstairs bar, that has nothing to do of course with those periods it had during the 20th century. The reason we put this place on the last place is that it's not a rooftop bar where you can just go in. You need to have a cinema ticket from downstairs in order to enjoy the bar. Still, it's worth it for the beautiful view over Sacré-Coeur and Barbès.
Wrapping up the 15 best Paris rooftop bars
Now that we've been through the best Paris rooftop bars, and you probably found already your best match for the top rooftop bars Paris offers, make sure to check out some other articles we offer! Beyond rooftop Paris restaurants and bars, we also cover breakfast places in Paris, as well as Asian restaurants. If you scroll to the top, you'll find linked other types of restaurants, and bars in Paris. We also cover the best luxury hotels, as well as overall the best hotels in Paris, and also the best coffee shops!
Pin it: Best Paris Rooftop Bars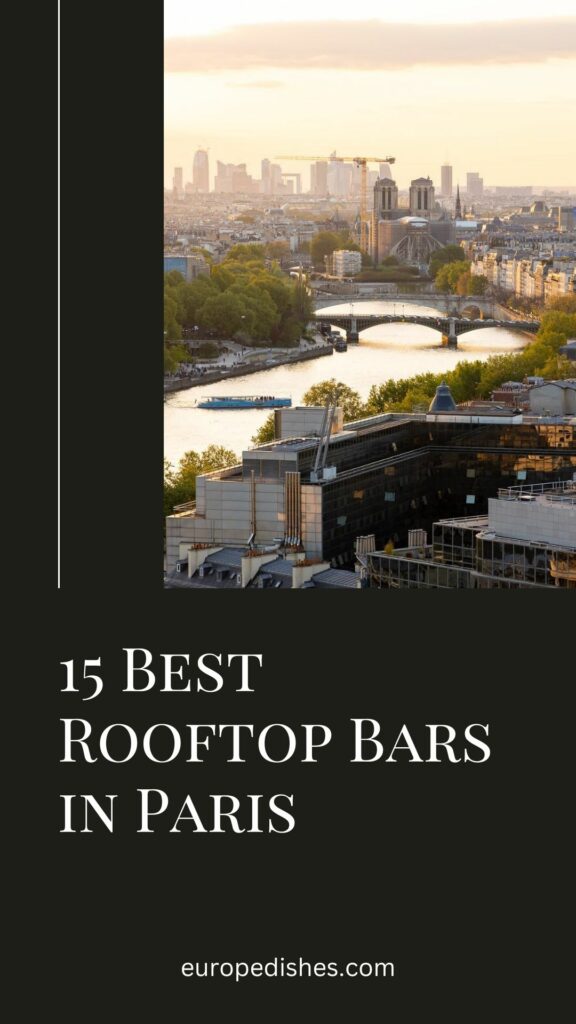 15 Best Rooftop Bars in Paris