If there's one type of cuisine close to my heart, it would be Indian. The reason being is that my boyfriend is Indian and I just fell in love with the food and colorful culture. Although we love cooking at home and making delicious dishes, it's nice to go out and taste a piece of India in a restaurant. So naturally, we have our favorite Indian restaurant Colchester which I'll be sharing in this article.
If you are passing by in Colchester or you're living in Colchester but you're not sure which is the best Indian restaurant Colchester, then you've come to the right place. There are many things to do in Colchester and one of them is to try out the local restaurants! Although I haven't tried any dishes in India, my boyfriend can confirm what is accurate and closest to the meals his mother and family would prepare back home.
10 Best Indian Restaurants Colchester
These Indian restaurants Colchester are not rated from best to worst, they were just randomly selected. I will mention which one was our favorite and some of the best dishes in our opinion, however, that doesn't mean you will love the same things as us. We have also mostly tried vegetarian dishes. Even if you are a meat lover, I'm encouraging you to try some of the vegetarian dishes because they are delicious!
1. Curry Leaves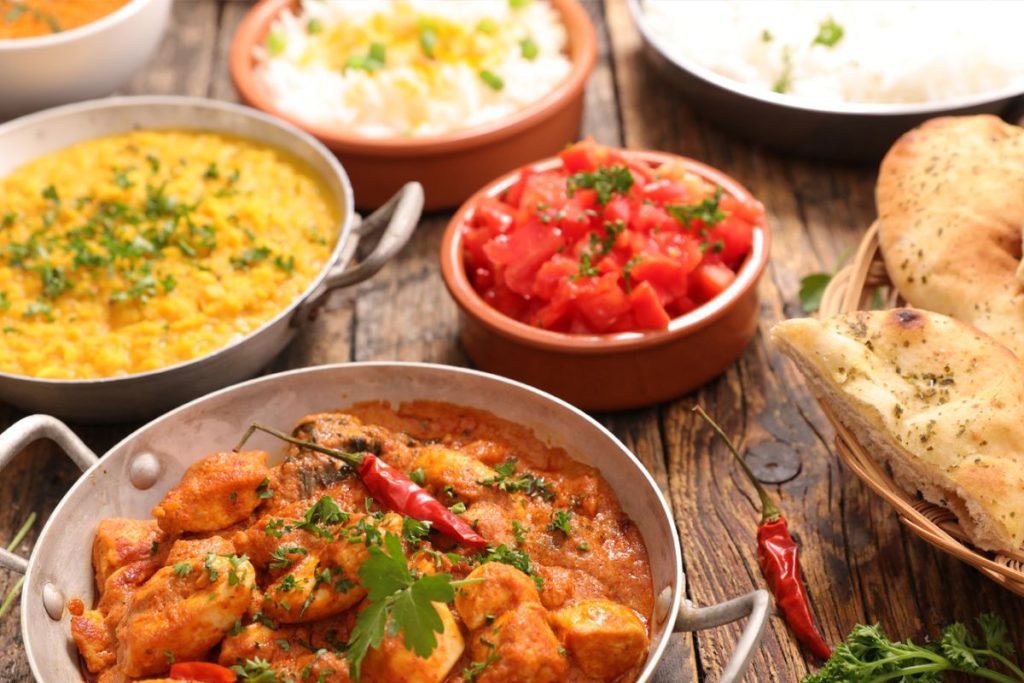 Cuisine: Curry Leaves is definitely my favorite Indian restaurant Colchester, or at least in the top three. The owners are from South India and the menu is mostly made up of South Indian food, however, there are plenty of North Indian meals too. And the menu consists of meat dishes as well as vegetarian options. There are no vegan options, so do keep this in mind if you're visiting.
Location: The restaurant's location is quite ideal. Although it is not central, it's quite close to the town center. But it is even closer to the train station, about 7 minutes walking distance. Colchester is not a huge town, therefore, it's easy to get around in the central area. If you are traveling on the outskirts of the city, then a car or bus is recommended.
Specialties: One of the South Indian specialties that you must try is Dosa. It is basically mashed potatoes with vegetables in a rice crepe. You'll receive Sambar, Coconut Chutney, and spicy chutney. This is our favorite but also many guests order it at Curry Leaves. Other delicious dishes are Paneer Butter Masala or Lamb Biryani.
Curry Leaves location: 71 N Station Rd, Colchester CO1 1RQ
2. Yak & Yeti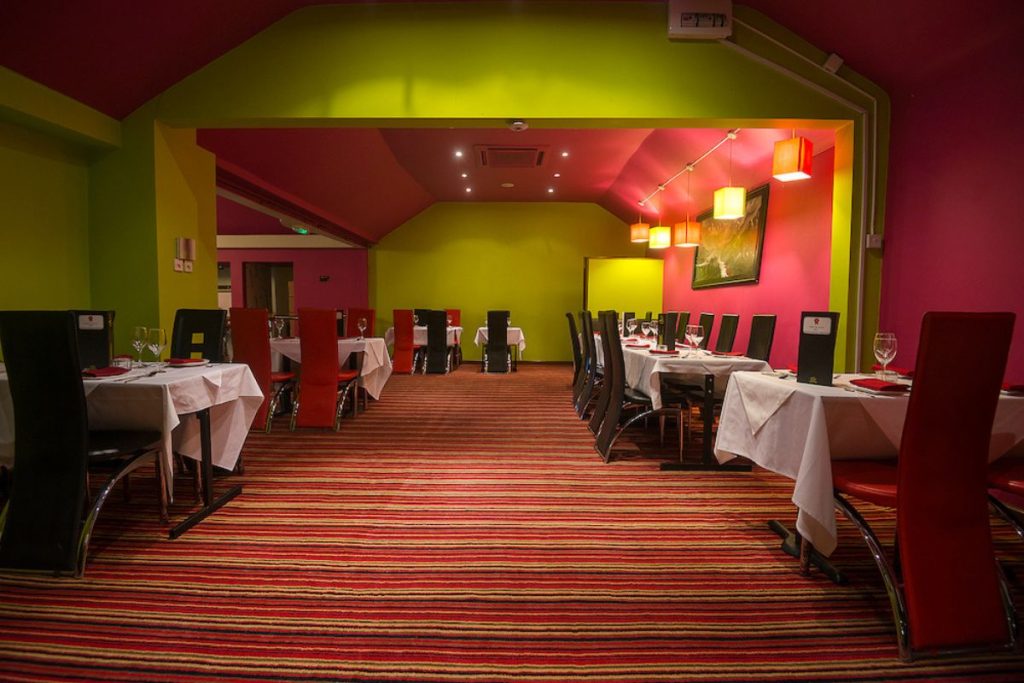 Cuisine: Yak & Yeti is one of the amazing Indian restaurants Colchester that's great for both dining in and also for takeaway. We have ordered from them many times and were never disappointed with the service. As far as cuisine, Yak & Yeti are Nepalese, Indian & Tibetan, so you can taste different dishes all in one place.
Location: The restaurant is not too far from the city center. Maybe about 10 minutes' walk and it's nearby the main bus station. But you can easily walk here. There are also several parking lots in this area, so if you are by car you don't have to worry about where to leave it.
Specialties: Yak & Yet does have vegan options, which is rare for Indian restaurants. One of my favorite dishes to eat is Dal, Pindi Chole, or Baigan Bharta. There are several options for meat lovers too. For example, Butter Chicken, Chicken Tikka Masala, or even Lamb Shank. I'm positive you'll find a favorite dish in no time at Yak & Yeti.
Yak & Yeti location: 14 Magdalen St, Colchester CO1 2JT
3. Raj Palace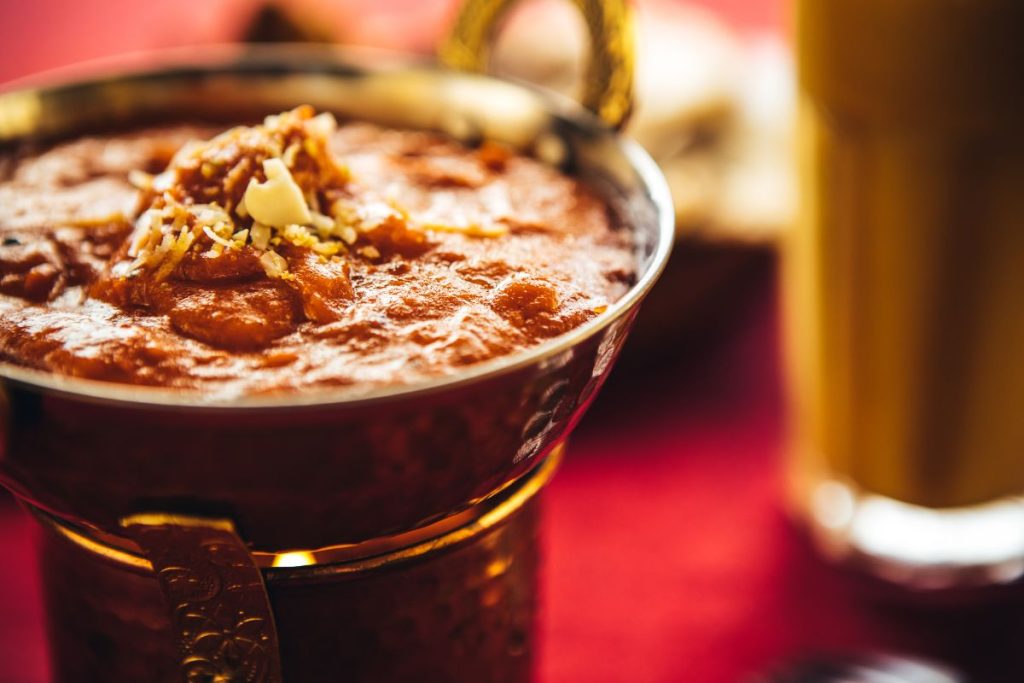 Cuisine: Next on our list is the Raj Palace Indian restaurant Colchester. It's a lovely place to dine and they have various dishes and quite an extensive menu. It doesn't have a specific cuisine, Raj Palace serves dishes from all over India. Besides the usual ones, they also feature Raj specialties which I'll mention below.
Location: Raj Palace is situated on the same road as Curry Leaves, not too far from each other. Although in all honesty, I've seen more people dine at Curry Leaves than at Raj Palace. Nevertheless, as far as location it is ideal as it's close to the city center and the train station too.
Specialties: In case you don't want to try the usual curries or Biryani check out the Raj Speciality. For example, Raj Murgh consists of tandoori chicken cooked with minced lamb. A classic north Indian dish that is famous in the state of Punjab is the Chicken Tikka Makhani, which is a combination of butter and tandoori chicken. And the prices are also very reasonable.
Raj Palace location: 28 N Station Rd, Colchester CO1 1RB
4. Rim Jhim Spice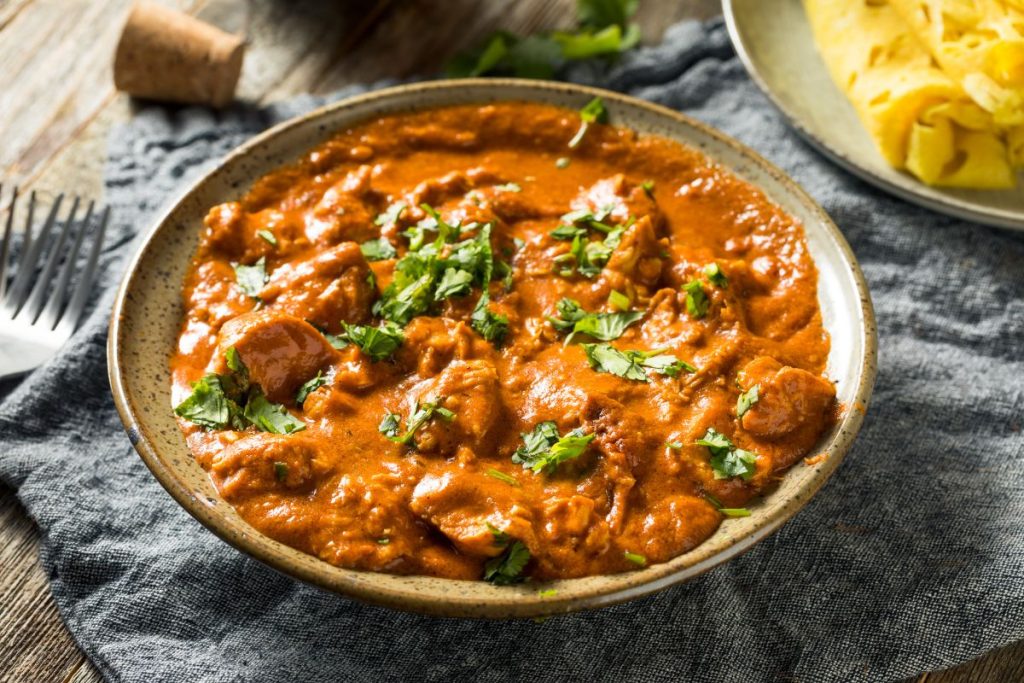 Cuisine: Rim Jhim Spice offers authentic Indian cuisine to its locals as well as to travelers from all over the world. At the same time, according to the restaurant, they also serve their own special dishes, not just the ones you'd have at any other Indian restaurant. Rim Jhim Spice also claims to use the most traditional recipes and minimize the use of additives.
Location: The location is not city centered. You wouldn't find out about this restaurant unless you Google it. Although they have a takeaway, I always prefer trying it out in the restaurant rather than eating it at home. One thing you have to keep in mind is that usually Indian restaurants open at 5 pm. There are a few which open early on the weekends, but it's mainly in the evening that they operate.
Specialties: Choose from Tandoori, Masal, Biryani, Balti, Dhansak, and many other types of dishes. There's also a separate section with the Chef's specials. For instance, the Lamb Achari is sliced lamb with pickle and chutneys, which has a hot, sweet, and sour flavor. I would add this to the list of Indian restaurants Colchester to visit.
Rim Jhim Spica location: 6 Villa Rd, Colchester CO3 0PU
5. Curry India Tandoori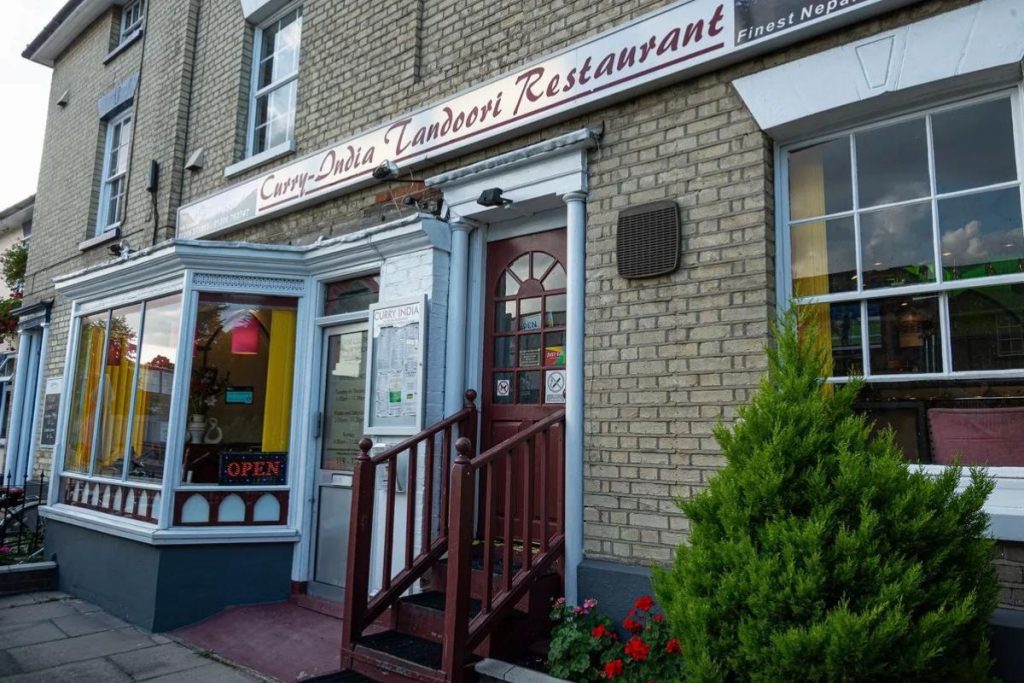 Cuisine: You can never visit too many restaurants, especially when it comes to Indian food. Although the dishes might be the same, the way they are prepared is probably slightly different in each Indian restaurant Colchester. Curry India Tandoori serves delicious dishes and they are available for takeaway too.
Location: As far as the location of the restaurant, it is in a very pretty part of the town. It's just a short walk from the center and there are quiet little streets in this neighborhood. In this area, you'll also see a number of different bars and pubs, and not far away the Colchester Arts Center which is also a picturesque church.
Specialties: On the menu, you can find Samosa, which is a very famous Indian starter. Furthermore, from the poultry dishes, try out the Butter Chicken or the Chicken Momo. Among the vegetable dishes, one of my favorites is Saag Paneer or Aloo Gobi. And don't forget to try out the garlic or butter naan as well as the delicious Tandoori Roti!
Curry India Tandoori location: 119-121 Crouch St, Colchester CO3 3HA
6. Maharani Indian Restaurant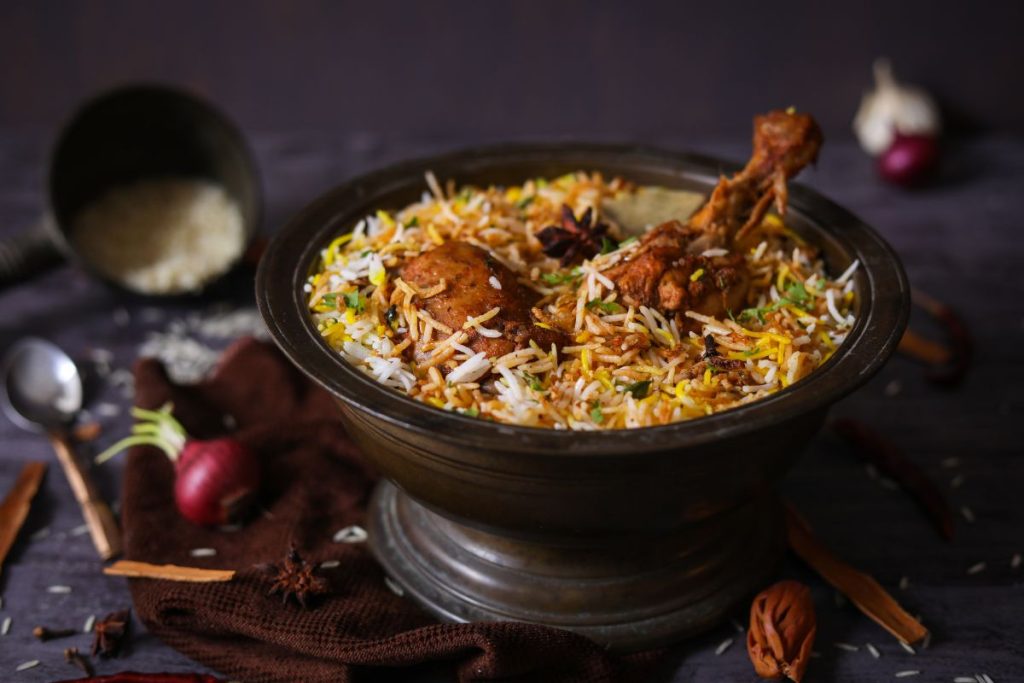 Cuisine: Maharani Indian Restaurant is among the must-try Indian restaurants Colchester that is located on the high street. They serve national dishes from all around the country, therefore fully allowing you to discover the best dishes in India that are healthy, nutritious, and hearty.
Location: As far as location, what better place than the high street? It is nearby Castle Park, therefore after taking a wonderful walk, you can enjoy a delicious meal at the Maharani Indian Restaurant. It's in front of the Three Wise Monkeys which is a great pub in Colchester.
Specialties: Among the specialties, a very tasty starter is vegetable puri. Puri is a fluffy type of bread, sort of like chapati but fried in oil. And it tastes great with the vegetable. Then from the Maharani dishes, the most famous ones are Lemon Channa Chicken, or Chicken Shathkora, and the Maharani Delight. This one is made from minced meat with fresh herbs as well as marinated chicken, boiled eggs, and a pretty hot sauce.
Maharani Indian Restaurant Location: 102 High St, Colchester CO1 1TH
7. Shemul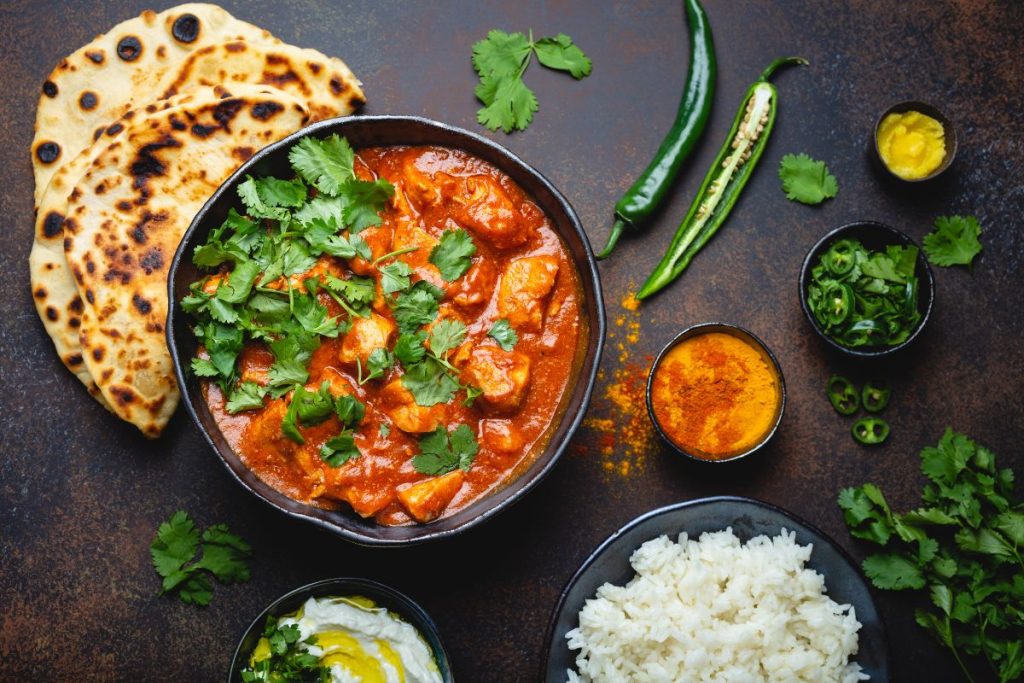 Cuisine: Are you looking for the best Indian restaurant Colchester that is perfect for takeaways? Check out Shemul. You can order through Just Eat or simply pick it up from the restaurant. There are some Balti Dishes, or Tandoori Cuisine as well as your usual Biryani dishes. Shemul also serves fish dishes.
Location: The restaurant is located on the street with the main bus station. It is also 5 minute's walk from the high street. Near Shemul are a few pubs, and a little bit up the street there are some stairs that take you up into the small and charming streets of Colchester.
Specialties: Their specialties include Shemul dishes with lamb, chicken, and veg. The appetizers include meat samosa or Chicken chaat, but Shemul also has kebab. Then of course, like every Indian restaurant, Shemul also has Tandoori cuisine, such as tandoori chicken or even prawn.
Shemul location: 44 Osborne St, Colchester CO2 7DB
8. Masala Delight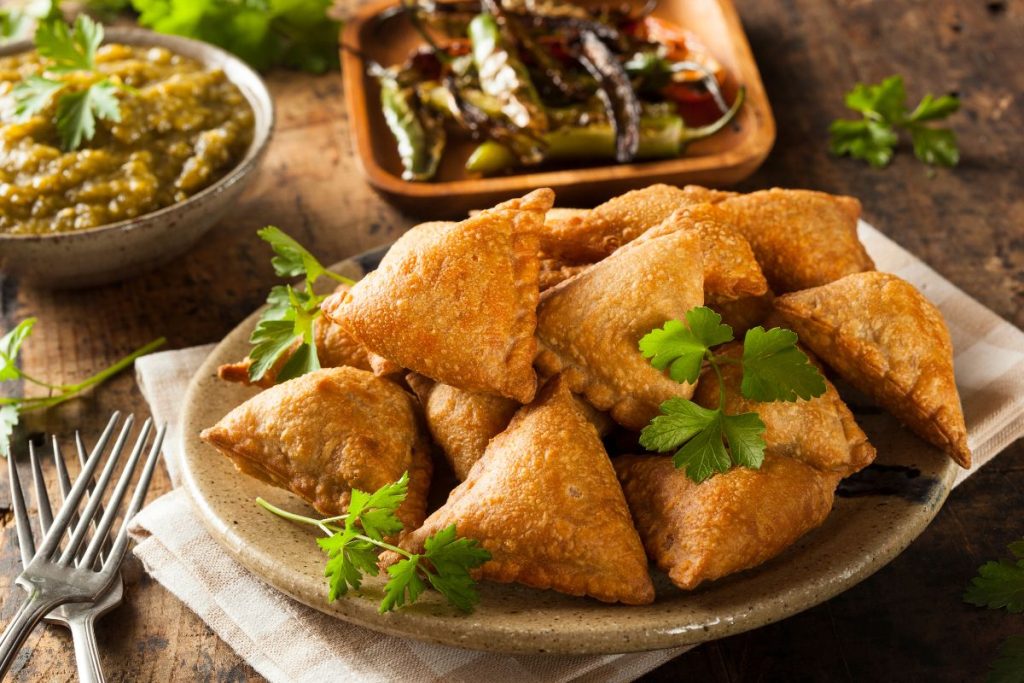 Cuisine: Masala Delight is the perfect spot for an Indian takeaway. They offer really tasty dishes and everything is prepared with fresh ingredients. Usually, people think that Indian dishes are too spicy, meaning they are too hot, however, that's not the case. Indian dishes are rich in flavors!
Location: The location isn't as great as the rest of the restaurants. Since you cannot actually sit inside, it doesn't really matter. There's a car park called Napier car park right across the street, therefore it's very easy to get takeaway from here.
Specialties: So what does the best Indian restaurant Colchester that does takeaway offer on the menu? Well, the curry dishes are delightful. Whether it's chicken curry, prawn, fish, or veggie curry, you cannot go wrong with this. You can also try out the Korai dishes, which are typical in Bangladesh or Pakistan and these are slow-cooked.
Masala Deligh location: 34a Mersea Rd, Colchester CO2 7ES
9. Ashiana Tandoori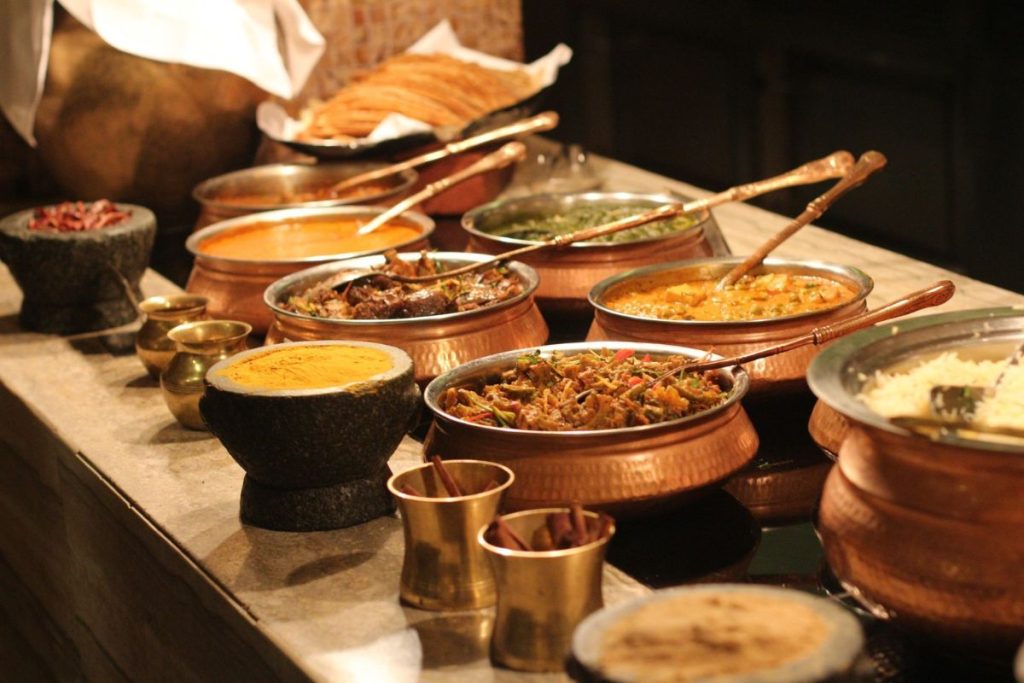 Cuisine: Ashiana Tandoori is a place where one can enjoy some spicy Indian food and delicious Indian cuisine from all over India. All of the dishes are prepared freshly and ensuring that guests will receive the best service from the restaurant. Which is why it's on this list of best Indian restaurants Colchester.
Location: The location of it is similar to Yak & Yeti. It's just a short walk away from the city center and close to many stores. This neighborhood is very good to live in and you get many different pubs, and supermarkets while still being only 10 minutes away from the city center.
Specialties: Their dishes include curry, Biryani, tandoori and different types of naan. If you want to order from Ashiana Tandoori, then check out the chef's specials. They have chicken tikka masala and different types of Pasanda. Then don't forget to try out the Biryani dishes which are typical Indian.
Ashiana Tandoori location: 181 Magdalen St, Colchester CO1 2JX
10. Kismet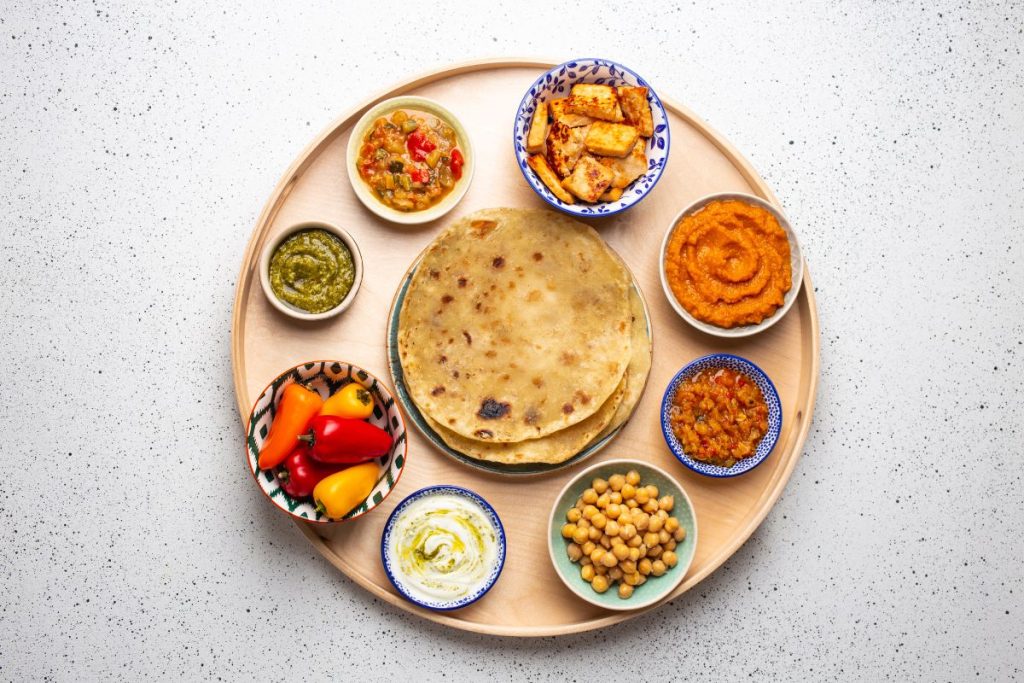 Cuisine: The last Indian restaurant Colchester I'd like to mention is Kismet. Although Kismet isn't one where you can dine inside, it's great for takeaway. Not all of the dishes are delicious, but when you don't want to sit down at a restaurant it certainly helps to have takeaway places like Kismet. They have all of the different dishes the rest of the places had, from both North and South India.
Location: Kismet is on the same North Station road as Raj Palace and Curry Leaves. They have some serious competition, but at the same time, each restaurant offers something else. So it really comes down to personal preference.
Specialties: On their website out of nearly 100 reviews they received 4.7 stars. Their best-selling items are Onion bhaji, Chicken Tikka Masala, Bombay Aloo, and Chicken Naga curry. Kismet also offers a 'New Editions' section which is updated with delicious dishes made by them.
Kismet location: 31 N Station Rd, Colchester CO1 1RQ
Bonus: ChutneyZ – Ipswich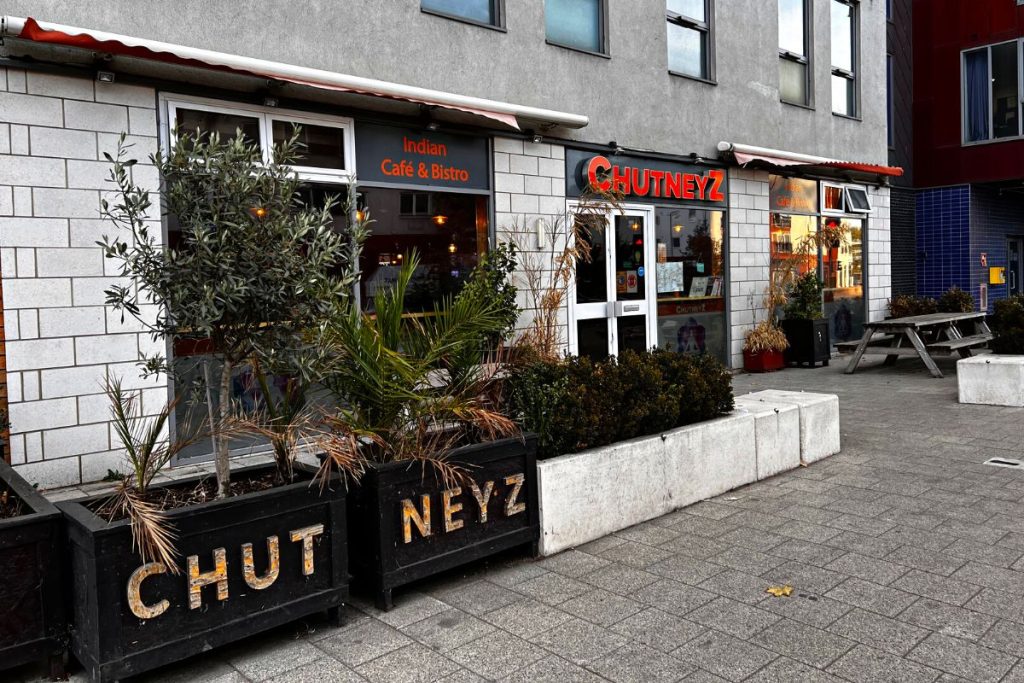 Cuisine: If this wasn't an article about the best Indian restaurants Colchester, I would put ChutneyZ at the top of this list. Hands down the best Indian food in England I've ever had. They have your usual Indian dishes but the way they are prepared is truly a taste of India.
Location: Ipswich is about 30 minutes drive away from Colchester. Even if you live in Colchester but you love Indian food, it is definitely worth the drive just for this. It's located next to the port so not only do you get to eat amazing dishes, but also go on a walk after your meal and enjoy the stunning views of Ipswich dock.
Specialties: When my boyfriend and I go to ChutneyZ we usually order Samosa chaat and Vegetarian Thaali. If you are not familiar with Thaali, it's basically 3 main dishes on a big plate served with rice, house bread, dessert as well as poppadum, chutney & pickle. This is perfect for those who are trying out Indian food for the first time as you get to taste the best of the Indian dishes but in smaller portions. ChutneyZ is a must-visit!
ChutneyZ location: 54 Duke st, Ipswich IP3 0AQ
Best Indian restaurants Colchester – Conclusion
We have arrived at the end of our list of amazing Indian restaurants in Colchester Essex. If you love Indian food but are not quite sure where to go, you will love this list. Some of them have a wide range of specialties that you would only find in India. And even if you buy the ingredients, it's not easy to prepare most of these dishes at home. Choose from one of the 10 Indian restaurants Colchester on your next dinner outside. Don't forget to check out the restaurants in East Grinstead, or the best Asian restaurants in London.
Pin it: Indian restaurant Colchester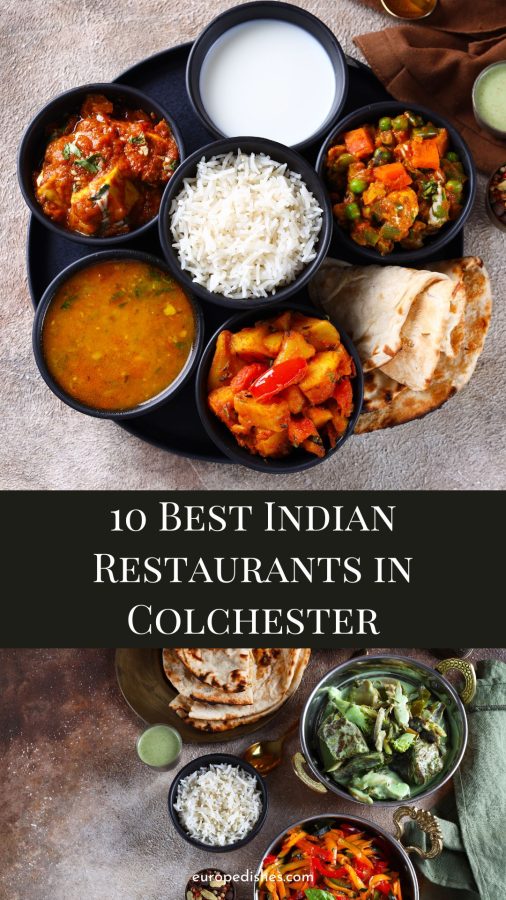 10 Best Indian Restaurants in Colchester