When we want to speak about a Spanish omelette recipe, I always remember the first time I personally tried the famous Spanish omelette. The below Tortilla de Patatas recipe comes from Seville Spain since a Sevillan friend of mine showed me how to make a traditional Spanish omelette recipe. Since this is a really easy dish, and many of you have been to Spain I know you're looking for a Tortilla de Patatas recipe in English, so I'm going to share the best one with you! Get your stomach and yourself ready for a delicious and easy Tortilla de Patatas recipe!
Spanish omelette recipe – Tortilla de Patatas recipe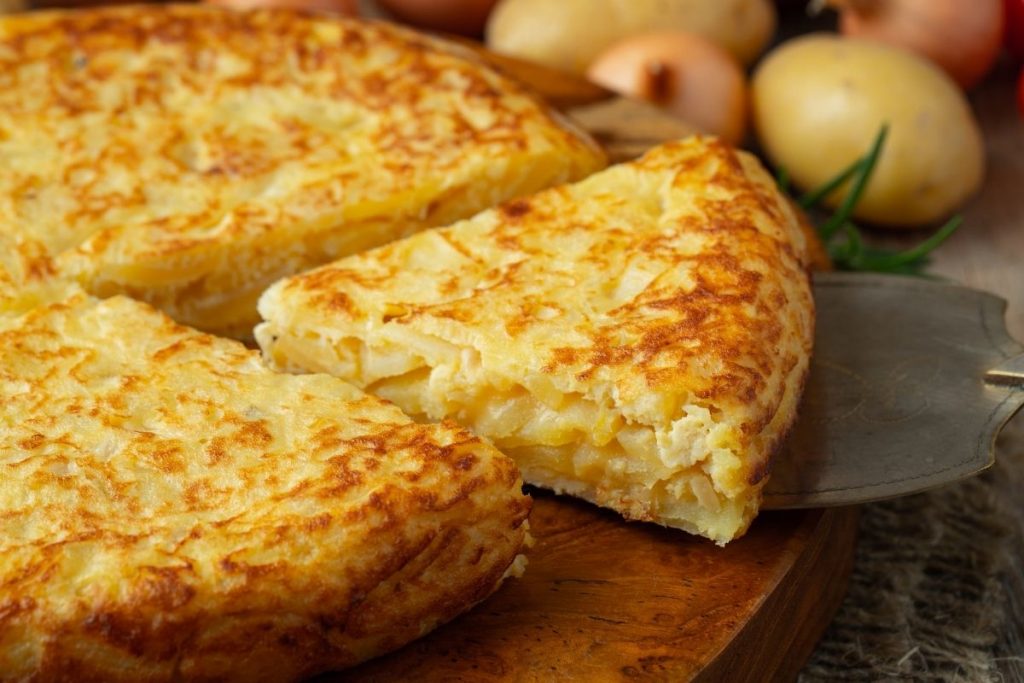 You can make tortilla de patatas also if you're shredding the potatoes after cooking or dicing them in small cubes. My personal favorite is slicing it, but it's up to everyone's taste. A traditional Spanish omelette recipe is easy to make. Cooking takes some more time, but in the end, it's one of the tastiest Spanish tapas you could pick if you're looking for egg-based, meat-free dishes.
If you've been looking for the best tortilla de patatas recipe in English, below you'll find the version omelette made in Seville, Spain. In Spain, this dish is served and enjoyed as a tapa dish, but also as a side dish, or snack. You can serve it with bread on the side, or salad.
Also, you can serve this easy tortilla de patatas recipe hot, cold, or at room temperature. In each way, it tastes amazing! In countries where the salty breakfast is traditional, tortilla de patatas can be also made for a Sunday breakfast or brunch. Everyone loves Spanish food, so why not surprise your family or friends with some great Spanish tapa?
If you want to get more tapa ideas for a real Spanish night, we've got you covered! We also have recipes for mushroom croquettes, ham and cheese croquettes, as well as the delicious chicken paella, and Patatas Bravas. Moreover, we've got drunken chicken recipe posted along with sauteed mushrooms in butter!
What do you need for a tortilla de patatas?
Since most of the old traditional European recipes, Spanish included, are really simple with just a few ingredients, you won't need many things to make a traditional Spanish omelet recipe either! As for the tools, you need a skillet, a plate, a pot, and a bowl.
You'll need a skillet to saute the onions, then make the actual tortilla, a pot to cook the potatoes, a bowl for the eggs, and a plate to turn upside down the tortilla if you don't have a 2 side skillet or pan.
For those who've been looking for the best tortilla de patatas recipe in English, I hope you'll enjoy this excellent Spanish tapa and it will bring you all the flavors of beautiful Spain in your home! Let's see the recipe now!
Traditional Spanish omelette recipe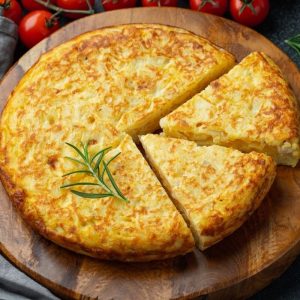 Traditional Spanish omelette Recipe
The best ever Tortilla de patatas recipe. A traditional Spanish omelette recipe coming from Seville Spain. For all those who were searching for an authentic and easy tortilla de patatas recipe in english!
Ingredients
250

g

Potatos

4

Eggs

70

ml

Olive Oil

1

White Onion

Salt, Pepper
Instructions
The first step to prepare your Spanish tortilla de patatas recipe is to cook the potatoes in their skin. Don't overcook it, because if it gets too soft, it will be hard to slice it.

Add salt into the boiling water, cook the potatoes for about 10 minutes and check if it's cooked enough before you remove them. Peel them, and after they cool down a little, slice them.

Add 1 tbs of olive oil in a pan, heat it up. In the meantime clean and slice the onions finely. Beat up the eggs, and season it with salt and pepper. Once the oil is hot, add the onions to the pan and sautee it on low to medium heat.

When the onions are nicely softened, take the pan off the heat and remove the onions. Add another 1/2 spoon of olive oil on the bottom of the pan, then place two llayers of potato slices, making sure that they stick close to each other so your tortilla won't fall apart.

Make another two or 3 layers of potatoes, adding onions between each layer. In the end, pour the eggs on it, making sure that each side is covered in eggs. Now put back the pan on low heat, cover it with a lid and leave it to cook for about 15 minutes. Check if the egg is cooked fine.

Then, you have to take off the pan of the stove, put a large palte on top and verse the tortilla de patatas upside down on the pan carefully, so it won't fall apart.

Remember that if the eggs are not cooked enough before this move, the whole thing will fall apart! Once you've turned the Spanish omelette upside down, place it back carefully in your pan. Cover it again, and leave it for another 10 minutes to cook on the lowest heat still. If you ave a double-side pan, turning the tortilla de patatas around is much easier!

Once the 10 minutes passed, check if yourt Spanish tortilla de patatas are ready, then place the plate again on the pan, and turn it all around gently. Leave the tortilla on the plate for a few minutes to cool down before serving.